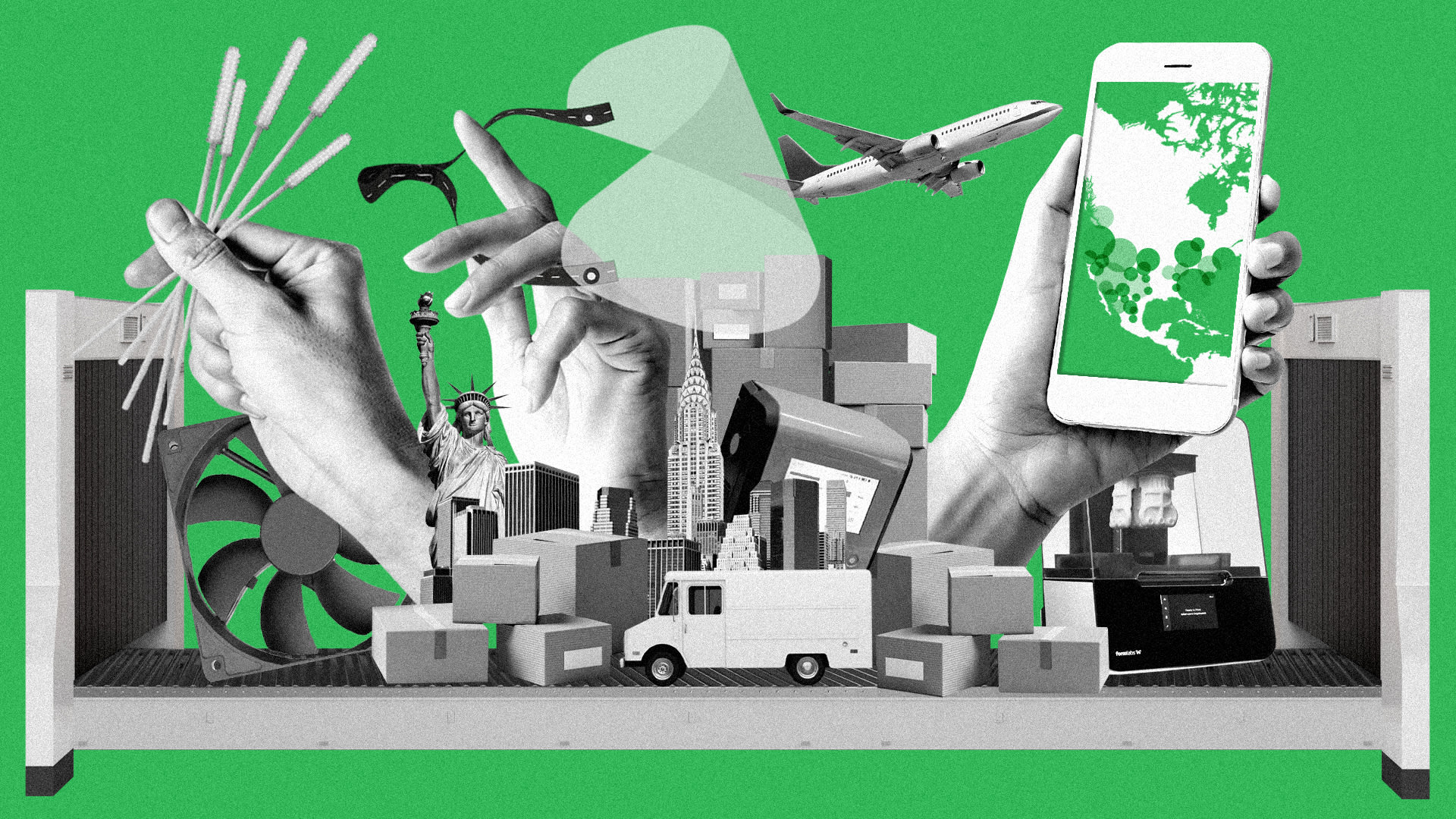 A retail display company that pivoted to making face shields. A medical device manufacturer that scrambled for parts to test lifesaving ventilators. A 3-D-printing startup that learned to make test swabs in weeks. As the pandemic upended everyday life and the global economy, a number of small businesses dropped everything to radically overhaul their businesses.
Of course, many of them did so to keep themselves afloat. But many others did it because it was the right thing to do. "Before the pandemic, we never printed things for customers," says Gaurav Manchanda, the director of health care for Formlabs, a 3-D-printer startup based in Somerville, Massachusetts. Until March, Formlabs had focused on making printers and software for medical and dental professionals. "We didn't do it for profit," says Manchanda of the company's move to printing Covid-19 test swabs. "There was a clear societal and public health need."
Here are the stories of some of these selfless companies.
Crafting face shields for frontline workers
In pre-pandemic times, Michael Bednark was the king of make-believe. A theater buff, who received his bachelor's degree in set and costume design from New York University in 2005, he was used to crafting elaborate retail displays on tight deadlines for brands like Nike. But when New York governor Andrew Cuomo ordered nonessential businesses to close on March 20, Bednark Studio sent all but four of its 120 New York City-based employees home as the retail display and events business all but evaporated.
Still, Bednark felt compelled to help his adopted hometown of New York City and his team. "I have a huge team to support, so anything I could do to get them back working, putting food on the table for their kids, paying rent, I was going to do it," he says. Knowing personal protective equipment like face shields would be essential to frontline workers, he emailed his landlord, the nonprofit Brooklyn Navy Yard Development Corporation, which contacted city health officials. A day later, five workers were back and devising prototypes in a neighboring production space. The morning after that Bednark met with an assistant health commissioner. As the man inspected the shield, pulling back its elastic headband, he asked, "How quickly can you get 500,000 to us?" Like the warship builders who gave the Navy Yard its nickname, Can-Do Shipyard, during World War II, Bednark rose to the task. He went on to produce 2.7 million face shields by July 31.
Testing lifesaving ventilators
In a typical year, Velentium, a contract manufacturer for medical devices, helps companies make any number of products. By mid-March, the Katy, Texas-based firm had just one product on its docket: ventilators. The company swooped in to help Ventec, a longtime client and Seattle-area medical device company, scale production of its ventilators from a few hundred units a month to 10,000. (With Ventec operating at full capacity, General Motors stepped up to offer its parts plant in Kokomo, Indiana.)
Velentium's job was to test each and every one of 30,000 ventilators, which President Trump authorized under the wartime-era Defense Production Act on March 27, and ensure GM's engineers, who had never built such a device before, nailed it. Over five hectic weeks beginning around March 23, the 48-person team (now 70-plus) worked with trusted suppliers, themselves hindered by lockdowns, to source critical components, ship them cross-country to four manufacturing facilities, and build, build, build. Velentium's 141 test systems were essentially "half the [Kokomo] plant, not by real estate but by functionality," says Velentium chief executive Dan Purvis. "It was about eight months' worth of work that we did in six weeks."
Mapping the coronavirus
When Ensheng "Frank" Dong, a graduate student at Johns Hopkins University, heard about a new viral contagion in Wuhan, China, he panicked. His family was in Taiyuan, another provincial capital 600 miles away--not quite next door, but not far enough away either. His connection to the location of the outbreak was a big motivator, however. His faculty adviser, Lauren Gardner, co-director of the school's Center for Systems Science and Engineering, suggested he map the virus's spread using a geographic information system. Together they manually scraped data to create an online dashboard that visualized the unfolding crisis.
That was in January. By April, the Johns Hopkins Covid-19 Dashboard had become a world-renowned resource but also one in desperate need of an upgrade to make it more automated and authoritative. Dong received some much-needed help from Esri, the Redlands, California, firm where he honed his cartography skills as an intern. "We figured at some point Frank would need some sleep," says Esri manager Sean Breyer, who emailed Dong after seeing Gardner tweet the dashboard.
Esri beefed up the dashboard's infrastructure, automating the process by which the dots grow and scale to reflect the severity of an area's caseload. The 51-year-old company, which has 4,000 employees in 73 countries, is no stranger to turning raw data into rich visualizations. Esri helped Texas's Harris County draft guidelines for boiling drinking water after Hurricane Harvey, and mapped the perimeter of wildfires for responders in California. "You want to know what's happening right here, right now," so you can ask the right questions, says Este Geraghty, Esri's chief medical officer. "That's a geographical problem."
Printing millions of test swabs
Formlabs never intended to be a biomedical startup, but on March 17, five days after sending its 550 employees home to work, it became one. USF Health, which, like hundreds of health systems' hospitals, ​uses Formlabs' 3-D printers for surgical devices and medical education, wanted to know how many Covid-19 test swabs it could print at a time. Hard-hit northern Italy, which supplied the traditional swabs, was on lockdown, and other factories had grown unreliable. Outside of launching an expensive facility, 3-D printing was the only real option, says Manchanda.
But pivoting to producing swabs, with a newly remote workforce, wouldn't be easy. First, Formlabs had to repurpose its Food and Drug Administration-registered facility in Millbury, Ohio. Then it partnered with USF and Northwell Health, a New York health care system, to optimize designs for printability and scale. From there, clinicians, hospital stakeholders, and regulatory bodies needed to verify the swabs' safety for use. "It was all hands on deck," says Manchanda, who counseled foreign government agencies desperate to print their own test kits.
The swab--a breakable stick with a prickly tip that gets swept in the cavity between a patient's nose and mouth--was so in demand, Manchanda's team soon ramped up production to 350 swabs per printer each day. By mid-April, Formlabs was printing and shipping tens of thousands a week. (USF estimates more than 40 million of its swabs have been used in more than 25 countries.) Formlabs' community at large rallied in other ways, too, devising ventilation system components, face masks, and respirator covers. "We saw a lot of innovation out of necessity and desperation," says Manchanda.
EXPLORE MORE Best in Business COMPANIES
Dec 3, 2020