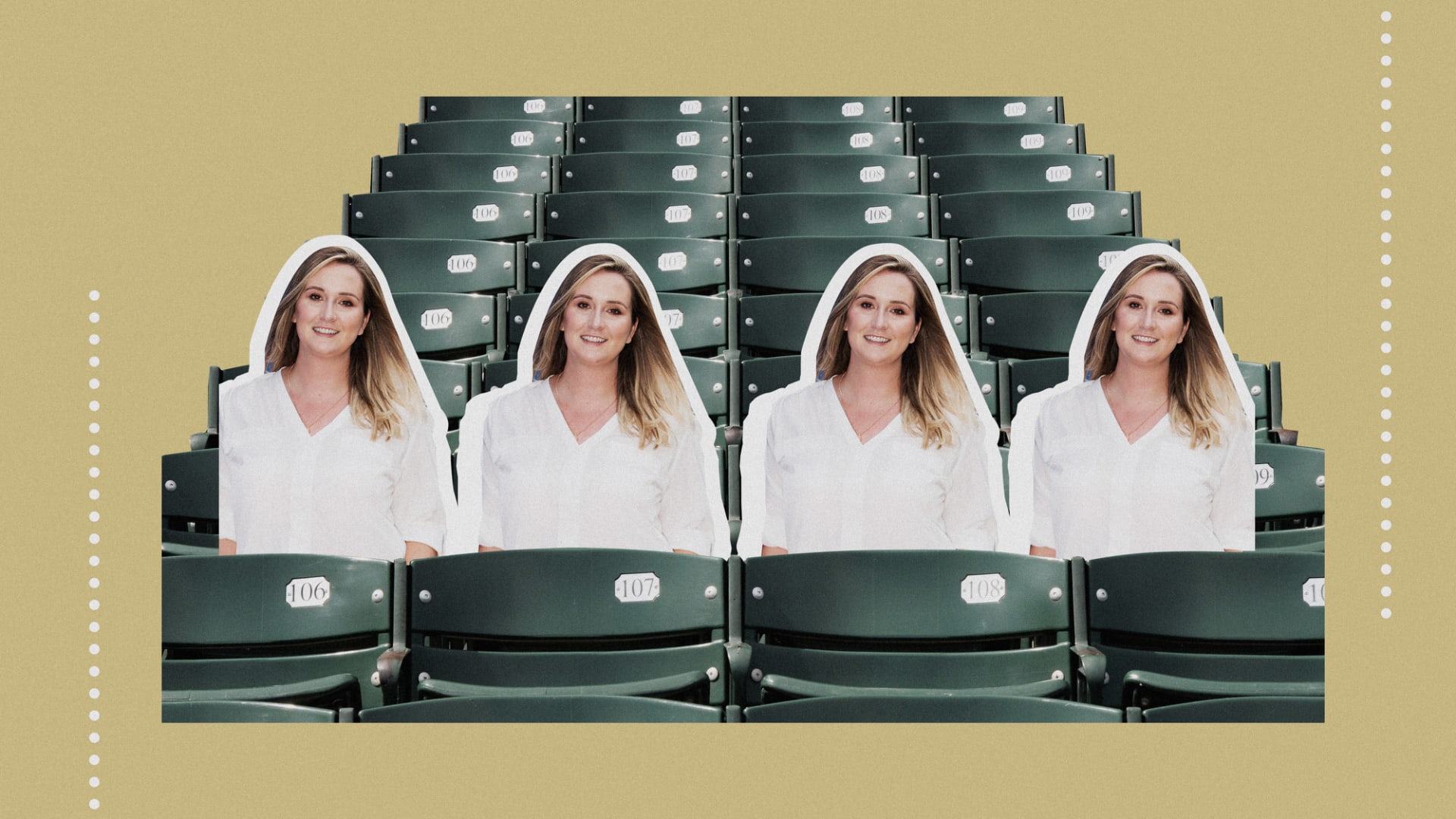 After spending more than 10 years in marketing for top-tier college and professional sports, Lara Smedley struck out on her own in 2018, launching Smedley Events in her hometown of Denver. By early 2020, she had gained traction, serving a growing client base with guest-focused experiential marketing, fundraisers, and catered affairs in the Colorado countryside.
That all skidded to a halt on March 11, when Governor Jared Polis prohibited large gatherings due to the pandemic. A 500-person event Smedley had scheduled for that day vaporized, and the cancellation of future bookings soon followed. The coronavirus wiped her out.
But Smedley rebounded quickly. Two months after the Covid-19 shutdown, she launched My Fan Seats, seeking a piece of a peculiar new business propped up by a public health crisis that's forcing sports enthusiasts to stay home and keep their distance: fake fans.
While superimposing the likeness of individual fans on corrugated plastic placards has been all the rage in European soccer since those leagues restarted in May, this week's opening of Major League Baseball's truncated season marks the arrival of the cardboard cutout craze in the U.S. The NBA and NFL, due to resume play on July 31 and September 10, respectively, also have programs in place. They give people who would normally attend games a chance to support their favorite teams by paying to fill a seat with an 18-by-30-inch two-dimensional likeness of themselves (or their dog, as some teams allow).
As goofy as it may sound, faux fans generate real money. MLB teams charge from $30 to $300 a seat for the 2020 season, and franchises in all sports are offering free cutouts as incentives for season ticket holders to pay now for their 2021 seats. Small businesses--namely, printing companies--are already reaping rewards.
Los Angeles-based AAA Flag & Banner quickly signed deals to produce and install the San Francisco Giants' fanboards, as well as the Oakland A's "Coliseum Cutouts." Business was brisk from the start. Within 24 hours of announcing the program at the end of June, the A's logged 1,000 orders--a fraction of the Oakland Coliseum's 63,000-seat capacity, but proof of concept nonetheless. Patrick Green, executive vice president of sales and marketing for AAA Flag, says that in the runup to opening day, the number had surpassed 5,000 between the two teams.
AAA Flag, which has offices and production facilities in Los Angeles, Miami, and the Bay Area, has since entered negotiations with "dozens" of professional teams, says Green. He declined to name names but said the prospective customers are "all in major sports." Getting a foot in the door with the MLB certainly helped AAA Flag's chances at recruiting customers in other leagues. And while the upside for pro teams is merely a way to cut losses and keep flesh-and-blood fans entertained while they watch games remotely, the potential benefit for a business like AAA Flag is significant. According to Green, the company is poised to rebuild, after shedding two-thirds of its "couple hundred" employees due to a pandemic-driven contraction.
Smedley knows that pain all too well. While the solopreneur didn't need to lay off any employees after Smedley Events tanked, her business took a devastating hit, and she was forced to cancel orders with her network of subcontractors, including caterers, musicians, venues, and audio-visual teams. "I felt awful," she says. "They were all suddenly out of work."
But My Fan Seats has given Smedley a lifeline. Because professional teams are using in-house marketing teams for everything but production and placement of the cardboard fans (vendors like AAA Flag handle those tasks), Smedley designed her business to suit college athletic programs. Her brainstorm, and the premise of My Fan Seats, was to create a one-stop shop for NCAA Division 1 teams to join the trend.
Earlier this week, Smedley said she had developed "about a dozen" prominent NCAA prospects. "We are still in our sales cycle," she says. "But we have been successful with schools because we are helping them build out the whole program. We built the tech where the fans upload their photos, which go through an approval process, and then go to our printing partners."
The university business is still in flux, as schools figure out how to start the fall semester safely. But given the importance of college sports programs--as economic engines, branding and recruiting tools, and a nice distraction from studying--team sports are resuming in some conferences this year, albeit with a different look and feel.
Cardboard fans in the stands may provide only a fraction of the financial benefit that actual fans do in buying tickets, concessions, and merchandise. But Smedley's My Fan Seats model presents a low-risk proposition for schools. For example, if her company were to charge $50 per placard, $35 would go to the athletic program, and $15 would cover production, installation, and an administrative fee that Smedley collects.
While it's still early days for My Fan Seats, Smedley thinks faux fans are here to stay--for a while at least. When college teams resume play, they'll do so without fans in the stands. When fans do return, attendance will likely remain subdued. "Schools need to ask, 'What will it look like to have limited attendance?'" Smedley says, adding that her faux fans could fill in the gaps and even help enforce social distancing.
Smedley is relieved to have found a niche to keep her business alive, and proud to be helping schools reboot their sports programs. "When they're ready to launch, we'll have put them in a position to make the best of a really tough situation," she says.
Jul 23, 2020