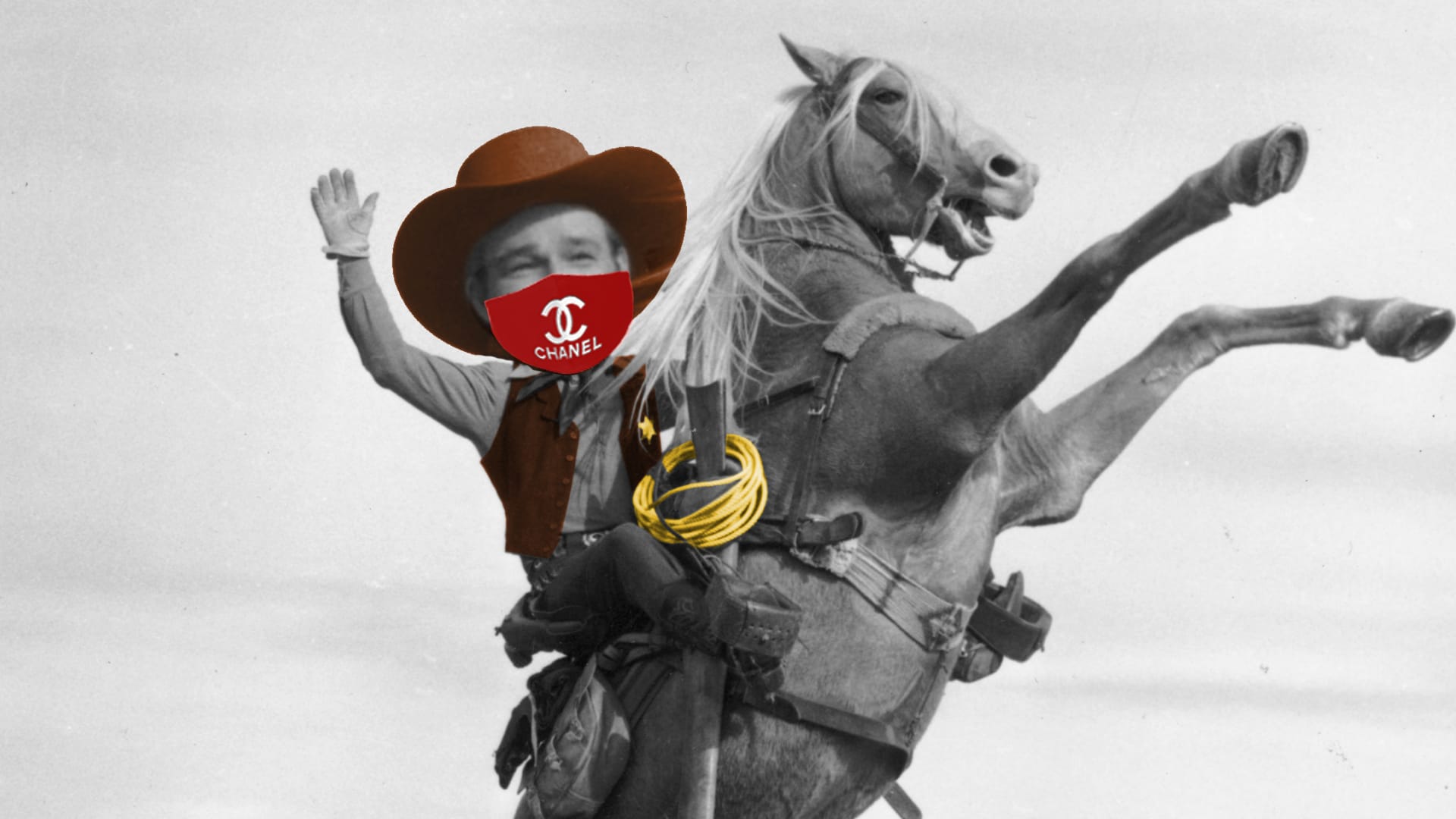 When the number of Covid-19 cases spiked and health advisories began to include wearing masks in public, production of personal protective equipment skyrocketed. A June report by Allied Market Research finds the global PPE market grew by more than $1.5 billion in the past 12 months, which includes the onset of the pandemic. It's predicted to increase to $33.4 billion by 2027, from $12.9 billion in 2019, with North America accounting for the lion's share of the uptick.
The report specifically cites the wearing of facemasks among the general public as a primary growth driver, which is all too evident in paging through any website with banner ads. The surge in interest has created dizzying opportunities for craftspeople and businesses.
If "masks" were a separate product silo at Etsy, they would constitute the third-largest sales category on the site (behind home goods and jewelry), at $346 million in the second quarter of this year. During the pandemic, 112,000 Etsy vendors have cashed in on mask sales, and four million people have visited the site exclusively to buy face coverings.
Of course, massive corporations are also capitalizing on the "It" pandemic product--from mass-producing the garments to plastering them with advertising messages.
Consumers can purchase high-end facemasks festooned with signature patterns and logos from the likes of Burberry, Gucci, Chanel, and Louis Vuitton. Street fashionistas are snapping them up online, and startups like Muse Beauty, of Charlotte, North Carolina, sell the luxury-branded face coverings via Instagram. They're not cheap: Muse charges $65 to $100 per mask. In a similar development, e-commerce outlet Vistaprint on August 12 began selling masks designed by the graffitist Futura, Amsterdam-based graphic artist Pieter Janssen (a.k.a. Parra), and sculptor and painter Jen Stark of Los Angeles. Sized for kids and adults, selections from the Artist Collection go for $16 to $24 apiece.
Slightly downmarket, Burger King is using facemasks to reinforce a promotion announced last week. On August 10, the campaign kicked off with social media posts showing customers with face coverings that spell out food orders.
"To help ensure guests are staying safe during the pandemic, Burger King Belgium and Luxembourg created a competition for guests to share their favorite orders via comments on Facebook and Instagram," spokesperson Dara Schopp says. The company will select some of the funniest and best comments and give those guests personalized facemasks imprinted with their order. "This way, they don't even have to speak when going up to the counter or drive-thru window," says Schopp.
Asked whether Burger King would import the campaign to the U.S., Schopp did not reply.
One thing is certain, however: If the U.S. has any hope of a recovery soon, facemasks will have a big part to play.
Shana Olhava is well positioned to see continued benefits. The Seattle-based founder of Snug as a Mug, a coffee-cup-cozy maker, saw her fortunes skyrocket after she created a black prototype mask for her husband, upon which she painted the Punisher logo. After spotting an image of the mask on Olhava's Facebook page, a friend reached out with a request to sew some masks for nurses who were out of PPE at the time. Soon friends started making donations. On April 11, Olhava posted the masks for sale on her site.
"My only 'marketing' has been through Facebook and Instagram, and the only place I sell my masks is through my website," says Olhava, who notes that the word of mouth has also led to increased sales for her coffee cozies.
Since late March, the consumer appetite for masks has brought more than 10,000 new visitors to the Snug as a Mug website. Sales so far this year are up 1,706 percent over last year at this time. Revenue from April 1 through July 31 reached $9,000, accounting for 90 percent of Olhava's sewing business, which she conducts in addition to homeschooling her kids.
"I'm just a mom and a wife and I have one sewing machine. There is no outsourcing of production," Olhava says. "My office is my dining room."
Aug 18, 2020