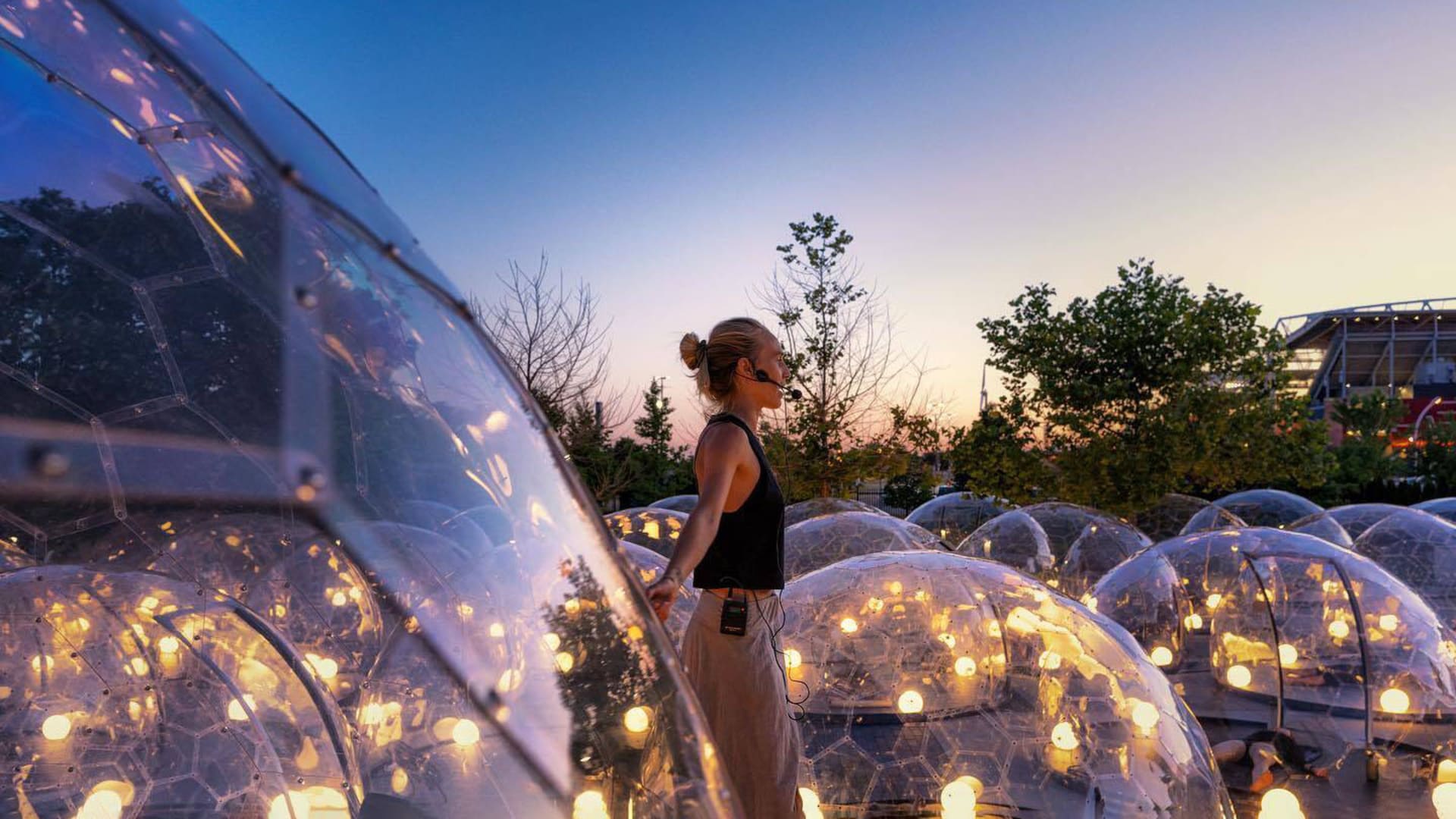 A lot of pandemic-related news is dark. Well, most of it. But there are bright spots, particularly when it comes to founders whose smart ideas and gutsy pivots have defied the Covid-19 curse. Remember the mantra "change is good"? These entrepreneurs are living it. They're making moves that not only boost revenue today but also set them up to prosper tomorrow.
Automats Make a Comeback
Popular in the first half of the 20th century, automated restaurants later fell out of vogue in the United States with the rise of fast-food chains. Today, a New York City dumpling shop and a French-pastry chef in Portland, Oregon, are going back to the future with vending machine service.
After 19 years of doling out sweets and champagne at her Portland restaurant, Pix Patisserie, Cheryl Wakerhauser switched to takeout-only after Covid-19 shut her doors. That kept some money coming in, but the utilitarian service model ran counter to the chef's creative character. So, she introduced the Pix-O-Matic vending machine to put more fizz into her pandemic-era presentation. "After the whole shutdown came, it just made perfect sense," she told The Oregonian. Positioned outside her restaurant, beckoning customers 24/7 with a mirrored disco ball, the refurbished Shoppertron 431 takes payment by card only, serving desserts, savory foods like pork dumplings, and novelties such as a Ruth Bader Ginsburg mask. The machine has boosted Wakerhauser's net profits above pre-coronavirus levels, and she's planning to add another this week.
Wakerhauser's instinct is right on trend. Another example is the Brooklyn Dumpling Shop (yes, more dumplings), which is due to open before summer's end in Manhattan's East Village. Dreamed up by restaurateur Stratis Morfogen, the dumpling shop's touchless kiosks, which are located inside a brick-and-mortar shop, accompany temperature-controlled cubbies that hold the food.
Customers simply order and pay via a smartphone app and then receive a barcode to unlock the glass door. A scanner at the shop entry detects anyone who's running a fever, and people collect their orders with the help of a PPE-wearing human attendant.
Socially Distanced Fitness
Gyms and workout studios took a hit from Covid-19, but some found creative ways to pivot as social distancing put an end to sweating cheek-to-jowl.
In Toronto, six yoga studios and a handful of independent instructors led group sessions in a pop-up event pulled together by LMNTS Outdoor Studio. During June and most of July, customers paid about $25 apiece for the opportunity to work out together in an urban park, keeping a safe distance thanks to 50 plastic domes, each measuring 12 feet wide and seven feet tall, and equipped with piped-in sound and lights for night classes.
In Redondo Beach, California, South Bay Fitness is keeping clients inside with pods roomy enough for weights, a bench, a floor mat--and a human, of course. The walls of the makeshift workout rooms are made of clear plastic shower curtains attached to metal framework. The gym also offers instruction via Zoom and outdoors, helping to drive the larger trend.
Bars on Wheels--and Inner Tubes
In New Zealand, a tiny pub on wheels made stops on its way from Auckland in the north to Dunedin in the south, traversing about 900 miles from June through mid-July. No larger than a tool shed and with just two stools at the bar, the mobile drinking hole sold out every 27-minute reservation (about the time it takes to enjoy a pint and some conversation, and maybe play some tiny darts) at 10 stops. It was a publicity play by Emerson's, a popular Kiwi brand, but no one really cared, because: free beer.
Meanwhile, in Ocean City, Maryland, alcohol sales at Fish Tales restaurant got a boost from a new contraption, the "bumper table." It's a giant rubber inner tube on four legs with wheels and a donut-shaped "table" at the center. Standing in the hole, patrons simply can't get any closer to one another than six feet. After a staffer tested positive for Covid-19, the popular restaurant shut down on July 11 and reopened about a week later.
Boat-In Movies ...
Covid-inspired drive-in movies are so last month. Next up: Boat-in movies will sail into 16 U.S. cities throughout September. The Floating Boat Cinema, operated by Australian film and events company Beyond Cinema, will offer screenings to customers who rent one of 12 to 24 boats. Events have been confirmed for Los Angeles, San Diego, and Miami, and an online ticket-sales portal also indicates screenings in Pittsburgh, St. Louis, Cleveland, Austin, and elsewhere. The vessels will enable moviegoers to maintain social distance, and each boat must contain one party, whether it consists of just two customers or the upper limit of eight.
... And Drive-In Concerts
It's the Hamptons, so why not have a concert where attendees pay $1,000 to $25,000 for one of 500 parking spaces in a 100-acre field to take in the show together? Billed as Safe & Sound, the July 25 event was the first in a planned series of drive-in shows purported to allow for public gathering while also social distancing.
Goldman Sachs CEO David Solomon, appearing onstage as his DJ persona, D-Sol, performed for an hour. "Standing up there and watching the sunset, looking out over this huge field of cars and people on their cars, it was absolutely beautiful," Solomon told Bloomberg. "If we work together and are thoughtful, we can do things that feel more normal and allow us to live with this virus safely."
Unfortunately for Solomon, not everyone shared his rosy view of the event. Despite organizers' best efforts to keep patrons socially distant, the event did catch some flak when concertgoers got out of their cars. The concert's marketing company, In the Know Experiences, listed "no upcoming shows" on its website a week after the event.
Professional Services Go Mobile
Heading into the corona virus with a fleet of eight "luxury" dentistry vehicles, Henry the Dentist may be better positioned than most to meet consumers' changing needs during the crisis. Still, the company had expansion aspirations. The New Providence, New Jersey-based mobile dental practice opened a brick-and-mortar location in late July at the Parlor NYC, on Madison Avenue. In an August 4 interview, co-founder Justin Joffe said the hotel-based practice booked three weeks of appointments in the first 48 hours after its opening was announced. Henry the Dentist's other pandemic pivots include a move to telehealth for consultations and a redirection of the fleet from individual business locations to high-rise condo complexes.
"People working from home have a lot more flexibility during the day to do things like personal care," Joffe says. Apparently, when cabin fever sets in, even going to the dentist is preferable to sitting around and suffering through endless Zoom meetings.
Joffe says that over the past 90 days, the company's appointment bookings have increased 31 percent over the same period in 2019.
Nearby, in Florham Park, New Jersey, Sperling Dermatology took its business on the road with the state's first ever mobile spa. Built into a 24-foot-long Mercedes van, the Sperling Sprinter launched in mid-June, betting on a demand for on-the-spot services.
The mobile unit, which complements three brick-and-mortar locations, helped the company draw $500,000 in revenue in July, according to Sperling's managing partner Ari Katz. Not a bad haul for treatments that include "entry level" facials at $200 to $300, body sculpting, and Botox.
"Everything we do, whether in New Jersey or New York, strictly follows health guidelines," he says. "Masks on, taking temperatures, sanitizing between treatments--we're doing it right."
Correction: An earlier version of this article misstated the revenue impact of Sperling Dermatology's mobile unit. It helped the company pull in $500,000 in revenue in July.
Aug 6, 2020