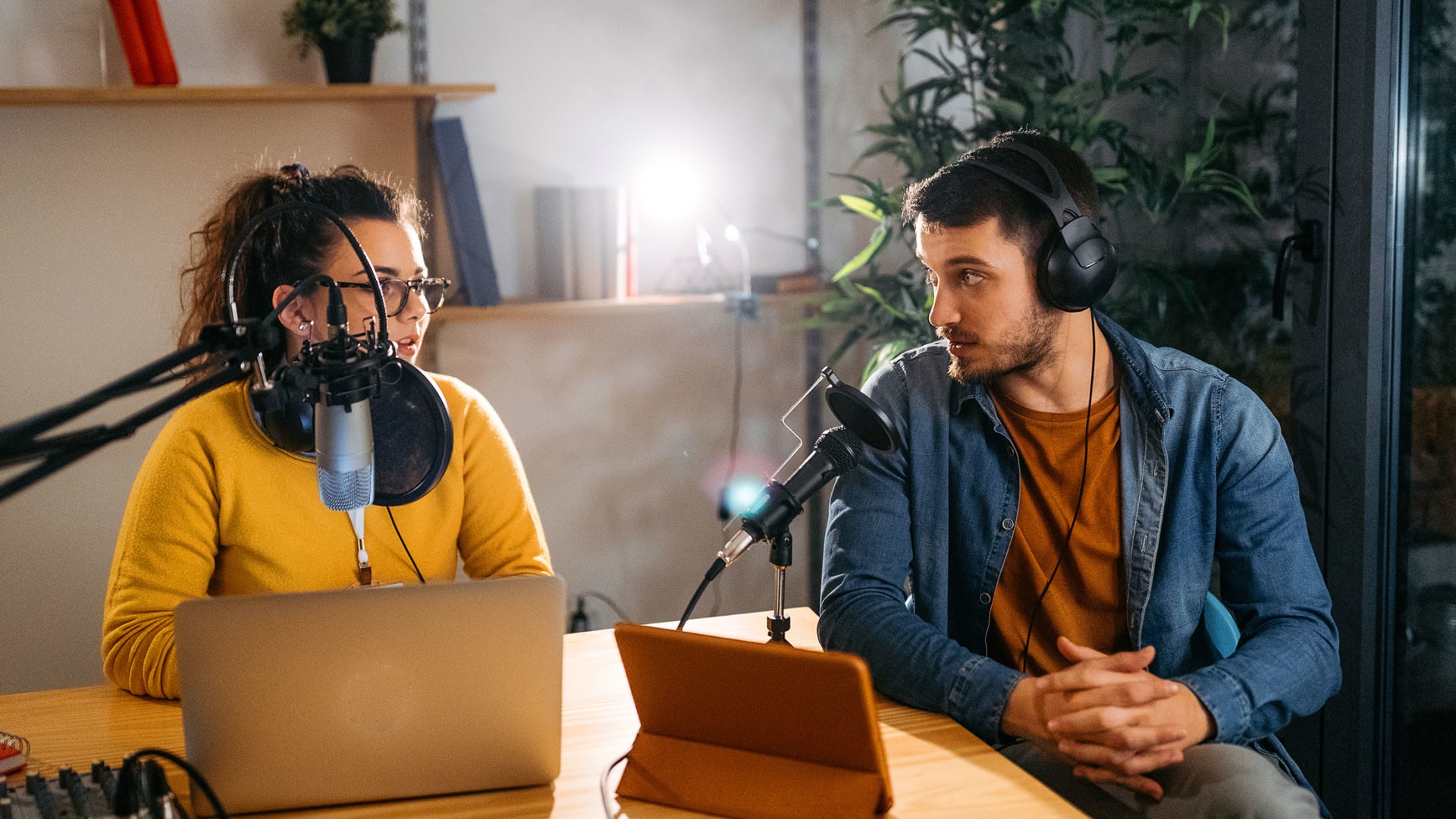 Everyone and their mother has a podcast these days. It doesn't matter if you're talking about your industry, pop culture, or the latest piece of crazy trivia. If you have a podcast, you know there's going to be competition.
The mounting pressure in the podcast space--especially branded podcasts used for business marketing--can make it intimidating to continue running a podcast, let alone start a new one. But the truth is, everyone is podcasting because it works.
Rather than avoiding this powerful marketing strategy, conquer it. Utilize the tips below to help your podcast stand out above all the white noise.
1. Set Clear Goals
Podcasting is an intense form of content marketing. It requires the research and writing that is common for content creation across the internet. But the work doesn't stop there. Scripts must also be recorded, edited, and posted online.
The content side of a podcast is time-consuming and naturally becomes the focus. But it's important to understand that when you're creating a branded podcast, you have to look further than the podcast episodes themselves. You also need to set clear KPIs that are achievable and can inform your marketing decisions.
The first factor you should consider is what your podcast is trying to accomplish. With a 69 percent consumption rate for their content, branded podcast production company Quill suggests four primary podcasting goals:
Building brand awareness that elevates the quality of your brand in the eyes of consumers.

Enhancing sales through lead generation, relationship building, and case studies.

Repurposing virtual events into marketing content.

Improving internal communications through podcast updates, training, and industry news.
By defining your key objectives, you can guide the creative content side of your podcast endeavors.
2. Collaborate With Other Podcasts
Collaboration is an effective marketing tool. The cross-pollination that takes place when two podcasts work together is powerful. Serial podcaster Josh Hallmark proved this point when he started his podcast Two Pods a Day.
Hallmark didn't spend his time trumpeting his own value or scrounging around for something, anything that people might find interesting. Instead, he decided to do the selfless thing and promote other podcasts.
The result was an incredibly synergistic effect that bred success for both Hallmark and the podcasts that he promoted. The podcaster reported that, in spite of his focus on other podcasts, he often sees thousands of extra downloads as he pitches the value of others' content.
The lesson here? Collaboration doesn't just work. It's a necessity for anyone looking to get their podcast in front of a larger audience.
3. Stay Focused
There are an endless number of topics for podcasters to talk about. This can make it easy to wander from the script as you look for things to discuss. But if you want to stand out in a saturated market, you need to make sure you're staying focused.
When guest-speaking on the Transform Sales podcast, Linsey Morando, head of marketing at Hello Bar and Subscribers, was asked about her best advice for standing out in a crowded market. She said to avoid spreading yourself too thin. Rather than using a plethora of marketing messages, Morando recommends staying focused on your ideal client and marketplace.
It's a marketing message that resonates for podcasters as much as anyone else. If you wander too far afield with your content, you're going to water down your impact. Rather than providing a single area with killer content, you end up offering subpar, skin-deep content that can't compete with the experts.
Podcasting takes a lot of work, and it's easy to lose your way as you progress from an idea to a script to an audio file. If you want your efforts to be effective, it's important that you set clear goals, stay focused on your target market, and lean on collaboration. These three tools make it easier to rise above the white noise and make sure that your podcast's voice is heard.
Oct 5, 2021