Email is being rapidly overtaken. Quicker, easier to use instant messaging services, collaboration tools, and unified communication platforms are now popular alongside email. For example, in 2015, the employees of one of the largest banks in Switzerland will send more instant messages than emails for the first time. This, according to a new whitepaper by social media compliance company Actiance.
Skyhigh Networks tracked cloud usage data from over 13 million enterprise employees and 350 companies to see which apps employees use most by calculating how much data is generated by each (see full list).
New technologies are enabling more and more sensitive communication, as well. Anonymous communication app Memo, positions itself as a channel to produce more business transparency. Its platform offers company groups where anonymous gripes can be shared. Memo users are required to verify their affiliation with a company before being admitted to a company group. Makers of the app are now selecting companies who will be testing Memo Enterprise starting in summer 2015
The Actiance whitepaper recommends four steps to properly managing these disparate communication channels and inherent risks. I've paired each with practical constraints and considerations.
Organizations should first conduct an audit to find out what sorts of electronic communications are being used. The objective should be finding a balance between letting employees use the apps they need while still protecting the companies' digital assets.
At the same time, organizations need to be aware of the National Labor Relations Act, which protects employees in certain work-related social media conversations. Since 2010, the National Labor Relations Board has investigated complaints related to employer social media policies, to mixed findings. Following investigations, the agency found reasonable cause to believe that some policies and disciplinary actions violated federal labor law. In other cases, investigations found that the communications were not protected and so disciplinary actions did not violate the Act.
I was able to do this in my company and saw a 8% lift in sales productivity. We found more employees were using apps than their mail to communicate. Knowing what's going on can help improve.
Next, organizations should monitor and supervise employee communications in order to manage communication flow. Popular internal communication and chat apps like HipChat, Slack, and Yammer all offer varying degrees of monitoring options in their internal messaging tools.
But according to research by SaaS marketplace and data provider GetApp, nearly 39 percent of businesses surveyed think communication monitoring is an invasion of privacy. Only 18 percent regularly monitor employee communications.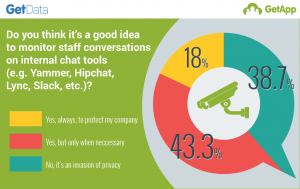 Firms operating within regulated industries should consider compliance requirements. In some industries such as, financial services, firms are required pre-review certain content such as LinkedIn profiles before employees publish that content on social media. Financial services firms are also required to prevent employees from using certain features on social media networks.
This requires the right tools to run analytics on combinations of apps, users, and other parameters to be alerted when people in Investor Relations, for example, share content during the company's quiet period.
4. Establish Clear Policies
Finally, organizations should establish adequate employee use policies, use disclaimers, and retain communications in line with organizational objectives, and as necessary, regulatory compliance requirements. Cisco, for example, accomplishes this via an electronic store where employees can search, download, and update apps approved for use. Apps are approved by a board that includes representatives from different businesses within the company.
Ultimately, businesses need to train their employees to exercise a level of responsibility when transferring sensitive information. And that level of communication can be tricky given the proliferation of telecommuting employees.
Lastly, whatever you do, don't fire an employee and then leave them with access to your social media accounts. British entertainment retailer HMV learned this the hard way back in 2013. A recently released community manager, released in the midst of a broad cost-saving effort, took to the company's Twitter account to express her displeasure. Introducing the hashtag #hmvXFactorFiring, the company's 60,000 followers (at the time), were treated to revelations like, "There are over 60 of us being fired at once!", and "mass execution, of loyal employees who love the brand."
Jun 17, 2015