I get asked almost on a daily basis on how I got my Facebook business page verified. It's actually a quick and (generally) painless process that can significantly increase your credibility.
Having a little gray or blue checkmark next to your page name indicates that your page is the official representation of your business. While it won't be necessary for every person or business to have their page verified, there are a number of good reasons to do so:
Given how simple it is to get your Facebook page verified, I encourage all qualified page owners to give it a try.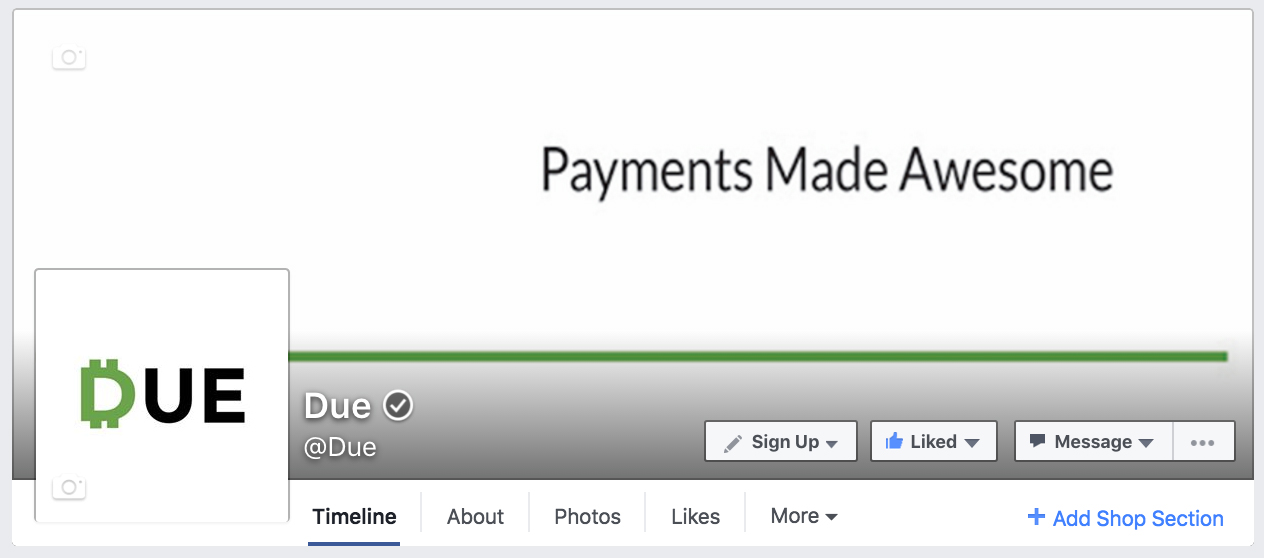 In this post I will teach you how I took my online invoicing company from a non-verified page to a now verified page in a few simple steps.
What kind of verification do I need?
You may have noticed that pages have basically two different types of badges: a grey checkmark or a blue one.
A blue badge next to a page name indicates the authenticity of a global brand, media company or public figure. Some examples of high-profile pages that have the blue badge include Rihanna (public figure), Fox News (media outlet) and Coca-Cola (global brand).
A gray badge, on the other hand, confirms the authenticity of a local business or organization. Basically, if you can provide documentation to show that you're a legitimate local business, you should apply for the grey badge.
Some global brands may actually have both types of badges. If they use parent/child pages (known as Location pages), the parent page will display a blue badge, while the individual location pages will display the grey local business badge.
How to get verified as a local business (gray badge)
According to Facebook, there are a number of elements that must be in place before you'll have the option to become verified as a local business. Your page must first:
If these three elements are in place (and assuming you're the admin of the page), you should see the option to verify in your page's settings. Simply click on "Settings" at the top right of your page, then "General," then "Page Verification."
Click on "Verify this page" or "Edit" (if you don't see the, 'Verify this page' link). You'll then be asked to provide a publicly-listed phone number for your business, your country and your language. If you don't have a publicly listed number, or you simply prefer to verify your page using documentation, you can also do this here.
Finally, click "Call me now" to have Facebook send you a 4-digit verification code. Enter this code and you're done!
Facebook will usually let you know within a few days if your verification has been completed.
How to get verified as a public figure, brand or other type of celebrity (blue badge)
While getting your page verified as a local business is relatively straightforward, receiving that coveted blue badge can be a little trickier.
Many people are under the impression that Facebook awards these badges of their own accord. And while it's true that they often automatically verify pages for well-known celebrities and brands, there is a way to manually apply as well.
Your first step will be to see if Facebook deems your page eligible for verification. Simply go to the Request a Verified Badge form (make sure you're logged in using your admin account) and see whether you have any eligible pages. If it shows you're not eligible don't worry - you aren't out of options yet.
While you can't manually submit a verification request for a business or brand, you can request verification as a public figure, band or entertainer. Before you start this process, however, there are some elements you need to have in place first:
I've recently heard from several sources that purchasing some Facebook ads through your page (even a small amount) is also advisable. While I can't confirm this, it certainly won't hurt your chances!
If some time has passed since you started this process, you can go back to the verification request form to see if your page has been deemed eligible. If it hasn't, you'll need to use the Facebook Mentions app to apply (thanks Leonard Kim for this tip!).
Simply download the app, enter your name, and select "My Page or profile isn't verified."
You'll then be taken to a form where you'll need to do the following:
Click "Send" and you're done!
Conclusion
While verification isn't an absolute necessity, it does give your page an added boost of credibility. Verifying as a local business is quick and easy, and you can get your grey badge within just a few days. Getting that blue badge can be a lot trickier, but using the tips above should help you.
Have you had success verifying your page? Are you verified as a public figure or local business?
Jun 20, 2016