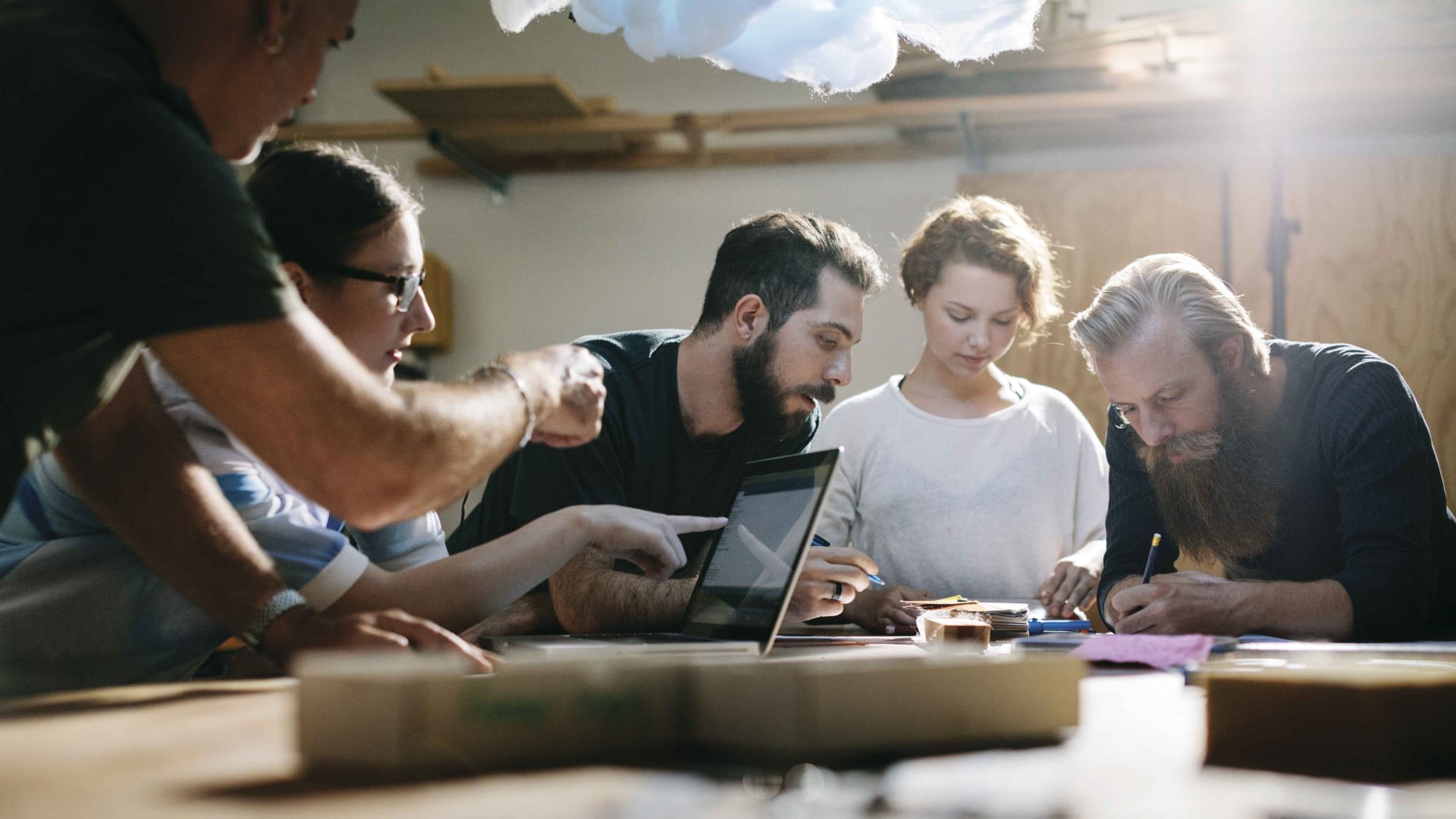 Most entrepreneurs have one thing to thank for their success: innovation. Fresh, new ideas are always in demand in the marketplace, but once you've grown your business to a certain point, it can be hard to remain agile and continue to grow and change ahead of competitors.
Forcing innovation almost never works. Reacting to a situation in which innovation is needed instantly is stressful and tends to yield ideas that are easy to implement, instead of truly innovative. And ​brainstorming is often unsuccessful​ because groups begin to conform to each other.
Instead of flash periods of innovation, perhaps a review of the innovative process is in order. Here are some questions to ask to evaluate how your organization is innovating, and identify areas for improvement.
1. Do my employees feel safe enough to share their ideas?
The best way to ensure your company stays at the cutting edge is to create the kind of environment and company culture that encourages innovation. Ideas that come from every area of your organization and have the buy-in of your workforce as a group are far more likely to result in groundbreaking innovation.
That said, you won't hear any ideas from your workforce if they don't feel comfortable sharing them. Workers have to know that taking a risk by speaking up to solve problems or try something new will be rewarded, even if the idea is not ultimately successful.
Risk-friendly company culture starts from the top. Listen when team members speak. Leave the phone and other devices on the desk when making the rounds or taking meetings, so you aren't tempted to be distracted. Follow up on ideas and conversations. Explain the reasoning behind decisions and never look back. Focus on solutions for the future, rather than blame in the past.
2. What problems do my employees face on a daily basis?
Very often, we tend to focus on the outside world when looking for innovative ideas. But the truth is, as a company, you are probably best equipped to solve the problems you face in the course of doing business. Evaluate problem spots in your processes: Where could you be more efficient? What software or tools would help your team overcome frustrations? Odds are, other businesses have some of the same issues that your employees face.
If you can stay ahead of your own problems, odds are good that you'll stay ahead of your competitors, as well. Plus, you may very well find a marketable innovation in the process. Solving internal problems doesn't necessarily have to mean creating a new product in-house. If your organization isn't equipped to create the outcome you need, work with a startup, contractor, or partner to make it happen. You'll still be investing in new ideas and you'll get expert input to make the end result even better.
3. What are my customers most happy with and most unhappy about?
Research is something that most businesses think about in terms of marketing or customer satisfaction. These are essential parts of doing business, of course, but customer surveys can help jump-start research and development in surprising ways. Customers will tell you when they're unhappy. Any business that has opened itself up to online reviews can attest to that.
Instead of feeling defensive or uncomfortable, take this feedback to heart and use it to spur new ways of doing things to get the outcomes that customers really want. It can be harder to extract what customers are happy with. Look at data to see what products are selling well, and what time of year things sell the best. Talk to your sales and customer success teams about the feedback they are getting. What is working well? What outcomes are customers thrilled with? Looking at this kind of information, in tandem with the things customers are unhappy with, can give you a surprisingly clear roadmap to your business's next move.
4. How can I clear my head?
The most innovative ideas rarely come when you are trying to think of one. That's why it's important to regularly step outside of work and get a fresh perspective. Everyone finds clarity in different ways: Something as simple as exercising may work for some people, while a well-earned vacation may be just the ticket for others.
Giving your workforce the same consideration can also help encourage more innovative ideas. Events such as volunteer days and retreats can be restorative as a team, and individual time off is equally important. Discouraging a toxic, competitive hustle culture is actually one of the best ways to ensure that your workers are at the top of their game. Encourage employees to leave work at work and to set healthy boundaries. This can help you decrease turnover, increase loyalty, and give workers the opportunity to reset and come to work refreshed.
Any business owner should be on the lookout for the next disruptive idea in their industry. Rather than looking over your shoulder, hopefully these questions will help you look within your company for those fresh innovations. Finding ways to ​innovate or revitalize​ your products and services regularly means you will have happy customers, happy investors, and a happy workforce. With a lot of hard work and a bit of luck, instead of a single idea, you'll have a whole arsenal of innovations to thank for your continued success.
Feb 18, 2021