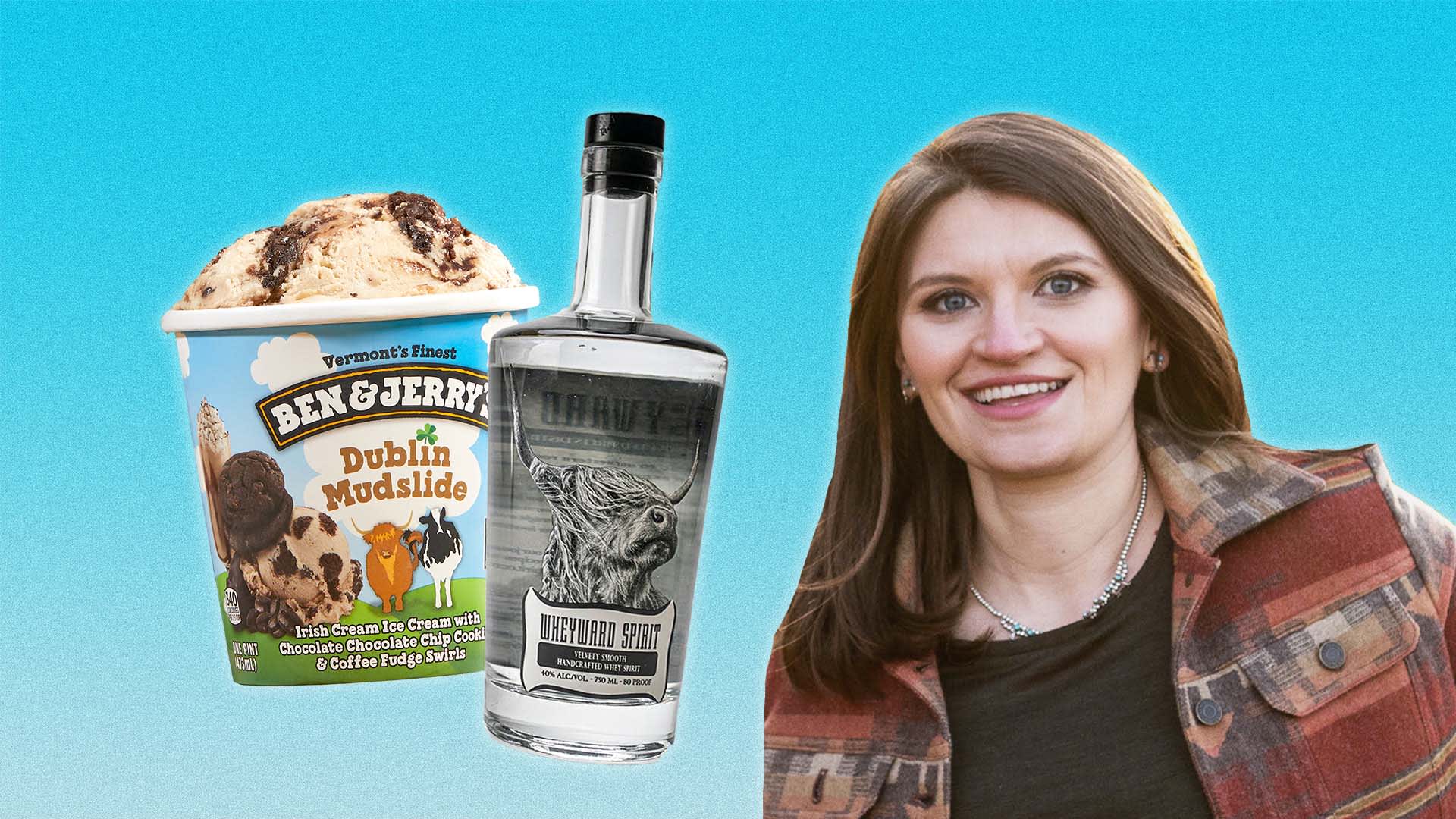 Wheyward Spirit, founded by Emily Darchuk in 2017, creates an alcoholic beverage out of whey, a nutrient-rich liquid produced from cheese processing. For every pound of cheese produced, nine pounds of whey are left behind. Wheyward Spirit ferments and distills that material, which would otherwise go to waste, into a clear "specialty spirit." Through a partnership announced in March, the two-employee Portland, Oregon-based company is now providing the spirit to Ben & Jerry's as an ingredient in Dublin Mudslide, a flavor returning from the ice cream maker's "Flavor Graveyard" for the first time since 2007. (Darchuk declined to disclose the financial details of her company or the partnership.)
With the launch behind her, Darchuk, 35, explains what she did to execute a partnership with a larger, established company and maximize its success.
1. Check for alignment first.
Not every company will be the right one to work with. When Ben & Jerry's approached Darchuk in 2020, she spoke with a company representative and quickly knew a partnership could be mutually beneficial: Ben & Jerry's wanted to work with a sustainable, women-led business, and Darchuk identified with Ben & Jerry's values, fun messaging, and focus on quality. Darchuk warns that entering into the wrong partnership, however, could dilute your brand's identity, adding that she has turned down deals in the past when they didn't fit with her goals for Wheyward Spirit. "Don't be afraid to say no," she says. "Especially if it's going to change your focus or change your production or take away from what your core business needs to be."
2. Stay closely involved in every step of the process.
In the two years leading up to the launch of the partnership, Darchuk worked with many business groups within Ben & Jerry's, collaborating on every aspect of the campaign from research and development to packaging. Flexibility, she says, is key to navigating the complications of working with a bigger company. "Seeing how we could add value to the launch and be able to support it through the process and afterwards was my goal," she says. Being an active collaborator in every step of the process ensures you and your partner are always on the same page and that the campaign achieves both parties' goals.
3. Prepare while you're waiting.
The lengthy lead-up to the ice cream's rollout proved a major challenge for Wheyward Spirit. Since the partnership began at the height of Covid-19 in 2020, neither company initially was certain when the product could be released. Rather than just idly wait in between each step of the process, Darchuk took the opportunity to make improvements that would ready her business for the campaign's eventual launch and the new audience it would bring. She worked on scaling production, further researching the science and environmental impact of her product, and optimizing her website, among other things. "It's about leaning in," Darchuk says, "and taking those opportunities to really clean house and figure out: If this ends up being huge for us, how do we want to try to show up?"
Apr 8, 2022