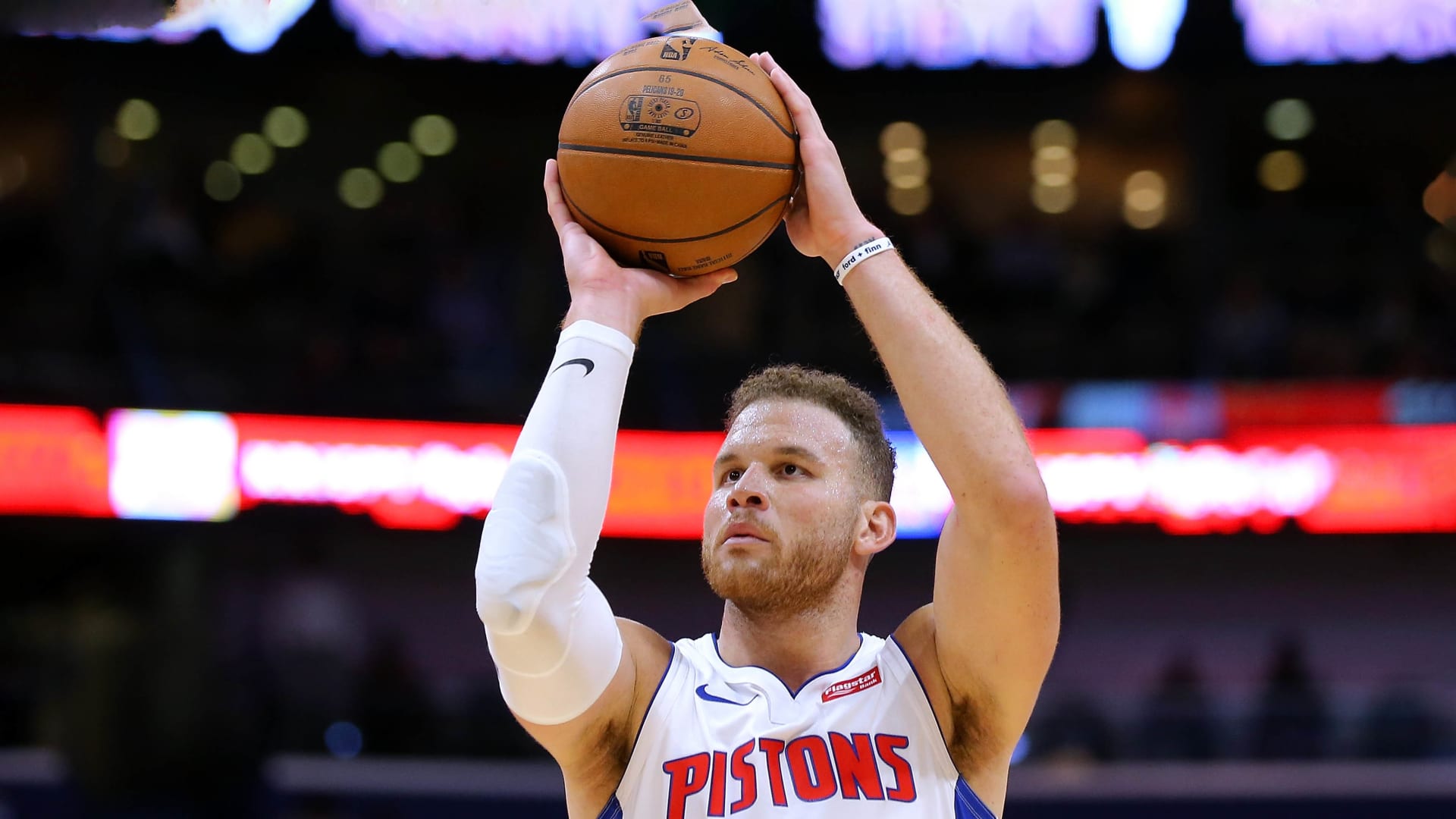 Stuck at home during quarantine this spring, NBA star Blake Griffin used some downtime to prepare for work: practice, repetitions, studying tape.
But the job at hand wasn't basketball--it was a podcast recording.
When the NBA season temporarily paused in March during the Covid-19 pandemic, Griffin, the 31-year-old Detroit Pistons forward known for his auburn hair and athletic dunks, made sure to use the suddenly emptier calendar to focus on side hustles. It's a wise strategy for anyone looking to stay productive during the pandemic. Learning new skills not only keeps your mind mentally fit--it can also help you develop expertise that could come in handy later in one's career.
Griffin's newest hustle is The Pursuit of Healthiness, a podcast that launched on Audible earlier this month. Each of the first season's 10 episodes features Griffin interviewing an expert on a topic like sleep, nutrition, or meditation. In one, Griffin talks with actor Michael B. Jordan about how he got in shape for his role in the boxing film Creed. In others, he discusses meditation with Headspace co-founder Andy Puddicombe or cannabis with comedian and talk show host Chelsea Handler.
"It's a wide range," Griffin tells Inc. "To me, as long as you're trying to improve yourself mentally, physically, spiritually, it can be considered part of health and wellness."
One thing you won't hear, at least in season one, is an interview with another pro athlete. Griffin and the team at production company OBB Media made a conscious decision to choose guests from outside the world of sports in the hopes of reaching a wider audience. Griffin also sees the value in exposing himself to the perspectives of professionals in a variety of other industries.
"For me, it's a cool way to have conversations with people that are leading their fields, to have these moments that I probably wouldn't have otherwise," he says. "Every conversation I walk away with a different view on whatever topic we were talking about, even if I already had a decent baseline knowledge."
Many of the recordings had to be done remotely with people quarantined at home, but that didn't dampen Griffin's enthusiasm. Griffin, who majored in health and exercise science at the University of Oklahoma, says he's previously been approached about starting sports podcasts, but nothing interested him enough. Then OBB asked him about tackling the subject of health and wellness.
"Growing up, my mom was very interested in nutrition, so it just became a part of our lives," says Griffin, who played alongside his older brother at Oklahoma. "Being healthy never felt like a chore." And talking healthy won't be a one-off: The podcast has already been renewed for a second season.
Life after basketball
If Griffin's work so far is any indication, the eventual transition from basketball might not be difficult. OBB founder and CEO Michael D. Ratner, who has worked with him on various entertainment projects since 2016, including an appearance on Kevin Hart's show Cold As Balls, says Griffin prepares for public appearances and entertainment gigs like he's getting ready for a game. For Pursuit, he creates research packets on the topics at hand and maps out blueprints of how the conversations might go. He's requested that the producers send him the unedited audio so he can listen and understand where he needs to improve.
"He takes that same mindset into whatever he does," Ratner says. "He's just an animal."
Taking an entrepreneurial approach to the business world is becoming common for the modern NBA star. While previous generations of players slapped endorsements on everything from slippers to soap to Triple-Double Oreos--and that's just Shaquille O'Neal--many of today's players approach their business careers as a way of setting themselves up for more potential involvement once their playing days are over. Kevin Durant, for example, founded a video production company and has invested in companies like Postmates and e-scooter startup Lime. Dwyane Wade owns a wine label and designs his own product lines for Away and The Tie Bar. Steph Curry has an investment firm and co-founded Unanimous Media, a production company that has a development deal with Sony.
"You want to have a plan in place," Griffin says. "When I'm done playing, I want to be able to step into that next thing and start that next chapter right away, because I don't really like having too much free time on my hands."
Of course, Griffin, who has made $190 million as an NBA player, doesn't need the money. But, as many entrepreneurs know, resting on one's laurels can lead to atrophy. As Dallas Mavericks owner and Shark Tank investor Mark Cuban once explained, discussing his reason for continuing to hustle despite being a billionaire: "I love to compete. To me, business is the ultimate sport. It's always on. There is always someone trying to beat me."
As an investor, Griffin has also backed early-stage startups like athletic device maker HyperIce and sports media website The Players Tribune. He's also made several entertainment appearances, including a standup comedy turn on the Comedy Central roast of Alec Baldwin and a role in the 2017 film The Female Brain. He says those projects provide him with valuable experience.
"It's sort of about gaining knowledge," he says, "and learning how to work in all different worlds."
Aug 26, 2020