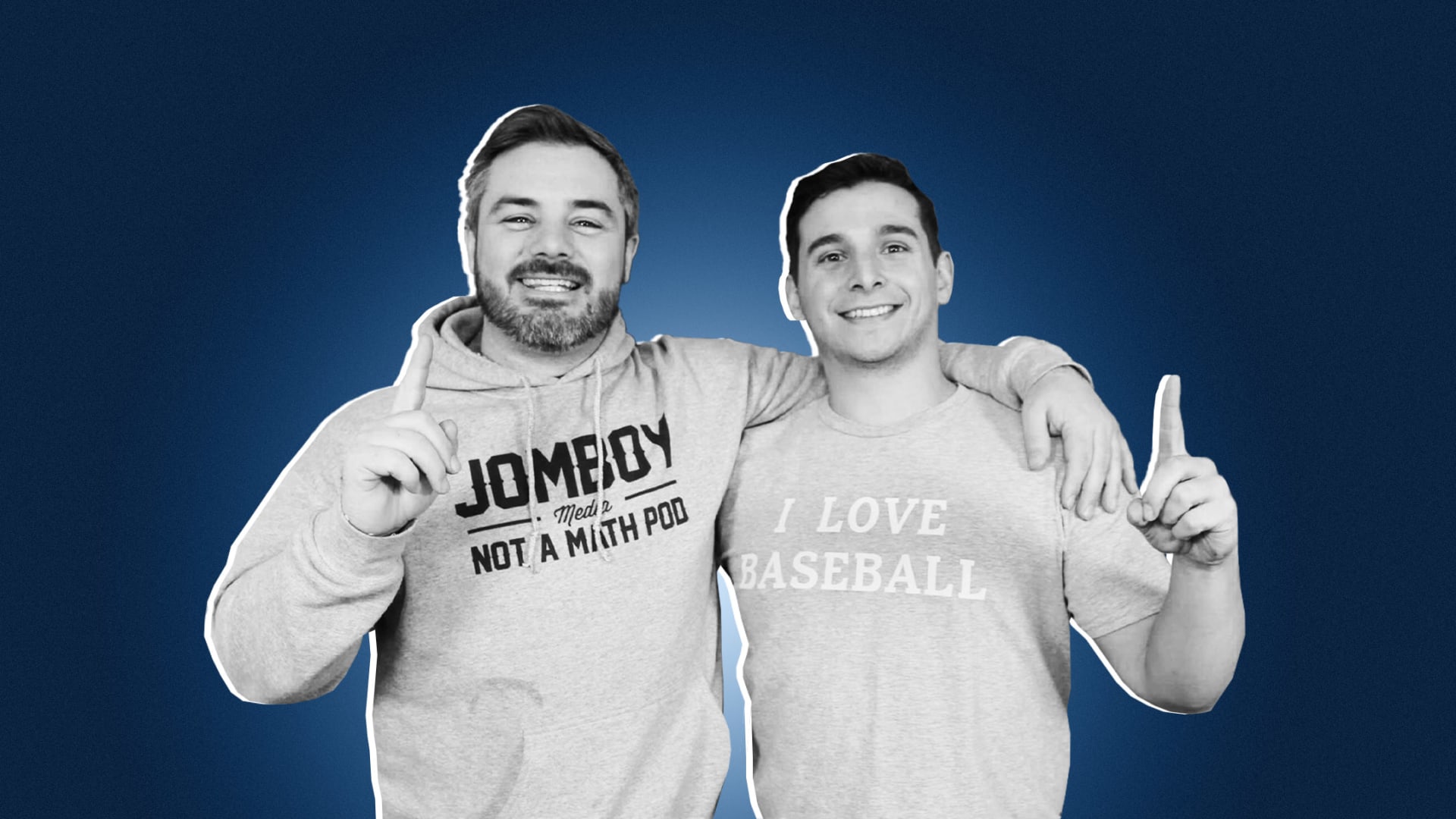 It's a sweltering June morning in Jomboy Media's New York City office, and co-hosts Jimmy O'Brien and Jake Storiale are about to start their podcast. The air conditioner is struggling to keep the Bronx office cool, so they both have a slight sheen on their faces. A video feed of their third co-host, former Major League Baseball player Trevor Plouffe, appears on a monitor above them.
"Hello and welcome to Talkin' Baseball!" shouts O'Brien into his microphone. The trio dives into a 65-minute episode that covers topics ranging from which players have been unluckiest this season to which teams have made the most of their offensive opportunities. There's also a brief debate about whether Star Wars or The Lord of the Rings is the better movie trilogy.
What started in 2018 as two childhood friends discussing baseball in front of a microphone for fun has quickly grown into one of the most popular baseball podcasts in the world. During the first two weeks of June, Talkin' Baseball garnered more than 300,000 plays across platforms such as Apple Podcasts, Spotify, and YouTube. While the operation still has a distinctly garage-like feel, Jomboy now manages a portfolio of nearly two dozen podcasts. The media company has grown from four employees at the start of 2020 to 30 today. O'Brien and Storiale--founder and partner, respectively--expect to generate annual revenue in the mid-seven-figures this year.
In February, Jomboy raised $1 million from a group of new and existing investors, including filmmaker Eli Roth, Chicago Cubs outfielder Ian Happ, and former MLB players Plouffe and Josh Satin. Having cash on hand is fairly new for the pair. So far, they've used the capital to recruit accomplished media types for the company's slate of new shows, grow a sales team, and raise employee salaries to industry standards.
"We Googled what people in their positions make at places like ESPN and said, 'That's what you're making now,'" says Storiale. "We want this thing to be legit."
Paying startup employees competitive salaries requires a lot of hustling behind the scenes. On a recent day in the office, O'Brien and Storiale recorded a podcast in the morning, another in the afternoon, and then a preview of the night's Yankees game. After the game ended, O'Brien filmed a postgame video reaction for Twitter and started compiling footage in his shed for a highlight clip, the night's work winding down well past midnight.
Going viral
O'Brien and Storiale met on their Connecticut high school baseball team and bonded over their love of the New York Yankees. It wasn't until after graduating from college that O'Brien, while working a number of odd jobs including a gig editing wedding videos, started streaming himself watching Yankees games on Periscope and YouTube, often injecting bits of humor based on what was happening in the game. A few hundred people would tune in to watch with him.
Several episodes into a new YouTube show on the Yankees, O'Brien invited Storiale to join him. The pair's refreshing mix of banter and analysis helped them attract as many as a couple thousand new subscribers per week. Sponsors for the channel and $25,000 from an angel investor helped the friends give full-time podcasting a shot. They launched a general sports show streamed live on YouTube.
"It was mostly just to get reps and become more comfortable on the mic," says O'Brien, "but it also helped us build audiences that cared about listening to us more than they cared about the Yankees."
In 2019, O'Brien picked up a new practice that would change the trajectory of the young company. Each day, he took the most interesting or exciting thing to happen in baseball--a clutch home run, a controversial decision--and turned it into a two-minute video complete with voiceover explanation. When Yankees manager Aaron Boone was ejected from a game that July, O'Brien noticed that TV microphones were picking up some of his argument with an umpire--in particular, Boone defending his players' approach at the plate in a profanity-laden rant. O'Brien manipulated the video's audio levels, added subtitles, and posted the video on Twitter and YouTube.
Millions of people viewed the clip. T-shirts were sold. Yankees players adopted an R-rated catchphrase from the video. O'Brien appeared on local and national sports talk shows to discuss it all.
"I think hearing a manager defend their players that way spoke to a lot of people," says Storiale. "So that one felt different to a degree. It left the Yankees world and it left the baseball world."
Realizing he was on to something, O'Brien started focusing more on the videos, which he called breakdowns--as in "Aaron Boone gets ejected and gives a great rant, a breakdown." They racked up hundreds of thousands of views apiece. Building off the momentum, he and Storiale launched the Talkin' Baseball podcast the same month. Almost immediately, it rose to number one in the baseball category on the podcast-tracking website Chartable.
Investors started calling. O'Brien and Storiale put together a pitch deck but never had to send it out. "There was so much inbound interest from people who loved what we were doing and wanted to help elevate it," says O'Brien.
In the fall of 2019, O'Brien created another hit. When an opposing pitcher publicly accused the World Series-winning 2017 Houston Astros of cheating by banging on trash cans to alert their batters as to what kinds of pitches were coming, O'Brien identified the game in question, dug up the footage, pinpointed the faintly detectable sounds, and edited together a brief video demonstrating the Astros' scheme. It was the biggest scandal to hit Major League Baseball in a decade, and Jomboy Media was right at the forefront.
Expansion plans
In early 2020, O'Brien and Storiale rented a small office near Yankee Stadium, a cramped space on the first floor of a building otherwise occupied mostly by law firms. Then, following the funding round earlier this year, they brought on a number of sports media personalities, including Chris Rose, a former Fox Sports and MLB Network host who agreed to launch a livestreamed show with a rotating cast of current ballplayers as co-hosts. With The Chris Rose Rotation, the host has ditched the suit and buttoned-up persona he sported with TV networks. He sports a graying beard and does most recordings in a T-shirt and baseball cap.
"When you're on television, you have to filter yourself," says Rose. "It's not like being able to swear when you're 50 years old makes you cool all of a sudden, but there's an ease when you're speaking the same language as your audience. You're not trying to hide anything. There's no corporate feel to it. People like that."
For O'Brien, Storiale, and the other on-air personalities at Jomboy, the secret sauce seems to be not having a single, secret sauce. The conversations are grounded in baseball, but they're free-flowing and fun, filled with self-deprecation and light teasing. The trio will intelligently discuss statistics one moment, and then go on a humorous tangent the next. Plouffe talks often about his affinity for marijuana, which might also help explain why he sometimes meanders into extensive Lord of the Rings analogies or steers conversations toward topics like dinosaurs.
The recipe has proved fruitful, with the co-hosts working commercials for products like sleep tracking apps, gambling websites, and cannabis companies into each episode, while Jomboy's YouTube videos come with ad pre-rolls. This July, a number of brands will sponsor live events hosted by the startup during the MLB All-Star Game in Denver.
O'Brien says the plan for Jomboy--which got its name from an autocorrection of "Jimmy"--is to "crush baseball" this season, and then focus more on other sports beginning next year. (The company has podcasts dedicated to the NFL's Giants and the NBA's Knicks, though the co-founders admit the efforts on those have been half-hearted.) O'Brien and Storiale are open to adding shows dedicated to other teams with other hosts--so long as they can find the right people. The pair constantly receives requests from listeners who want to launch podcasts within Jomboy's network, but finding hosts who check all the boxes--style, passion, and dedication--is a challenge.
But when it happens, as it did with Rose, it's well worth it. The authenticity helps the shows connect with young fans, a demographic that Major League Baseball has had difficulty reaching. "I've got two boys who are 20 and 15," says Rose. "I watch how they consume their content. This is it."
Jun 24, 2021