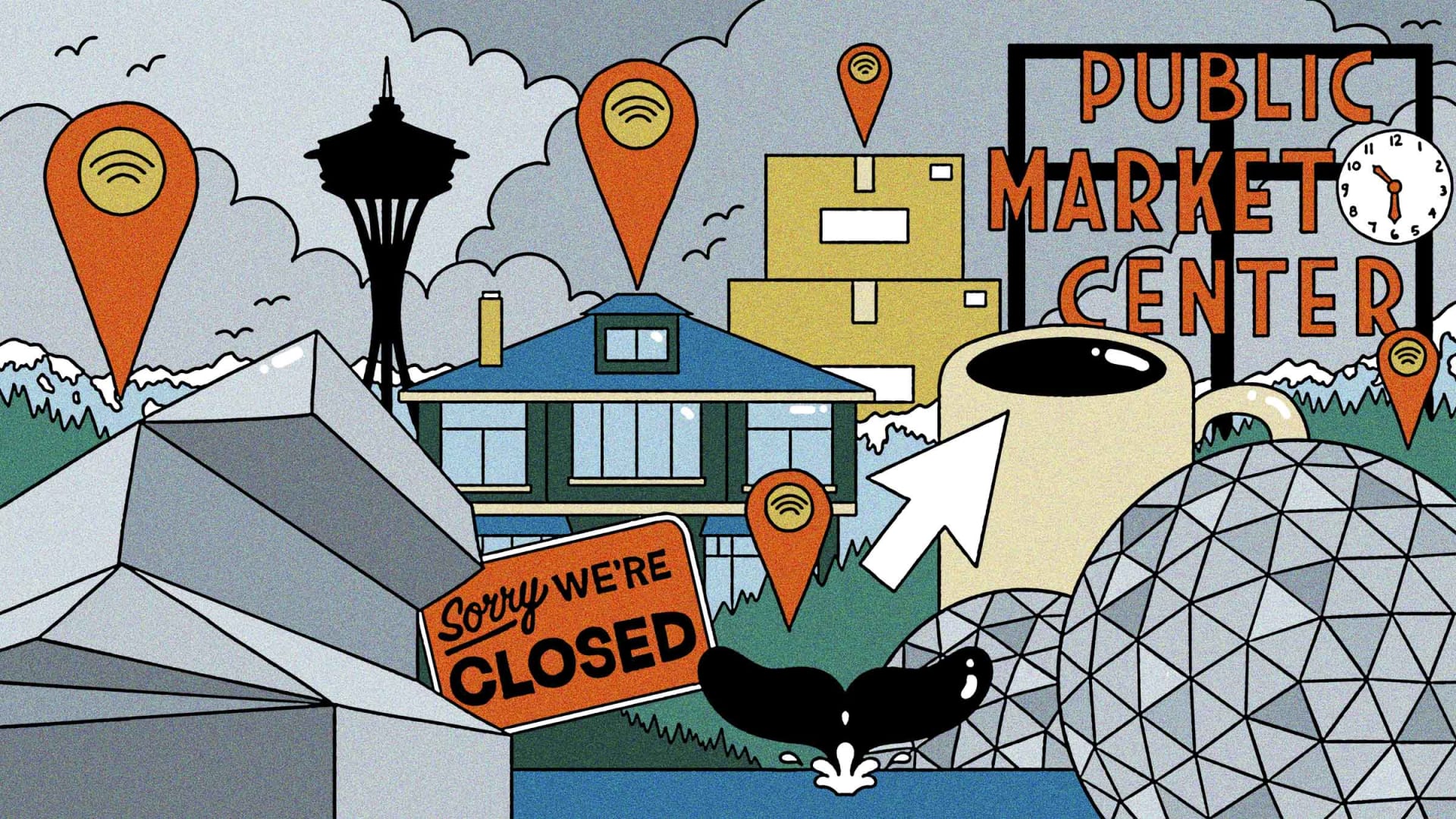 The Seattle area had the unfortunate distinction of being the site of the first U.S. Covid-19 outbreak last year and was among the first to begin shutting down its businesses. While, as in places across the globe, its retail and restaurant businesses have been crushed, Seattle's startup ecosystem has kept the city afloat--and, in some ways, thriving.
Here are four things local founders and businesses want you to know about the state of entrepreneurship in the Emerald City in 2021 and beyond.
1. Its vaunted tech industry is booming.
Seattle's startups benefited from a year in which people relied on technology more than ever. "Seattle has a higher proportion of tech workers than almost anywhere else in the country, and that has helped the city to be more resilient," says Tim Porter, managing partner at Seattle-based Madrona Venture Group. "From a tech perspective, it was a very strong year here."
Seattle startups brought in $3.2 billion in venture capital through the first three quarters of 2020, according to Pitchbook, putting the city on track to easily break its previous high of $3.6 billion in 2019. Many were in fields like health care, A.I., enterprise software, and gaming--industries that are showing no signs of slowing down as the calendar turns to 2021. For example, telemedicine platform 98Point6, which lets patients talk with doctors via text chat, grew from 350,000 users to 3 million, according to founder and CEO Robbie Cape. The six-year-old company and Inc. Best in Business honoree added clients like Chipotle and Boeing and also raised $161 million, funds that Cape says it will use to expand its platform to include treatment for chronic and behavioral issues this year.
Mobile gaming company Flowplay, meanwhile, capitalized on the large number of people seeking entertainment at home. The company launched a new product through which users can play casino games and chat with others, which helped it boost revenue to $35 million, a 60 percent one-year increase, according to founder and CEO Derrick Morton. "We found a lot of new people who are looking for options besides going out or actually going to Vegas," says Morton. "They want to feel like they're with other people, in a time when that's not that easy to do."
2. Tech talent has never been more widely available to Seattle companies.
The city's population grew by a whopping 25 percent between 2010 and 2020, and last year, personal finance website WalletHub ranked Seattle as the U.S. city with the most economic growth in the past decade, based on such factors as the decrease in unemployment rate and increase in the number of college-educated residents. There are a ton of tech workers in the city, thanks in no small part to Amazon and Microsoft, which draw talent from all over the world and now employ a combined 100,000 people in the area. But there's also a ton of competition for those workers--which is why the switch to remote work has come as an asset to startups, allowing them to pull from Seattle's considerable pool and beyond it.
For instance, Shelf Engine, which uses A.I. and algorithms to help grocers and food companies limit their waste, last year raised its headcount from 25 employees to 140 as revenues soared. About 10 percent of those workers came from outside the Seattle area, people who will remain remote even when the rest of their co-workers return to the office.
"The search is very hard for the quality of people we're looking for," says founder and CEO Stefan Kalb. "We've realized the benefits of breaking free of geographic constraints."
3. Companies are shrinking their Seattle work spaces.
The other side of that remote work equation: As Shelf Engine has shifted entirely to work-from-home, the new office for which it signed a lease in February 2020 has sat empty. "It's slightly heartbreaking," says Kalb. Other companies are walking away from their spaces entirely. Amazon allowed a lease in South Lake Union to lapse in October and is considering relocating some of its workforce to the suburbs, where rents are lower, when employees come back.
Morton, a board member of the Seattle-based Washington Technology Industry Association, says that many other tech companies in the city are considering scaling back office space.
"The big realization in the tech space here is that, even once we have vaccinated populations, offices will be different," he says. "We might need to reconfigure the way we work." That includes his own company. He's considering moving into an office that's about 40 percent smaller when Flowplay's lease is up next year.
Of course, all this is good news for companies that want to take advantage and snag office space within the city limits: The average commercial rent in Seattle dropped by 7.2 percent through the first three quarters of 2020, to $57.67 per square foot, according to Colliers, a commercial real estate broker. For comparison, that makes the city far more affordable than other tech hubs like San Francisco ($85.04) and Manhattan ($77.12).
4. It has a strong support system--but there's a caveat.
Seattle's universities--including the University of Washington, Seattle Pacific, and Seattle University--can provide support to local startups through a variety of entrepreneurship programs. For example, mailing service The Postman experienced a dip in sales early in the pandemic, but owners D'Vonne and KeAnna Pickett are now working with Seattle University students to develop an app that will help it scale. "This is helping us prepare for for our vision, which is to be a staple in this neighborhood for a long time," says D'Vonne.
Seattle is also home to a large and rapidly growing number of accelerators and incubators that have helped their companies weather the Covid storm, such as Techstars Seattle and Pioneer Square Labs, a startup studio launched in 2015 with backing from the city's own Jeff Bezos. The city's many VC firms have provided similar support. Madrona's Porter says some of the firm's portfolio companies experienced revenue declines in the first half of the year, but it worked closely with its companies to find new business streams and help them avoid layoffs.
Still, founders who didn't already have established connections with such firms--which disproportionally applies to women and people of color--had a tougher time growing in 2020, says Leslie Feinzaig, founder and CEO of the Seattle-based Female Founders Alliance. While this is true across the U.S., the discrepancy is especially glaring in tech-centric Seattle: Of all the VC deals in the city tracked by GeekWire last year, only 6.8 percent were by women-led companies--far less than the national rate of 13.1 percent.
"It's going to be hard to crawl out of what we just went through," says Feinzaig. "But that's not to say I'm not confident we'll get back there. It will happen."
Feb 4, 2021