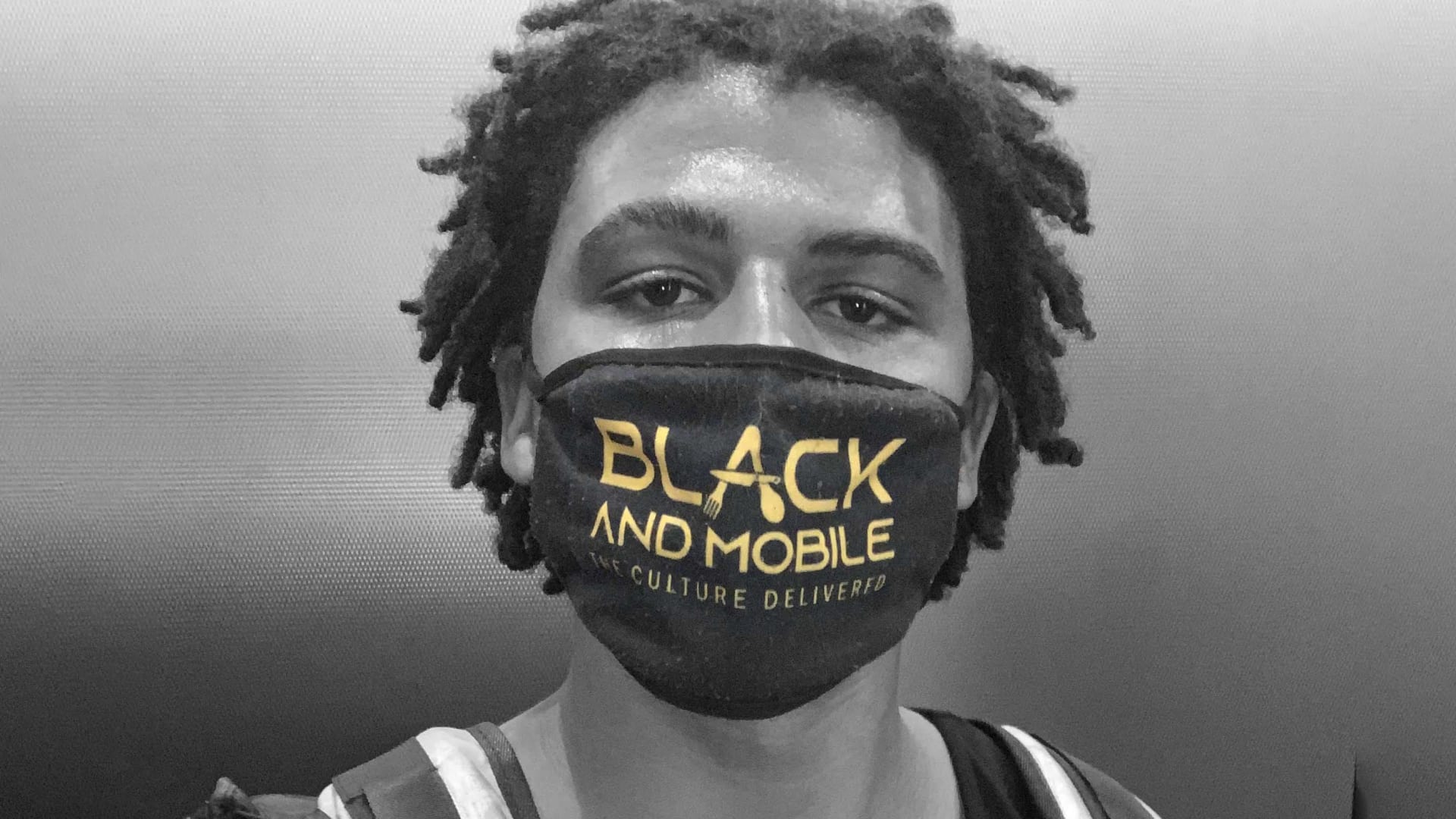 The new norm of contactless service has eliminated personal interaction from a lot of restaurant delivery services. But that defeats the purpose for David Cabello, who wants everyone to know how amazing his clients' food is.
So drivers for Cabello's company, Philadelphia-based Black and Mobile, ask consumers to pose for happy photos with their bags of fish hoagies from Daaiyah Delicious or spiced lamb shanks from South Jazz Kitchen. Black and Mobile posts the images on Instagram and Facebook, with shout-outs to the restaurants--all of them Black-owned.
"You don't get that kind of personal attention and cross-promotion from bigger delivery services like Uber and Door Dash and Grubhub," says Keenya Cain-Wiggins, owner of the takeout and catering business Shugar Shack Soul Food, in Glenolden, Pennsylvania. "It's such a beautiful partnership."
Black and Mobile delivers for 50 restaurants in the Philadelphia area and another 23 in Detroit. An Atlanta branch launches next month. The business charges restaurants 20 percent of the total order cost--on the low end for the industry--and allows clients to raise their prices by 20 percent on its platform to recoup the charge. Other services charge closer to 30 percent or more, "and they are killing Black businesses with that," says Cabello, 25. "These people worked too hard to start their businesses to have someone take that money out of the community." When Black and Mobile releases its app next month, the percentage charged will drop further for restaurants that use its service exclusively, he adds.
Black and Mobile's clients enthusiastically back its mission. "Their motto is 'Deliver the culture,' and that's what they're doing, which is awesome," says Nicole Thomas, owner of Mt. Airy Deli. The 25-year-old business serves a solid base of regulars. But Thomas says Cabello has attracted new customers who are in search of Black-owned restaurants. Some members of the public have been critical. Cabello says he's been called racist on Instagram and Facebook--as well as in person--for serving exclusively Black-owned restaurants, a charge he dismisses with a sigh. "I don't promote hating anybody. I promote loving our people and supporting our businesses," he says. "No one is going to save us if we don't save ourselves."
An election sparks a mission
Cabello's mother, now a manager at Black and Mobile, raised three sons alone in Northeast Philadelphia while their father was incarcerated. As a teenager, Cabello earned money for his family with a snow-shoveling and lawn-mowing business called Weather Workers. At school he performed well academically but acted out, getting expelled once and held back twice.
Cabello ultimately made it to Shippensburg University. But he dropped out during his third semester, the day after Donald Trump's election. "I thought if Trump can get elected, who knows what is next," he says. "I wanted to dedicate my time to helping Black-owned businesses."
For the next few years, Cabello worked at a Black-owned bookstore, where he helped with marketing. To supplement his income he delivered for Uber Eats, Postmates, and Caviar. "One day, I was delivering food on my bike, and I realized I had made $1,100 in 30 hours," he says. "I thought, 'If I can make this much money delivering food, how much could I make if I owned the company?'"
He went home and typed "How to start a delivery service" into YouTube, the beginning of months of research. He quickly spied an opportunity. "There were no Black-owned services doing this," he says. And by restricting his clients to Black-owned restaurants he could continue his mission.
A slow start--and then the pandemic
In November 2018, Cabello signed his first customer. But then a gym accident left him unable to ride his electric bike. "I was crying, miserable," he says. "I thought, I am never going to start."
He finally relaunched in early 2019, trading off dispatch and delivery duties with his twin brother, Aaron. To keep money coming in, he continued to deliver for other companies. For the first few months, just three or four restaurants signed on. By the end of 2019, Black and Mobile had fewer than 20 restaurants and had sold just $25,000 worth of food.
Then came the pandemic. Inside dining ceased. Deliveries surged. Within weeks more than 30 new clients joined the platform. In April, diners ordered $70,000 worth of food over Black and Mobile, more than the previous three months combined.
Shugar Shack Soul Food's Cain-Wiggins coaxed Cabello to extend his service to Philadelphia-adjacent Delaware County, where Shugar Shack is part of a growing cluster of Black-owned restaurants. "Black and Mobile is spreading the word about African-American restaurants in every city they go into," Cain-Wiggins says. "It keeps us motivated to see them growing and getting their name known and then spreading the word about us."
Cabello wants to expand to every U.S. city with a large concentration of Black-owned businesses and from there into Africa, South America, Haiti, and Jamaica. The company's name has inspired him to think even bigger. "We are going into ride-share," Cabello says. "And I want to have my own airline."
Jun 25, 2020