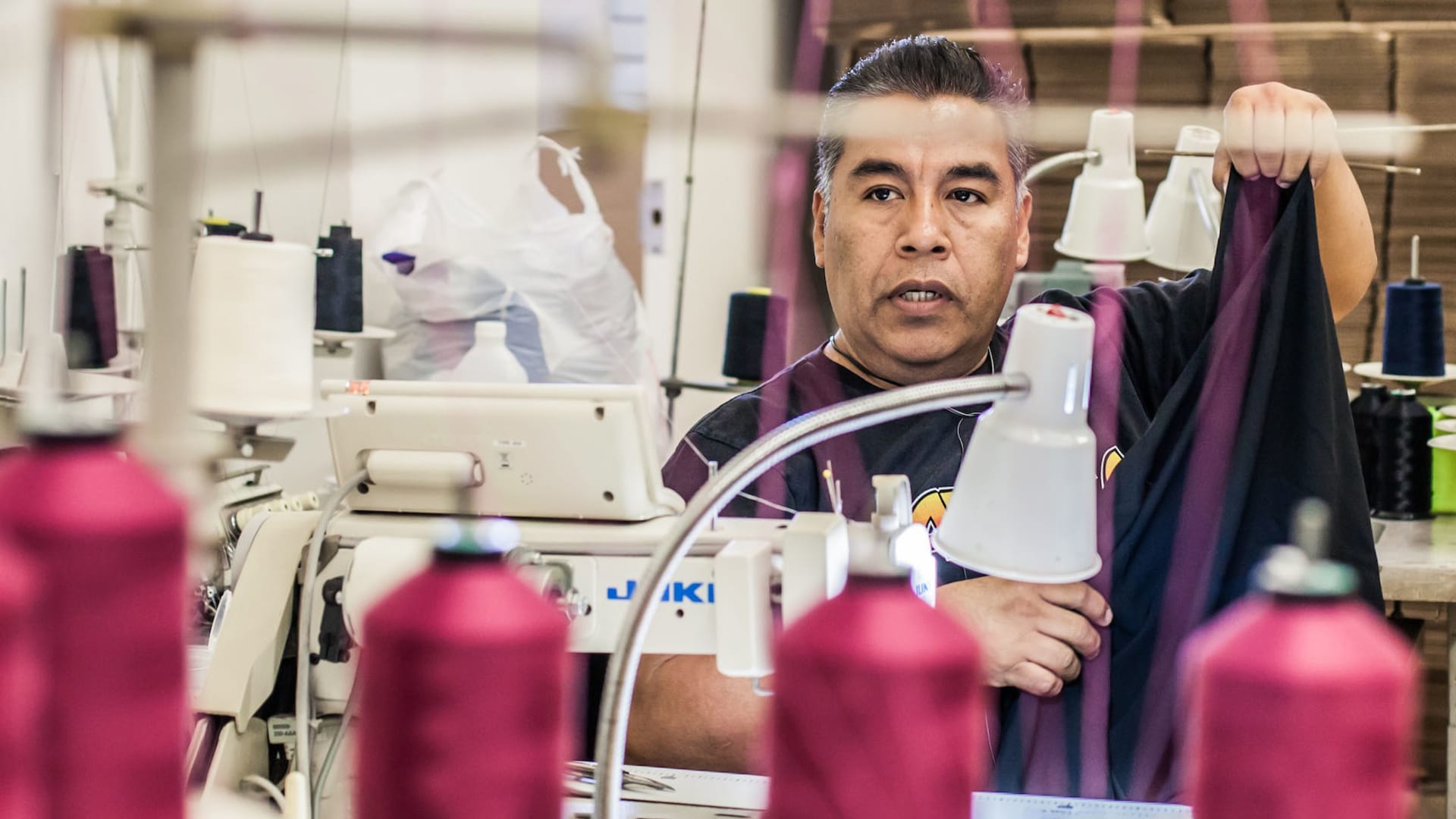 Ryan Martin recalls the first time he saw the factory. He had traveled to Los Angeles for a quality check on a line of jeans he and a partner were launching. The factory's owner drove him to an alley in an unprepossessing neighborhood and then led him through an unmarked door and up three flights of stairs. "There was probably a 40,000-square-foot facility with hundreds and hundreds of operators going hog wild on the product," Martin says. "It was crazy."
Martin is the founder and sole employee of W.H Ranch Dungarees, a couture jeans business he operates from his basement in Kansas City, Kansas. In 2017, he met Eric Edwards, a local workwear retailer with four stores, who wanted him to design an in-house line of jeans and knitwear called KC Jacks. Martin had little experience with the kind of mass production the workwear line would require. But he and Martin hired a local manufacturer to produce a first order of 1,200 items. Martin inspected them all and sent back 75 percent for what he calls "egregious flaws."
Martin was going to get them fixed, but the manufacturer declared bankruptcy and locked his doors, with $40,000 worth of the entrepreneurs' merchandise behind them. Martin and Edwards never got the jeans back, which was fine with them. "The quality was so poor," Martin says, "we might as well have lit them on fire."
After the jeans debacle Martin switched manufacturing to the Los Angeles factory. "Even with all my connections, it took me three months of being introduced from one person to the next to find the right facility that could take our order and do it at the price we needed and make a quality product," he says. The partners also wanted a producer that could source U.S.-made materials. This particular manufacturer had a relationship with a raw cotton manufacturer in Texas and could provide KC Jacks with military-grade zippers from the last U.S. zipper maker still operating.
That someone like Martin, with more than a decade of industry experience, had so much trouble lining up production speaks to the obstacles faced by thousands of small and startup fashion brands. U.S. textile and apparel manufacturing has been migrating offshore since the 1970s as some large brands sought cheap labor in China. The exodus sped up with Nafta and other trade policies in the 1990s, as production shifted to Mexico and points south. In 2018, U.S. apparel manufacturing dropped to $9.2 billion, the lowest number on record, according to the Bureau of Economic Analysis.
Offshore manufacturing doesn't work for brands like KC Jacks, whose orders are relatively small and monitoring requirements high. Like many other entrepreneurs, Martin also desires the quality and political halos conferred by a Made in the USA label. But many local cut-and-sew shops are not up to the challenge of producing an ambitious fashion line. "It takes a long time to build relationships with people who do right by you and weed out the bad actors," Martin says.
Now he is launching a consulting arm of W.H. Ranch to help fashion businesses do just that. The new venture will guide startup designers and reshoring companies to U.S. factories that will work with them and source domestic materials. He is partnering with H Bar C, a westernwear company that dates back to 1897 and relaunched a few years ago. At first he will work with factories like the one in Los Angeles--a city that is a rare U.S. hot spot for apparel. But the long-term vision is to rejuvenate old, closed facilities all over the country.
Since announcing his plans Martin says he has heard from several potential clients as well as domestic textile vendors, including a denim mill, interested in working with him. Pandemic-related supply-chain disruptions are further fanning interest, including from larger brands. "Everyone wants to see U.S. production come back," he says.
The fashion Sherpa
What Martin is planning, Zack Hurley has already achieved. In 2012 Hurley and his business partner, Jesse Dombrowiak, were at a fashion trade show in Las Vegas, repping the menswear line of a Peruvian factory owner they'd met in the course of other ventures. During the event they encountered numerous vendors who were printing graphics on the same commodity T-shirts. Their Peruvian manufacturer, by contrast, "was making very intricate shirts from the best fabric," Hurley says. "We wondered, why couldn't everybody create such great product out of the gate?"
Like Martin, Hurley and Dombrowiak realized that while fashion brands proliferate, few have the expertise or connections to tap into optimal supply chains. For startups testing the waters or existing brands doing limited runs, minimum order requirements--often upward of 1,000 items--are another obstacle. Many entrepreneurs they spoke with were fleeing offshoring experiences where the service, communication, or quality problems proved intractable.
Soon after the trade show, Hurley and Dombrowiak launched Los Angeles-based Indie Source to manage the manufacturing process for companies that have low-volume orders or that simply don't know the ropes. For the first couple of years, they worked exclusively with the Peruvian factory, where they had connections. Then in 2014 they set up their own production facility in L.A.
Manufacturing isn't the only hurdle for apparel-makers, the partners soon learned. Ninety percent of Indie Source's clients are startup fashion entrepreneurs with no background in apparel. (The remainder is established companies such as Nike and Pizza Hut that need some kind of specialized or limited-run order.)
Many customers are niche businesses trying to fill a market gap they've spotted--say, a nurse who wants to make more-protective and better-looking scrubs. These entrepreneurs need someone to develop their ideas into a product, create patterns, set up a supply chain, get it manufactured, and, in some cases, help sell it online.
Today, Indie Source employs about 30 people including project managers, pattern and sample makers, sourcing specialists, and sewers and cutters. A children's line might require product from seven different fabric vendors and three suppliers of hardware like buttons and clasps. Indie Source pulls everything together. "Do you need a good elastic person?" Hurley says. "We know where to go."
One reason startup founders manufacture overseas is to save money. Indie Source works backward from clients' desired retail prices and margins to build manageable budgets. "You have to think about the total cost, especially now that shipping is through the roof and you have these higher tariffs," Hurley says. The pandemic served to get him new clients who--their orders stuck in China--are looking to diversify supply chains.
Holly Fiske is one of Hurley's entrepreneur clients. A yoga instructor and author, Fiske also sells her own apparel line on her website and through her store, Wahi Yoga, in Leavenworth, Washington. Fiske describes her brand as a "hard-core sustainable, ethical version of Lululemon." So in 2015 she went looking for an independent willing to produce her clothes in small batches--about 200 pieces at a time--and according to her standards.
She found Indie Source, which has since been helping her source ethical fabrics. When she requested no plastics be used in shipping, the company instead used paper left over from cutting out the patterns as a layer between garments. "They understand this isn't a money maker for me, but a mission," Fiske says. "They are so cool about supporting me."
Aug 21, 2020