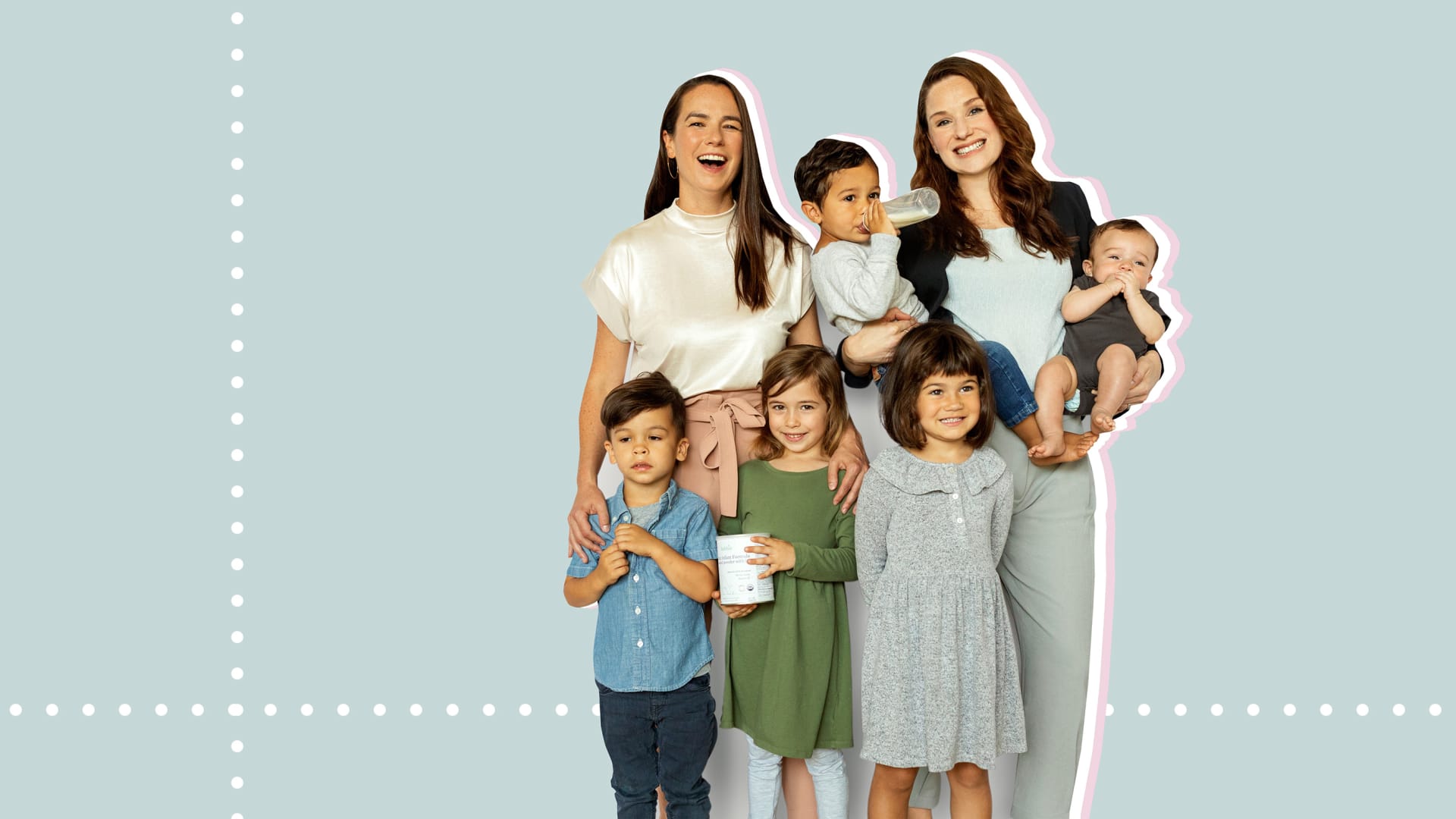 Laura Modi was sitting in a meeting when Sarah Hardy, her co-founder at the infant formula startup Bobbie, arrived with alarming news. "Very shocked, she says to me, 'The FDA is at the warehouse!'" recalls Modi.
It was May 2019: Two weeks after the launch of Bobbie's pilot. A team of nurses, lactation specialists, and doulas were traversing San Francisco, hand-delivering product to the company's earliest adopters. Bobbie's advisers had warned Modi that at some point they'd be inspected. But she never thought it would come so soon, before the fledgling business had even cracked its shell.
At the warehouse, Modi and Hardy encountered two uniformed U.S. Food and Drug Administration agents, armed with clipboards, who had been alerted to Bobbie's launch by early press. The agents reviewed the contents of a box. The labeling, they informed the founders, did not comply with FDA requirements. "Talk about my heart dropping in my stomach," says Modi.
To keep Bobbie going, they would need to completely rework production. But first--"and this was the real heart-wrencher," says Modi--the company had to do a recall.
It's tough to imagine a product for which quality matters more than infant formula. We're not talking about baby food, itself the subject of endless debate on mom blogs. We're talking about the breast milk substitute fed to newborns, "the most vulnerable audience that exists, who you are responsible for keeping alive," says Modi. "Who recovers from a recall for infant formula?"
Bobbie did, it would seem. The company received the FDA's green light in September and will start selling product in November. What's more, its response to the crisis attracted new investment and a new manufacturing partner. "I don't think we would be where we are today," says Modi, "if we didn't have the journey we have been given."
Failure in the pharmacy.
Modi was raised in a family business in Ireland. Her parents run Portwest, the largest producer of protective workwear in Europe, founded by her great-grandfather. Growing up, Modi assumed she'd go into manufacturing. But in 2008, the global downturn propelled her to the United States, first into a project management position at Google and then a post as Airbnb's director of host operations and community.
While at Airbnb, Modi became pregnant with her first child. "Being Irish Catholic, I assumed I would breastfeed for the next two years," she says. "My grandmother had 13 children and breastfed all of them." But after five days of nursing, Modi developed an infection. She found herself in a pharmacy aisle reading labels on cans of infant formula that included objectionable ingredients like corn syrup. "It was the complete antithesis of breast milk," says Modi. "I felt disappointed in myself. I felt like a failure."
Even after Modi recovered physically, her angst continued. The demands of her job required she supplement breastfeeding with formula. "You have Sheryl Sandberg saying climb the ladder and the Center for Disease Control saying breastfeed your child for 35 hours a week," says Modi. "I couldn't reconcile them."
Modi's friends and family in Europe were less conflicted over bottle-feeding. That was partly cultural and partly because of product. In the U.S., the infant formula market is dominated by three global corporations: Nestle, Mead Johnson, and Abbott Laboratories. In Europe, the market is fragmented among smaller companies that, in general, use fewer ingredients and are tougher on certain sugars. They also draw on carefully curated supply chains for things like dairy and lactose.
The European formulas comply with different regulations than those made and sold in the U.S. Consequently their sale here is illegal, resulting in a thriving black market among chiefly urban, affluent parents who perceive the European product as superior.
Modi wanted to create a European-style product that could be marketed legally in the U.S. Another objection by the FDA was that because black-market formulas are sold by third-party vendors, there is no way to track things like transportation and storage. Modi would sell the formula herself, direct-to-consumer. "The direct-to-consumer market for diapers has absolutely skyrocketed," she says. "And the only other product that is as predictable as diapers is infant formula."
A regulator's rebuke.
Modi approached the only contract manufacturer in the U.S. that makes infant formula: Perrigo Nutritionals, based in Milton, Vermont. Perrigo turned her down; Bobbie was too young and too small to meet its minimum-order requirement.
Modi had no choice. She would have to make her European-style formula in Europe. Working with a food scientist from Johns Hopkins University, Modi came up with a recipe that had 20 percent fewer ingredients than those produced by the Big Three, with 100 percent of carbohydrates derived from lactose, the sugar naturally found in breast milk. The scientist introduced her to a woman-led manufacturer in Germany that worked with the kinds of suppliers Modi coveted. Bobbie signed on. Six months later, the first shipment arrived in the U.S.
On Mother's Day 2019, Modi and Hardy--another Airbnb veteran who had joined four months earlier--began dispatching their ambassadors to the homes of mothers who had signed up for the pilot. It was going well. Then the FDA came calling.
Modi knew that something made in Germany could not be sold as FDA-regulated infant formula in the U.S. But she believed Bobbie could sell the product--considered infant formula in Europe--as toddler formula here. Toddler versions are not regulated as heavily. "Ultimately the FDA felt our formula labeling was misleading and was trying to straddle both infant formula and toddler formula," says Modi.
In addition, the German plant was not FDA-vetted. And while Bobbie's iron content fell within FDA guidelines for full-term healthy babies, the agency requires infant formulas that contain less than 1 milligram of iron per 100 kilocalories to state on the label that additional iron may be necessary. Bobbie's product contained 0.79 milligrams, with no disclaimer.
At Airbnb, Modi and Hardy had learned to respond quickly and calmly to unexpected developments. Within 72 hours they called or emailed all 90 customers to whom they'd delivered formula. The founders offered to sit down with anyone who wanted a follow-up. None did. "The majority of our customers were already circumventing the FDA by buying European formula on the black market," says Modi. "So to be honest, this really didn't faze them."
Modi's extended circle of advisers was more concerned than those mothers. They wanted her to start again--this time with baby food, which can be manufactured by around 200 companies. But the competition in that category is fierce. And baby food didn't address the need experienced by Modi, who gave birth to her second child right before contracting with the German factory. (Her third was born in May.)
"I was in an identity crisis for the guts of a week," says Modi.
After the crisis.
Exactly one week after the recall, a Perrigo salesperson emailed Modi. Despite the FDA disruption, "Our team was very impressed with your launch of Bobbie," the salesperson wrote. "I was wondering whether you have time this week for a phone call to discuss potential manufacturing opportunities?"
Perrigo's salespeople weren't the only ones interested. Pedro Prieto, then vice president of R&D for Perrigo's nutrition division, attended the meeting between Modi's team and Perrigo, and was blown away. "I felt this is something wholly new," he says. "There is an advocacy here for the needs of women."
Prieto advocated for Perrigo to take on Bobbie. The manufacturer, he believed, was uniquely qualified to stay true to Modi's vision while bringing the product into compliance. "Perrigo lives by its relationship with the FDA," says Prieto. "They are in tune with their requirements and understand the reasons for their scientific positions." (After retiring in March, Prieto became chief scientific adviser of Bobbie's medical affairs team.)
In November Modi and Hardy flew to Maryland to meet with the entire FDA infant formula team and learn what they needed to do. Working with the agency and Perrigo, they modified the recipe and assembled "the suppliers of our dreams," says Modi. The new vendors, most of them U.S.-based, include a pasture-raised dairy run by 32 co-ops and farmers across the country and a maker of the fatty acid DHA--important for brain development. The dairy has tested its product with NASA.
In 2018 Bobbie had raised $2.5 million from Greg McAdoo, an early investor in Airbnb, leading the round with Bolt. Three weeks after the recall, Modi heard from Sara Adler, a general partner at the early-stage firm Wave Capital, whom she'd met with during the earlier raise.
Like the folks at Perrigo, Adler admired the founders' resilience during the crisis. As a mother of two who knew all about the black market, she'd already bought into Bobbie's value proposition. "The main question was, there's this big regulatory hurdle and can they get across that?" says Adler. "Their approach of treating the FDA as partners instead of adversaries made me confident they could." Wave invested $4 million.
In August, 14 months after the recall, the regulator's good-to-go letter arrived. In November, Bobbie will start selling the first European-style infant formula to meet FDA requirements.
As for the brand name: "My daughter, who is now 4, called her bottle a 'bobbie,'" says Modi. "And when you squint it looks like 'booby.' But that is a happy coincidence."
Sep 30, 2020