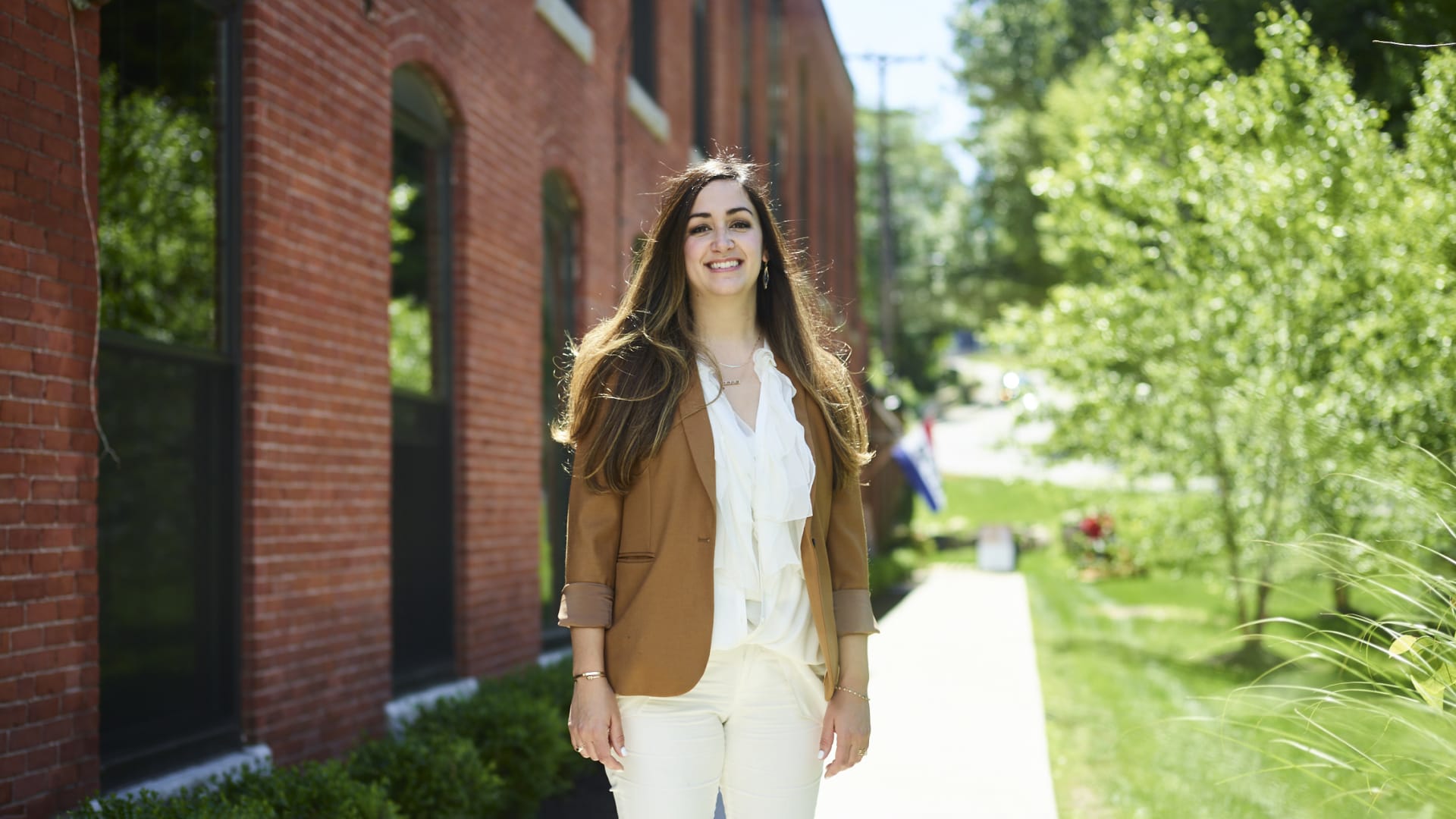 Three years ago, Melanie Casey finally gave up her Etsy shop. It was 2017, and with four employees and $1.6 million in revenue, Casey felt her Andover, Massachusetts-based company's continued presence on the indie marketplace was a tad unseemly. That was a good move. Today Melanie Casey Corp.--No. 642 on the Inc. 5000, with three-year revenue growth of 731 percent and $5.6 million in 2019 revenue--is a pure e-commerce company whose engagement rings sell for as much as $50,000. But Casey built it the old-fashioned way: one hand-made piece at a time. --As told to Leigh Buchanan
When the 2008 financial crisis erupted, I was working for an investment firm in Boston trading subprime mortgages. I wanted out of that industry, so on evenings and weekends I took every jewelry making and computer-design class I could find. Even though I'd never sold any art--or even been considered especially good at it--I was creative and believed I could make a living as an independent artist. One day at lunch, I brought a baggie full of beaded rings and necklaces to a tiny store in Faneuil Hall. I had priced them practically at cost. For the owner it was the deal of the century. She placed the first of two orders for around $3,000 each. Between that and Etsy, I sold $10,000 of jewelry that first year.
I sent my business plan to the Small Business Administration, seeking mentorship. I got back an email that said quitting your job is not a good idea. I quit my job.
Etsy was an important community for me early on. I know people don't think of Etsy as a place to build a scalable business. But for me it was an alternative to an MBA or investors. For 20 cents a listing I could experiment with products and pricing and learn how to create a personal relationship with customers who demanded over-the-top responsiveness and generosity. I was a nobody back then, but my clients took me seriously. Their feedback validated me in ways nothing else could. And Etsy itself made sure the community was made up of people like me: independent makers using their own hands to craft everything.
The pieces I made at first were pretty but not technically challenging. I hadn't graduated to gold and diamonds yet, so I used semiprecious and precious stones. I was lucky to discover on Alibaba a bead and gemstone dealer in India. Manu Joshi was doing a startup, too, and he responded eagerly and instantly to my email with great pricing. We went out on a limb together: Manu was even willing to send me stuff for free to prove his quality. He really understood what I wanted and would custom-cut stones for me. He also sold me materials in bulk, which I resold to other jewelry makers on Etsy. My Etsy supply shop funded the first two years of my jewelry company.
I was designing each piece in CAD and then crafting it by hand, down to the ear wires. My stacking rings developed a cult following. Each piece took less than an hour to make and sold for, at max, $200. If I wanted to grow I knew I would need more people. I hired three jewelers and, soon after, brought on Jennifer Williams, who became my director of production. Jennifer shared my dreams for the business; and as a former diamond setter at Tiffany's she had the experience and quality standards to elevate us. She's a big reason we are growing this fast. The other reason is Katie Kurtz, my director of operations who built our virtual customer service team.
There's pride in bringing a single piece of jewelry from start to finish. After I create the designs my team members handle everything from sizing through polishing. We do everything in-house except cast the metal. Most jewelry makers send out their stones to be set, which is where prices go through the roof. By setting them ourselves we keep costs reasonable and margins high enough that, by year three, we were profitable.
Over time we evolved into makers of fine jewelry. The average sale now is $1,500, and we sell engagement rings that cost as much as $50,000. Our customers are typically men acting at the direction of their girlfriends or wives, who send links to our site and say, "That one."
We work in a former mill on a river. Out the window we can see beavers, ducks, and fish. When the pandemic forced us to close, my 15 jewelry makers took their benches and tools, set up studios in their homes, and kept on working. Apprentices drove around to their houses to collect their finished products and bring them first to a manager's house for quality inspection and then to Jenny or me for another quality inspection. From there, they couriered the jewelry to members of our packing and shipping team, who were also working from home. It was terribly inefficient. And complicating matters, during this period we have had our strongest sales ever. People still want to get engaged. But now they don't want to go to the mall or to Tiffany's. I'm actually trying to hire more people in the middle of this.
The idea that a business like mine could grow so fast must seem crazy. Handmade anything isn't scalable. The only way it works is with lots of amazing hands.
EXPLORE MORE Inc. 5000 COMPANIES
Dec 21, 2020