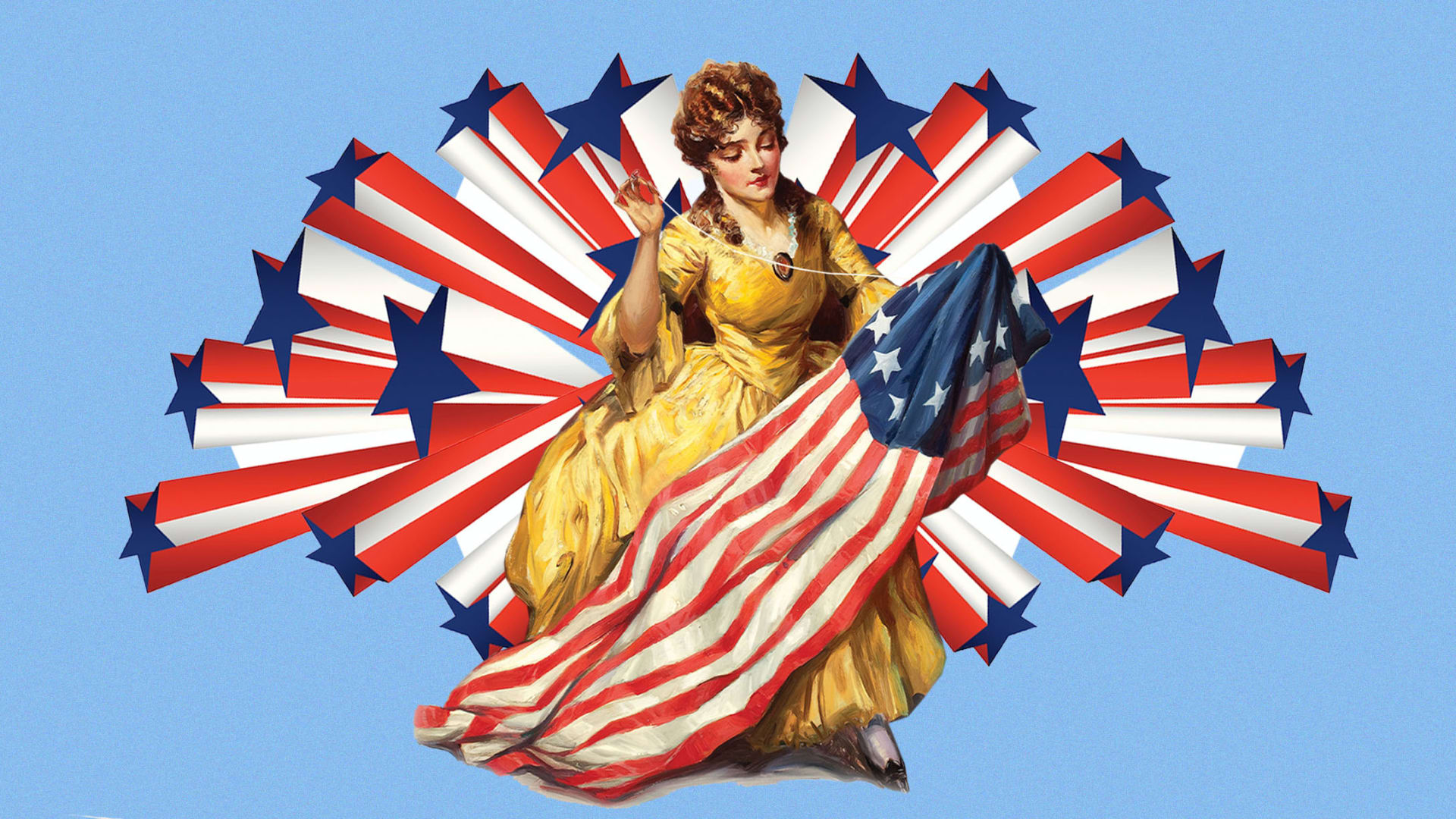 Normally around this time of year employees at the National Flag Company get a day off as thanks for their hard work. The 151-year-old business, based in Cincinnati, doubles down at the end of March to prepare for flag season, which comprises Memorial Day, Flag Day, and the Fourth of July. This year, of course, the parades and fireworks displays have been largely scratched. Without those patriotic winds to swell them, the company's sales are down around 55 percent for the season, and it has had to lay off 10 of its 27 employees.
"Usually we have a factory bustling to put out as many flags as we can," says Artie Schaller III, general manager and a fourth-generation member of the family that has presided over NFC since 1948. (His father, Artie Schaller Jr., is president.) "This year there has been no build-up, no anticipation. It doesn't feel like the Fourth."
Although few products cry out for domestic production more than American flags, much of the industry has moved overseas. NFC is one of a few dozen manufacturers still operating in the United States, and one of just a handful doing things the old-fashioned way. Before coronavirus, its staff produced roughly a million flags a year on sewing machines, many from the mid-20th century, and on a printing press built when Taft was president.
About half of NFC's business is custom flags and banners emblazoned with corporate or school logos. Twenty percent is flags of the Armed Forces and of states and nations. Some Naval ships carry NFC's international flags to raise when they visit foreign ports.
The rest is stars and stripes. NFC's American flags range from the handheld 4-by-6-inch versions passed out along parade routes to 30-by-60-foot behemoths that flap atop skyscrapers like the U.S. Bank Tower and Carew Tower in Cincinnati. Car dealerships around the country buy its flags and raise them on 100-foot poles to be visible from a long distance. Early versions sell well, too. Museums and historical societies buy Betsy Ross flags (the one with 13 stars in a circle) as well as others designed before Hawaii and Alaska brought the number of stars to 50.
NFC even made a couple of future flags with 51 stars for groups advocating Puerto Rican statehood. Whatever its political ramifications, the renewed call to make Washington, D.C., a state would be great for business, Schaller says: "If that happened to any territory, everyone would need a new flag all at once."
Old-fashioned Old Glory
The National Flag Company's factory occupies the second floor of a century-old red brick building. In normal times, a hulking 110-year-old Huber press churns out as many as 36,000 personal U.S. flags a day, printing them on cotton in batches of 18. Twenty manned sewing machines hum as they seam, stitch, and embroider. "In the 1950s and '60s, companies went to automated machines where they could seam together red and white stripes by just hitting a button," Schaller says. "We stayed away from that."
The company's history is recounted in a small museum near the factory floor. Artifacts range from ancient sewing machine parts to campaign flags sewn for Teddy Roosevelt.
NFC was founded as a printing company in 1869. By the time George Schaller, Schaller's great-great uncle, started as a 12-year-old stock boy in 1903 it had segued into flags and banners. Six years later NFC manufactured what was then a record-setting 80-by-160-foot American flag weighing 452 pounds for the Frick Building in Pittsburgh. Strong winds took down the flag--and part of the building with it.
Sales surged in times of national trauma: during the Iran hostage crisis and Operation Desert Storm, for example. After September 11, the NFC's entire inventory sold out in a couple of days.
The pandemic is different. People are inside, events are canceled, and handing out anything--even diminutive flags on wooden sticks--is risky behavior. The only products selling well are 3-by-5-foot flags, chiefly flown by homeowners.
For over 30 years, the parade's trustees have turned to NFC for more than 4,000 grave flags; 3,000 to 6,000 handheld flags for distribution by politicians; and large American, POW, and other flags for display at prominent points around the city.
This year the parade went on in abbreviated form: 17 minutes instead of the usual three hours, in a cordoned-off location. (Spectators were urged to watch a livestream from home.) Event organizers still bought NFC's flags, reducing only their order for the handhelds, to around 1,400. Those will be passed out at some later, post-Covid event.
"When you look at all the robotics out there today, to see someone handcrafting these flags gives you a real sense of pride," says Brent Pyles, president of the parade's trustees. "National Flag is a great American company. They share our patriotism."
Jul 3, 2020