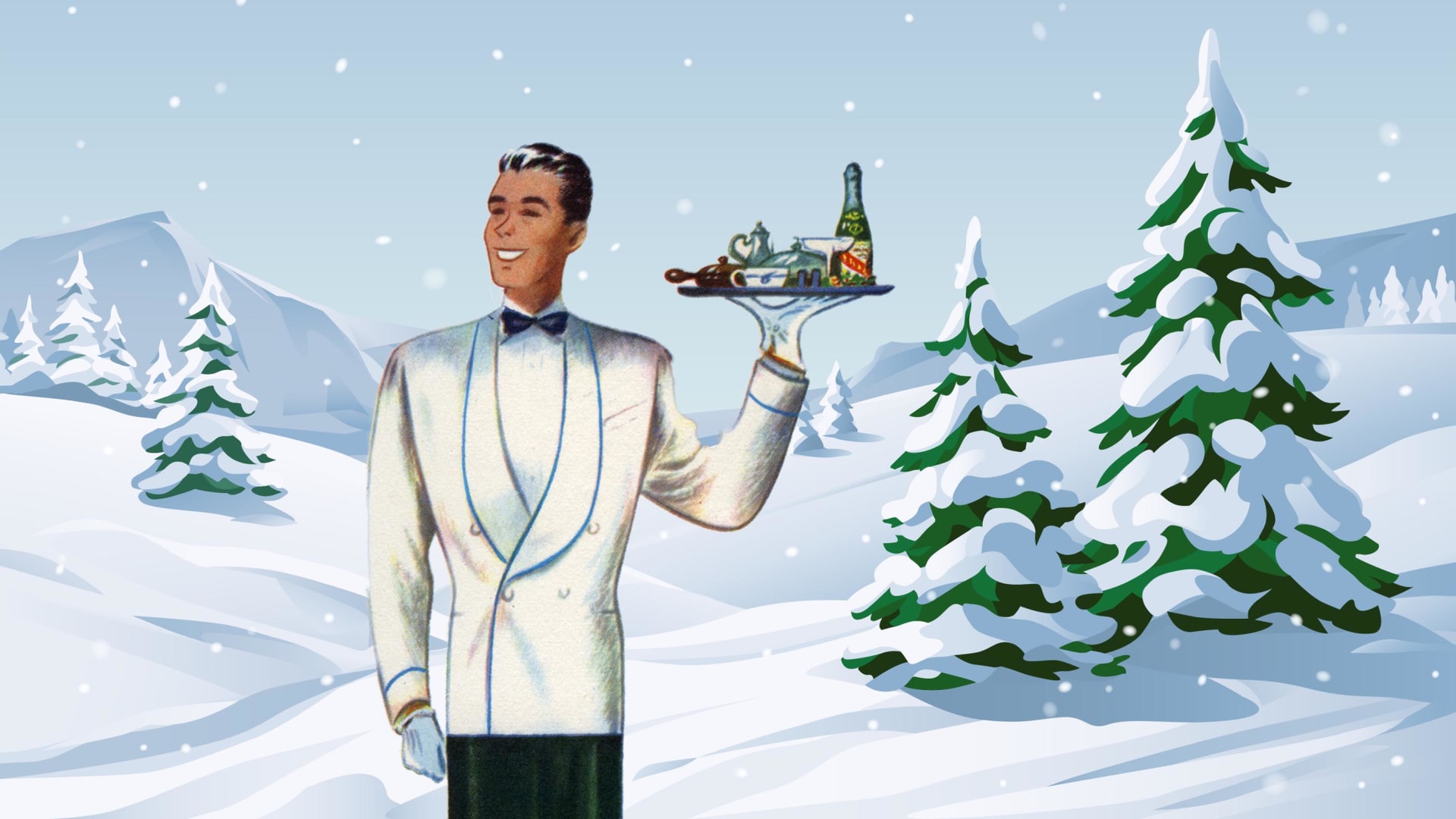 Diners on the expansive patio at Aurum Food & Wine, in Steamboat Springs, Colorado, enjoy glorious views across the Yampa River to the Howelsen Hill Ski Area, which at night is lit like a Christmas tree. Forced by Covid to reduce indoor capacity by half, owner Phillips Armstrong converted a turf lawn, normally a play area for children, into additional seating, bringing Aurum's outdoor-dining capacity to around 130 socially distanced customers. But with lower temperatures around the corner, Armstrong worried how to preserve some of that outdoor business.
Armstrong recently ordered six yurts, four for the Aurum in Steamboat Springs and two for its sister restaurant in Breckenridge, Colorado. He first saw the structures two years ago at a winter pop-up held in Aspen for the New York restaurant Eleven Madison Park. The yurts, heated by infrared units from above, seat parties of eight. At the Aurum restaurants, guests can reserve them for special menus--fondue, for example, or a chef's tasting menu--for a minimum of $500 to $600 on weeknights, $800 on the weekends.
"They are nicely decorated, and will have Pendleton blankets and fur jackets people can wear," Armstrong says. "People have been flooding our phones asking how to book them."
Outdoor dining, a lifeline for many restaurants during the pandemic, is facing a seasonal precipice. Full-service restaurants report that 44 percent of daily revenue derives from outdoor service, according to the National Restaurant Association. In early September, those operators expected to squeeze a median of two more months from street, rooftop, and patio dining. Just under half said they were doing something to extend outdoor service, such as investing in tents or heaters.
Griz Dwight, founder of GrizForm Design Architects, based in Washington, D.C., estimates that fully winterizing a patio or other outdoor space costs about $50,000. Most of the money goes for some kind of shelter, like the plastic igloos that restaurants began deploying a couple of years ago as premium options for diners seeking privacy and special treatment. Those igloos, not surprisingly, have gained currency with the pandemic. But Dwight is partial to enclosures comprising retractable screens, roofs, and doors, built by companies like Libart, part of Stoett Industries, based in Hicksville, Ohio.
Dwight also recommends fire pits, particularly for businesses emphasizing drinks over food. That way guests can cluster around the warmth without needing tables to support laden plates. "Give me a glass of wine and a fire pit and I'm a happy guy," Dwight says.
Pushing the outdoor envelope
Some see outdoor service as an opportunity for innovation. Last week, the city of Chicago announced the winners of its Winter Dining Challenge, which invited ideas for feasible, flexible, Covid-safe solutions that restaurants could adopt in cold weather. The contest received 643 submissions, according to Christopher Krohn, a portfolio lead at the global design and innovation firm Ideo, which partnered with the city, the Illinois Restaurant Association, and BMO Harris Bank on the competition. "We had a range of submissions, from ideas that were idealistic dreams to others that were very practical by architecture and design firms," Krohn says.
Among the three winners was Cozy Cabins, developed by designers from ASD/SKY, an architecture and design firm based in Atlanta. The team began by considering the popularity of those igloos, which at 13 feet in diameter are great for rooftops, lousy for sidewalks. By contrast, Cozy Cabins, which use radiant flooring for warmth, fit in a standard parking spot. In terms of design, team members were inspired by images of Scandinavian ice-fishing cabins. "They had a transparency to them and a warm glow" that would create a two-way connection between diners and passersby, says Nicole Grillet, an associate interior designer at ASD/SKY. "We were thinking, what can we do on a street that creates that sense of something special?"
Like the ASD/SKY team, Neil Reindel and Flo Mettetal, colleagues at the Chicago-based design firm Perkins & Will (although working independently), sought a design with aesthetic as well as functional value. "We've spent so much time indoors since March that we were kind of exhausted by the idea of a singular self-contained enclosure," Reindel says. Instead, they came up with square modules that are completely open on two sides but can be equipped with curtains to keep in the heat. The blocks each seat two people but can be pushed together for larger parties. They use radiant heat delivered through a thermal mesh system, like those installed beneath the floors of residential bathrooms.
Ellie Henderson, an independent designer from Chicago, took a different tack, focusing not on structures but on furnishings. Her winning submission is based on a Japanese kotatsu table, which incorporates a heater on the underside, some kind of blanket draped over the surface, and a second flat surface placed on top. "This seemed an efficient solution as it allows for the trapping of heat but also the safety of air circulation," says Henderson, who discovered kotatsus while living in Japan. "Patrons will still need to dress warm on top, but the heat generated by the table will keep them comfortably warm."
Each winner received a $5,000 prize. From here, the city will partner with local construction firms to start bringing the designs to life. "We will get feedback from customers and restaurants as we start to build some prototypes and ultimately roll out solutions that work," says Ideo's Krohn, who expects the products will be available in the next few months.
The greenhouse effect
Rather than create new products, some entrepreneurs are finding new uses for existing ones. Aurum's yurts, for example, are produced by CampingYurts.com, a direct-to-consumer business based in Summer Lake, Oregon. Richard Waters launched the company in 2010. He makes the wood frames. His wife sews the canvas skins. Four part-time employees help out.
In normal years, the company sells about 50 custom yurts. This year, with orders flooding in from restaurants, it will do twice that. "If you want to buy six or seven yurts, you are looking at about $20,000, so it is mostly high-end restaurants," Waters says. "People want to use their patios during the winter. With something like this, they also create a destination."
Nelson Harvey and his wife, Caroline Glover, didn't spend nearly that much money outfitting Annette Scratch to Table, their Aurora, Colorado, restaurant, for winter. They relied instead on elbow grease and the loyalty of their customers. Annette, which last year was named one of the 50 best new restaurants in the country by Bon Appétit, has been serving 44 patrons at a time on its patio. As winter approached, the owners found an article about Restaurant De Kas, a business in Amsterdam that had installed individual greenhouses outside to sustain capacity in bad weather.
Harvey bought a greenhouse kit on a website for home gardeners. He and Glover liked the result but it had taken 10 to 15 hours to assemble. So after purchasing another 11 kits, the couple put out a call on Instagram and convened 25 of Annette's regular customers for a group build. "We did a volunteer day where we fed them doughnuts and grocery sandwiches and bloody marys and mimosas," Harvey says. "It was like an Amish barn raising but with alcohol."
Most of Annette's greenhouses seat two or four. Those cost $350, while two larger ones, for $850 each, seat up to six. Another regular customer who is a lighting contractor installed blue LED lights outside the greenhouses that diners can switch on from inside to signal to servers. "That minimizes the amount of time the server is at the table and the door is open, letting in cold," Harvey says. (Small electric space heaters warm the interiors.)
With the greenhouses, the patio can accommodate 32 people--critical given the restaurant's small interior space. "So far," Harvey says, "people have been finding it novel and romantic."
Oct 20, 2020