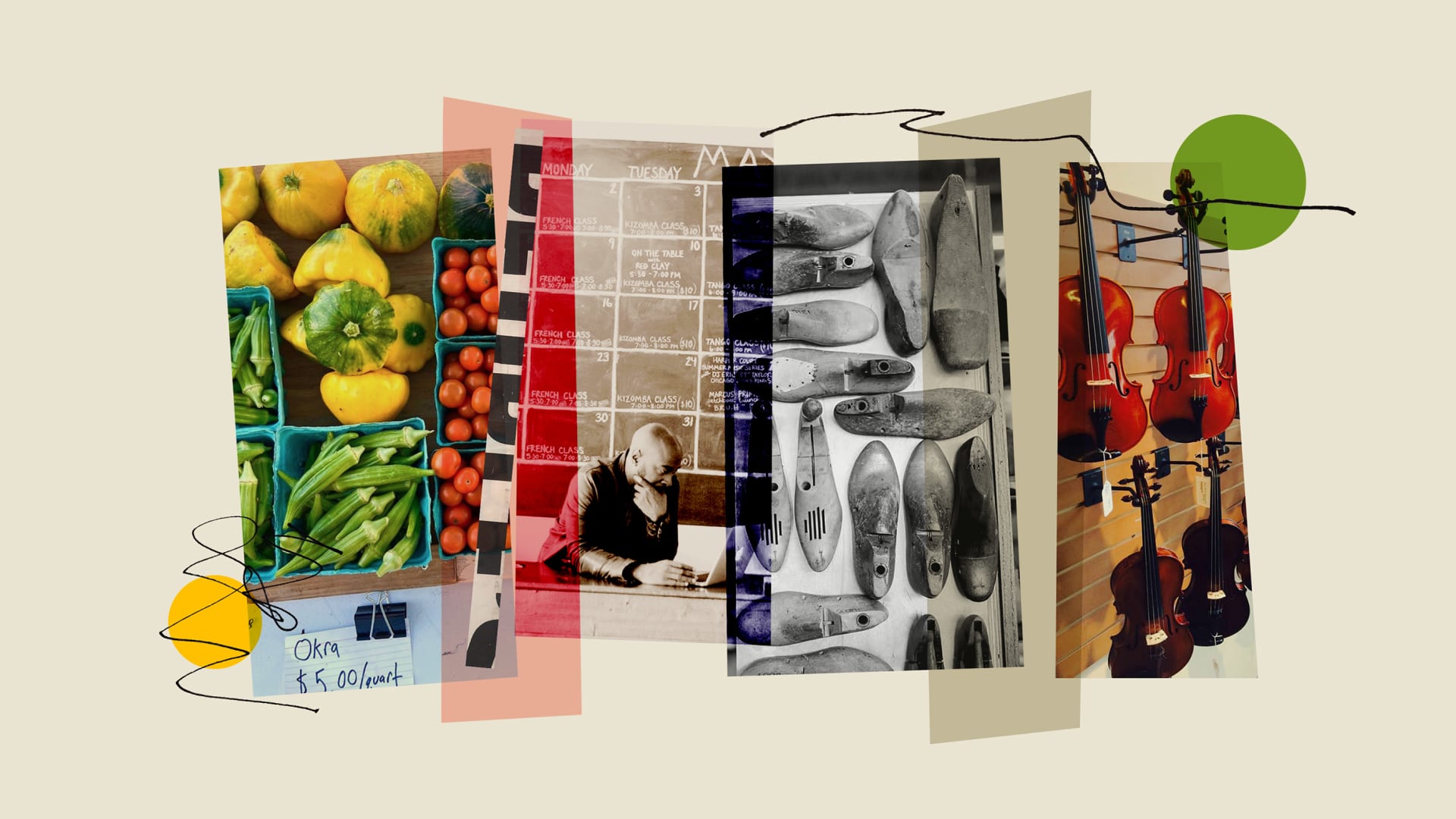 This past summer, the sidewalk was jumping outside The Silver Room, a jewelry, art, and accessories store in Chicago's Hyde Park neighborhood. One night, a short film by a local filmmaker danced across a screen in the window. A jazz guitarist and pianist performed. On warm evenings, 30 or 40 neighbors would wander by and pause for a socially distanced minute to watch.
The entertainment is small potatoes next to Sound System Block Party, The Silver Room's annual music and arts festival. In normal times--which these are not--that event packs in tens of thousands of celebrants from around the city. But founder Eric Williams views his mission as "providing human connection," and he won't give that up, even for a pandemic. The small performances "create moments of emotion and energy," says Williams. "People really enjoy it."
Inc. first wrote about The Silver Room during Small Business Week in 2018, when we profiled companies that, year after year, received "Best of" accolades in local publications' Readers' Choice awards. These are the businesses that reliably exceed customers' expectations: the ones they recommend to neighborhood newcomers and whose employees they greet by name. The Silver Room is beloved for its contribution to community spirit: not just the block party--a calendar highlight for 16 years--but also its exhibitions of local artists and hosting of birthday parties and weddings. In the wake of George Floyd's murder, it became a go-to resource for Black-owned brands, books on race, and anything to do with Black Lives Matter or Black pride.
Small businesses--many already battered by retail consolidation and e-commerce--have taken it on the chin the past six months, with sectors like restaurants and apparel pummeled. Yelp reports close to 164,000 closures between March 1 and August 31, with 60 percent of those businesses gone for good. In a survey by the online publication Tech.co, 80 percent of owners said they'd taken a financial hit. Small Business Week itself feels unusually subdued this year. Postponed from May, it extends over three days (September 22-24) instead of the usual seven. As always, consumers are encouraged to shop local. But with some merchants still closed or offering limited capacity or hours, the allure of Main Street temporarily has dimmed.
Industry and luck influence which local merchants survive all this. But it stands to reason that the loyalty and affection of customers should make businesses less vulnerable to economic turbulence. So for Small Business Week 2020, we went back to see how our Readers' Choice companies have fared. We are happy to report that all 18 are still with us. And, as we expected, some have been buoyed by the support of longtime customers, who want to make sure their favorite businesses are waiting for them on the other side.
"What was really surprising was how many people purchased gift cards from us saying they wanted to do their part to help keep us going," says Tim McKevlin, the second-generation owner of McKevlin's Surf Shop, a 55-year-old business in Folly Beach, South Carolina. Since he reopened in late May, McKevlin's sales are nearly back to 2019 levels. But though demand's not a problem, supply is. With people hungry for outdoor recreation, products like surfboards, bodyboards, skateboards, and roller skates are hen's-teeth scarce. "We're practically zeroed out of those items," says McKevlin. "The next few months could be real tough."
Customers to the rescue
Molly Mast-Koss hadn't considered gift cards for Mast Shoes, her 78-year-old, third-generation family business in Ann Arbor, Michigan. "But people were calling and asking if they could buy one to support us," she says. Touched by customers' concern and eager to give back, Mast-Koss launched a promotion: Buy $1,000 worth of gift cards or shoes and the store would donate a pair of shoes (typical cost around $150) to a frontline worker. To date, Mast Shoes has donated around 30 pairs.
Customer demand also persuaded Mast-Koss to do something she'd long resisted. Her store is renowned in Ann Arbor for its customer service: It employs professional shoe fitters who are trained for three months and then undergo continuous education--including from visiting medical professionals. Staff works closely with customers, measuring and visually examining the structure of their feet and observing their gaits. So when Mast-Koss finally gave into pandemic-inspired requests that she sell online, she strictly limited the offering. "We refer to it as our 'refill shop,'" she says, "because we don't want our customers buying new styles they haven't tried before."
For Lee Raymond, owner of High Strung Violins & Guitars, in Durham, North Carolina, her community's loyalty meant the difference between life and death. Reynolds was struggling to secure a PPP loan when a supporter of the store, who chose to remain anonymous, made what she characterizes as a "huge" donation. "Then another supporter--a banker whose own bank did not even offer the PPP loans--reached out to me with suggestions of other places to apply, and one agreed to work with us," says Raymond.
High Strung has been forced to suspend some activities that endeared it to locals, such as "petting zoos" that allow children at fairs and other events to try out instruments. Its free "learning jams" for local amateur musicians have continued, though, mostly online. So have its lessons for more than 200 students, whose ranks have swelled since people started staying home. Raymond also eliminated rental payments for instruments from students with families in need "so they could continue to play," she says.
Companies to the rescue
In some industries, of course, all the good will in the world isn't enough. With San Antonio's 10-day Fiesta celebration and most Cinco de Mayo events canceled, sales at 71-year-old Amols' Party and Fiesta Supplies were off 80 percent in spring, usually one of the store's busiest periods. "The country shut down when our inventory was at its peak," says third-generation owner Jeffrey Weiss. "You've got to be able to laugh or you're in trouble."
Weiss has been aggressively guarding his cash to keep all employees working, even when--at times--there's not that much to do. The business has experienced a few bright spots. It has sold thousands of facemasks from Mexico printed with traditional patterns. Large yard signs commemorating births and birthdays are doing well. "But there is no way to make up for an order of a thousand sombreros today and 500 sombreros tomorrow and 2,000 maracas the next day," says Weiss. The plan is to "keep treading water and make it until God knows when," he says.
By contrast, grocery sales have boomed during the pandemic, including at Rainbow Blossom Natural Food Markets, with several locations around Louisville, Kentucky. For 43 years, the market has been a local mainstay, creating one of the city's first farmers' markets and offering such services as a community-supported agriculture program and new moms' groups. Largely insulated from the financial stress of Covid, second-generation owner Summer Auerbach decided to extend the company's help to other communities.
Louisville was home to Breonna Taylor, whose killing by police in March--followed by another fatal shooting during a protest--set off protests. That temporarily shut down Kroger Supermarket, the chief food source for economically struggling West Louisville, which is more than six miles from Auerbach's flagship location. Rainbow Blossom partnered with other groups to raise money--$18,000--to buy fresh produce and also on a food drive to collect dry and canned goods and baby products. The store bought the produce at cost or less from its vendors and secured use of a delivery truck from a local florist. It then arranged for West Louisville organizations to bring the supplies straight to the doors of thousands of people.
Even in the best of times, "there is a lot of food insecurity there, with about 40 percent of the groceries purchased at corner stores that have no fresh produce," says Auerbach. "The Zip code you are born into shouldn't affect your health outcomes in life."
What lies ahead
Our Small Business Week 2018 subjects typically came by their Readers' Choice laurels by excelling in one (or more) of three things: customer engagement, community participation, or product selection. Marketing chops, convenience, and low prices matter too, of course. But while those qualities may attract some sales, they don't earn the kind of love businesses need to survive crisis and catastrophe.
For the remainder of Small Business Week 2020, then, we present profiles of companies that exemplify those core strengths. Feel free to steal their ideas. Better yet: Learn to think like their inspired owners. Doing so may win plaudits from your local city paper or magazine. Or it may help keep your business alive.
Sep 21, 2020