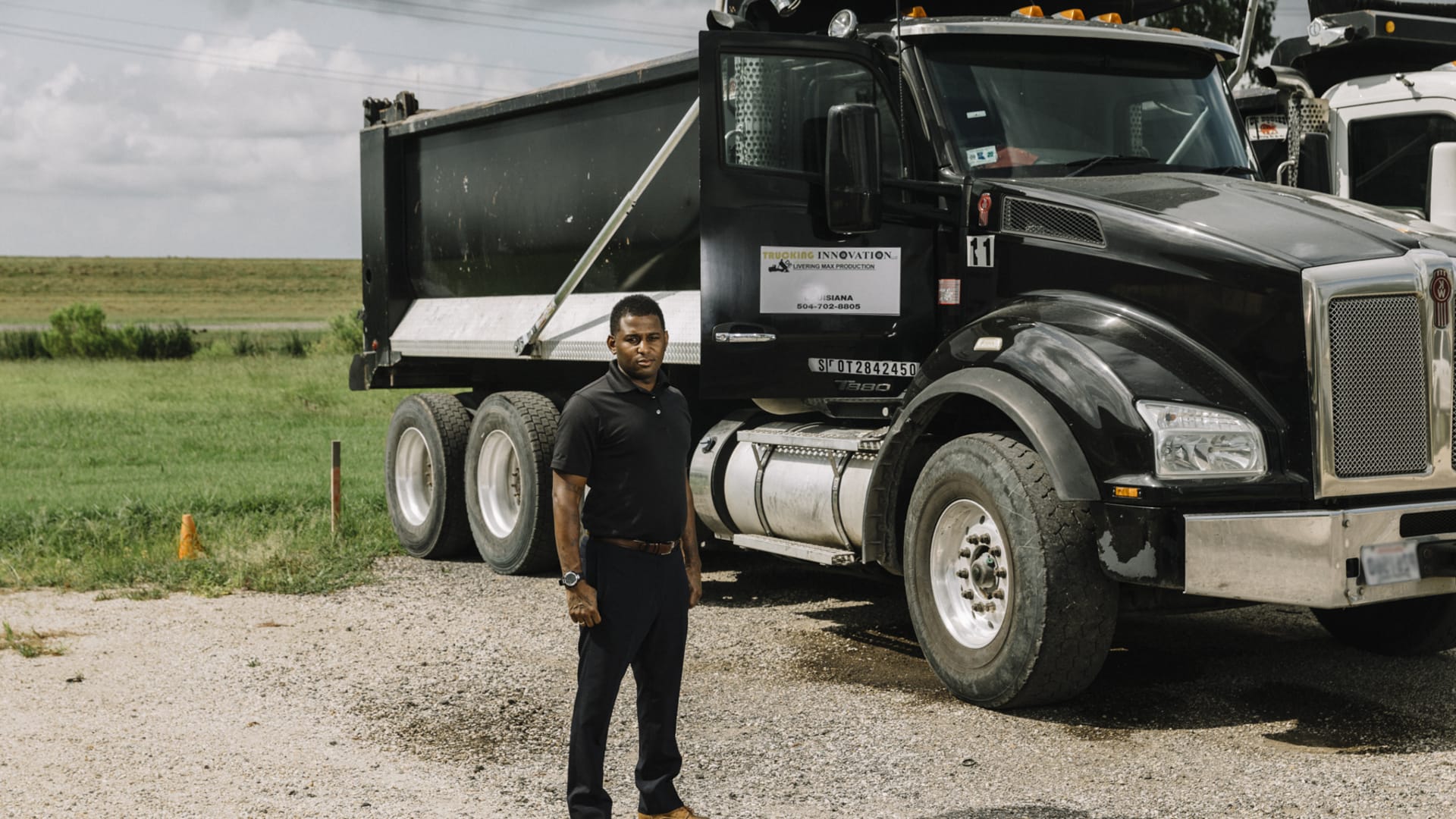 After two years living in FEMA-subsidized housing in Houston, Otis Tucker Jr. returned to his native New Orleans, which was slowly rebuilding after Hurricane Katrina. There was plenty of construction, which meant plenty of work for truck drivers. But Tucker was too ambitious to remain long behind the wheel. Since 2013, he has grown T.I. Contracting (formerly Trucking Innovation) into a $3.5 million full-service trucking, logistics, and government-contracting firm that has worked on projects ranging from improvements to the Louis Armstrong New Orleans International Airport to the revitalization of Bourbon Street.
I grew up in the Lower Ninth Ward of New Orleans among poverty, blight, and crime. My mother was a health care worker and single parent. After a semester of community college, I decided four more years in the classroom wasn't for me. So I did a search on Ask Jeeves for good careers that didn't require a college degree. I got back: truck driver.
I enrolled in truck-driving school, got certified, and landed my first job. A few months after that, I was driving through the mountains of North Carolina when I pulled into a truck stop and heard about Hurricane Katrina on the radio. Phone service in New Orleans, where I still lived, was down, so I called my employer and told him I had to go to Louisiana to find my family. He told me to leave the truck and got me a bus ticket. Baton Rouge was as close as I could get because of flooding. After two days of searching, I found them in Lafayette.
I brought my mother, my younger brother, and my sister--who has a developmental disability--to Houston. After two years, I returned on my own to New Orleans, looking for work. I got a job driving for a large trucking company. My old home in the city was long gone. They let me live in a FEMA trailer that was on-site so I could save some money.
I could rise only so far at that business because I didn't have a college degree. I moved to a smaller waste-hauling firm. Same thing. So I went out on my own, buying a used dump truck with $25,000 I had saved and borrowing another $10,000 from a credit union for working capital. After about two years, my engine blew out one day on the road. I couldn't afford $15,000 for a new engine, so I figured I was done. But I cut a deal with a mechanic. He would fix it for cheap I'd assist him and salvage the parts from junkyards. We got that truck back on the road.
I realized that the engine could go again at any time. I needed more trucks, and I wanted them fast. I also wanted to bid my own jobs instead of relying on transportation brokers. So I stopped driving for a year to educate myself.
Through a Small Business Administration-sponsored leadership program, I was introduced to Michael Kirschman, a partner in freeGulliver, a wealth management and business consultancy. Michael became my mentor. He taught me everything from how to analyze financial statements to how to manage human resources. When I needed to hire my first employee, Michael wrote and posted the job advertisement and sat with me in a coffee shop interviewing candidates so I could learn the technique. He built me into a confident owner and was a big contributor to our growth.
With that year's worth of self-education I was able to win a $400,000 contract with the New Orleans Sewerage and Water Board. I'd never seen a job that big. Based on that and some other contracts, I borrowed a little over $1 million from banks over two and a half years and bought 11 more trucks.
But that still wasn't enough to handle all the business. I was getting jobs from construction and civil engineering companies doing municipal work on roads, parks, and levees. If someone needed a John Deere bulldozer moved from one site to another, they'd call us. I started subcontracting to other owner operators. Before the pandemic, we were putting 60 trucks on the road every day.
When I was working with the brokers I'd heard a lot of complaints from customers dissatisfied with the speed at which paid-by-the-hour truckers completed deliveries. I thought I could do better. So I installed a system to alert us whenever a truck was idle for more than five or 10 minutes. I'd call the driver and say, "You should keep moving." Word got around that our truckers were extremely productive.
Recently I beat out the second company that hired but wouldn't promote me on a half-million-dollar contract. I admit that was somewhat sweet.
The pandemic hit us hard. Revenue is off by about 40 percent, and we can kiss 2020 profits goodbye. There is still recovery work to be done from Katrina, but local governments are responsible for soliciting those funds and they are not quite open for business. We can work on existing contracts, but new work may be postponed for some time. Every 90-day look-ahead is scary.
Two years after moving back to New Orleans I was able to bring my family home. My younger brother works in the business. I still support my mother and my sister. I'm glad this worked out. I'm my mother's retirement plan.
EXPLORE MORE Inc. 5000 COMPANIES
Aug 11, 2020