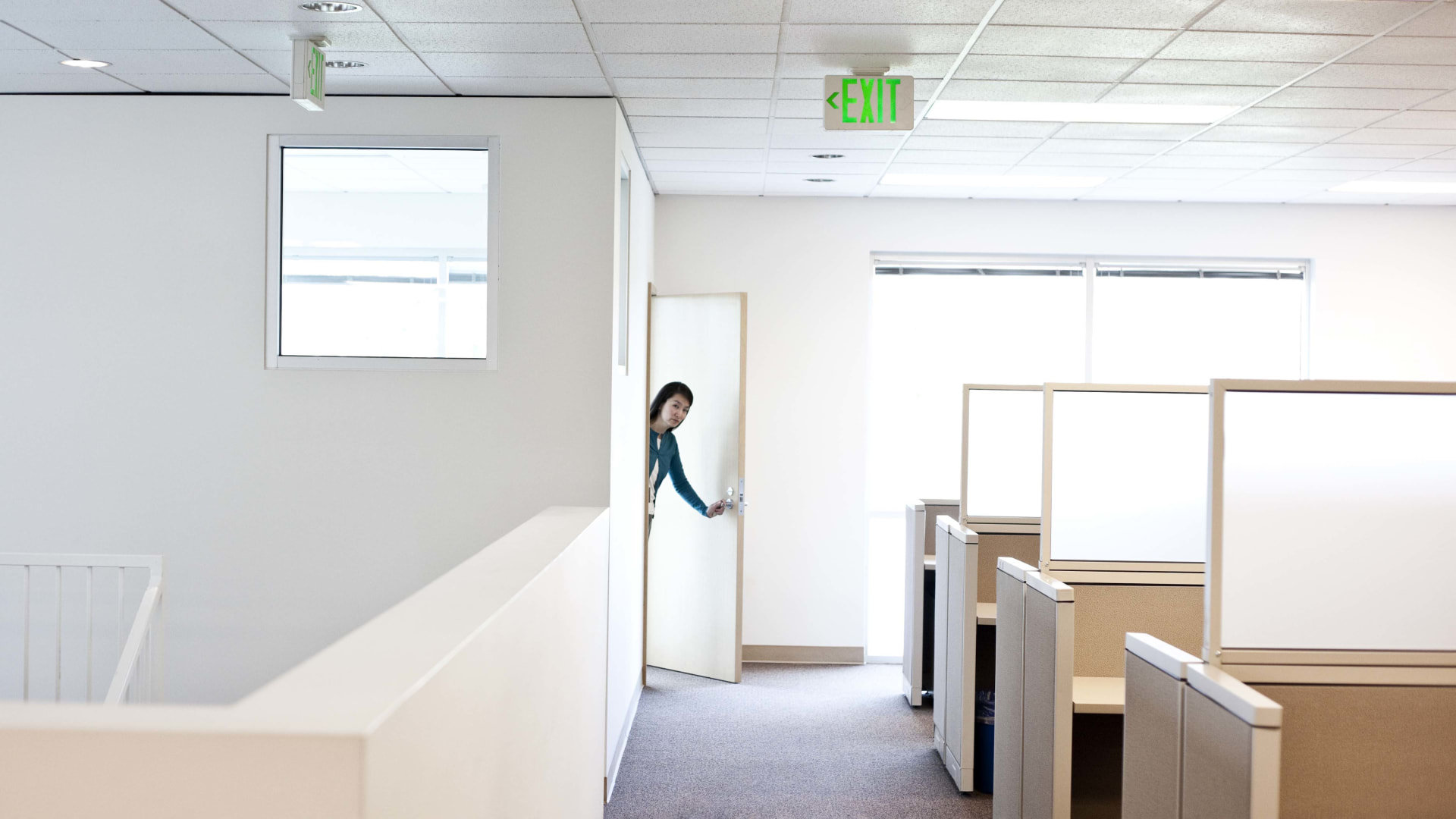 At-home health testing service LetsGetChecked began 2020 growing at a fast clip and with plans to find a location for its next customer call center office. Then came Covid-19.
The New York City- and Dublin-based startup moved fast--it raised $71 million in the spring to develop an at-home Covid test and won FDA approval for it in May. As of July 2020, LetsGetChecked is seeing more than 800 percent year-over-year revenue growth. While the company has begun to rapidly expand its customer care team, the virus has kept staff remote. But LetsGetChecked is continuing its search for office space, trying to take advantage of shifts in the commercial real estate market that have created opportunities for businesses not available even six months ago.
Asking rent prices have yet to fall, which is typical in a down cycle as landlords try to hold out as long as possible, says CBRE chief economist Richard Barkham. At the same time, Barkham says, landlords are eager to fill space, so they're willing to offer a bevy of concessions to the right tenants, including rent-free periods, build-out expenses, and flexible lease terms.
"The more the balance of power has slipped between landlord and tenant, the greater the opportunity for a bargain," Barkham says.
That's precisely what LetsGetChecked is banking on. "There's so much uncertainty. We're hiring a large number of staff in Tampa, but we're not sure how big we'll get or how soon," says Ronan Ryan, the COO. "So we need the flexibility of, say, starting with 15,000 square feet with an option to add another 15,000 square feet in the same building in the future. Before [Covid], landlords weren't as ready or willing to give that."
Where to look
Not surprisingly, in the past quarter the biggest shifts in the commercial real estate market have occurred in tech hubs and metropolitan areas heavily dependent on mass transit. Austin saw the biggest decline in demand, with a net absorption rate of -2.3 percent, according to CBRE's Q2 office report. Net absorption measures the total new square footage leased minus the total square footage tenants no longer occupy, over a given time period. California, Texas, and New York markets have all seen the biggest drops, with previously hot metropolitan areas like San Francisco, Los Angeles, New York City, Boston, and Houston all ranking in the top 20 for negative net absorption (see the graphic below for more detail).
"I'd look for opportunities in downtown areas. Austin, San Francisco, L.A.--it's been very difficult to get space in those cities in the past 10 years," Barkham says. "This is a once-in-a-decade opportunity to acquire prime space in San Francisco."
Another way to consider opportunities is to look for areas with large inventories of new construction space about to hit the market. Currently, 134 million square feet of office space is under construction in the U.S., which makes up 2.5 percent of total office inventory, says David Smith, head of occupier research in the Americas at real estate firm Cushman & Wakefield. But certain markets that were in high demand pre-pandemic, like Seattle, Charlotte, and Nashville, have reached 5 percent. That's a lot of vacant space that's going to need to be filled.
Similarly, since the pandemic started, millions of square feet in subleased space have flooded the market, says Cushman & Wakefield executive managing director Nathan Piehl. From last December through June, available subleased space across the country is up 21 percent.
"For growth businesses still in the startup phase or even mature companies starting in new markets, sublease opportunities are economically advantageous," says Piehl, who specializes in tenant representation. "They require minimal capital, often they're furnished, and you're dealing with what's already been negotiated."
Prior to Covid, LetsGetChecked had zeroed in on Tampa as an ideal location for its next customer call center because of its labor force skills--the area boasts a large number of nurses. Post-Covid, Ryan says the increase in available subleases has been substantial. "Companies took these large amounts of office space thinking they'd grow into them, and now they're quite urgently putting them out to market as subleases," he says.
The company has not yet signed a lease, but Ryan says it aims to do so in the next 60 days. Needing to staff up remotely in Tampa before selecting a space has had its advantages. Whereas the company previously thought a downtown office would be fun and convenient for its staff, Ryan says they've learned through feedback from new employees that a more suburban location nearer to the city's nursing colleges would make more sense.
How to sweeten the deal
As LetsGetChecked considers its options, it's also trying to time a deal to take the fullest advantage of the moment. In addition to more flexible lease terms, Ryan says, the company is already seeing a willingness from landlords to offer rent-free periods and to cover some build-out costs.
"Landlords are going to try to hold face rates for as long as they can," Piehl says. "So you're going to see more rent abatement, tenant improvement allowance packages, moving allowances, furniture and equipment allowances--these are all things you can ask for now that you couldn't ask for six months ago." Plus, you can consider non-monetary concessions, such as the ability to revisit market rents in a year or two, he adds.
LetsGetChecked is going to need at least five to six months to do a build-out for its new Tampa space, which pushes its soonest move-in date to early 2021. The space will likely be configured with more than six feet of space between employees, larger meeting spaces, and plexiglass partitions for safety.
When the office is ready, the company is at a greater advantage than most as it plans for employees' reentry: Since LetsGetChecked makes Covid tests, the startup can do all of its testing in-house, and its on-staff clinical team can advise on how best to set up the space.
Q2 2020 negative net absorption by region
Below are the 20 U.S. markets that saw the biggest drop in demand in the second quarter of 2020 for office space as measured by their net absorption rate, or the total new square footage leased minus the total square footage tenants no longer occupy in a given time period.
| | | |
| --- | --- | --- |
| Market | Square Footage Leased | Absorption Rate |
| Austin | -1,265,260 | -2.3% |
| San Francisco | -2,298,518 | -1.8% |
| Fairfield County | -617,768 | -1.5% |
| Los Angeles | -1,924,410 | -0.9% |
| Orlando | -352,305 | -0.8% |
| Kansas City | -441,533 | -0.8% |
| Walnut Creek/I-680 Corridor | -358,366 | -0.8% |
| Sacramento | -364,080 | -0.7% |
| Boston | -1,330,405 | -0.6% |
| Salt Lake City | -289,713 | -0.6% |
| San Diego | -420,162 | -0.5% |
| Phoenix | -486,488 | -0.5% |
| Houston | -1,027,096 | -0.5% |
| New Jersey | -433,324 | -0.5% |
| Philadelphia | -445,308 | -0.4% |
| Oakland | -114,383 | -0.4% |
| San Jose | -333,132 | -0.4% |
| Manhattan | -1,369,769 | -0.3% |
| Las Vegas | -113,097 | -0.3% |
| Dallas/Fort Worth | -639,155 | -0.3% |
Source: CBRE Research, Q2 2020
Aug 25, 2020