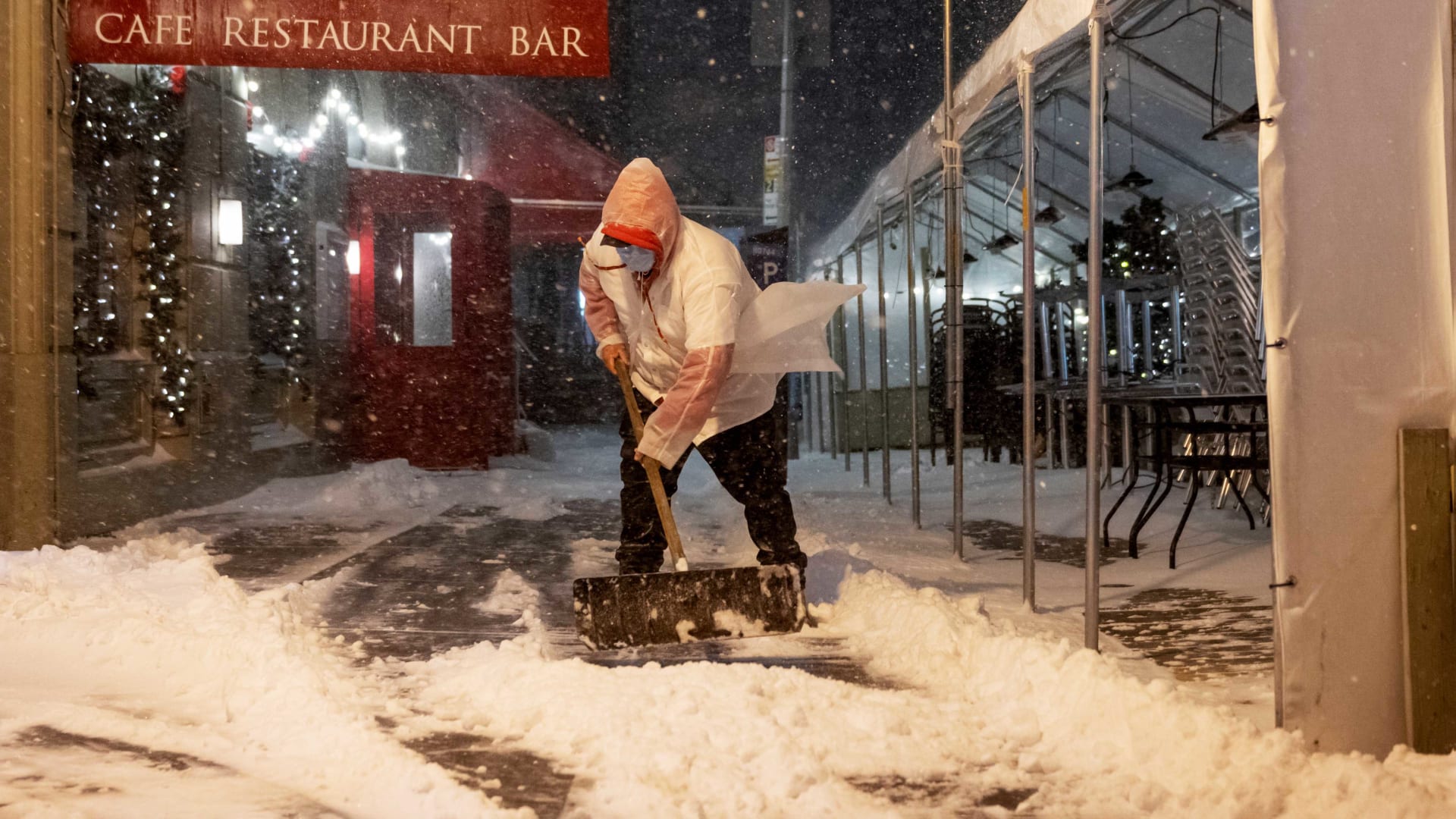 Restaurant owners across the country have been bruised and battered since March, and as they face a long, difficult winter with more Covid restrictions, they're now in survival mode.
Eighty-seven percent of full-service restaurants in the U.S. have seen a year-over-year drop in revenue in 2020, with an average decline among them of 36 percent--and this is in an industry where average profit margins hover around 5 to 6 percent, according to the most recent survey findings from the National Restaurant Association Research Group. As many as 17 percent of restaurants--which amounts to more than 110,000 establishments--have closed permanently or long-term.
As restaurant owners grapple with varying indoor and outdoor dining restrictions, they're doing anything and everything to keep sales coming in. "Takeout is the thing that will save restaurants," says Matt Vannini, a fourth-generation restaurateur who now runs Littleton, Colorado-based Restaurant Solutions, a restaurant consulting and accounting firm that works with 1,800 establishments nationwide. But his prescription for struggling clients is severe: "Restaurateurs are not in the employment business. They're in the business of keeping restaurants open." To do that, he advises, they need to cut the vast majority of their labor expenses and focus on a digital- and takeout-only presence until dining rooms can open again at more than 50 percent capacity.
For many restaurateurs, that is too bitter a pill to swallow right now. Even as they know time may be running out, owners across the country say if this pandemic has taught them anything, it's that their role in feeding, employing, and supporting their communities is more vital than ever.
Plumbing the depths of creativity.
To visit Elmhurst in Queens, New York, in mid-March was to visit a neighborhood under siege. Hundreds of Covid patients overwhelmed Elmhurst Hospital on 41st and Broadway, some dying while they waited for a hospital bed. "Apocalyptic" was how one medical resident described the conditions. A few blocks away, at the neighborhood restaurant the Queensboro, about 50 percent of the staff got the virus, including chef and co-owner Tony Liu. "It was quite shocking," he says. "Every day we knew someone--neighbors, customers--who got sick and needed help."
Facing mixed messages from local and national leaders about how businesses should operate, Liu and his business partners tried switching to takeout-only but after a week decided to close entirely. "We wrestled with, 'Should we close, or should we wait for the government to make us close?'" recalls Michael Fuquay, the Queensboro's co-owner. "It wasn't enough to be open just to be open."
It also wasn't enough to simply stand by and watch the community struggle with the surging virus. Through nonprofit organizations, Liu, absent his cooking staff, began making meals for doctors and nurses at Elmhurst Hospital. When locals learned what the Queensboro was doing, they mobilized a fundraiser to support the effort, eventually raising more than $40,000. For months, cooking for first responders and neighbors in need was the Queensboro's main mission.
When cases began to subside and restrictions began to loosen, the Queensboro finally started bringing some of its 40-person staff back so that it could focus on how to become financially sustainable again. Anything that brought in revenue and preserved jobs was on the table.
They leaned into to-go business. "We fired all of the delivery platforms," says Fuquay, so that the restaurant could both skip the third-party fees--the platforms can charge as much as 30 to 35 percent of sales--and put servers, bartenders, and bus staff back to work doing the neighborhood deliveries. Liu came up with a $50 family meal option every night that could be preordered and that streamlined cooking operations.
The owners also opened the restaurant during the day so that it could serve as a co-working space for frazzled remote workers--for $25 a day, you could reserve one of 12 socially distanced seats and get lunch plus a bottomless cup of coffee. And they applied for every local, state, and federal assistance program they could find, eventually securing a $268,000 Paycheck Protection Loan that helped cover payroll for several months.
While the Queensboro was able to bank some profit for a brief period over the summer when labor costs were lower with just about 32 employees, Fuquay says it's not nearly enough. New York City has shut down indoor dining again and winter temperatures have effectively rendered outdoor dining a no-go. Only about 24 employees are working now, with most part time. "We've plumbed the depths of creativity at this point," he says. "We won't make it through the winter without some input [of financial assistance]. Our goal is to batten down the hatches and bleed as slowly as possible."
Even so, for Liu, the pandemic has permanently changed his perspective on the restaurant business. "We're fortunate that our community has supported us during these hard times, and we want to return that support, as well as pay it forward for our neighbors who have been most impacted by the pandemic," he says. "This approach doesn't end with the vaccines. I hope that it has changed not only the way we do business, but also the way we think about our place in the community, and our responsibility to the community as a whole."
A time of reflection.
About 1,200 miles away, in the college town of Oxford, Mississippi, Snackbar chef Vishwesh Bhatt similarly says the pandemic has prompted much reflection. The bistro and oyster bar spent part of the pandemic cooking for Move On Up, a nonprofit that provides meals and food staples to local families in need. Meanwhile the restaurant's own outlook appears bleak heading into the winter, even operating at 50 percent capacity per current city rules. Snackbar's PPP loan has long since run out. "We have no reserves," Bhatt says.
The hardships of the past year have marked a turning point for the industry as a whole. In addition to more financial aid, restaurants need two things right now, Bhatt says. First is the recognition that the industry itself is vital. "What makes a town worth living in? Why do people travel to certain places and not others? Restaurants play a big role in that. We're very much a part of the fabric of a town's identity," he says.
The second thing the industry needs is more unity and the ability to reflect on the broader issues that need fixing, he adds. "We need one another a lot more than we think we do. We can't have an attitude of what happens in Mississippi doesn't affect me in New York." That means organizing to have one voice and to address systemic issues like sexism and racism. "Right now we need to reevaluate ourselves."
But first, survival.
Another 2,000 miles west in Los Angeles, restaurants are grappling with a ban on both indoor and outdoor dining, as Covid cases daily shatter new records. The order to shut down outdoor patios starting November 25 prompted outrage across the restaurant industry, with some establishments simply defying the order and a bipartisan group of state senators calling on Governor Gavin Newsom to deem restaurants essential businesses. In the meantime, the vast majority of restaurants must continue to limp along.
"Every owner I know right now is trying to keep as many people on payroll as possible and keep their doors open," says Josh Loeb, founder and co-owner of the Santa Monica-based Rustic Canyon restaurant group. Rustic Canyon operates nine different Santa Monica restaurants across the full range of dining experiences, from pizza-by-the slice to fine dining. Some have fared better than others with the shift to takeout-only. Without outdoor patios as an option, business across the board varies at between 10 and 50 percent of normal sales.
Like the Queensboro and Snackbar, Loeb says, the Rustic Canyon restaurant group likely will need more financial assistance if restrictions drag on for months. In the meantime, the goal is to minimize losses and--as much as possible--hang on to the mission of why he got into this business in the first place.
"The neighborhood angle, that's what exciting and interesting to me," he says. "Just building the metrics to run a takeout business doesn't align. You want to see people eat your food--that's the thrill of it."
Dec 21, 2020