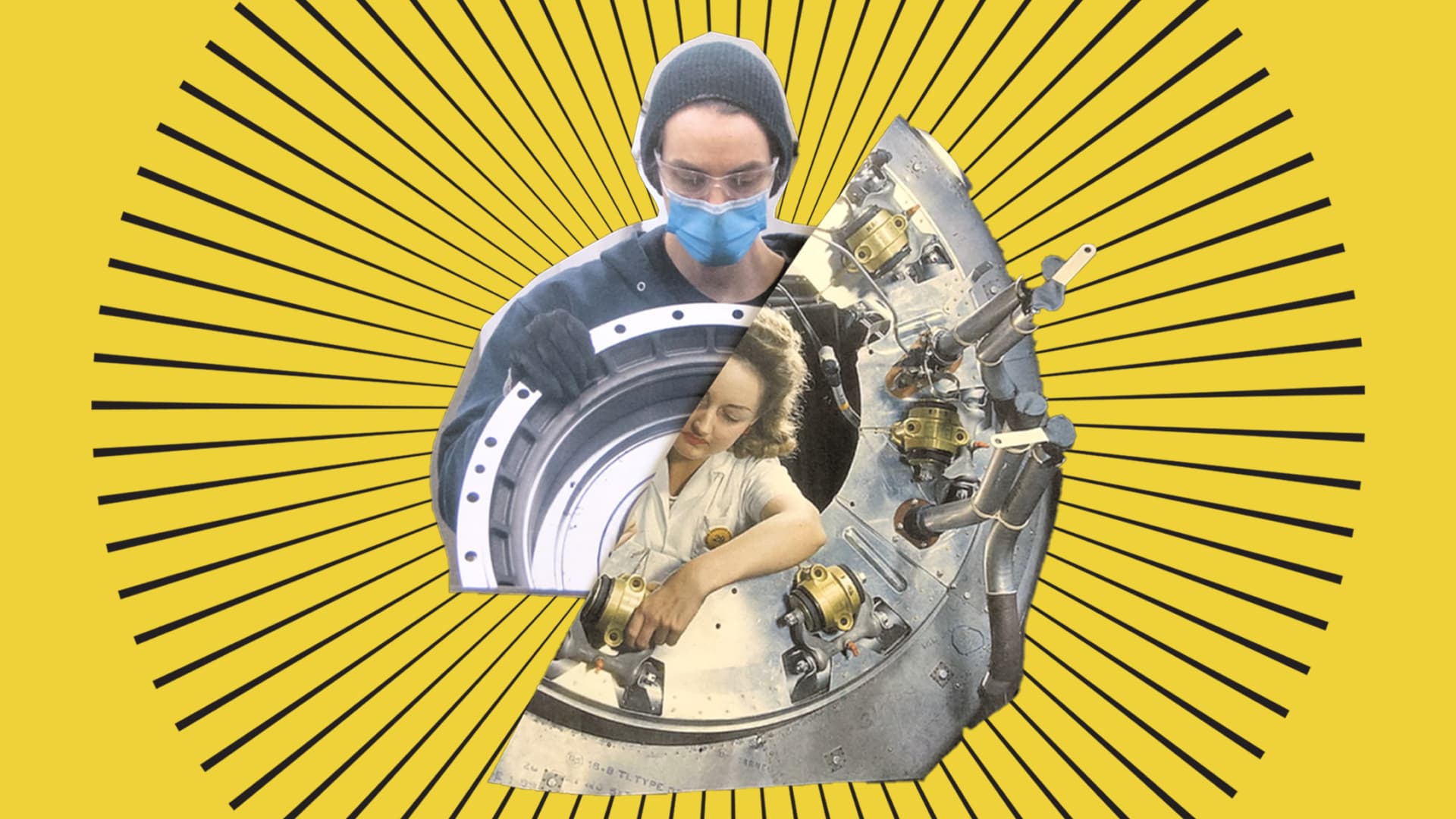 My oldest relatives were great storytellers, perhaps because they were born pre-internet, pre-TV, even pre-radio. My great-grandmother Marie was one of them. She used to tell me how she and some other turn-of-the-last-century tweens caused a commotion midway through the first motion picture they'd ever seen. They had upended the chairs and tables in a saloon in a mad rush to the door because mounted bandits, she said, started charging toward the building. Another tale: how, during the Great Depression, with no central heating and drafty windows in her room, she'd wake up under a blanket of snow.
The most interesting recollections, though, were about the Second World War. Those stories were amazing to a child like me. She described a time when American life seemed to be at once so different from, and yet so similar to, what had come before.
It was different in the sacrifice. Rationing of sugar, meat, and fuel. Replacing copper plumbing in homes with lead, the copper being needed for the war effort. Sending young family members off in uniform, some never to be seen again. Still, people married, babies were born, holidays were observed; Hollywood still made Oscar-winning movies, and the World Series crowned baseball's champions each autumn. Marie would tell you those things were necessary for morale, no matter how dark the world seemed.
Does it remind you of our current difficult time? A different enemy, of course, but there's the rationing and replacements because of binge buying and supply chain constraints. Some of us even have relatives going off to fight the war against coronavirus, while we all long for normalcy--a movie, a baseball game--for morale.
We may face a lot of uncertainty, but there's no question that those of you in the Inc. 5000 have achieved so much--you've built businesses, employed people and nurtured their skills, served your consumer and your community, and experienced revenue growth that most can only dream of. That achievement is apparent in every page of this issue, but especially so in our kickoff essay. I hope you're able to take stock of what you've accomplished in the past couple of years, even as we face so much uncertainty in the year to come.
Actually, I'm optimistic. You see, you all exhibit some remarkable talents--starting with the talents that built your businesses. You have ideas. You can bring them to life, solving problems along the way, pivoting when necessary, positioning yourself for that perfect match with the customer. That ability didn't end when Covid-19 appeared; we'll need more of it going forward. One day, we'll talk about this time the way Marie talked about hers. And it pleases me to know that we'll be able to point to people like you, who not only got us through this but got us to a better place when we came out on the other side.
P.S. I really can't vouch for most of Marie's stories. After all, she also told me she was born prematurely--yet with all her hair and all her teeth--and was so small that she was incubated in a cigar box atop the coal-burning stove in her parents' kitchen. One thing I can vouch for: the Inc. 5000. You are all legit!
NOTE: In an issue earlier this year, an illustration accompanying the now-defunct Jargonator column perpetuated harmful racist stereotypes. Inc. editors sincerely regret this error and we extend our deepest apologies to our readers and to communities of color.
EXPLORE MORE Inc. 5000 COMPANIES
From the September 2020 issue of Inc. Magazine