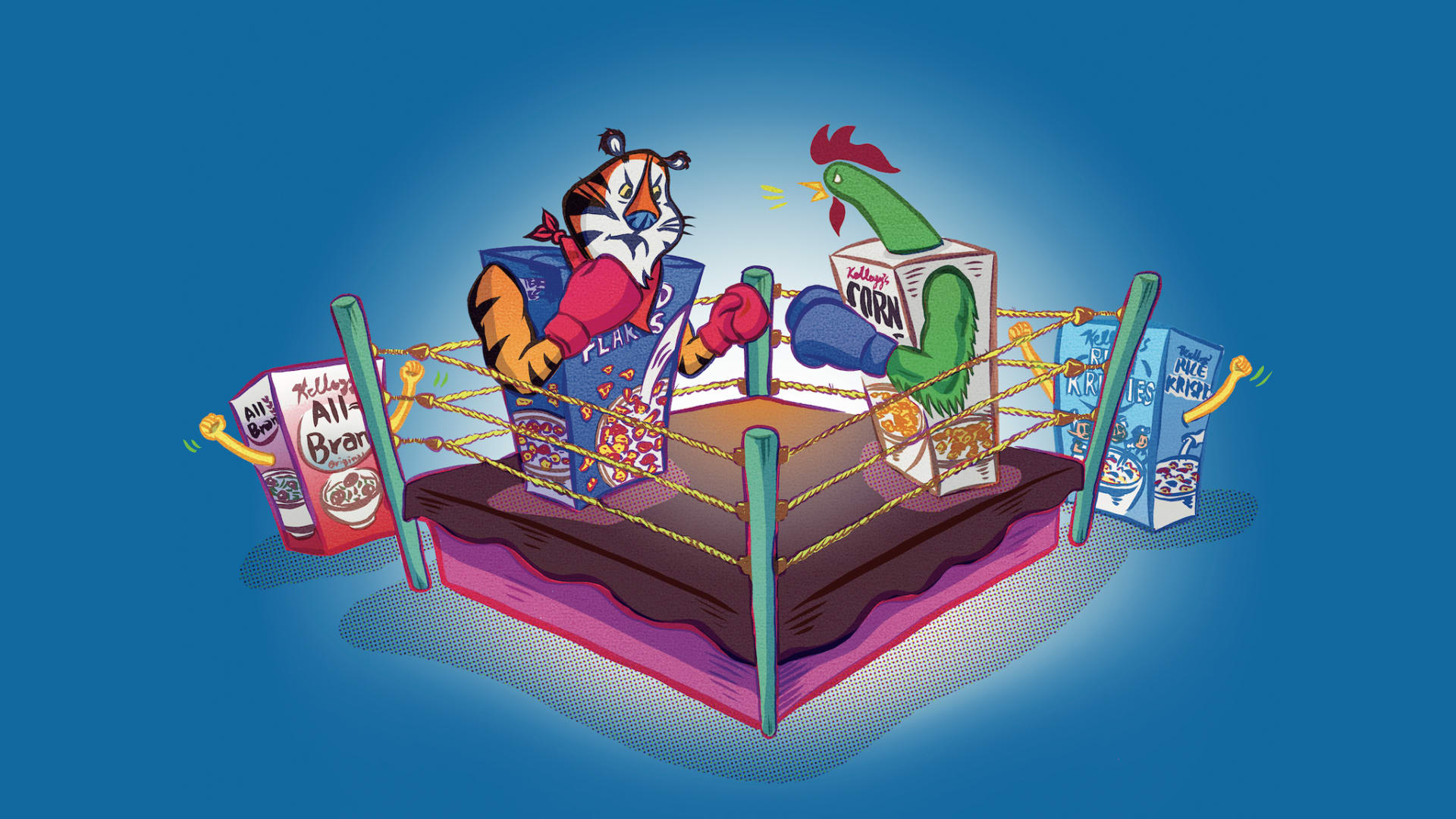 A family business sounds so very wholesome: Ma, Pa, and Baby Sis toiling beside you, sharing your values, finishing your sentences, beyond reproach with the daily receipts. And yet mixing business with DNA often turns out to be the singular ingredient capable of leaving family, marriage, and the business all crying uncle. Not to mention making for brutally awkward Thanksgivings. Here, tales of internecine meltdowns, malfeasance, and, yes, name-calling.
Kellogg's: Cereal Sparring
Global breakfast behemoth Kellogg's is known for Corn Flakes and Rice Krispies, but the story behind the brand is less Snap! Crackle! Pop! than Smash! Crack! See you in court! In the 1890s, Kellogg brothers John (a doctor and wellness pioneer) and Will (a stoic businessman) set out to create easy-to-digest foods. The most celebrated early result was Corn Flakes. John treated his brother like a flunky, but Will wisely bought him out. Under Will, the company blossomed, leaving John outraged about Will's use of the Kellogg name. Threats were made; lawyers summoned. John sued. Will prevailed in both U.S. and international lawsuits. Alas, the family woes had another chapter: Will's son played an important role in the company (inventing All-Bran), but when the young Kellogg became involved with a woman at the office, Dad kicked him to the curb.
Tory Burch: Fashionably Tortured
Blessed with fabulous hair, aristocratic cheekbones, powerful connections, and being in love, Chris and Tory Burch were living the New York City dream. Chris (dot-com venture capitalist) and Tory (savvy fashion designer) built the Tory Burch fashion empire, turning a buzzy little storefront selling bold-print clothes and cute tunics into an Oprah-approved global brand. They'd been married eight years when they launched the line, but when the relationship hit the skids three years later, they optimistically decided to stick it out as business partners. Then Chris started his own clothing brand (C. Wonder), and the handbags hit the fan. He sued his ex and other Burch officials, alleging that they'd impeded his business. She countersued, claiming C. Wonder was--ouch!--a copycat. After ugly back-and-forths, they eventually settled. It's unclear if anyone is living happily ever after.
Oasis: Look Back in Anger
Rock stars squabble as routinely as they throw TVs out of hotel windows. But brothers Liam and Noel Gallagher of Oasis broke new ground with the bitterness, relentlessness, and duration of their conflict. As a business, the band, founded in 1991 in Manchester, England, printed money: Their second album, (What's the Story) Morning Glory?, sold 22 million copies--making it one of the best-selling LPs ever. But the brothers Gallagher--how to put this delicately?--hated each other's guts. Once, just before the band was to tape a live performance for MTV Unplugged, lead vocalist Liam bowed out, claiming to have laryngitis. Instead, he retired to the balcony to boozily heckle Noel, who'd been left to do all the singing. Being brothers meant duking it out, too. In a display of their versatility, one brawl involved both tambourine and cricket bat. After nearly 20 years of the Gallaghers' sniping, backstabbing, and undermining each other, Oasis imploded in 2009. That same year, Noel described Liam as "rude, arrogant, intimidating, and lazy. He's the angriest man you'll ever meet. He's like a man with a fork in a world of soup."
McCain Foods: Into the Fryer
How can a family business run smoothly for 37 years and then nearly go off the rails? What could possibly come between co-CEOs famous for having adjacent offices and homes? Answer: succession. Meet Harrison and Wallace McCain, who, along with brothers Robert and Andrew, founded McCain Foods in 1957 with the bright idea of creating the first frozen french fries. McCain Foods would become the world's largest purveyor of fries (one big customer: Mickey D's) and a global enterprise worth billions. Then, in 1993, Wallace, despite family resistance, pushed for his own son to become the next CEO. Succession has a way of bringing out the very worst in a family business, and after a year of infighting and plenty of lawyering, an arbitrator settled it: Wallace was out of McCain Foods. (He went on to buy Maple Leaf Foods, installing his son as CEO.) The brothers didn't reconcile until shortly before Harrison passed away in 2004.
Evil Twin and Mikkeller Breweries: Tap Out
For more than a decade, craft beer connoisseurs have hailed the inventive and tasty work of Mikkel Borg Bjergsø and Jeppe Jarnit-Bjergsø, 45-year-old Danish masterbrewers and identical twin brothers. In 2005, Jeppe opened a fancy beer shop in Copenhagen that hawked some of the suds Mikkel, a science teacher, was homebrewing on the side. When Mikkel's beer became a major draw, the two made an agreement: Mikkel brewed, Jeppe sold. Business bubbled along until Mikkel broke ground on a bar not far from Jeppe's store. Jeppe pulled an "Oh, yeah?" and not only started brewing, but also pointedly named his new company Evil Twin. The brothers tried therapy (didn't take), and things came to a head in 2016, when Jeppe hatched plans to open a brewpub in the borough of Queens in New York City--and guess who else made his own plans to open a brewery in Queens? While the brothers no longer talk to each other, they do talk about each other. Jeppe lovingly described one of Mikkel's beers as "disgusting. It tastes like Kool-Aid."
From the November 2020 issue of Inc. Magazine