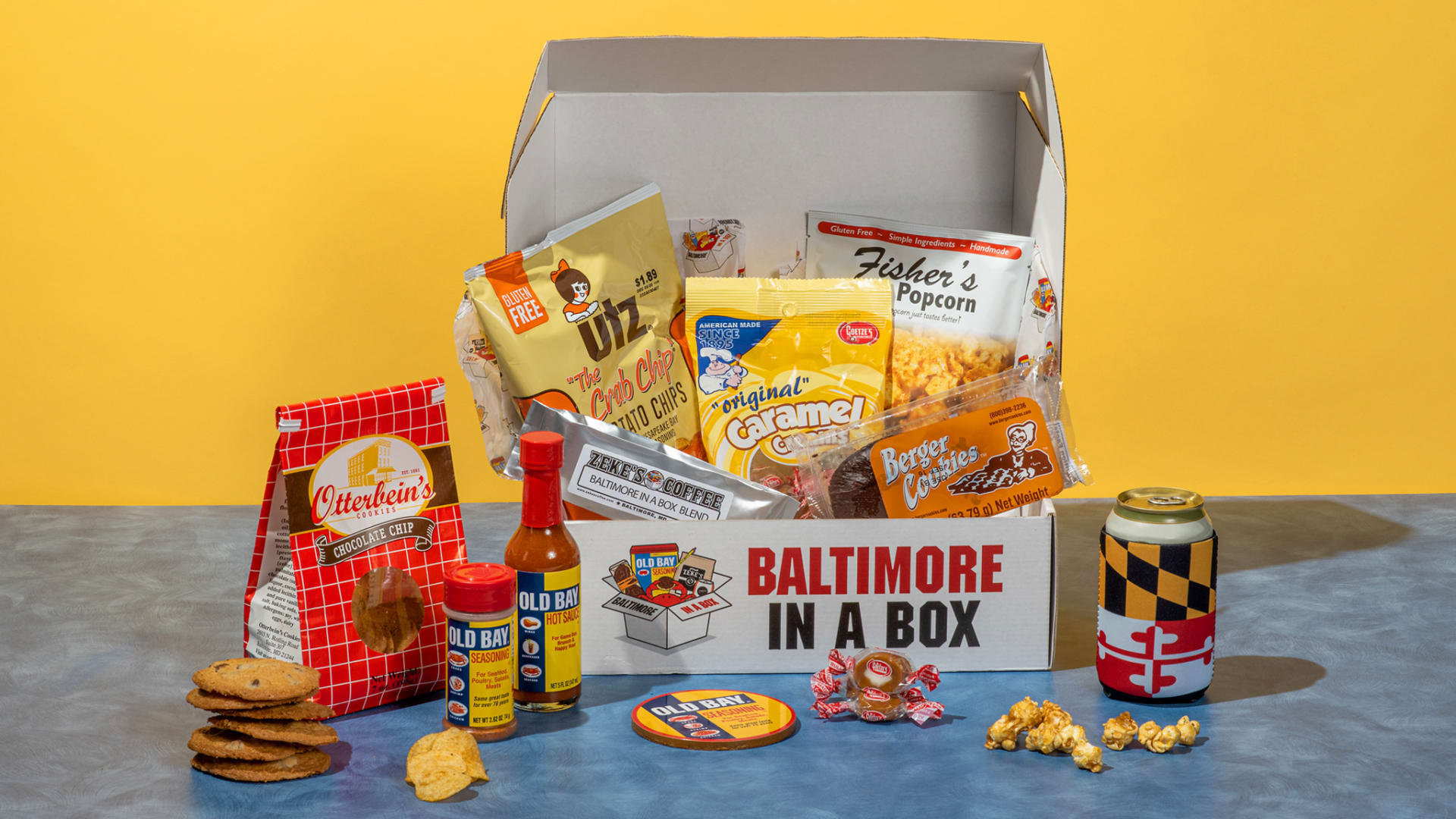 Since 2014, Baltimore in a Box has been crafting and mailing care packages full of local goodies to homesick Baltimore expats, out-of-town college students, and new arrivals to the city. For a flat rate, customers can customize care packages in three sizes, and choose from an array of products, like Utz crab chips, Berger Cookies, and Natty Boh beer koozies. With everyone stuck at home this year, business has been booming. Here's what founder and lifelong Baltimore resident Ross Nochumowitz has learned about running a gift-box company during a pandemic.
Use your retail store as a fulfillment center, and as a marketing tool.
Before the pandemic, more than half of Baltimore in a Box's sales came from its brick-and-mortar store. So when the store closed in March, Nochumowitz worried that he'd have to start advertising heavily online to make up the difference. However, it wasn't long before orders picked up, as more people started shopping online. The spring and summer were "definitely our busiest months, outside of the Christmas months," he says.
Online orders are filled in the back of the store, and Nochumowitz says that during a typical holiday season, boxes sometimes spill awkwardly into the retail area. That hasn't been a problem this year. "While our store was closed, we were able to kind of just convert everything back into our warehouse," he says, "so we could really spread out and get some of these bigger orders done."
The company is still benefiting from the extra fulfillment space: The store reopened in August with shortened hours and fewer customers allowed inside at a time, but orders for delivery and curbside pickup are still flowing in. And it doesn't hurt that the storefront itself has a unique, Instagrammable look: A Maryland-flag design painted by local muralist Marshall Adams. "I just consider it a big billboard that I'm paying monthly for," says Nochumowitz. (The building's landlord first suggested painting an Old Bay Seasoning can, but that was "a little too specific," and would've required approval from McCormick & Company.)
Sell in bulk to other businesses.
While most of Baltimore in a Box's sales are direct-to-consumer, corporate orders have proven to be a fruitful revenue stream, especially during the pandemic. "The amount [of bulk orders] that we would normally get in a regular year, I would say in the Covid-19 times we were four or five times that number," he says. Several departments at Johns Hopkins University sent gift boxes to students in lieu of graduation party favors; a real estate developer placed an order for its tenants; and other corporate customers, including the city's utilities company, bought boxes for employees who were working from home.
Since the gift-box business is usually seasonal, this surge in demand has been a boon, but also unpredictable, Nochumowitz says. "I haven't even really thought about the holidays yet, honestly--just because I feel like I haven't even had a moment to really sit back and breathe."
Double down on novelty and convenience.
A Baltimore-specific gift box is a niche product, and Baltimore in a Box has embraced that niche by streamlining the traditional process of sending a personalized care package. A customer could go to a few different stores, buy the same products, wait in line at the post office, and mail their own box for less than his company charges, Nochumowitz says, but Baltimore in a Box makes it simpler to bundle together products from 18 local businesses, pack them up thoughtfully, and mail them out fast. (Boxes cost more online than they do in-store, he says, so that the company can offer free shipping.)
Aside from snacks and coffee, customers can send coasters, t-shirts, Maryland-flag face masks, and even steamed crabs and crab cakes--the company partners with popular restaurant Jimmy's Famous Seafood to coordinate perishable shipments. Baltimore in a Box also worked with local ice cream maker Cream Cruiser to develop 10 flavors using the treats available in Baltimore boxes, including "I'm So Crabby" (vanilla with Utz crab chips) and "LaMarshmallow Chip" (s'mores with Otterbein's chocolate chip cookies). The first five flavors launched in August, and within two weeks a Baltimore grocery chain had ordered more than 500 pints, Nochumowitz says. In September, the full ice cream line became available online (shipped directly from Cream Cruiser) and in Baltimore in a Box's retail store. The quirky flavor combinations are a hit with customers, Nochumowitz says, though shipping pints beyond Maryland and neighboring states while keeping costs down is a challenge.
With the vast majority of its sales made in Maryland and delivered to people who used to live there, Baltimore in a Box counts on a growing population of people who really love Baltimore. Despite crime-focused media reports and TV shows like The Wire that have given Charm City a bad name, the company's success--it recently surpassed $1 million in cumulative sales--demonstrates the depth of the city's hometown pride. "That's kind of what I've enjoyed the most about this business," Nochumowitz says, "proving the naysayers wrong."
From the November 2020 issue of Inc. Magazine