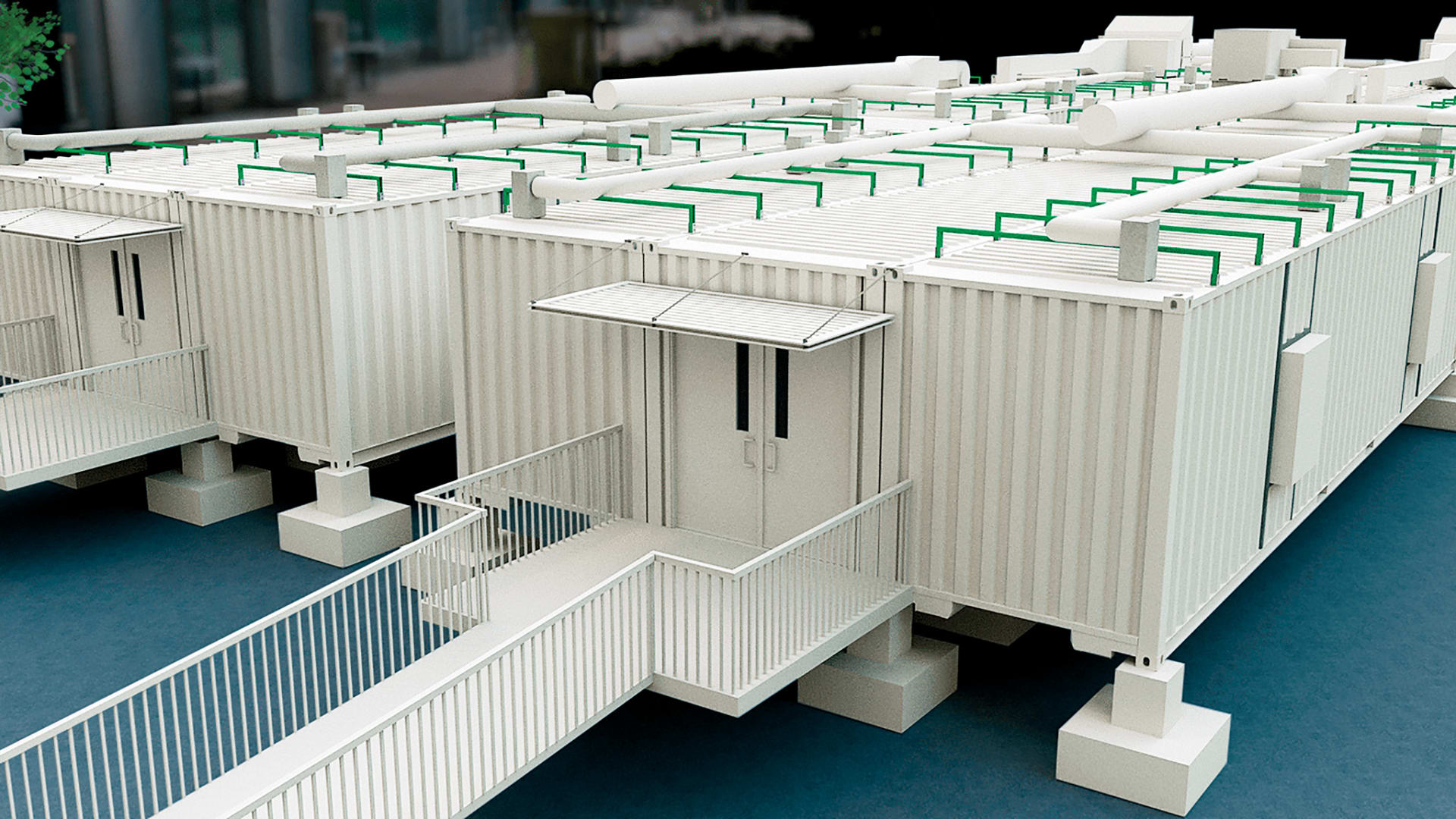 In April, when U.S. hospitals began reaching capacity because of an influx of Covid-19 patients, BMarko co-founder and CEO Antony Kountouris realized he could help. Kountouris's Atlanta-based company turns used shipping containers into modular structures that can be converted to everything from office space to bars. BMarko's 10 employees had no experience working with the U.S. health care system, however, so Kountouris hired hospital architect Heather Cohen, who pulled back-to-back all-nighters and drew up blueprints within 48 hours. Soon, the Georgia Emergency Management and Homeland Security Agency requested 48 rooms. BMarko quickly hired 80 temporary workers and created an assembly line to convert containers into hospital rooms. Four weeks of around-the-clock shifts later, the structures were up and running outside two Georgia hospitals. "If anything was ever all-hands-on-deck," says Kountouris, "it was this."
Bmarko set up the temporary hospitals in the parking lots outside the Medical Center, Navicent Health in Macon and Phoebe Putney Memorial Hospital in Albany. Teams of workers constructed the structures in eight days apiece. Each is equipped with all the equipment you'd find in a regular hospital ward.
The six-year-old company found many of its temporary workers through an ad it posted on Craigslist that gained tens of thousands of shares and likes on Facebook. "It basically said, 'If you have a heartbeat, you need to talk to us right now,' " says Kountouris.
BMarko's past projects have included converting containers into concession stands for Coca-Cola, temporary headquarters for Google's Wing drone project, and control rooms for the Department of Defense. None have involved such an urgent timeline as this one. "I don't think I'll have an experience like that again for the rest of my life," says Kountouris.
EXPLORE MORE Inc. 5000 COMPANIES
From the September 2020 issue of Inc. Magazine