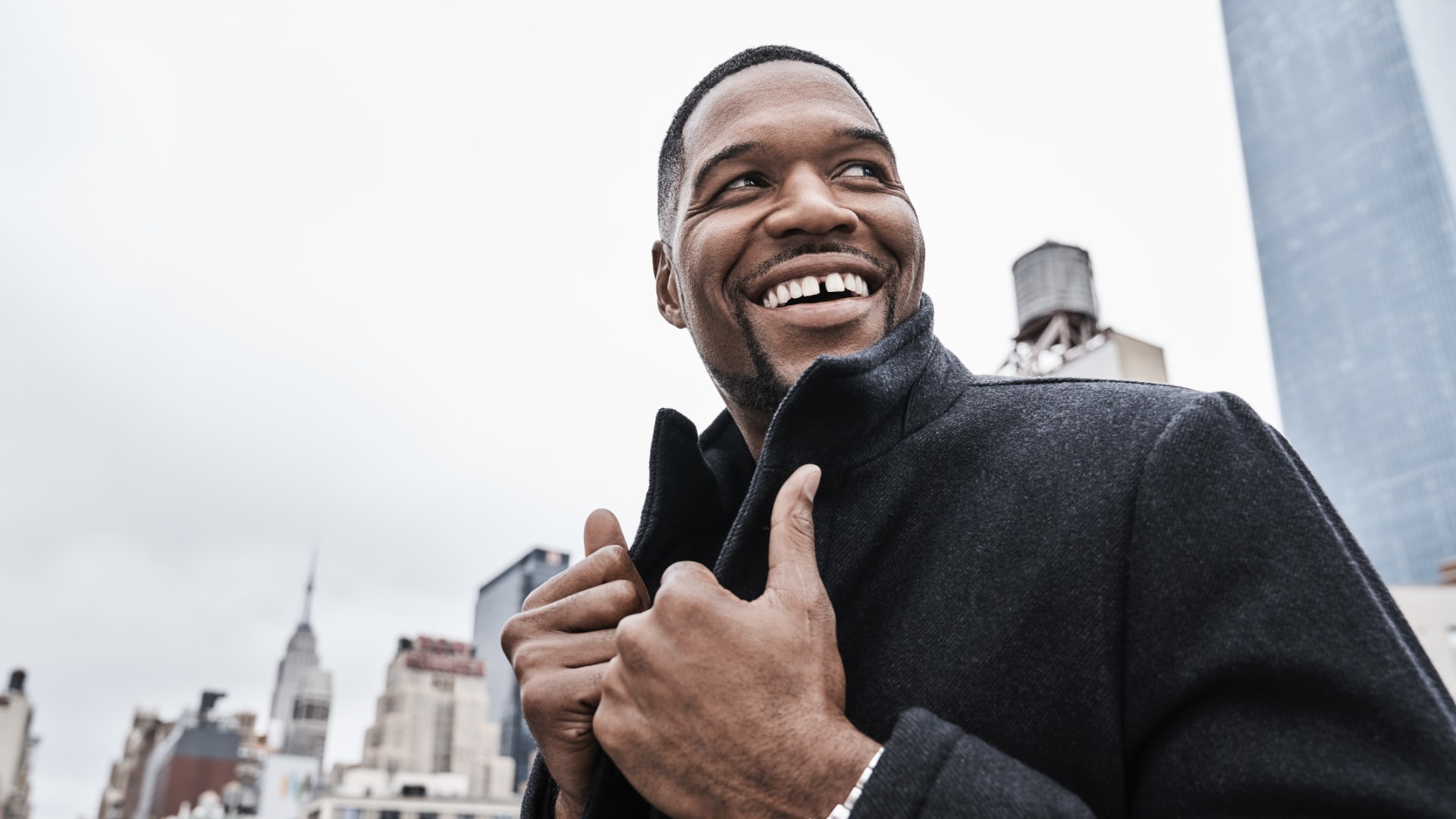 Michael Strahan was gassed, his body and brain running on adrenaline when he glanced at the game clock on the evening of February 3, 2008--Super Bowl XLII. There was just 2:39 left to play, and his New York Giants were trailing the undefeated and heavily favored New England Patriots 14-10. As Giants quarterback Eli Manning prepared to run onto the field for a final, desperate drive, he saw Strahan, the team's defensive cornerstone, corral the hulking corps of offensive linemen and shout: "Seventeen-fourteen! Believe it, and it will happen!"
This sort of pep talk was part of Strahan's job. He'd always been able to inspire teammates. His words carried weight because he led by example through his own fiery passion, iron will, and tireless work ethic.
What came next is legen­dary, at least to Giants fans: Thanks in large part to a circus catch by receiver David Tyree, Manning drove his team 83 yards and into the end zone, which, adding the extra point, put Big Blue ahead 17-14 with 35 seconds to play. After a final defensive stand, Strahan began jumping up and down as the clock ran out, beaming his famous, thousand-watt, gap-toothed smile. He might have been the only one in America who wasn't surprised by what had just happened.
Recalling the moment 12 years later, Strahan flashes that same smile--the wattage hasn't dimmed, the gap is just as wide. "Man, I just wanted to win," he says. "I wanted that Super Bowl ring." Strahan insists that his motivational words that day weren't hot air or bluster. "No, no, no. I really believed it. And I wanted them to believe it too."
This, of course, is what leaders do, whether they're on the playing field or starting and running companies. They motivate. They inspire. They make you believe that you can do things that even you may not think you can do. They make you better. This may all sound ridiculously trite. But it's not. It's actually quite rare--as is Michael Strahan.
Since leaving the NFL, Strahan has engineered a mini empire by tapping into the same set of skills that made him a Hall of Famer--start with his discipline, his hunger-to-win determination, and his leadership, and then throw in his endless curiosity and abundant empathy. He's a rare television personality who's as comfortable talking X's and O's on Fox NFL Sun­day as he is interviewing newsmakers on Good Morn­ing America and serving up prime-time com­fort food as the host of The $100,000 Pyramid. He also co-owns a thriving talent management and production company and his own apparel and lifestyle line. Actually, two of them.
His playing days are over, but Strahan is still hustling like there's just 2:39 left on the clock and he's down by four points.
Four months after that Super Bowl victory, Strahan quit football. Retired. He was 36 and still an intimidating defensive end. But he knew the smart move was to go out on top. Before he announced his decision to the team's owners and the press, though, there was one person whose approval he needed first.
Strahan's father, Gene, was a career military man. He'd always been Michael's hero and moral lodestar--his role model and ardent champion. Gene had taught his son about the importance of hard work and self-confidence.
He would always set his son straight whenever he used the word if while talk­ing about his dreams. If I get a scholar­ship. If I make the NFL. "No, son, not if. When," Gene would say. That mantra was repeated so often during Michael's for­mative years that it became hard­wired.
Strahan was nervous about breaking the news of his retire­­ment to his dad. But when he called him, half-expecting a lecture about not being a quit­ter, he was relieved by what the voice on the other end of the phone had to say. "I'll never forget it," says Strahan. "He was quiet for a while, and then he just said, 'There's no need to do that anymore.' It was almost like in the movie Babe, when the farmer says, 'That'll do, pig. That'll do.' " Telling this story, Strahan gets a catch in his throat. He apologizes. Then he smiles and shakes his head in disbelief--a silent, heartfelt gesture of thanks to a man who died in August, at age 83.
"I suddenly had a lot of time on my hands. And that's when I started to drop by Constance's office."
Strahan was a natural for his first gig out of retirement--game-day analyst on Fox NFL Sunday. Viewers embraced his personality immediately. But when the season ended, he began to wrangle with what he was going to do the balance of the year. He was itchy and rest­less. "It's not like I was still a player and had to work out every day," he says. "I suddenly had a lot of time on my hands. And that's when I started to drop by Constance's office."
Constance is Constance Schwartz-Morini. And over the course of the next decade, she would become not only Strahan's personal manager, consigliere, and business partner, but also the co-author of his next and most unlikely chapter--his rise from "former NFL star" to "crossover TV powerhouse and celebrity entrepreneur."
Today, star athletes like LeBron James and Steph Curry seamlessly morph from MVP to VC. In Strahan's era, the investing opportunities, particularly in technology, weren't as abundant.
The odd couple first crossed paths about 25 years ago when he was playing for the Giants and she was working in the NFL's cor­porate sponsor­ships depart­ment, in Manhattan. They immediately hit it off like brother and sister. She was a highly motivated, quick study who grasped the league's growing expansion into branding, licensing, and special events quicker than most. "Everyone asks me if I got an MBA and went to graduate school," Schwartz-Morini says, "but working at the NFL was my MBA."
On the occasions that she found herself working with Strahan in an official capacity, she would always walk away impressed by his openness and curiosity. He wanted to know how things worked on a granular level. "He wasn't afraid to lean in and do things that are outside of most people's comfort zones," she says. "If he wasn't sure what he was doing, he had no prob­lem asking."
Strahan once appeared on a show called NFL Lineman Challenge. After the filming wrapped, Schwartz-Morini was headed to the editing room for a long night of post-production. Strahan asked if he could tag along to see how a show comes together. "That was pure Michael," she says. "He had that curiosity, that entrepre­neur­ship."
By the time Strahan retired, Schwartz-Morini had moved on to managing Snoop Dogg, a vividly successful crossover celeb. Every time Strahan was in Los Angeles, he would stop by her office looking for input into his next career move. Eventually, she just said to him point-blank: "Look, instead of just coming to me for advice, why don't I just manage you?"
One of the new team's first coups was getting Strahan hired as the permanent replacement for Regis Philbin, who was retiring from co-hosting his hit ABC morning show with Kelly Ripa. As part of a revolving-door bake-off to find Philbin's successor, Strahan guest-hosted 20 times. But as ABC continued to waffle, Schwartz-Morini began fielding offers from other production companies. In fact, the two had another deal waiting to be inked when ABC finally invited Strahan to formally join Ripa full time. "When we got the news, we were literally jumping up and down, screaming like two kids," says Schwartz-Morini.
That same year, 2010, the two formed SMAC Enter­tainment--a boutique talent management, business devel­opment, and production startup whose diverse client roster now includes rapper Wiz Khalifa, actor Omari Hardwick, and on-air sports personalities such as Erin Andrews, Deion Sanders, and, of course, Strahan himself. The company began out of Schwartz-Morini's kitchen in Marina del Rey, California, and now has 13 employees. SMAC (as in Sports, Media, and Culture) has sold TV shows to HBO, Showtime, and ABC, among others.
"Any time we use the word if, we put doubt on whatever comes next."
Apart from Schwartz-Morini (managing partner and CEO) and Strahan (partner), no one on the SMAC team has a job title. "I've always been cogni­zant of making people feel part of any success we have," says Strahan. "I'm not some guy on the top of the totem pole looking down. That is something that Constance really believes in from her time working at the NFL. Good ideas can come from anywhere."
SMAC's corporate motto is "Hustle like you're broke." And while Strahan is tight­lipped when it comes to disclosing revenue for the nearly decade-old company, he eventually cops to: "We do good. We make millions of bucks."
One show that Strahan is particu­larly excited about is Cupcake Kings, a comedy series based on a real-life pair of ex-football players who open a bakery in Austin. It was sold to ABC last year and is now in develop­ment. Says Jonnie Davis, the president of ABC Signature, "We don't have to reach out to them. They're an 'incoming-call' company, which is exactly what you want in this busi­ness. They're hungry and they want to win. Plus, they have a badass boss."
Who works his bad ass off. Consider Strahan's recent taping schedule for The $100,000 Pyramid, for example. He starts laughing thinking about how crazy it must sound.
"The way it works right now is we tape 26 episodes in five days," he says. Most shows would take two weeks to do that. "It's kind of like being a football player," he explains. "I've got to show up and be committed no matter how tired I am. I owe it to the people who come onto the show to give them the proper respect and energy level they deserve. I can't go out there and be like, 'Tom, you won $50,000. Who cares?' "
We're talking on a warm October morning, and Strahan is seated on a tiny gray sofa in the living room of his spacious Manhattan apart­ment. At least, the sofa looks tiny in contrast to its occu­pant's 6-foot-5- inch, 250-­pound frame. He's wearing a black fleece over a blue button-down shirt and gives off a crisp I-just-worked-out vibe. Not surprisingly for such a multitasker, he's been up for hours.
Since today is a Monday during football season, he's pretty much been on the go for the past 48 hours, having flown to and from Los Angeles to appear on Fox NFL Sunday.
The itinerary broke down like this: On Friday, after wrapping GMA, Strahan and his twin teenage daughters from his second marriage, Sophia and Isabella, boarded a chartered jet at Teterboro Airport in Bergen County, New Jersey. (He also has two children from his first mar­riage, Tanita, 29, and Michael Jr., 26.) When they arrived in L.A., Strahan took them to dinner to cele­brate their 16th birthday. The evening went late, so he didn't go to bed until 1 a.m.
Saturday, he got to chill, and started turning his atten­tion to the NFL. On Sunday, game day, he woke at 5:30 a.m., hightailed it to the studio for a 6:30 pro­duction meeting, followed by rehearsals, and was on the air at 9. Back at his L.A. pad by 3 p.m., he collected the kids, and drove to the air­port. They touched down at Teterboro just after mid­night. Then, after getting the girls ready for school the next morn­ing, he climbed into bed at 2 a.m. New York time.
The way Strahan tells it, he wasn't exactly born to be a star, but worked to give himself that opportunity. He grew up on an American military base in Mannheim, Germany, and he focuses on how he became a chubby kid (chubby is my word; he says "fat"). His friends had begun referring to him as "Bob." Strahan didn't get it until finally one of them told him that it stood for "Booty on Back." This made him self-conscious. So he became obsessed with shedding weight and getting into shape.
He started working out every day to Jane Fonda exer­cise videos (yes, this was the '80s). And he wasn't alone. Gene Strahan got up early to work out with Michael (and Jane) because he knew that his son felt insecure.
Michael talks about Gene in almost reverent tones. How he made him mow a zillion lawns to earn half the price of the $1,200 BMX bike he wanted. And, most important, how his father rebuilt his own life through sheer force of will by going back to college in his 30s so he could join ROTC, become an officer, and offer his family of eight a better life.
So when Gene told Michael to say "when, not if," it wasn't some hollow kernel of fatherly wisdom. It came with concrete proof in the man who was standing right in front of him.
It was Gene who convinced Michael that he had enough natural athletic ability to earn a football scholarship in the States. He persuaded his son to leave Germany and move in with his uncle in Houston, where he could play his final year of high school and excel enough to get the attention of college recruiters. Strahan, who had barely played organ­ized football up to that point, earned a scholarship to Texas Southern University. Four years later, he was selected in the second round of the 1993 NFL draft by the Giants. Not if, when.
"If I couldn't write a check for something on the spot and cover it, then I didn't need it."
"Any time we use the word if, we put doubt on whatever comes next," Strahan says, explaining his father's core philosophy. "If you say, 'If I make it off the couch, I might rake the leaves,' well, that's probably not gonna happen. We were taught to say, 'When I do this ... ' And just that little difference tells you it can and will happen. I didn't even realize that my dad was doing that until I was in my 30s. That's when I thought, 'Wow, he's almost been playing mind tricks on me all this time.' "
Even after entering the intoxicating world of the NFL, Strahan knew from his parents' example that he had to be smart with the exorbitant sums of money he was going to be making. Sure, he splurged after his first big payday, buying his parents a Cadillac STS and himself a sporty Toyota Supra Turbo.
Still, he was always aware that there could come a rainy day in the form of a career-shortening injury just around the corner. "The money was nowhere near what it is now, but I realized I had to save it," he says. "So what I did was I set a baseline number of what I know I need to have no matter what, so that I will always be OK. The other thing is, I don't like to have any debt. If I couldn't write a check for something on the spot and cover it, then I didn't need it."
New York's sports writers can be vicious, but they loved Strahan for his willingness to engage in actual, entertaining conversations. Realizing how much he enjoyed doing radio and TV interviews as a player, Strahan decided to try broad­casting, thanks to a nudge from his friend Jay Glazer. Then the Giants beat reporter for the New York Post, Glazer had become friends with Strahan during his time in blue. And he was convinced that Strahan had what it took to cross over to the media side.
"I was doing this speaking engagement at this synagogue on Long Island and I had Michael come along," recalls Glazer. "I don't think anyone in the room was under 75. I'm Jewish and I was struggling. But Michael, he just took over and you would have thought that he grew up with every­body in that room. Don't get me wrong--he puts a lot of work into what he does. But I think greatness is kind of measured by how much you work when nobody's looking."
Not to downplay what a tough room a Long Island synagogue can be, but co-hosting an NFL pregame show is of an entirely dif­ferent order of magnitude. So when Strahan landed his chair on Fox NFL Sunday in 2008, he was petrified. Would he fit in with the tight-knit team that was already there? Would they notice his white-knuckle terror?
"I was scared to death, man," Strahan says. "I remem­ber three weeks in thinking I should have gone back and just played football another year. Early on, I remember saying on air, 'I've got three points.' I said the first two, and then I couldn't remember what the third one was. And in my head I'm going, Ohmygod! Ohmygod! So I just started coughing, like a fake cough­­ing fit. And Howie Long just picked up my part and rescued me. It's ridiculous, but it made me realize: Hey, you thought to do that. Maybe you can actually do this!"
In 2016, Strahan jumped into a bigger league. He joined Robin Roberts and George Stephanopoulos--serious people--as a co-anchor on ABC's Good Morning America. He says that he couldn't stop worrying about whether he belonged on a show that dealt with actual news. Who was going to trust a jock to deliver headlines about natural disas­ters, domestic politics, and foreign wars?
When, not if. "It's the hard­est thing I've ever done in my life," says Strahan, for once not smiling. "It's a different muscle that I had never exercised before. It's not soft. It's not always joyous. It's not neces­sarily having an opinion, but you have to deliver a story for other people so they can form their own. It's about every­thing and anything that's going on in the world. You need to be well-versed. You've got to read the whole news­paper, not just the sports. So it's been a chal­lenge for me. But I love that. It's my favorite thing about it."
"I'm not going to fool you. This is who I am. This is what you get. I think people have seen every side of me."
He's been up to the task, too. Check out his interview with Jonathan Mattingly on YouTube. His sit-down with the white Louisville police officer who was involved in the fatal shooting of Breonna Taylor last March isn't just evidence of Strahan's coming into his own as an interviewer and journalist. It's a master class in how to be hard-hitting and humane at the same time--something even the most seasoned journalists have trouble with.
Why are people drawn to him? Because, he finally admits, he's the real deal. "I'm not going to fool you," he says. "This is who I am. This is what you get. I think people have seen every side of me. They've seen the nice side. They've seen the football side, which wasn't so nice. I don't have any sides that I haven't shown. So I think it comes down to authenticity. I enjoy what I do and I think you can see that. I'm not faking a smile. I want to be where I am when you see me there."
Authenticity is the beating heart of any brand. People pay for it. With 1.3 million follow­ers on Twitter and another 1.3 million on Insta­gram, Strahan, who always dresses sharply, didn't take long to garner attention as something he never set out to be and never saw him­self as--a male style icon. Which, naturally, led to another extension of Michael Strahan Inc.
In 2015, Strahan launched Collection by Michael Strahan, a midmarket men's clothing and accessories line at first sold exclusively through JCPenney. Luggage and denim collections followed.
"It was just an authentic, organic opportunity," says Schwartz-Morini. "When he got the job on Live With Kelly, he needed suits five days a week and all these ties. I called a friend who worked at Van Heusen and said, 'Michael's going to need 300 ties.' And she said, 'Look, I can hook you up with ties, but if you want suits, I can give you the num­ber of someone at Peerless. They've got the suits.' "
Peerless is a contract apparel manufacturer that also produces lines for the likes of Calvin Klein and John Varvatos. A year later, Schwartz-Morini says, "Peerless came back to us and said, 'Look, we do a lot of business with Penney's. We should partner on your own apparel line.' "
Strahan's initial foray into the competitive apparel space was so successful that the following year, MSX by Michael Strahan made its debut--his "Lululemon for guys" ath­leisure line. It, too, was a com­fortable fit, Strahan says, "because every day I'm on TV wearing a suit. But the second the show is over, I'm in ath­leisure wear. It just exploded. I love when I'm walking down the street and someone yells, 'Hey, dude, I've got on your suit!' "
And it is his suit. Strahan personally signs off on the design of each garment. He obsesses over where buttons and zip­pers are placed. He touches every bolt of fabric to make sure it's something he would actually wear. "The last thing that Michael was interested in was doing just another cele­brity clothing line," says Schwartz-Morini. "That's why he's a part of every marketing decision and in every meeting."
The apparel business is even more challenging this year. Although the fashion line was bringing in millions, the company faced economic trouble when Strahan's retail partner, JCPenney, filed for bankruptcy as the pandemic spread and shoppers aban­doned stores. With so many Americans suddenly working from home, suits got hung up.
Not surprisingly, Strahan's team had to pivot. They added Men's Wearhouse as a new retail outlet with its own online presence, which has been a life raft. In September they expanded a line called MSX by Michael Strahan for NFL, in partnership with G-III, which focuses on T-shirts, hoodies, and pull­overs embla­zoned with team logos aimed at men and women. They partnered with Fanatics.com, as well as QVC and HSN. Strahan appears on both networks to pitch his clothing to con­sumers who now feel more comfortable shopping from their couches. So far, the strategy seems to be working.
From his playing days, Strahan knows firsthand that things can change in the blink of an eye, and when they do, you have to be ready and not be caught flatfooted. "A lot of people right now are question­ing their businesses," he says. "Do I stick with this? Listen to your gut. If you have the chance to pivot, do it!"
Strahan is a believer in the theory of decades--the idea of dividing your life into distinct chapters. In his 30s, he shifted from the NFL to TV. In his 40s, from TV host to entrepre­neur. Now 49, what does he envision for his 50s? A male Martha Stewart, with a line of towels and home furnishings? The next Ryan Seacrest?
After a few beats, he leans forward and flashes the Strahan smile. "If I were younger, I probably would be an actor--a movie star. Why not? I don't necessarily want to be 70 years old still trying to hustle TV. Or even 50 or 60 years old still trying to hustle TV as much as I am now. In 10 years, I think people may be ready to see another thing."
He isn't sure what that other thing is. When he does figure it out, though, you can bank this: It will be a matter of when, not if.
From the Winter 2020/2021 issue of Inc. Magazine