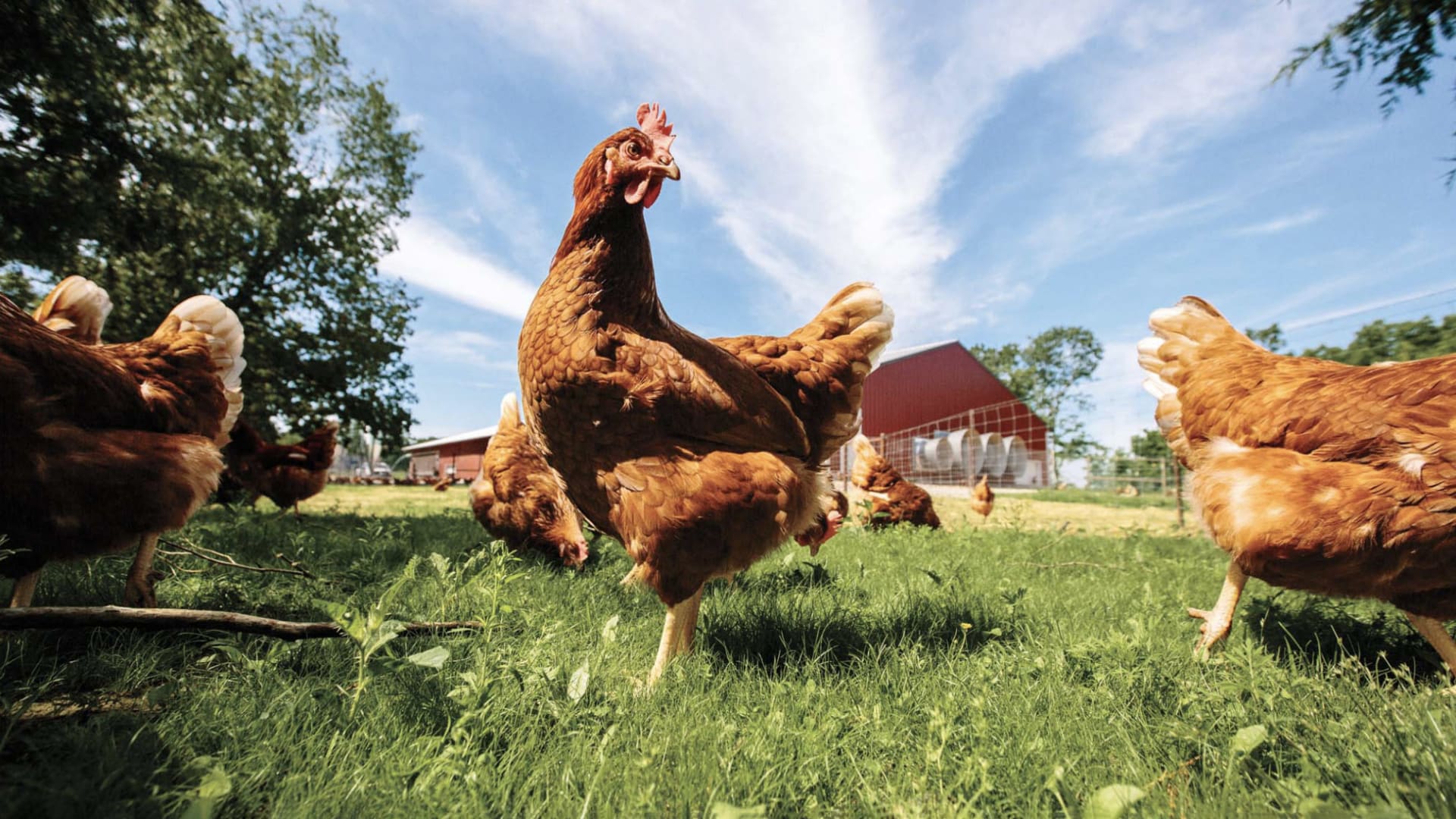 In 2007, serial entrepreneur Matt O'Hayer was at a cross­roads. He had spent the past five years living on a charter catamaran, ferrying clients from Maine to Grenada with his diving instructor wife, Catherine. Now the familiar itch to try something new had resurfaced. O'Hayer traveled to northern Indo­nesia for a diving trip with an old friend, Whole Foods co-founder and CEO John Mackey, mulling his next move.
At the time of the scuba trip, Mackey was working to improve the animal welfare standards of Whole Foods' meat and poultry suppliers. He'd recently invested in a hen-laying operation in Austin, and described to O'Hayer a future in which chickens wandered freely outdoors, grazing on grass, rather than being squeezed into indoor cages and fed corn.
Coincidentally, O'Hayer had a history with eggs. A native of Providence, Rhode Island, he started selling them from a cart on the campus of Brown University in 1968 because the gig was more lucrative than his paper route. In the '80s, he even raised backyard chickens.
So when he met with Mackey, O'Hayer was ripe for the plucking. In 2007, he bought 20 Rhode Island Red hens and the 27 acres of land in South Austin he would name Vital Farms. "Every company I'd started before, I always focused on the exit, the exit, the exit," says O'Hayer, who also ran a success­ful travel business in the 1990s. Now he was looking for a reason to stay.
Some 13 years later, his devotion to that mission--to scale humane practices that create better-tasting eggs while providing a viable business model to farmers--has resulted in a company with products in more than 13,000 stores, annual revenue north of $140 million, and, thanks to a blockbuster July IPO, a market capitalization of $1.2 billion.
O'Hayer has found a like-minded partner in Russell Diez-Canseco, a former McKinsey consultant. In 2014, when the company had annual sales of less than $20 million, Diez-Canseco answered a Vital Farms ad for director of operations--which basically meant running a 10,000-square-foot ware­house. The job came with a steep pay cut, but he believed in the mission. "I saw that this company had the oppor­tunity to democra­tize better food," he recalls. "I loved that this wasn't grassfed beef for $50 a pound."
Around the time Diez-Canseco joined the company, Vital Farms began working directly with contract farmers in Missouri and Arkansas--places with temperate cli­mates where hens could be outside year round. O'Hayer and Diez-Canseco had to convince skeptical farmers that they would really net 25 percent more for raising 75 percent fewer hens--or five times more per egg. The catch? The farmers would have to adhere to strict rules: Every chicken receives 108 square feet of land, and must be rotated to a new section of pasture every couple of weeks to let the grass grow back while preventing manure and parasite buildup.
"Every company I'd started before, I always focused on the exit."
--Matt O'Hayer
It was a gamble for the farmers. "No one had ever heard of us and we were ask­ing farmers to adjust their approach to meet our stan­dards," says Diez-Canseco, who took over as CEO from O'Hayer in 2019.
Vital Farms faced prob­lems on the con­sumption side, too. Few custo­mers could stomach the initial $10 per carton price, and without economies of scale, it was tough to get prices down to even three times the cost of conventional eggs. O'Hayer ended up donating many eggs to local food pantries.
So, in 2013, O'Hayer began taking on a handful of pri­vate equity partners, known as impact investors, who pro­vide capital to address social and environ­mental issues, raising $25 million over five years. (O'Hayer remains Vital Farms' largest shareholder, with an ownership percent­age in the high 20s.) As business slowly grew, Vital Farms was able to convince not just local Austin food co-ops and Whole Foods, but also Kroger, Walmart, and Target that consumers would be willing to pay more for ethically sourced food.
The funding also let Vital Farms build a state-of-the-art egg-packing plant in Spring­field, Missouri, in 2017. The plant, referred to as Egg Cen­tral Station, processes and packs as many as two million eggs a day from 200 partner farms in 10 states. The eggs go to stores nation­wide, where they sell for $5 to $9 a dozen. By then, Vital Farms was also proc­essing slow-churned butter from the milk of grassfed Jersey and Guernsey cows; ghee, or clarified butter, followed in 2019.
As customer numbers increased, Vital Farms gained credibility in the farming and banking communities. Farmers who signed a con­tract were able to secure loans to make the improve­ments required to meet pasture-raised standards.
Randy Pace is one of those Vital Farms partners. A life­long resident of Missouri and the son of farmers, Pace was working as a loan officer while raising cattle on the side. He had noted how quickly farmers who signed contracts with Vital Farms were paying off their loans. "I saw some things that really made me scratch my head," Pace says. "They would pay farmers more per carton than our retailers in town get." He drove to a grocery store 25 miles away. Vital Farms eggs were going for $6 a dozen alongside cartons of con­ventional eggs that cost 70¢. How on earth could they sell?
His wife pointed out one obvious difference: They tasted better. She helped him understand that people would be willing to spend more if they realized the benefits and knew that sup­porting the product was the right thing to do.
In 2019, Pace and a son with the farming bug invested $400,000 to build a Vital Farms-approved chicken operation on their family land, plus another $250,000 in equipment and $100,000 for 20,000 hens. They hope to pay off their loans early, and then Pace is expecting a handsome return on their investment--far better than the margins in his cattle business.
Pace admits to a moment of worry when Covid-19 hit, but the nation's retreat to home--and to stress baking--has kept demand strong. In its first post-IPO earnings report, Vital Farms' net reve­nue for the second quarter of 2020 increased 84 percent from the same period in 2019, to $59.3 million, while net income more than doubled, to $5.9 million. The company just debuted its first multi-ingredient product, ready-to-serve Egg Bites, paving the way for continued expansion.
Diez-Canseco and O'Hayer will wait before moving beyond the United States, where household penetration is still in the single digits. But they see no limit to growth. O'Hayer says: "Customers write to us, saying that if a package has the Vital Farms name on it, they buy it."
EXPLORE MORE Best in Business COMPANIES
From the Winter 2020/2021 issue of Inc. Magazine