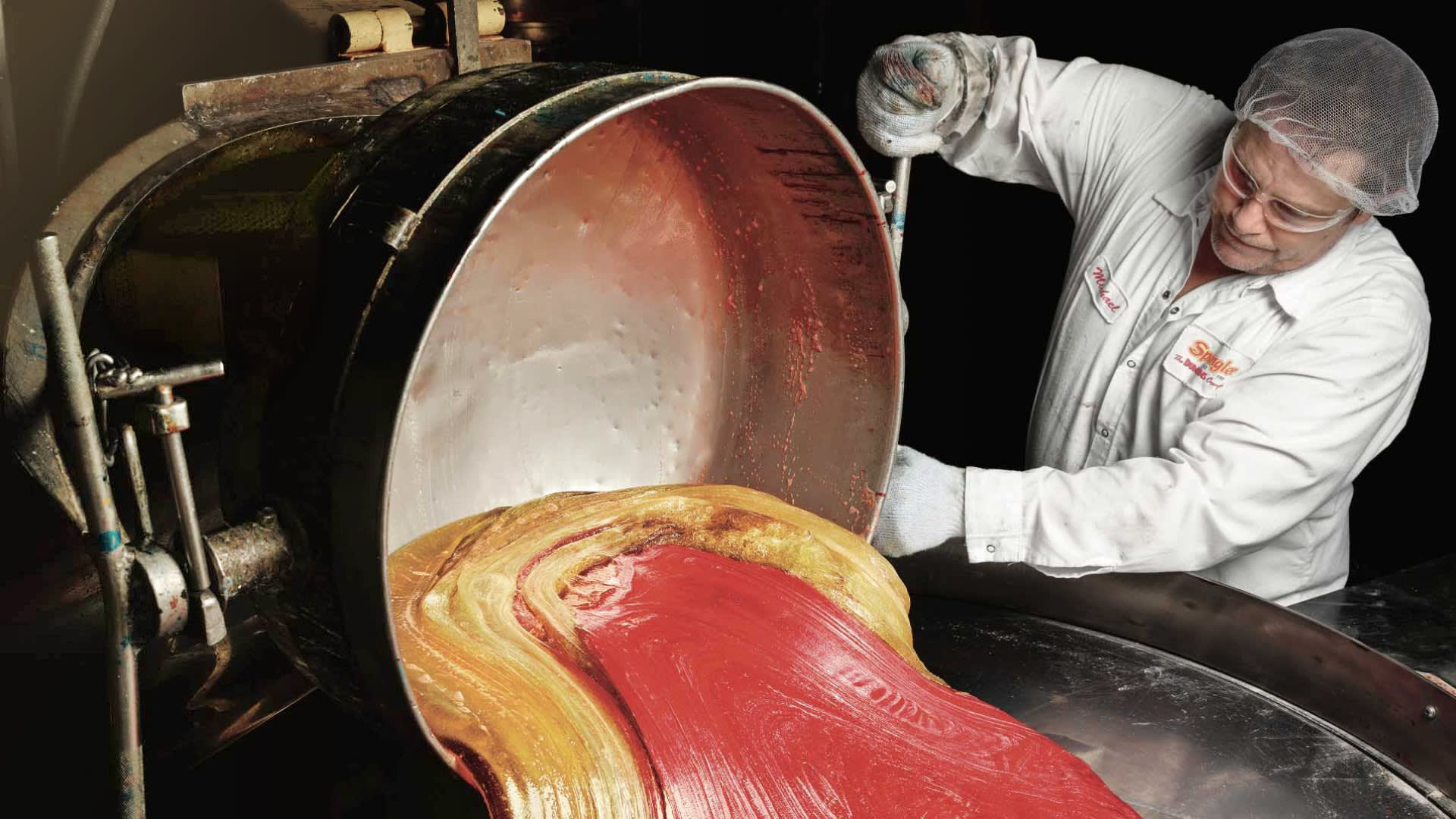 Walk into the gift shop in Spangler Candy's factory and you'll find several displays that highlight the various confections--Coconut Balls, Creme Peanut Clusters--the company has launched and retired over the years. It's what CEO Kirk Vashaw lovingly refers to as a "museum of failures." But that's quite all right. "You can have product lines that fail," he says. "You just have to know when to let things go."
Vashaw, a member of the fourth generation of the Spangler family to run the company, has been at the helm since 2011. He's the latest in the family to understand that, despite the failures, candy is a long-tail business. There might be no better example than Spangler's own Circus Peanuts, the strange, chewy combination of peanut shape, marshmallowy texture, and banana flavor that the company has been making for eight decades.
People have had ample reasons to turn to candy for comfort throughout Spangler's long history. Vashaw's great-great-uncle Arthur Spangler founded the company in 1906. The outfit initially sold baking soda, baking powder, cornstarch, and spices before Arthur's brother Ernest persuaded him to pivot to confectionery. Consumer tastes have changed since then, but the appetite for sweets has not. That's just as true during a pandemic, although sales patterns have changed: Between March 15 and September 6, candy sales increased by 4.1 percent over the prior-year period, according to the National Confectioners Association. But chocolate gained the most, with sales up 5.5 percent. Non-chocolate candy sales rose 1.6 percent. With offices unoccupied, and social distancing keeping us well-spaced, gum and mint sales have suffered.
Spangler, which generated more than $100 million in revenue in 2019, reflects that discontinuity. It lacks the ultimate comfort food, chocolate. The company, alas, sold its chocolate arm in 2007 to focus on its more popular products, such as Dum-Dums. Today, the lollipops bring in about $60 million in sales annually. Spangler still offers many of the flavors--butterscotch, root beer, cream soda--that it sold in the 1960s. "A lot of good candymakers don't change their core products too much," says Vashaw. "People want the tastes they enjoyed as kids." Which might help explain why most of the biggest-selling American candies (with Reese's and M&M's leading the way) are more than 50 years old.
Vashaw grew up in Washington, D.C., 500 miles from the factory in Bryan, Ohio. He made a few visits as a boy. "It stuck with me--the smells, the sights, the colors," he says. "I think any kid who goes to a candy factory will remember it for a long time." Still, Vashaw had no intention of joining the family business. He worked in Gillette's marketing department in Boston before his uncle decided to retire from his position as top lollipop earlier than expected. The family came calling. Vashaw and his wife decided to make the move. He's still there, 17 years later, one of four fourth-generation family members now working for the 500-employee company.
"The joke about family businesses," Vashaw says, "is that the first generation founds it, the second generation grows it, and the third generation screws it up. It's difficult to get to four generations, but we've done it." Being part of the Spangler clan will get you only so far, though. There's an unwritten rule that everyone needs real-world business experience before they can join full time. A handful of fifth-gen family members recently completed internships at the company, but a succession plan remains unclear. Vashaw says that when the next leader is chosen, priority will be placed on an appreciation for the brand's values and vision rather than bloodline.
Spangler has some reasons to be hopeful for a strong finish to the year. Even though trick-or-treating was curtailed in much of the country, Halloween candy sales increased industrywide year over year. That's in part because of a longer season: Hershey persuaded some grocery chains to build out Halloween candy displays in mid-August, a month earlier than usual, to offset a potential decline. And for Spangler, the last remaining major candy cane producer in the U.S., Christmas season means a boon for business. Let's face it--we all could use a little more merry this year.
Despite the pandemic turmoil, Vashaw says he's confident in the 114-year-old company's direction. You might even find him kicking back with a lollipop. "But I try not to over­indulge," he says. "Uncle Ted, our second-generation leader, always taught us not to eat the profits."
From the Winter 2020/2021 issue of Inc. Magazine