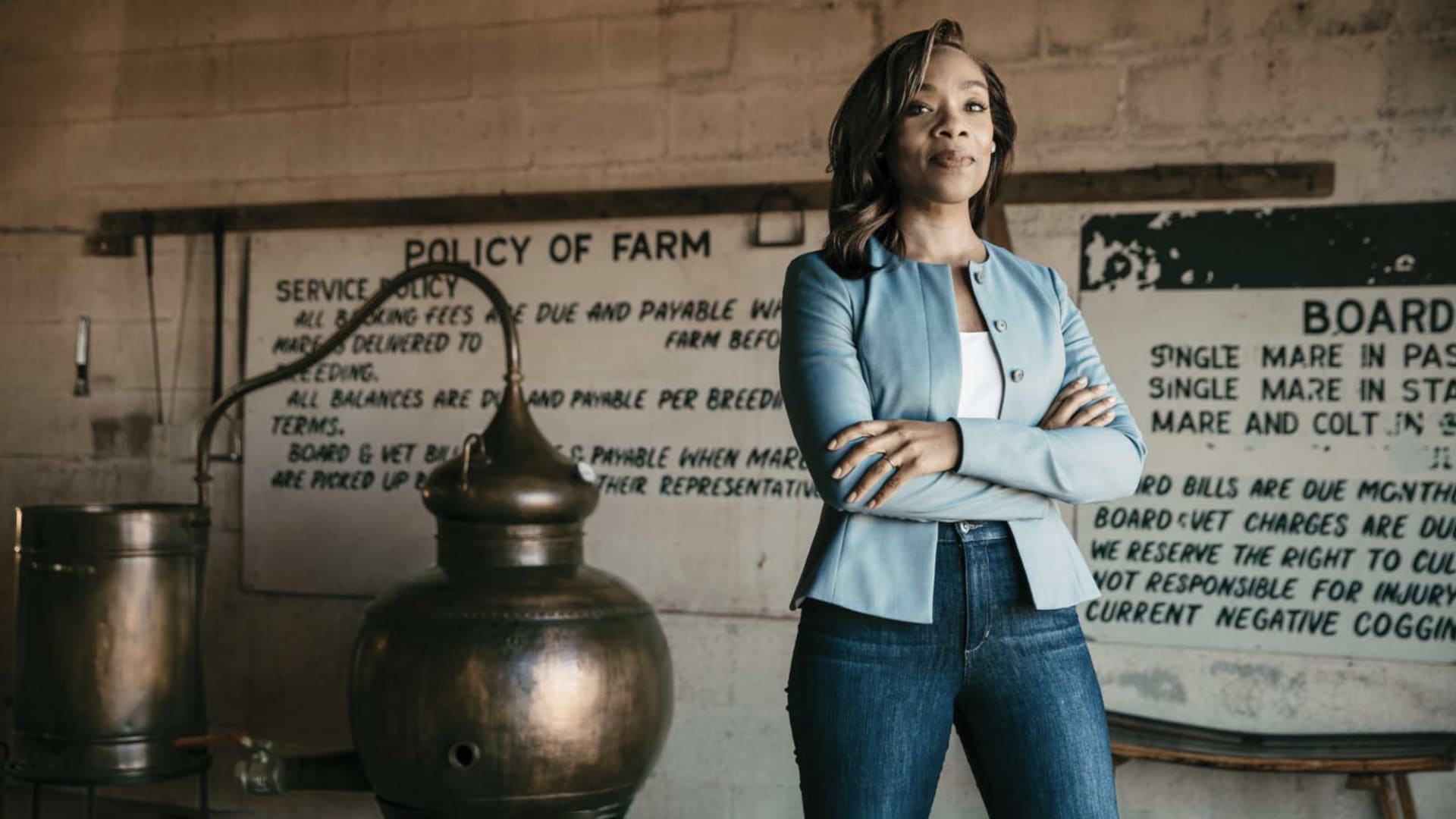 The first companywide Zoom call for the Tennes­see whiskey maker Uncle Nearest came in mid-March. Though staffers were separated by space and cables, headphones and screens, their anxiety was palpable. A pandemic was not just spreading across the country; it was devastat­ing the industry.
Later that month, the American Craft Spirits Association would report that almost 90 percent of the 150 distilleries surveyed had closed their tasting rooms, which often account for a substantial percentage of sales. Nearly 60 percent had laid off or furloughed employees.
Plus, Uncle Nearest, only three years old, had ambi­tious plans. The company's prize-winning whiskeys were already for sale in 50 states and eight countries. It was spending $50 million to turn a 270-acre farm in Shelbyville into a distillery, tasting room, gallery, res­taurant, and con­cert space, and it funds a charitable foundation. But it had yet to turn a profit.
Nearest is the brainchild of Fawn Weaver, an entre­preneur and author of a best-selling relationship book. In 2016, she saw a New York Times article about Nathan "Nearest" Green, who, while enslaved, taught Jack Daniel how to make whiskey and after Emancipation became that company's head distiller. She moved from Los Angeles to Tennessee, thinking she might turn the story into a book or movie. Within days, she learned that the site of Green's old distillery, the Dan Call farm, was for sale and made an offer. As she interviewed Green's descen­dants, one suggested that the best way to honor him would be to finally put his name on a bottle.
Weaver quickly rose to the challenge. Her business background--she had previ­ously launched a PR firm and a well-regarded L.A. restaurant, G. Garvin's--and connections in the enter­tainment industry helped her raise a $2.5 million seed round. She partnered with a Nashville whiskey maker to produce the spirits, and within months was bottling the first blend.
In reviving the lost heritage of a formative Black American crafts­man, Weaver became the first woman of color to run a major spirits com­pany and the first person of color to found one. Her dedication to diversity went beyond the CEO's office. Weaver assembled an all-minority board and an all-female executive team--a rarity in the field. In 2019, Uncle Nearest named Victoria Eady Butler, Green's great-great-granddaughter, a master whiskey blender, the first known African American to be so distin­guished.
The brand has accumulated awards--at last count, more than 150--and praise for the complexity and richness of its whiskeys. Sales, which fund the Nearest Green Foundation's full academic scholarships for Green's direct descen­dants, doubled every quarter in 2019.
Still, on that day in March, staffers feared that the times had turned against the com­pany. Weaver spoke from her home office, a pale-green room lined with Uncle Nearest bottles. She said, "I'm doubling down."
The company had more than a dozen positions open, but rather than institute a hiring freeze--or worse--Weaver decided to fill them all with top talent shed by competitors. Uncle Nearest would launch an internal marketing contest, with cash prizes for the best plans and ideas, which would be prepped for execution as markets reopened.
But Uncle Nearest's sig­nature hashtag promises #morethanwhiskey--and in 2020 Weaver has lived up to that. In February, the federal government was advising against wearing masks to prevent Covid-19 transmis­sion. On March 1, she posted to her company's internal Facebook page. "I'm calling bullshit," she wrote.
In her travels, she had seen how people in Asian countries hit hard by novel diseases such as avian flu and SARS were still wearing masks. "It seems like your baseline should at least be what was done to erase SARS," she remarked.
Weaver bought more than enough N95 masks to protect the distillery's employees. In April, hearing that essential workers across the U.S. lacked protective equipment, the company posted on Insta­gram, offering to send free masks to health care or front­-line workers who sent in their badge numbers and addresses.
The team expected to get 1,000 requests. At times, they were fielding 1,000 a day. The distillery's visitors' center--a.k.a. the Welcome House--turned into a mini distri­bu­tion hub. Beneath shelves of gleaming whiskey bottles, staffers repackaged N95 masks into individual baggies and tucked them into UPS Express boxes, bound for police officers and firefighters in New York City, police in Los Angeles, FBI antiterrorism units, and members of the U.S. Navy, as well as workers in nursing homes and health care facilities.
As prices rose and gov­ernment agencies hesitated, she kept buying from over­seas vendors. When the news reported high death rates in Black and Latinx commu­nities, she started ordering cloth masks by the tens of thousands.
To fund the effort, she sent an emergency email to her investors, who include actor Jeffrey Wright, former Tribune Broadcasting president Larry Wert, and Village Roadshow Enter­tainment Group CEO Steve Mosko. The Nearest Green Foun­dation has now spent more than $500,000 on the initiative and distributed some 300,000 masks.
Then, in late spring, the Black Lives Matter move­ment hit the spotlight. As builder of the most suc­cess­ful African American-owned spirits brand, Weaver imme­diately felt that she had to respond. She began working on multiple fronts to encour­age people of color to enter the spirits industry, elevate existing talent, and help small Black-owned brands succeed.
In June, in partnership with Brown-Forman's Jack Daniel Distillery, Uncle Nearest unveiled plans for the Nearest Green School of Distilling at Motlow State Community College in Tullahoma, Tennessee. Pledging $2.5 million apiece, the two companies also launched an apprenticeship program to allow African American distillers to shadow industry masters, as well as a business incubator to mentor entre­preneurs.
Separately, Weaver launched the Black Business Booster program, which is helping 10 Black-owned spirits enterprises with everything from branding to distribution to capital. "That has been a huge blessing to my company," says Ben Williams, co-owner of High­way Vodka, a hemp-based spirit brand that launched in Houston in 2019. After just a few months under Weaver's mentorship, Highway is now expanding across the country and raising outside money for the first time.
Weaver is well acquainted with the fund­ing game. She raised about $40 million for Uncle Nearest through 2019 and was planning to take a break in 2020. But to finance her big push and to ensure that her employees would be paid regardless, she reached out to investors who had already backed the brand--a bright spot in their port­folios since the pan­demic--and put together a $13 million Series C round in two weeks.
A troubled period that has driven so many people to exaspera­tion and exhaustion seems only to have invigor­ated Weaver and her team. Uncle Nearest is on track to sell some 125,000 cases this year. "For us, 2020 allowed us to really lean into our identity as a purpose-driven com­pany," she says. "I call them dia­monds--the good that comes out of every pressure situation. If we don't look for the diamonds, it's just a waste."
EXPLORE MORE Best in Business COMPANIES
From the Winter 2020/2021 issue of Inc. Magazine