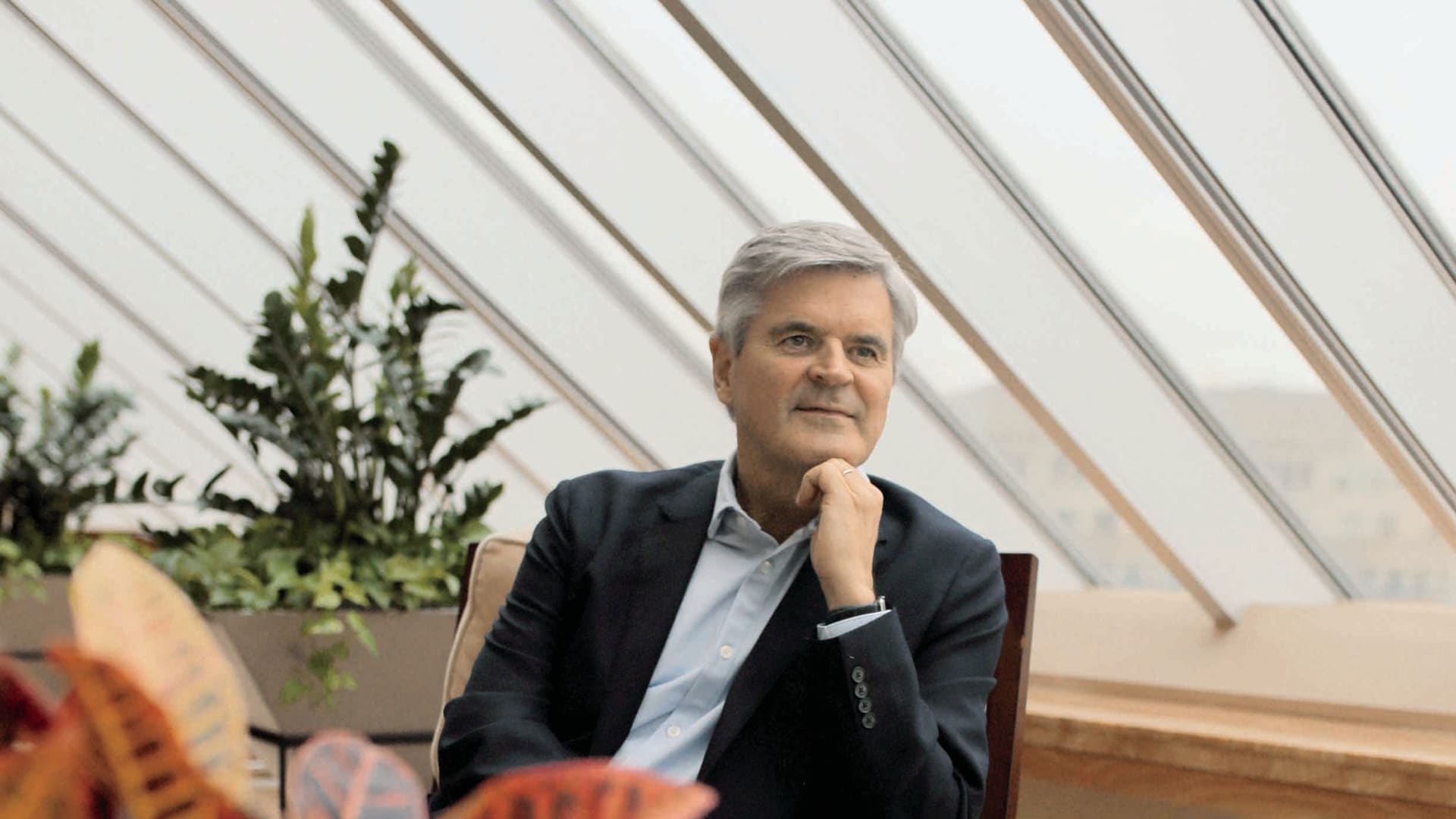 High Alpha calls itself a venture studio. That's a combination incubator, early-stage investor, and startup con­sultancy. But it might better be called a venture catapult. Last year, the Indianapolis company showed its Midwestern can-do-ness in the midst of a raging pandemic by flinging out 10 startups--double the number to its credit in 2019. High Alpha did this in part by converting some challenges created by Covid-19 into businesses. "Where we start is with problems," says Kristian Andersen, a High Alpha co-founder. "And 2020 presented no shortage of problems."
Your employees are scattered? High Alpha launched Filo, a service that improves your remote working experience. Can't hear live music? High Alpha orchestrated Mandolin, which runs livestream concerts and fan portals for music venues and touring bands. And to hire the people needed to run these outfits, the company created Luma, an A.I.-based service that manages the interviewing process.
Something else changed last year in Indy and other parts of the Midwest and South: access to a deeper pool of funding. VCs who once spurned Indy because they couldn't get there and back from the West Coast in a day are now airlifting cash into the city--not to mention Atlanta, Miami, Denver, and other towns that were never on their shortlist before. "When you have a total and absolute moratorium on physical travel, yet those dollars are being deployed, almost overnight things change," says Andersen. "We've been breaking down this legacy venture capital model."
That's exactly what America Online co-founder Steve Case, the CEO and founder of Revolution, has been doing for the past six years. Case started Revolution to fund innovative startups but kept running into the same problem: Too many VCs lived on the coasts, meaning that firms in Boston, New York City, and Silicon Valley were sucking up 75 percent of the VC money. Out of that experience came Rise of the Rest, a campaign that kicked off in 2014 to bring atten­tion to the heartland via a splashy annual bus tour. Three years ago, Case started the Rise of the Rest seed fund to put some capital behind the concept. Now into a second fund, Rise of the Rest has raised $300 million and invested in more than 154 companies in 73 cities. The strategy is to land and expand: Start with $250,000 to $500,000 for a seed round and follow with up to $5 million in Series A or B rounds.
Investment is only part of the plan. Case thinks more cities need to replicate the Silicon Valley ecosystem, in which new companies attract new talent and not only create new products but also spew out more new companies. "One of the great things about Silicon Valley is that sense of wonder," he says. It's an ethos that creates a culture of the possible.
Case has a lot of experience rowing against the tide. In the late 1980s and '90s, he relentlessly marketed AOL's clunky, dial-up web hosting service by raining millions of CD-ROMs on households across the country. (You once needed a computer and CD-ROM to ... oh, never mind.) He was a WWW evangelist who popularized email and chatrooms until a service that once attracted only gamers and geeks became ubiquitous--and AOL one of its earliest powers.
He sees a similar transition taking place as the digital world meets the real world in industries such as food and health care. It's where the rubber meets the road in cities that actually used to manufacture tires. And, last year, he gained some serious traction. Rise of the Rest "is really looking prophetic now," tweeted Reddit co-founder Alexis Ohanian after ROTR released its 2021 "playbook," an annual guide to funding and networking. For his part, Case hasn't spiked the ball just yet, but he's allowing himself a little told-ya-so. "It definitely feels like a tipping point," he tells Inc. "Suddenly, maybe things are possible that we didn't think were possible before."
Case's investing hypothesis is that the Rust Belt cities and corporate towns in the Midwest are a value play--you get a better deal on a startup in Cleveland than in Cupertino, because there's less competition. Costs are lower. You also get entrepreneurs who are more focused. "I've always believed there's an arbitrage here because most venture capital goes to safety. It's so hard to raise capital if you're in Ohio or Pennsylvania or Michigan," he says.
It doesn't hurt that Case has the cachet to attract cash. His investors include Amazon founder Jeff Bezos, Starbucks creator Howard Schultz, hedge fund guru Ray Dalio, and members of the Walton family and the Pritzker family. Also in the fold is J.D. Vance, a former Revolution senior adviser and now a private equity player whose book, Hillbilly Elegy, speaks to the social destruction brought about by job losses in industrial Ohio, where he grew up. (Disclosure: Inc.'s parent company, Mansueto Ventures, is owned by Joe Mansueto, who is an investor in Rise of the Rest.)
ROTR scored a number of notable exits last year, including BacklotCars, an online wholesale car platform in Kansas City, Missouri, bought for $425 million by KAR Global; Pear Deck in Des Moines, a remote learning company that merged with GoGuardian; and AppHarvest, a vertical-farming company that grows vegetables in Kentucky, which went public with a $1 billion valuation. "By and large, the majority of the portfolio has gone up and to the right," notes David Hall, managing director of the ROTR portfolio. In other words, the investments are growing.
One of those growing companies is 120Water, in the Indianapolis suburb of Zionsville and part of the tech hub that continues to blossom in that city. There, co-founder and CEO Megan Glover is taking her startup into its next phase of growth, having just concluded a Series A round. An experienced software executive, Glover is solving a problem that is both mundane and widespread: Public authorities lack an efficient and reliable testing kit and a data-collection platform to monitor water quality. Coastal VCs who wouldn't have set foot in Indy even when they could get there lined up for a piece.
"I target the boomerang Hoosiers. Young pros who have gone to Apple and Twitter are coming back."
120Water is also evidence of the changing tide in the talent pool created by the pandemic. "I target the boomerang Hoosiers," says Glover. "Young pros who have gone to the coast working at Apple and Twitter are interested in coming back. We have campaigns to show them the tech opportunities here in Indiana." That, and the fact that you can buy a 3,000-square-foot house for the price of a one-bedroom condo in SoMA.
It's not just the where that was different last year; it was the who, too. The Black Lives Matter move­ment has made funding Black entrepreneurs ever more urgent. Last year, Case & Co. had to park their tour bus. So they contacted mayors, incubators, universities, and civic groups to put together a virtual tour that focused on Black entrepreneurs such as Aaron Walker, the founder of Camel­back Ventures, an accelerator in New Orleans, and Shelly Bell of Black Girl Ventures in Washington, D.C., which will fund 60 founders in 15 cities.
Diversity fits easily into the ROTR brief because so many Black entrepreneurs are in the very cities the fund has targeted, and conventional VCs just weren't looking for them. The ROTR tour arranged more than 300 meetings between VCs and Black founders, resulting in a flood of funding. "Camelback raised more money in 2020 than we've ever raised before," said Walker during the virtual tour. "I call it found money: It's like you're walking down the street and see $5. Except it's not $5, it's 5,000, or 50,000, or 500,000. And you say, where did this come from? But you'll take it." He'll be taking it to fund more Black- and women-led startups.
In Cincinnati, two of the Queen City's legacy Fortune 500 companies, Procter & Gamble and Kroger--one makes, the other sells--are connecting with Black entrepreneurs to increase supplier diversity. In February, both firms broadened their collaboration with Mortar, an entrepreneurial support organization. Mortar's initial focus was community-centered consumer products and services in the Over-the-Rhine neighborhood. Mortar has launched a number of businesses during the pan­demic, including Esoteric Brewing, which was co-founded by Brian Jackson, who was part of its initial entrepreneurs program.
With the corporate giants, the idea is to create B-to-B companies that can become part of the supply chain or an innovation link. "They understand that there are entrepreneurs on the ground who have ideas and the ability to facilitate the growth," says Allen Woods, a co-founder and Mortar's executive director.
Just north of the city, Mason, Ohio, provides more evidence that this corporate hub--German in its history and conservative by nature--is becoming a more dynamic place for startups. Mason is where you'll find Peeyush Shrivastava and his company, Genetesis, which may revolutionize medical imaging. Genetesis has created an MRI-like machine, called the CardioFlux Magneto­cardiograph, that can tell ER doctors in five minutes whether you are having a heart attack or something a lot less lethal, eliminating the need for a ton of intrusive, time-consuming testing. It represents a leap in emergency medicine.
Shrivastava is 25 and got the idea while he was in high school, most likely before the words venture and capital entered his vocabulary. He dropped out of Ohio State to start the company, as did another co-founder, Manny Setegn; a third, Vineet Erasala, left Case Western to join them. Despite his relative youth, even Shrivastava can savor the change in the Cincy startup community. "One thing that wasn't available here a couple of years ago is risk capital," he says. "The availability of risk capital means the availability of entrepreneurs to take risks." One of his capital suppliers is Shark Tank titan and Dallas Mavericks owner Mark Cuban.
Corporate restructurings being what they are, Cincinnati is rich in science talent--people who can create innovative products and companies--which Mason's civic leadership turned into an asset in economic development. "These big companies spit out smart people who become entrepreneurs," says Michele Blair, Mason's economic development boss. "A lot of the time, big companies just don't know how to do it."
In 2012, the town handed over some space in its community center to a health care startup to see what would happen. The result was Assurex Health, which uses genetic analysis to predict what medications will work best for patients under treatment for mental health disorders such as depression. That company grew from four to 400 employees and was sold in 2016 to Myriad Genetics for $225 million. Part of the operation still resides in the Mason municipal campus.
Mason eventually replicated the action in downtown Cincinnati, where CincyTech, the city's technology incubator, has been the focal point of startup life. Mason, a CincyTech partner, built its own Tech Elevator on the town's municipal campus. The idea, in fact, is to keep the line moving by creating a tech corridor running along Interstate 71 from Cincinnati to Columbus. The city of Mason has helped start or build 18 companies, attracting roughly $150 million in VC funding and creating 450 jobs and two exits. "We've learned to speak this language," says Blair.
Or relearned it. In some respects, Midwestern cities and Rise of the Rest are trying to reinvent the past. In places such as Cleveland or Pittsburgh, the historic industries have left behind enormous institutional resources that haven't been fully exploited. "The reality is, when you get on the ground, most of these tier-two or -three markets have a lot of the core ingredients--the university that is bringing kids in, big corporations that are sustaining the economy, and a deep industrial legacy," says Hall. "And yet they have this problem."
"A lot of the time, big companies just don't know how to do it. We've learned to speak this language."
The essence of that problem has been the lack of a sustainable startup economy. In the past, there were company towns; today, towns full of companies is more like it. Cities such as Indi­anapolis, Denver, and Cincinnati, as well as a number of state governments, including Ohio's, are now benefitting by focusing their attention on entrepreneurs. "There is more collaboration, which has been a problem in these cities," says Case. Silicon Valley benefits from network density--that swirl of startup society in which entrepreneurs are constantly interacting and competing with one another. Plus, the culture tends toward caution away from the coasts, says Case. In Boston, the bias is toward yes--hearing a pitch and imagining how it might work. Elsewhere, it's the opposite: What could go wrong?
Indianapolis is a good example of how evolution can happen and how a connected web of entrepreneurs can spawn company after company. The city has become a SaaS hub over the past 10 years. This phenomenon used to be known as a cluster: One company starts up and thrives, attracting others. Nike made Portland, Oregon, a sports center, for instance. In Indianapolis, that company was ExactTarget, which was co-founded in 2000 by one of High Alpha's co-founders, Scott Dorsey, and became a power in hyperlocal digital marketing, eventually growing to 2,000 employees after Salesforce bought it for $2.5 billion in 2013.
ExactTarget was born in Indian­apolis not because of any geographic advantage the city offered, but because its founders had moved there for various reasons. Dorsey was looking for an opportunity to put his MBA to work when his brother-in-law suggested they collaborate on a startup. They had a strong belief that digital marketing was the next wave. Kristian Andersen had gone to college in Indian­apolis and then opened a design business. One of his clients was Dorsey. In 2015, the pair hatched High Alpha with two Salesforce executives who had moved to Indianapolis after Salesforce bought ExactTarget.
"For me, the headline is 'The business got better when they moved home.' "
Their concept for High Alpha was an idea factory that could print high-value, high-growth startups on a regular basis: "We knew we wanted to do something with entrepreneurs and startups that was design-led with a capital D," says Andersen. "And we wanted to do something for Indy," which was to build a big, valuable business and draw a flood of capital and talent. And then, he adds, "the restaurants miraculously will get better." (You think you're a community booster? Andersen named his son Indy.) High Alpha now has a staff of 40 that operates a skunk works for entrepreneurs.
With the office closed by Covid-19, High Alpha had to reinvent itself on the fly. Several times a year, the company holds a "sprint," a weeklong series of meetings designed to convert the best ideas into startups. Unable to meet in person, the founders assigned an entrepreneur-in-residence to create a tool for better remote collaboration. That tool became a startup called Filo.com, which helps users make better use of meeting apps such as BlueJeans or Zoom--for instance, by letting them create a whiteboard.
Along those lines, one of Andersen's partners had the misfortune to buy a nightclub just before the onset of the pandemic. When live music shut down, music venues and music acts lost touch with their audiences. High Alpha's solution is called Mandolin. It's a company that connects bands and venues with their fans through paid livestreams but also through virtual meet-and-greets during which you can say hello to your favorite drummer. "It's a down market for music, but there are huge opportunities if you can give arts managers and venues tools to produce revenue," says Andersen.
Mandolin now has more than 65 employees. It's led by co-founder Mary Kay Huse, another former Salesforce executive. The company has signed deals with the City Winery chain and with Nashville's Ryman Auditorium to stage livestream concerts. Music fans pay $10 to $25 for concerts and up to $130 for VIP meetups. Mandolin has also announced a $5 million seed round whose investors include Marc Benioff--founder of Salesforce.
The same of-the-moment inspiration begat Luma, the A.I. interviewing platform that High Alpha launched in February. Hiring has become particularly difficult in the era of remote work. Luma coaches interviewers through Zoom meetings with job candidates, and then helps the user edit and annotate the call and move the pertinent parts to other team members who are part of the hiring process.
High Alpha says it can launch a new company every four to five weeks, but it's only one part of the Indianapolis startup flywheel. The city's most eminent accelerator, TechPoint, counts legacy companies Lilly and Cummins among its partners. And its newest, Next Studios, is a venture shop designed to distribute startup know-how throughout Indiana.
The reach of the city's ecosystem came into play in the creation of 120Water. The impetus for it came when Glover--who had previously worked for Angie's List, health care company Hc1, and Compendium, a digital marketing firm--got worried about the water her kids were drinking and couldn't find anything useful to measure the quality of the water in her home. "There was not a solution on the market," she says. "I could get my DNA tested, but not my water." In classic bootstrap fashion, she raised $130,000 from other entrepreneurs--including her co-founder, Chris Baggott, who also co-founded ExactTarget and Compendium--and was soon producing a water-testing kit for consumers, packing boxes on her dining-room table, which she had moved to her parents' garage.
Glover soon realized that her biggest customers were not consumers but municipalities such as Pittsburgh--a city with an old infrastructure looking for new ways to manage it. To raise funds, she pushed Case's Midwestern value proposition: "I know this capital will last longer; it is more efficient here," she says. "That was actually an interesting selling point."
And a successful one. Sales grew 250 percent last year, to more than $8 million, as the company added features such as testing for contaminants like arsenic in drinking water and for coronavirus in wastewater. 120Water nearly doubled its workforce and announced plans to hire 157 more workers by the end of 2022. And it will be easier to find them now that California and New York have lost some of their magnetism. "We don't have mountains or the ocean or the coast of California," Glover says, "but there's been investment in public transit, in parks, and in culture."
These are the kinds of opportunities Case has been envisioning for years. And they are luring talent back home. Take Understory, another ROTR investment. The company, which generates microforecasting models to insure businesses against severe weather risk (hail, for instance, is a big one for car dealers), was founded in Madison, Wisconsin, in 2012 but moved to Boston a year later to join an accelerator. The founders decided to move back to Madison in 2016, where the company thrived and became the rallying point of an increasingly robust startup hub. Says ROTR's Hall: "For me, the headline is 'The business got better when they moved home.' "
Is it realistic to think that Madison can become Boston? Or Indianapolis a new San Francisco? Absolutely, says High Alpha's Andersen: "Markets like Madison, Nashville, Salt Lake City are just beginning to percolate. They have loyal citizenry who want to be there. It's not where the wagon broke down." High Alpha Innovation, a spinoff designed to export High Alpha's magic, just signed a deal to expand to Madison.
Not all of the hinterland will benefit. Sorry, Topeka, says Andersen, but the scope of opportunity is defined by the presence of universities, talent, and legacy companies, which are thin on the ground in some places. But a lot of cities will be able to chase Case's vision. It's clearly happening in Miami and Atlanta and Denver.
Diehards remain. Some people still want to live in a vibrant tech hub on the Eastern Seaboard, close to beach and mountain getaways. And as 120Water's Glover points out, even though the pandemic has made Indianapolis more desirable, today's new work-from-wherever attitude means she also has employees in Boston.
But should they ever grow weary of paying $25 for a pizza, or engaging in a death match for a parking spot in the clogged streets of Back Bay, they are welcome to return to the wide-open spaces of the Midwest, where the startup culture is growing like corn in July.
From the March/April 2021 issue of Inc. Magazine