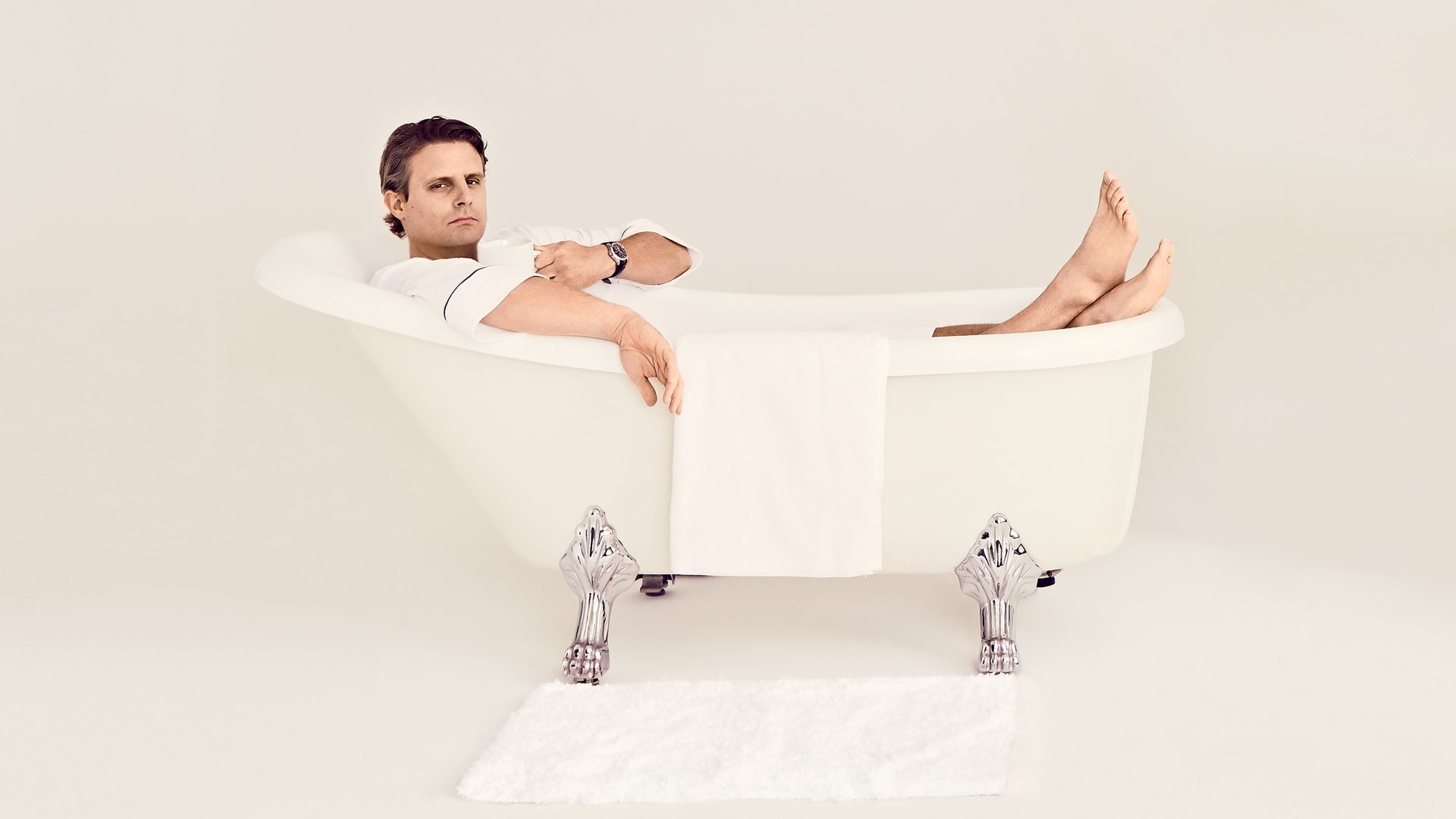 "NOT SURE WHAT that says," Michael Dubin swirls his finger at a scribble of graffiti on a pair of garage doors. "But, anyway, this is it."
It's late March, and the co-founder and longtime CEO of Dollar Shave Club has brought me to an alley in Venice, California. To the place where it all started. In January, Dubin announced his departure as CEO of the company he'd sold to Unilever for $1 billion in 2017. A week later, he signed off on an all-hands Zoom, closed the laptop, and entered the life of an entrepreneurial empty nester. "I was like, 'So, good luck, everybody,' " Dubin recalls.
Now he stands before padlocked doors, behind which lies not some industrial-chic office space or bustling warehouse, but an actual two-car garage that was once, a decade and a lifetime ago, Dubin's home. It was here, inside this technically illegal rental, that Dubin, after being fired from an ad agency, parked himself and plotted the launch of a revolutionary direct-to-consumer razor company--a billion-dollar baby conceived on a concrete floor, and then nursed on a well-worn lounge chair and picnic table outside.
"So that was the first one," Dubin says, nodding slowly. "Not that I spent tons of time thinking about Dollar Shave Club landmarks, but ...." He shrugs and nods again, his expression brightening. "There's no office to go to right now. So I figured, let's be out in the world."
By the time Dubin asks, "Do you want to walk?" he's already begun heading out of the alley, sidestepping a toppled recycling bin and errant cinder block in his path. Though it was Dubin who suggested we meet here and revisit Dollar Shave Club's origins, he seems eager to keep moving. "By the way," he adds as he steps off the sidewalk, "I'm a walk-in-the-street guy."
Indeed, Michael Dubin seems to thrive when at risk of being run over. Gillette and Schick, massive brands owned by conglomerates, controlled some 90 percent of the men's shaving market when Dubin launched DSC in 2011. He took them on with a now-legendary web ad that cost all of $4,500 to make. He shot it in a day. Serving as spokesman, he delivered deadpan lines: "Are the blades any good? No. Our blades are f**king great" and "Your handsome-ass grandfather had one blade ... and polio." The video became a viral sensation (it currently has more than 27 million views on YouTube), and he awoke to learn that the consumer response had crashed the company site. Within two years, DSC had claimed a 10 percent share of the razor market and amassed 3.2 million subscribers. By the time Unilever acquired it, DSC had expanded its offerings beyond shaving to deodorant and personal wipes, hair care, skin care, and dental care; sales had grown to nearly $200 million per year. Dubin and DSC had spawned numerous imitators, ushering in an internet-enabled direct-to-consumer revolution. Honorifics like "disrupter" and "marketing genius" became attached to his name, as did a strange kind of celebrity aura.
At times, it got surreal. He remembers being in Jackson Hole, Wyoming, about six years ago, sitting at a table near Harrison Ford, when he saw a starstruck young woman hovering--waiting to meet the actor, Dubin assumed, until she sheepishly approached him instead: "I was like, 'Wait. Indiana Jones was just having dinner next to me, and you want to talk to the guy who sells razors on the internet?!' " In truth, she wanted his thoughts on getting her idea for a sportswear line off the ground.
Now, as we walk down Electric Avenue, cars turn wide to avoid Dubin, who, true to his word, is walking in the street, alongside traffic. He seems to have created his own lane. "You've got to stick your neck out and collide with life," he says, "because it will change you. There are so many trite sayings in business, like 'Be bold and mighty forces will come to your aid.' But there's some truth to some of these things."
Stepping onto the sidewalk, we arrive at Zinqué, a casually hip café on the corner of Venice and Abbot Kinney Boulevards. Dubin surveys the open-air patio. "I want to try to find a comfortable seat," he says, "because I hurt my back skiing." A few moments later, he confesses the truth is a bit less glamorous: The injury--a torn disk--did occur while he was on a ski trip to Montana, but came on while he was strolling along a nature trail with his girlfriend.
"Standing and walking is no problem," he says. "What's annoying is: Running is fine, sitting is fucking horrible." It's a fitting metaphor for his present state: down from the mountaintop, feeling the aftereffects of his adrenaline-charged ride, attempting to reconcile his dueling impulses to recharge and stay in constant motion.
If Dubin is at a crossroads, it's an enviable one. He's a respected entrepreneur. He cashed in without selling out. He exited on his own terms and stayed for nearly five years after the sale--far longer than most founders--using the time to grow the company and himself each year.
But that's the thing about crossroads. Eventually you have to pick a new direction. And go.
HERE'S A FUNNY THING about Michael Dubin: He's 42 years old, and he seems to get a kick out of joking that he's retired. He calls being able to wait for extra vaccine doses at CVS, as he did, "a benefit of being retired." When asked, at one point, if he has time to keep chatting, he smirks, "It's all right. I'm retired."
But when people ask why he's not reclining on some beach, living out the final scene from Trading Places, he's incredulous: "I'm not a sit-on-the-beach-forever kind of guy. I've got too many other things that I want to do to stay idle for long. So I joke that I'm retired. But, the truth is, I'm making little deposits in the what's-next bank."
"I walked out of Dollar Shave Club on March 10, 2020, and I never went back. I might've taken one more lap around the office if I had known that was going to be my last time in the office as the CEO."
Dressed in a sweatshirt, blue corduroy shorts, and white running shoes, Dubin appears, at the cafe, at ease with his sabbatical--a man unobliged to make withdrawals from that bank anytime soon. His light brown hair is longer than in the past, long enough that he can pull it into a nascent topknot at one point during our lunch. In the two months since stepping down, Dubin--who devoted a decade of his life to clean shaves--has gone scruffy. He's happily out of rhythm. "It's been really nice to wake up in the morning and just let my mind wander," he says. "I'm a big daydreamer, and to be able just to let my mind go where it naturally wants to go is refreshing and energizing."
He's had a few light moments (tweeting "Once again @JeffBezos drifts my wake" to a story about Bezos stepping down as Amazon CEO, two weeks after Dubin's own departure). But his sabbatical thus far has largely been devoted to heavy but inspiring reading, like Bill Gates's How to Avoid a Climate Disaster and Robert B. Reich's The Common Good.
"Now that I have more time," Dubin says, "one of the things I'm thinking about is, how do I put great ideas out into the world, without actually having to sell a product on the other side?" Dubin, who drives a white Chevy Volt, wants to create an ad encouraging people to drive electric cars. "I think that the story hasn't been told as artfully as it could be. I think it can touch the heart, touch the funny bone. It's been fun to think about: What ideas can have a real impact without profiting me?"
Time and again, throughout our day, Dubin says he has no regrets. Every challenge and setback was a learning experience. He's happy where he and DSC have netted out. Change one thing, says Dubin, who counts Hot Tub Time Machine among his favorite movies, and the whole present might come unraveled. Still, there are times when he does wish he'd been able to turn on that mental recorder so he could experience the highlights today, in slow motion.
"When you're the first-time CEO," Dubin says, "you get so in the rhythm of growing the business and steering the ship away from the cliffs and toward the sunset--ultimately, that's all-consuming. It can be hard to pause and reflect and enjoy the moment."
He falls silent. "If there were any regrets," he says at last, "it's that I didn't find more moments to be mindful throughout the journey. Because no matter what I do next or how successful it is, it won't be my first. There will never be anything quite like that first thing."
NOT TO QUIBBLE, but Dollar Shave Club wasn't technically Dubin's first thing. At the age of 6, he expressed his entrepreneurial spirit when he would take his grandmother's books off the shelf and sell them in her driveway to passersby. "She didn't know, but I just did it," he says. Like that other child of the '80s, Alex P. Keaton, Dubin subscribed to business magazines as a kid. His favorite sections were the classified ads in the back. "I was like, Wow, you can just call this number, and somebody's going to give you the playbook on how to build your own McDonald's?"
Growing up in the Philadelphia Main Line suburb of Bryn Mawr, Dubin wasn't, by his own admission, a great student. He attended Emory College and, after graduation, moved to New York City, entered NBC's page program, and then worked as an assistant for NBC Nightly News and as a production assistant at MSNBC. He shifted to a series of advertising and marketing roles at Time Inc., first at the short-lived resurrection of Life magazine, and then at Sports Illustrated for Kids. None of these day jobs defined or satisfied him; for eight years, he studied improv comedy at Upright Citizens Brigade Theatre. In 2006, he tried to launch a social network based around travel, Leapfro.gs, but Facebook soared while Dubin's "Place­book" never got off the ground. Turning his attention toward an MBA, he took evening classes and studied for the GMAT. When he was laid off during the Great Recession, he opened what he thought was his parachute, applying to a half-dozen upper-echelon business schools. He waited and watched as his responses came in, every one a rejection.
Hungry for change, he packed his scant possessions into a few suitcases and moved to L.A. for a job at a digital ad agency named Feed. Several months in, after he and his boss differed over new business opportunities, Dubin's boss told him, quite nicely, "This isn't working"--and fired him.
Thirty-one years old, a decade out of college, Dubin was now the guy who crashed on the couch at his finance friends' rental house. He was the guy whose family worried that, for all his lofty goals, his life and career would never take flight. "I was full of ambition but definitely beaten up a little bit by my professional universe," he confesses. "But I was never pessimistic. I'm an 'I'll figure something out' kind of guy."
Then, at a holiday party in late 2010, Dubin met a friend's father who asked if Dubin, with his e-commerce experience, could help sell 250,000 not-good-but-f**king-great razor blades sitting in a warehouse.
MUCH HAS BEEN MADE of Dubin's comedic chops and background in improv, as if Dollar Shave Club's success were a funny guy's stroke of luck. But comedy, he says, was only ever a way of creating an emotional response to a profoundly intuitive message: Simpler is better. (That, in truth, is what sold his razor blades.) These days, Dubin seems more earnest than the guy who followed his "Our Blades Are F**ing Great" ad with "Let's Talk About #2," the slapstick spot for DSC's One Wipe Charlies toilet wipes that opens with him sitting on the throne.
"When you look at where I was when I was 32 and where I am now at 42," Dubin says, "I mean, the number of things that I didn't know how to do ...." He makes the exploding-head gesture with his hands as he trails off, before enumerating all he's learned in a decade as a CEO. "The number of things that you learn about yourself. You learn a lot about your own energy, managing your energy for yourself and your team. You have to resist the temptation to be a people pleaser. You learn things like: You can't control every outcome, so focus on the things you can control. You learn you can't run from a fight if the fight's coming. You learn what your values are, what your principles are. And these aren't things that you sit down and write out when you start a company; they are things you sort of discover along the way."
Even if Dubin were to put his process to paper, the margins would be filled with notes of lessons learned. "I knew that a lot of CEOs, especially younger ones, feel pressure to know everything," he says. "And I was very aware and open about what I knew and didn't know." When offered the chance to sell DSC in 2016, Dubin was moved by the opportunity to broaden his base of knowledge. "I knew that selling the company to Unilever was the best thing for my learning. I was going to learn so much more."
What began as a conversation between Dubin and Kees Kruythoff, then president of Unilever, about a strategic partnership grew into an acquisition that proved symbiotic. The all-cash deal for $1 billion made Dubin the co-founder-CEO of a unicorn, and earned him a reported windfall of $90 million. (Dubin had retained a roughly 9 percent stake in DSC through its Series D funding.) It also earned him a surprising degree of autonomy. Shortly after the transaction announcement, Kruythoff walked into the DSC offices in L.A. "Congratulations," he told the team, "you've just bought Unilever."
According to Kruythoff, now chairman and CEO of vegan-based collective Livekindly, bringing Dubin and DSC into the fold caused a shift in Unilever's internal axis and outward perception. "When we acquired Dollar Shave Club," he says, "the rest of the world--our investors, the analysts, our senior management--suddenly believed Unilever was serious about the digital transformation. Then Michael really helped develop the capabilities and understanding of Unilever."
Today, the biggest change Kruythoff sees in Dubin as he's moved from upstart entrepreneur to seasoned CEO is in his grasp of the impacts of global commerce and increased sense of corporate responsibility. "I think the leadership act from him," he says, "is to understand that businesses are a force for good--understanding that business truly can add in a unique way to society."
Dubin agrees. Without a doubt, he's done well--as his 90 million reasons to smile attest--but has he done good? It's unclear, even to him.
Ask Dubin to look back on his tenure at DSC, and he says he's proud of his company's many successes--but unsure if any fall in the arena of social impact. "The answer is probably not," he says after a moment, "because when I started Dollar Shave Club at 32, I wasn't studied in these areas. I wasn't well-read on the topics. It just wasn't front of mind, a lot of these values. And Dollar Shave Club was built to be a consumer brand. My focus was much narrower, so that wasn't woven into the origin story or the mission. Did we get where I would've liked to get? No. I can't say that doing well by doing good was our operational North Star. That will be next."
LIKE SO MANY BREAKUPS, Dubin's decision to leave Dollar Shave Club took place over a meal. In January 2020, Dubin and Unilever president Sunny Jain met for dinner, and Dubin informed him of his plan to leave. He followed up with a timeline that factored in the transition to retail, which had been in the works for several years. Dubin would depart in a year.
"I knew that time was coming for a lot of reasons," Dubin says. "One, I wanted to start thinking about other things. Two, the relationship with Unilever grew more complicated, which is not to say bad. But when you're online-only, you can exist off to the side, and you do what you want to do. As you come to retail, you're now part of a much bigger machine, and there are myriad considerations that relate to doing it. When you're playing in the sandbox with Dove and Axe and other men's grooming brands, there's a broader set of considerations. There are priorities. Everybody's fighting for the same shelf space, and that relationship grows more complex. More people are bringing their opinions to the table."
When people asked him how long he planned to stay, "what I would always tell them," he says, "was, 'Listen, I'm learning a ton right now. We've got great work to do, which is bring Dollar Shave Club to retail.' " The finish line for that would be a natural exit for Dubin. "At a certain point, my learning journey came to an end. I started to say to myself, 'If I stay too long, it starts to become a life sentence. I want to do other things.' You can't start thinking about the next thing until you fully put down the other thing."
As the time for Dubin's departure neared, he began shoring up the org chart, updating the brand bible, and stepping into the background during the "twilight" period. "One of the worst things you can do as the outgoing CEO is to show up in the same way that you used to," he says. "People naturally look to you. I mean, you work with people long enough, your biorhythms become woven together."
A few moments later, proof of that arrives clad in slim-cut khakis and skateboard sneakers and sidles up to a nearby table at Zinqué. The 30-something dude gives Dubin a warm if socially distanced hello and introduces himself to me as Jonathan--a UI designer at Dollar Shave Club, Dubin notes. After expressions of Covid concerns, remote work destinations, and a few minutes of small talk, Dubin's former employee fails to acknowledge his old boss's departure. As Jonathan gathers his coffee to go, he asks Dubin, "Hey, have you been to the office at all?"
Dubin opens his mouth as if to speak, and then simply shakes his head no, smiles, and waves goodbye.
"I walked out of Dollar Shave Club on March 10, 2020, and I never went back," Dubin says. He was 10 months from his planned departure date, but would never again step foot in the building. "I might've taken one more lap around the office if I had known that that was going to be my last time in the office as the CEO. But ... I had to go."
INDEED, HE DID. Dubin left the office that day feeling ill--feverish and tired--and although he wasn't able to get a test for several weeks, his symptoms made the results a foregone conclusion. He was the first person he knew to contract Covid-19. "I was," he jokes, "an early adopter." Although he had only one "holy shit, that is terrifying" shortness-of-breath episode, he was sick for six weeks, a purgatory during which his symptoms didn't worsen but didn't abate. "It was really fucking scary," he says.
Afterward, Dubin returned to his CEO role, remotely: "I did find myself wanting to be like, 'Let's all just get in a room. It'll fix what's wrong, and it will accelerate what's good.' " And now, as he reflects on the year of remote work, he says that while he's proud of DSC's team, he never felt he performed to his standards. "As a leader, you feel like you're falling short because you're not able to connect in 4-D."
Ultimately, neither the pandemic nor his bout with Covid altered Dubin's planned departure. The one thing that might have, he says, would have been a failure in his last great challenge as CEO: "If we hadn't been able to bring DSC to retail while I was still there--because of any number of reasons--I think the journey might've felt incomplete."
That process, which revealed a litany of corporate complications, was the kind of final hill every executive should climb before exiting. Full of learning curves, risks, and rewards, it allowed Dubin to lubricate the company's joints ahead of a more significant change to come. "When I left, it was a time of great transition," says Dubin, who oversaw the launch in retail in October 2020 at Walmart, which went wide to 40,000 outlets in January, the month he departed. "I feel like 2020 was a year of everybody's job changing, including my own."
"You learn things like: You can't control every outcome. You learn what your values are. These aren't things you sit down and write out when you start a company; they are things you discover along the way."
In a sense, Dubin and everybody at DSC had the same overriding responsibility, he says, "which was to get ready for retail--which really means get ready for omnichannel--and the complexities of that are enormous." There was the integration into Unilever's retail systems, the jostling with the company's other grooming brands, and working with the very chains whose business models they had helped upend. "In many ways, it was like, OK, we all know what each of us can do, team-wise, and we have this goal. So let's focus on this one goal."
Then, almost as soon as the retail rollout started, complete with a visual rebranding--a new logo and color palette--Dubin announced, on January 11, his departure. One week later, 10 years to the day after he founded the company, he handed DSC over to his successor, former Sur La Table CEO Jason Goldberger.
"We set up the machine to run," Dubin says of his company, which is on track for strong year-over-year growth in 2021. "And now the machine's running."
Dubin, who remains on the board at DSC, attended two or three more weekly leadership team calls, during which he had, by design, already begun deferring to Goldberger. "It started becoming real after my last executive meeting," Dubin says. "And then just kind of realizing that somebody else was behind the wheel."
Today, although he still uses "we" when referring to Dollar Shave Club, Dubin says he's not one to fall victim to "founder's regret." He won't pine for a return to the company he started, won't be the sort of emeritus executive who lurks around the office, nor will he refuse to enter the premises. "If I'm invited," he says, "I'll go."
His approach: Don't be weird, and it won't be weird.
AS WE LEAVE the café, Dubin contemplates various landmarks for us to visit next. Maybe the company's current headquarters, a sprawling 50,000-square-foot warehouse a mile south in Marina del Rey? Or DSC's first non-garage office inside Science Inc., a shared incubator space a mile north in Santa Monica? It's hard not to sense a mission in all of this--a man who never got to say a proper goodbye to his greatest achievement in search of a type of closure. Ultimately, he decides to steer us toward the closest option: the company's first proper office space, a converted firehouse a half dozen blocks away.
"So much happened for Dollar Shave Club and me, all in a two-square-mile radius," he says, as we stroll down Abbot Kinney. He still lives nearby, and admits that these days, when he passes one or another landmark, he gets emotional. "I think there's a wistfulness. But it's fun every now and then to go down memory lane. As a friend of mine says, it's OK to look into the past as long as you don't stare."
Dubin steps onto Boccaccio Avenue, the sleepy side street that was home to Dollar Shave Club from 2013 to 2015. The company's starter home clearly holds a sentimental attachment for him. The scale of the company back then--20 or 30 full-time employees, as opposed to more than 300 when he left--felt, he says, like "a small high-school class." As we approach the building, he points out the roof deck, his office (upstairs in the back), the open space just inside where they would host events. "We would have our holiday party in the parking lot here," he says, waving his arm toward the gated lot. "It's just such a cool building." He lights up as he notes the original firehouse details. "When you dream up your first startup office, it looks something like this."
Dubin would often work outside the building, pounding the pavement we're walking. "I used to do all my phone calls up and down this street," he says, "barking at investors and talking to people. Anyway, whatever. It's just all part of memory lane."
And Dubin knows he can't walk down memory lane forever. He says he's considering ideas for businesses, media projects, and entities in the nonprofit and public spaces. "For me, it's explore some of this, some of that, and see which gets momentum, you know? I'm not going after any of them full time, and I won't until I feel like, number one, I have the energy for it; and number two, am I super passionate about it and does the world need this?"
In truth, he's hardly starting from scratch. He's been making deposits at the what's-next bank for years, dabbling in investments, sitting on boards, supporting philanthropic efforts. He's put resources behind innovating education, including a charter school in Los Feliz and a public high school in the Watts section of L.A. He's an adviser and financial supporter of Him For Her, a 501(c)(3) that supports corporate diversity, and of a maker of recyclable, organic, disposable toothbrushes and compostable toothbrush heads.
He's been drawn into projects by personal connection or curiosity--or both, as with his latest endeavor: advising Bobby Flay on a nascent cat food line, Made by Nacho, named after Flay's cat. "A chef's cat launching a pet food brand is exactly the kind of curve ball I look for," Dubin says.
Still, whatever new enterprise he launches--whenever it is--he knows it'll inevitably be judged against Dollar Shave Club. He's well aware how many successful founders are plagued by pressure to outperform their first endeavors.
"I think a lot of people maybe do feel that pressure, but my yardstick is different, my goalposts are different," Dubin says. As he does, I realize that he's chartered us back to the alley, and the garage, where we first met. We hustle across the six lanes and median of Venice Boulevard. "Let's try not to get hit by a car," he laughs, as he dashes forward.
"I will not define the success of my next chapter by whether or not I can build a company as successful as Dollar Shave Club. You could spend a lifetime and not get anywhere close to that."
He approaches his Chevy Volt, around the corner from the garage he once called home; like Dubin himself, we have come full circle. Then he pats the roof of his car and explains why it won't be just about the money next time around--if at all. "It's much more about, did I live a happy life?" he says. "Did I have as much fun as possible, and did I leave a mark or a playbook that other people could follow?"
Besides, even with the perfect idea, so much of it is fate: "Luck, timing--there's all the forces in the universe that you can't control, and that's as much of it as anything."
Dubin shrugs and gets in, and starts his car. It idles silently. He has one last thought to share. "I will not define the success of my next chapter by whether or not I can build a company as successful as Dollar Shave Club," he says. "You could spend a lifetime and not get anywhere close to that."
Michael Dubin never got that last tour of his office, never took his victory lap. But as he starts to pull away now, it becomes clear: Maybe he just did.
From the May/June 2021 issue of Inc. Magazine