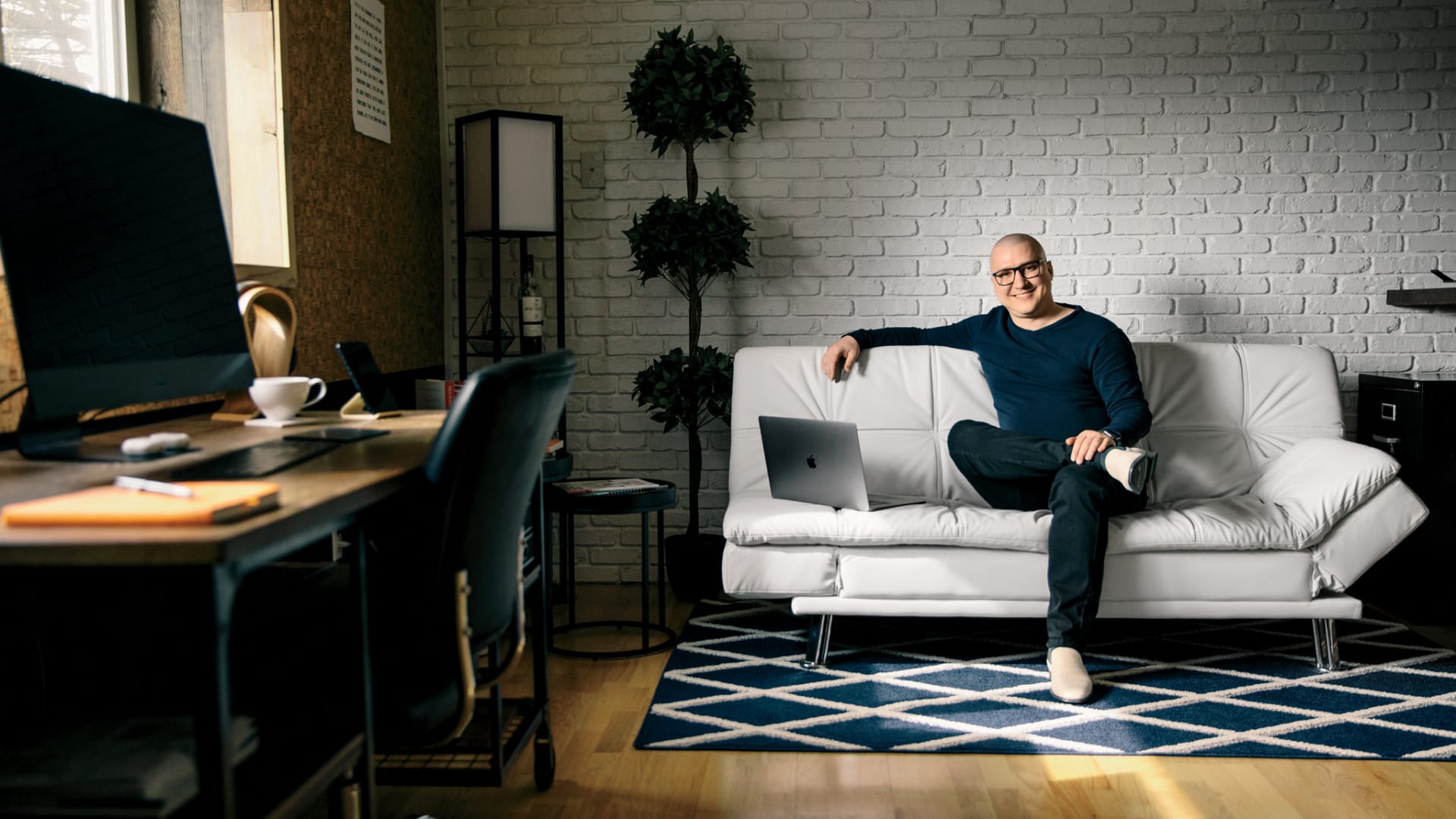 Though many companies take advantage of the flexibility that comes with a distributed workforce, Flatfile is investing heavily in its workers, and has the receipts to prove it.
The Flatfile team enjoys a handful of perks aimed at making remote work more enjoyable, including top-of-the-line, ergonomic workstations. Employees who rent space also get a stipend equivalent to the average cost of 150 square feet of real estate in their area. To qualify for the stipend, all they have to do is repurpose a room that's 150 square feet or smaller as a dedicated Flatfile-only home office.
More impressive, however, is Flatfile's offer to invest up to $10,000 on bespoke home offices for workers. Flatfile pairs employees with a designer who will ensure the end result is a professional home office and not, say, a geeked-out home theater. Homeowners using the money to renovate can spend up to $5,000, so there's enough in the budget for furnishings.
Once dependent on co-working spaces, Flatfile introduced the home-office upgrade and rental stipend in response to Covid-19. The company also covers up to $15,000 in Covid-related deductibles if insurance won't help.
"Silicon Valley startups hand out gourmet lunches, free pet-grooming, and paid transportation like candy," says CEO David Boskovic. "We want working remotely to have truly exceptional benefits as well."
Prior to starting Flatfile, Boskovic and Eric Crane were Slack buddies at San Francisco-based Envoy, a software startup that builds workplace-management tools. They bonded over a hatred of how Envoy's customers shared data with the company. "We had customer success teammates threaten to quit over cleaning up data," says Crane, Flatfile's COO.
Knowing the problem was universal to software-as-a-service products, Boskovic did what anyone with his engineering savvy would: Over two weekends in 2018, he "rage designed" the first version of Flatfile. Today, the data onboarding company's A.I.-powered software has 300 customers worldwide.
Though Flatfile's benefits also include 12 weeks of paid family leave, four weeks of mandated annual vacation, and a monthly allowance for luxuries like Starbucks, the designer home office is a hard-to-beat perk, says JK Sparks, Flatfile's head of growth marketing. After joining the company in 2020, Sparks aimed for a mid­century modern vibe for his garage bay remodel. Covid-19 delayed the project nearly a year, but Sparks says that with two toddlers at home, having a dedicated workspace was worth the wait.
He adds that one of the company's mantras is that every new hire is worth $1 million to the business. That may explain the company's willingness to spend lavishly on home offices. Whatever the reason, Flatfile's strategy seems to be working. In March, the company raised $35 million in Series A funding, bringing its total capital raised to nearly $45 million. Investors include Google's A.I.-focused venture fund, Gradient Ventures. Though Flatfile plans to add 100 employees in the next year, its co-founders' mission remains the same: Run the best remote company in the world.
EXPLORE MORE Best Workplaces COMPANIES
From the May/June 2021 issue of Inc. Magazine