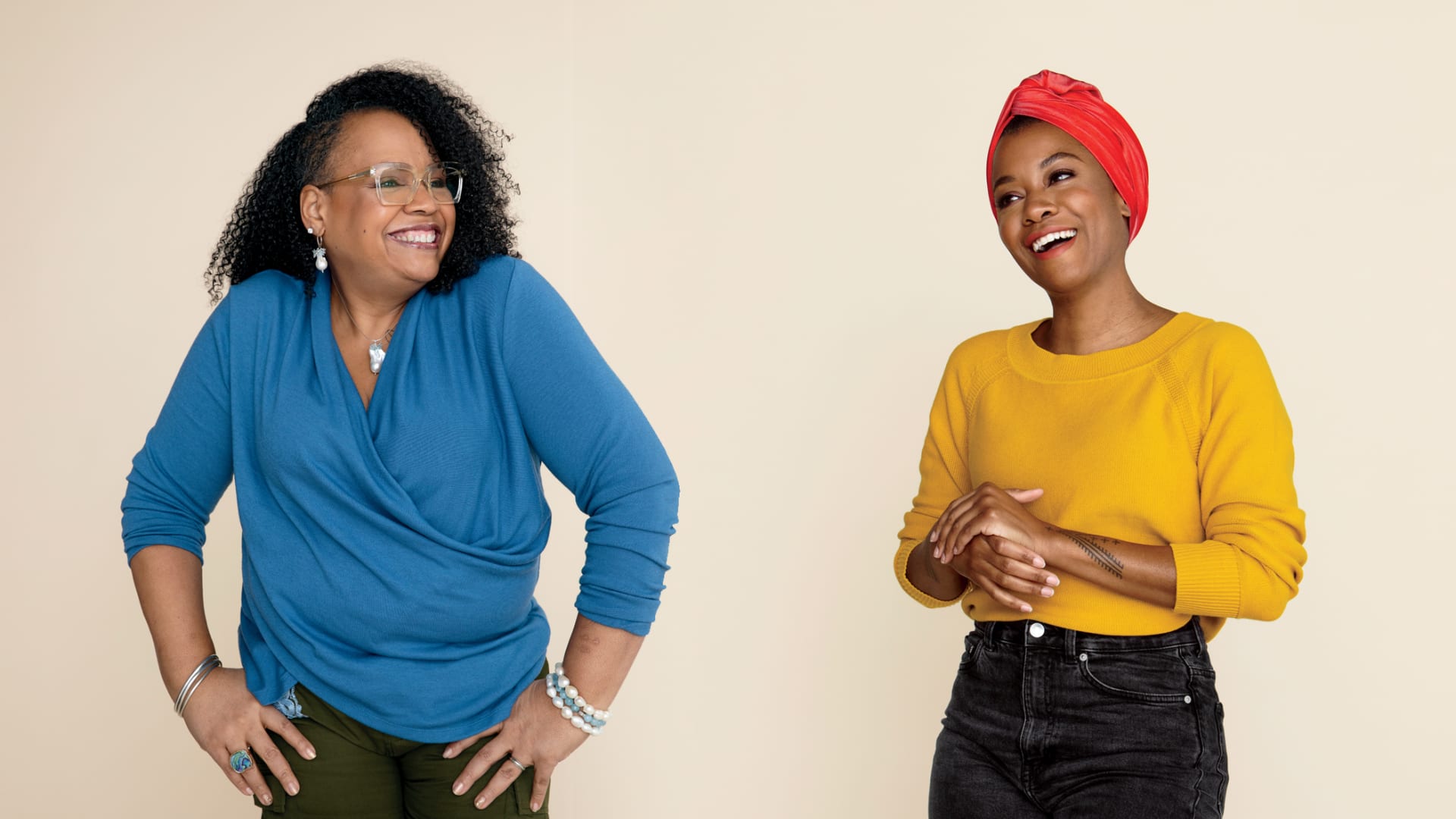 Sometimes, all you need to come up with a brilliant business idea is a little peace of mind. In 2013, after 30 days of meditation and journaling, Nnenna Stella identified a gap in the fashion accessories market: stylish head wraps. The Brooklyn-based waitress had been scouring the internet for a fashionable wrap after a "transformative" experience wrapping up her hair, but couldn't find anything that appealed to her.
"I wanted to express some­thing new, beyond lipstick and earrings, so I put on a head wrap, and I loved the feeling," Stella says. "I didn't know a piece of fabric had the power to do that."
In 2014, she founded the Wrap Life, a hair accessories brand that sells head wraps, bandies, and turbanettes. And now, what began as a side hustle in her spare time has grown into a business with more than $5 million in life­time sales. After years of working mostly with independent contractors, Stella has to hire her first full-time employees, a daunting task for the founder. Though 15 years of waiting tables in New York City and Los Angeles helped her become a master multitasker, for Stella, managing a team is uncharted territory.
Lisa Price knows what it's like to start from humble beginnings. The founder of beauty empire Carol's Daughter started her company in her Brooklyn kitchen in 1993, selling her homemade hair, skin, and body products at flea markets and from her living room. For years, growing the business was a lonely enterprise.
"There weren't many of us Black women who were entrepreneurs," Price says. "We didn't have places to congregate like conferences and Curlfest, and we also didn't have social media."
Though Price sold Carol's Daughter to L'Oréal for an undisclosed amount in 2014, she remains actively involved in the company. She also makes time to mentor a group of women entrepreneurs, most of whom are Black. "I feel that it's important to help where you can," she says.
While Stella may still be learning the ropes of entrepreneurship, the Wrap Life is well positioned to capitalize on a sizable market. In 2017, Black consumers spent six times more on ethnic hair and beauty products than non-Black consumers, including $473 million just on hair care, a $4.2 billion industry, according to market research firm Nielsen. Before the Wrap Life can claim a meaningful share of the Black beauty market, Stella will need to build a team and lean into leadership.
Stella: I'm about to start hiring full-time employees, but sometimes I think, who am I to lead? These people know what they're doing. Do you have any advice for me?
Price: Sometimes we have to hype ourselves up. You have enough income to provide someone with a livelihood. That is a privilege and an honor, and being able to do that means that you've done something pretty special on your own. You grew a company during a pandemic! You can feel blessed to have people work for you, but you don't want to give them the impression that they're the reason you're standing.
Stella: How do you avoid that?
"I think there's an opportunity with investment bankers and investors to say, 'Is there anyone within your investment group that is majority minority-owned that you can bring into this conversation?' "
--Lisa Price
Price: You should respect your employees, but their existence is not your sustenance. I think what happens is you can feel beholden to people. That's OK, because it shows you're empathetic and caring, but maybe save it for their birthday or employee appreciation day, when you surprise everybody with a gift and say, "Thank you so much for helping me build my dream." And you have to think of your team as being fluid. Sometimes the universe will send you someone perfect for the next 12 months and 17 days, and then they've got to go and someone else will come in. It isn't meant to be that every person will be with you on this journey for the next 15 years. Some people are coming to you to help you, and some people are coming to you because they need you to help them.
Stella: How would you advise a Black female founder to go about finding like-minded people to work with?
Price: It's not an easy thing to do, especially if you're an introvert like me. When we went to an event people said was a great place to network, I would say, "Damn it!" Then I would look out into the room and select three people and walk up to each one and start a conversation. It's like any exercise you do for the first time. It sucks. You feel awkward. But the more you do it, the more you figure it out, and you come up with the typical questions that spark conversation.
Stella: Last winter, a woman who does work for me asked for 1 percent of my sales as compensation, and I wondered, how do I understand if this is a fair ask?
Price: I would start asking for lawyer referrals. If you did agree to pay that person 1 percent of sales, there would be a contract. Who would give that contract, and is it written in a fair way? The other thing is, it could be 1 percent of sales for a certain period of time. What if something really great happened and all of a sudden you have $50 million in sales? Is she really entitled to 1 percent of $50 million? So there should be parameters on that and a plan forward.
Stella: Being a person of color and in a new situation, I sometimes wonder if my lack of experience means I could be taken advantage of, or if that makes me prey to someone who knows more than I do.
Price: When we brought equity partners into my company and I was in a position to hire a COO who could make $200,000 and might have worked at Bath & Body Works for 12 years, my thought process was, they have way more experience than I do. I need to learn from them. When we're in this corporate setting, I'm going to defer to them as the operations person because they know more about this than I do. But we also have to put more weight on what we know about the brand and our consumer and not waver in that.
Stella: When a Black-owned brand is sold to a larger entity, there can be some backlash. How can founders create a space for celebration rather than anger when they sell their company?
Price: I think there's an opportunity with investment bankers and investors to say, "Is there anyone within your investment group that is majority minority-owned that you can bring into this conversation? If you want to invest in this Black woman's company and you don't want her to lose her customer base because it looks like she's selling out, whom do you have who's a person of color and can be added to the story?" Those kinds of conversations are beginning to happen. Nobody wants to make an investment in something and then deal with two months of bad press.
Stella: How do you prepare for the sale of your company and make sure you're properly compensated?
Price: To get to the point that you're selling your company, you would have to have acquired a certain number of advisers. It's important in building your business that there are people you can confide in. You need to have that person you can go to and say, "OK, how do I do this?"
Your accountant should be someone you can talk to about anything. You have to trust your lawyer enough to say, "This is what I'm worried about," because your lawyer is the one who writes the contract to protect you. And that can help you sleep a little bit better at night. So keep building that network of people, and know that I am in your network now. You reach out, and I'm here.
From the May/June 2021 issue of Inc. Magazine