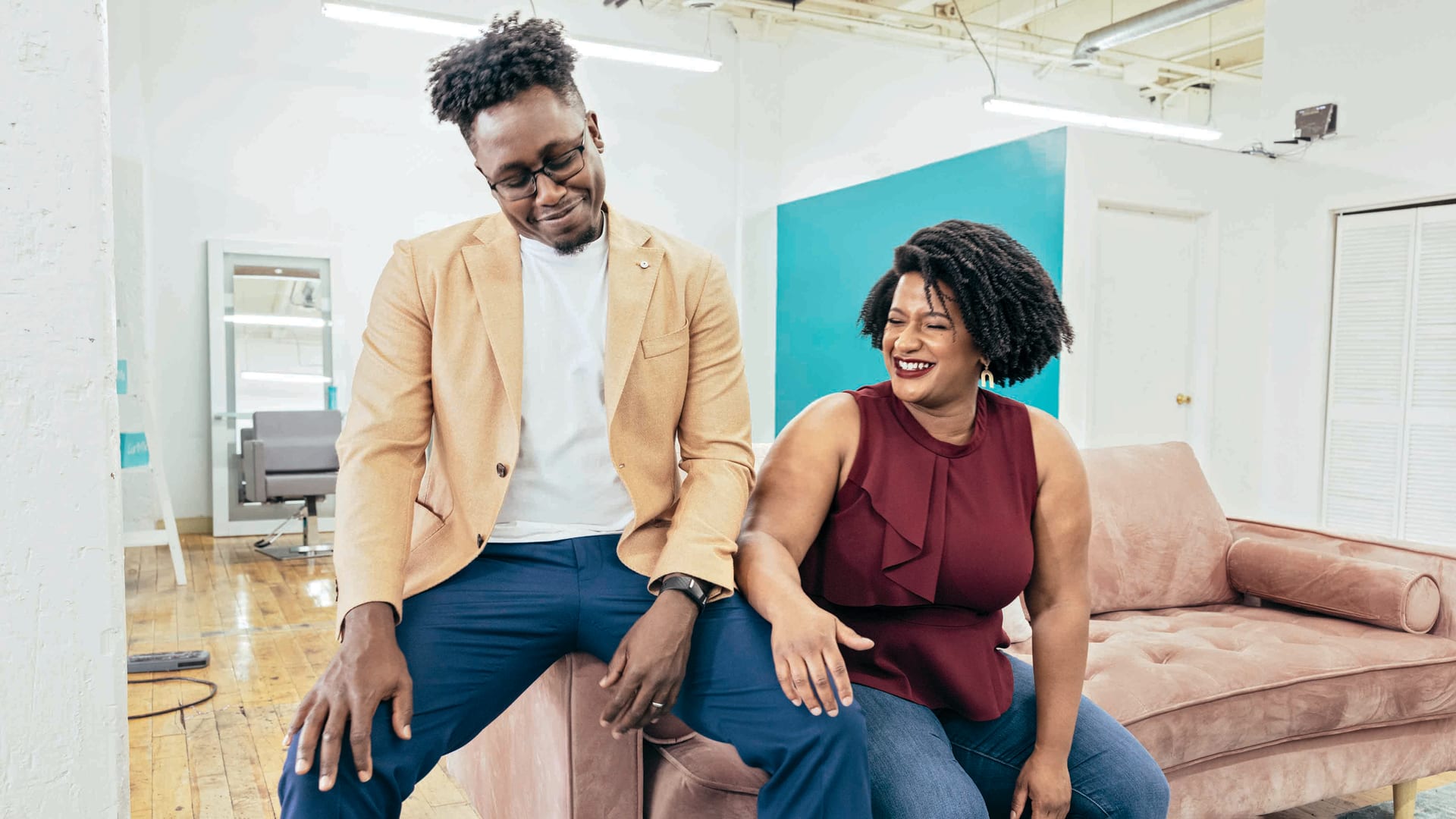 Kim Lewis launched her first business, a social network for women with curly hair, with money her husband, Tim, won on Who Wants to Be a Millionaire. Luck? More like strategy. After seeing him rip through question after question while bingeing on old episodes one night, she got him booked him for a tryout and a trip to New York. On the show, he locked in the $25,000 they needed for seed money and bowed out after correctly answering the $100,000 question. Kim quit her job the following Monday. The startup failed, but it inspired her follow-up beauty brand, Chicago-based CurlMix, and taught her how to build a committed following. She didn't know then how crucial that last part would be. --As told to Eric Hagerman
Kim: If you're Black in America, when you go into the office, you alter your hair to avoid discrimination. Black women grow up wearing chemical relaxers that straighten and damage our hair so we can fit in. By 2010, my hair had begun falling out, and I asked Tim to shave it all off so I could let it grow back naturally. Because I didn't trust the ingredients in existing products dedicated to curly hair, I started mixing things at home. Many of us were doing that.
Tim: She would spend hundreds of dollars at Whole Foods and then hours making products that might not work--and leave me with the dishes.
Kim: We launched CurlMix as a DIY box, like Blue Apron for hair. It included prepackaged, organic raw materials--flaxseeds, guar gum, hemp seed oil--along with an instructional video. We sold $130,000 worth of kits the first year and $140,000 the second, but I felt like subscription boxes should have been snowballing.
That's when I started looking at my customers--what do they actually want? It was our flaxseed gel. People had emailed asking us to send it to them ready-made, because it's a real pain to do yourself. You have to boil flaxseeds, and it's really hard to separate the seeds from the gel. It's gooey. We started going to manufacturers to see if they would make it for us, and even they didn't want to. My adviser was like, "Why don't you just figure it out?"
Tim: Kim was seven months pregnant. She spent a month in the kitchen and tried 50 different batches to get the product right. We sent a presale of 60 bottles to our email list and sold out in minutes. We did another round and sold out that one, too, and then another. We just knew that we had something people wanted.
"My goal is to build the first Black-woman-owned beauty conglomerate traded on the stock market."
Kim: We were the first ones, to our knowledge, to mass-produce shelf- stable flaxseed gel by boiling real flaxseeds, extracting the gel, and then putting it in a bottle.
Tim: We went from $3,000 to $30,000 in sales within three months, and we were like, "We gotta get out of our kitchen!" We found a commercial kitchen and started growing twofold, threefold month-over-month, until we hit our first six-figure month. Within a few days of that, my aunt called to tell us about a Shark Tank tryout the next day. We couldn't find a babysitter; we worked overnight to get a pitch ready.
Kim: It was a casting call at the University of Illinois at Chicago, and the baby started crying in the middle of our pitch to the producers.
Tim: We thought we bombed, but they were like, "Oh, we love your story! Kim and Tim--your names rhyme. That's so cute! High school sweethearts!" They just ate it up. We filmed for Shark Tank in September 2018 and ended up getting past a million in sales that year.
Kim: We got an offer from Robert Herjavec for $400,000 for 20 percent equity. I didn't want to give up more than 15 percent of my business, and Robert would not negotiate. We turned it down. It's one of the hardest things I've ever done--second to natural childbirth.
Tim: We started with the flaxseed gel, but we built on products as we needed them, and each time we launched, it was with a lot of customer approval. For a long time, Kim would livestream to our Facebook group every Wednesday doing her hair in the shower--fully clothed--to show how to use the products. We just continued to feed demand and improve products using the community's feedback, and that's what allowed us to grow quickly.
Kim: In 2019, we ended up hitting $5 million in revenue. I went out to fund­raise, but no one invests in women of color because they feel like it's too niche. Or you get a deal, but it's a crappy deal. Black women get less than 1 percent of venture capital. It's devastating. We decided to launch a crowd­funding campaign at Wefunder instead. We raised a million dollars in four hours. We ended up raising more than $5 million total--from our customers.
My goal is to build the first Black-woman-owned beauty conglomerate traded on the stock market. I want to be like Procter & Gamble. That's my dream.
EXPLORE MORE Inc. 5000 COMPANIES
From the September 2021 issue of Inc. Magazine