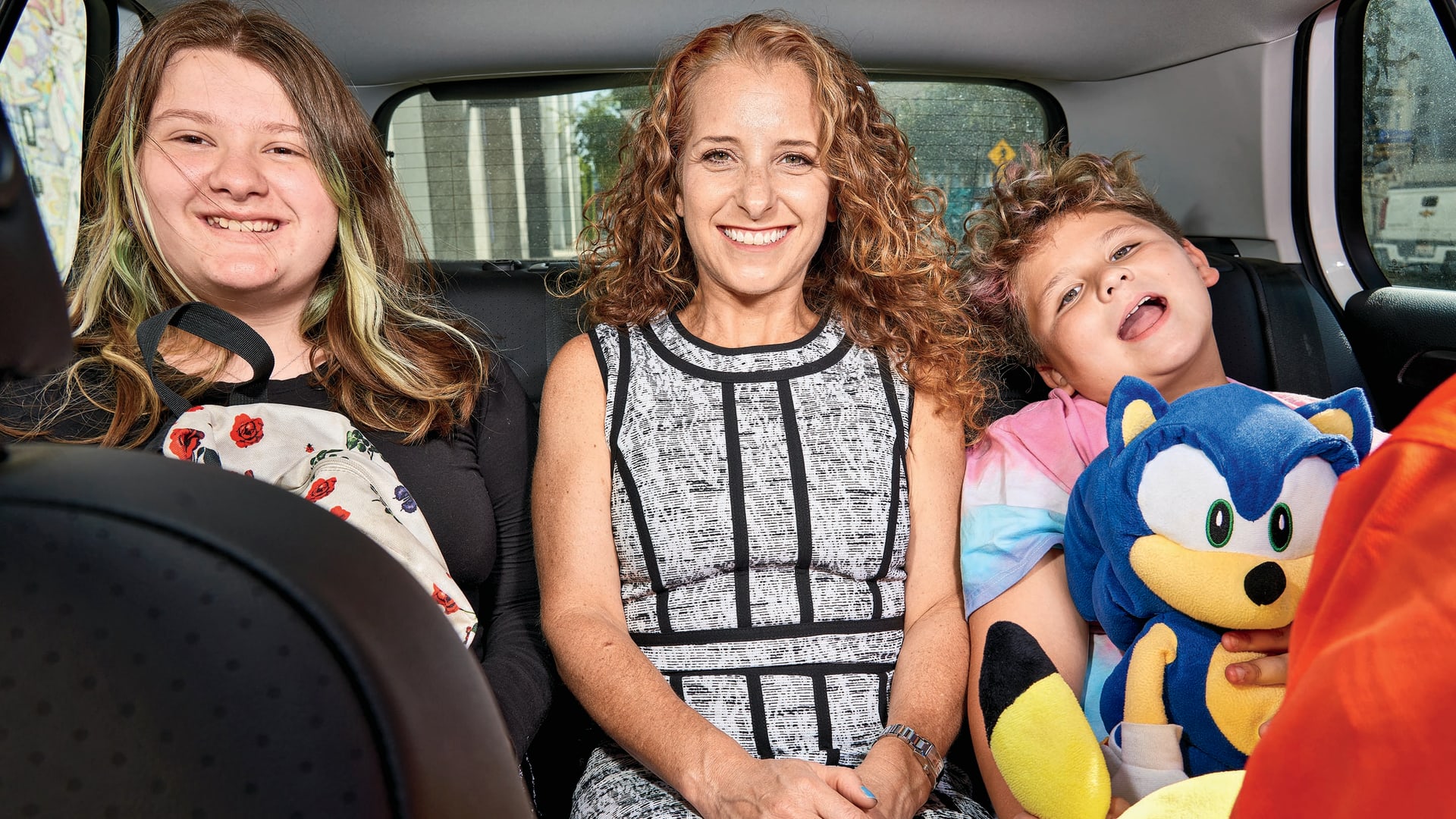 As Joanna McFarland, co-founder and CEO of HopSkipDrive, an on-demand ride service for kids, was steering the firm to its best year ever thanks to a nationwide bus driver shortage, Covid struck, and children stopped going anywhere. With afterschool programs closed indefinitely, McFarland had to lay off most of her staff. A clutch pivot would save the business. McFarland looks back on a momentous year. --As told to Marli Guzzetta
At a birthday party, all the moms were commiserating over impossible transportation issues. I was feeling guilty that I couldn't get my son to karate at 3 p.m., and I joked that we should hire one of the moms to drive kids around. The person who is now one of my co-founders said, "Seriously, how do we do this?"
We designed our product around one question: "What would it take for us to put our kids in a car with someone?" We instituted a heavy vetting process and required five years of caretaking experience, and we established a safe-rides support team and a tech platform that tracks everything.
Our first two years, we operated mostly as a B2C, but eventually we realized how valuable our service was to counties and school boards. A bus driver shortage was growing even before Covid. Districts were doing things like changing the walk boundaries for schools, so kids lost their buses. These kids needed rides -- until they didn't.
I walked into the office on March 13. It was pouring down rain, which in Los Angeles felt apocalyptic. The day before, public schools had announced shutdowns. We had a town hall with our 120 employees to discuss what we thought the closures meant for us. We told folks to take their things home with them. It felt so scary.
For the next few weeks, I tried to manage the business while watching the news. I was also taking care of my own family and supporting staff as they took care of theirs. Mostly, I remember the chaos and the anxiety. As schools across the country closed, our business fell off a cliff in a matter of days. We furloughed hourly employees, laid off staff, and took big pay cuts.
April and May were a blur. We asked: What did a safe ride look like in Covid? We came up with new standards that included plastic barriers, masks for riders and drivers, safety checklists, and apps that allowed us to do anonymous contact tracing. I was still planning for school in the fall.
In August, when it was clear schools weren't coming back, we laid off all but 47 people. It was one of the hardest decisions we've ever made. These people had worked so hard to keep the business going. To have to lay them off was heartbreaking.
Every day, we worked on a new plan, and we would get new information that rendered it almost meaningless. But we kept fighting. That led us to adult transport.
The same person booking rides for their kids is often trying to find a ride for their 80-year-old mother to get to her doctor appointments. Plus, partnering with county welfare agencies for foster youth transport led us to senior transfers. These trips picked up in the spring of 2021, when we started doing vaccine clinics and rides for seniors in cities across the country. We also helped thousands of seniors go grocery shopping.
Now, demand is coming back. We are back to seven-figure monthly revenue and growing. About one-third of our new hires are rehires. We're at just over 80 people, and adding more every day.
Back-to-school is our Black Friday, and everyone is excited to do what we do for these kids. The day school started, I walked my son in. Seeing all those kids head into the building, I cried like a baby. It felt like, not the beginning of the end, but maybe the beginning of a new beginning.
From the October 2021 issue of Inc. Magazine