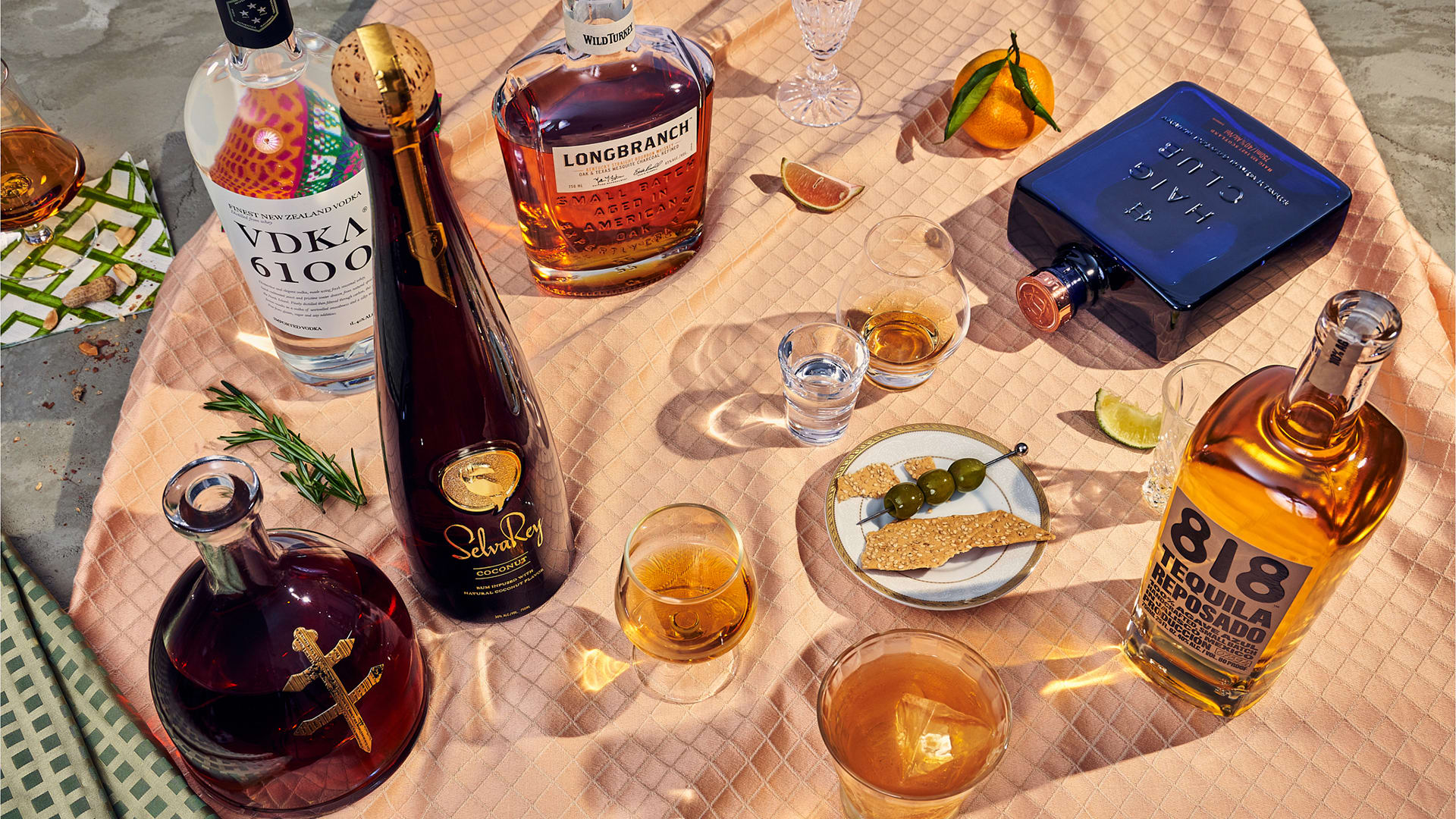 As celebrity side hustles go, launching a liquor brand is the smart play. Why invite the headaches of, say, creating a clothing line when you can nurse a hangover from a spirit distilled in your name? Booze is good business for stars looking to capitalize on their A-list status, now more than ever (Americans spent $31.2 billion on hooch in 2020, up 7.7 percent YOY). Then there's the payday potential. Bethenny Frankel sold Skinnygirl Cocktails for a reported $100 million, staying on as CEO; George Clooney made a $1 billion deal for Casamigos tequila; Ryan Reynolds cashed out of Aviation gin for $335 million. In these dizzying tales lie universal lessons about marketing and branding. But are the products as tasty as their packaging promises? Glad you asked. We put them to the taste test; then we took the afternoon off.
81
818 Tequila Reposado | $54.99*

Kendall Jenner
Presentation 4/5
Star role 5/5
Insta followers 5/5
Some folks knocked Jenner for cultural appropriation when she launched this tequila named for her Calabasas area code. The model with a staggering 198 million Instagram followers makes a spirit with a mild, grassy finish--too mild, frankly. Yet 818 is tracking to be the most successful tequila launch ever.
Inc. takeaway: Never underestimate the power of social media fame to move product.
69
SelvaRey Coconut Rum | $37.99*

Bruno Mars
Presentation 4/5
Star role 3/5
Insta followers 3/5
If you're in a spring break kind of mood, Bruno Mars has just the ticket: a rum that tastes like Bain de Soleil and bad decisions. The bottle is sleeker than this sickly sweet rum deserves. After the coconut, SelvaRey pummels your taste buds with notes of banana, vanilla, molasses, and sugarcane.
Inc. takeaway: Know your market, even if it's gone wild.
85
D'Ussé VSOP Cognac | $54.98*

Jay-Z
Presentation 5/5
Star role 5/5
Insta followers 1/5
Presented in a regal glass orb embossed with gold leaf that would add a glint of class to any living-room bar cart, Jay-Z's Bacardi-backed cognac is marketed as a sophisticated, striver's product. The taste--thin at first sip--develops a pleasantly sweet and figgy follow-through. D'Ussé doesn't have 99 problems, just one: It left our lips numb.
Inc. takeaway: If you can make every customer feel like a billionaire married to Beyoncé, you're onto something.
75
Haig Club Deluxe Single Grain Scotch Whisky | $52.99*

David Beckham
Presentation 4/5
Star role 2/5
Insta followers 4/5
When a whiskey sits on the top shelf, it's nice to be able to admire and evaluate its deep amber hue from a distance. That could be why this single-grain scotch is masked in an electric-blue bottle, reminiscent of Polo Sport cologne. The contents are light--almost watery--and bland. An argument against blending it like Beckham.
Inc. takeaway: In a crowded, brown-bottle market, the purple cow--or the blue cologne bottle--stands out.
95
Wild Turkey Longbranch Kentucky Straight Bourbon Whiskey | $39.99*

Matthew McConaughey
Presentation 4/5
Star role 5/5
Insta followers 2/5
All right, all right, all right ... this one is more like it. A small-batch whiskey--smooth and sweet with hints of vanilla, honey, and toffee--Longbranch imparts the perfect amount of fire. It's the real deal, filtered through oak and mesquite charcoal from the actor's home state of Texas. Hands down the best celebrity spirit we sampled.
Inc. takeaway: Authenticity can't be faked.
67
Skinnygirl Bare Naked Vodka | $21.99*

Bethenny Frankel
Presentation 2/5
Star role 5/5
Insta followers 2/5
At only 60 proof--hence the reduced-calorie branding-- Skinnygirl is the Michelob Ultra of spirits. This brand mogul's booze goes down raw, as if spilling forth from a plastic bottle, and is best used in, say, half a dozen mixed drinks during a sloppy night on the town. Bravo, though, for the appealing implication that you can maintain your buzz and your waistline, too.
Inc. takeaway: The promise of being able to have it all always sells.
86
Lobos 1707 Reposado Tequila | $49.25*

LeBron James
Presentation 35
Star role 3/5
Insta followers 4/5
With an hourglass-shaped bottle that looks less top shelf and more supermarket syrup aisle, King James's agave has, fittingly enough, a strong maple-and- caramel nose. As for the taste, it packs a pleasing punch that goes strong to the hoop, with definitive notes of pepper and spice.
Inc. takeaway: Even when he's not playing on his home court, it's tough to beat LeBron James.
92
Heaven's Door Double Barrel American Whiskey | $49.99

Bob Dylan
Presentation 3/5
Star role 4/5
Insta Followers 3/5
Not to knock, knock, knock Heaven's Door, but we kind of wish that Dylan's personal artwork on the bottle-;depicting one of his life-sized ironwork sculptures-was a little less busy. The whiskey itself, a blend of Tennessee, rye, and bourbon, stands neatly on its own merits. Nicely balanced with a strong-but-not-too-strong oaky flavor, Heaven's Door has a pleasant, smooth finish-;certainly smoother than Dylan's voice.
Inc. takeaway: Dylan's brand, cultivated over his 60-year career, is unadulterated Americana, and no spirit fits that uncompromising image better than American Whiskey. Another vote for authenticity.
72
Blue Chair Bay Spiced Rum | $19.99

Kenny Chesney
Presentation 2/5
Star role 5/5
Insta Followers 3/5
Chesney's appeal is that he's just a regular guy-;a breezy, barefoot country strummer with nothing but a sun-dappled good time on the agenda. And this is a regular-guy kind of spiced rum, with no hint of pretentiousness. Strong tropical coconut notes dominate. This rum seems designed to be used as a mixer, which may be for the best since on its own it has a leathery aftershave taste.
Inc. takeaway: Blue Chair may not be top shelf, but mixed with Coke in a red Solo cup at sunset, it does the job. Proof that the main floor is still a great place to make money.
81
Tres Papalote Espadin Mezcal | $43.99

Cheech Marin
Presentation 3/5
Star role 5/5
Insta Followers 2/5
I really wanted to like this one more...a lot more. But Marin's mezcal is almost as smoky as an old Cheech & Chong film. Which is to say, the heavy mesquite aroma and charred flavor are overpowering. And if we're not mistaken, that lingering aftertaste reminded us of burned tires. Then again, Tres Papalote is meant to be sipped-;and it does get smoother as it goes on.
Inc. takeaway: Cheech has been riding the culture wave for decades, first with pot movies in the stoner 1970s, then with cop procedurals in the 1990s, and now with the Mexican liquor rush. And, of course, as a Mexican-American, he has the street cred for this latest move.
65
Indoggo Strawberry Flavored Gin | $28.99

Snoop Dogg
Presentation 2/5
Star role 5/5
Insta Followers 4/5
The easygoing hip hop legend-turned-entrepreneur should know a thing or two about gin. After all, he hit it big with "Gin and Juice" back in 1994. Unfortunately, Indoggo's Skyy vodka knockoff bottle feels like it comes from 1994, too. As for the strawberry-flavored gin inside, it's not a good sign that you can smell this sickly sweet juice from across the room. The taste is even more overpowering-;a mix of SweeTarts and Kool-Aid powder, albeit with a grown-up kick. (And no, it's not any better with juice.)
Inc. takeaway: Sometimes you can overdiversify. Snoop's foray into the liquor biz evokes cautionary tales like Pierre Cardin, the clothing brand that famously let its name get slapped on everything from ball caps to cigarettes through indiscriminate licensing deals, and eventually collapsed.
80
Ciroc Ultra Premium Vodka | $33.99

Sean "Diddy" Combs
Presentation 3/5
Star role 5/5
Insta Followers 4/5
Ciroc is the OG of celebrity booze. The brand has been a table-service staple since at least two Diddy name changes ago. Distilled from French grapes, this premium vodka has a slightly sweeter nose and finish than typical vodkas sourced from grain or potatoes. While it's hard to argue with success, I'm not sure how "premium" Ciroc tastes. On its own, it comes off as a bit medicinal and...Windex-y.
Inc. takeaway: Invest the sweat equity. Diddy became Ciroc's posterboy in 2007, but he's worked hard for his 50 percent cut of the company's profits, personally crafting new flavors and brand extensions.
88
VDKA 6100 | $29.95

Robert De Niro
Presentation 5/5
Star role 4/5
Insta Followers 1/5
Much like its Method-acting movie-star backer, this New Zealand vodka speaks clearly without shouting. The bottle has a clean and elegant typeface and its whey-based contents are equally crisp and light with none of the harsh alcohol burn that accompanies so many vodkas. It's especially smooth when properly chilled. VDKA 6100 may not be Grey Goose, but it's not too far off, either.
Inc. takeaway: Look for partnerships. De Niro has been moonlighting as a top-tier boutique hotelier and restaurateur for years now and VDKA is the house vodka in all of his establishments-;a pretty smart way to build buzz.
80
Shakmat Armenian Brandy | $58.30

Alexis Ohanian
Presentation 4/5
Star role 5/5
Insta Followers 2/5
Created by Reddit co-founder (and Serena Williams's husband) Alexis Ohanian, Shakmat's name comes from the Armenian word for "chess." Aged for 23 years in Caucasian oak barrels, this spirit is dark and earthy with spicy, bittersweet notes of molasses, caramel, and raisins. However, it's an acquired taste. A little of its overpowering flavor goes a long way.
Inc. takeaway: Own your niche. The market for Armenian Brandy may be limited, but Ohanian has a story to tell-and a bottle to sell.
* Prices, for a 750ml bottle from Drizly.com, vary by location.
From the Winter 2021/2022 issue of Inc. Magazine