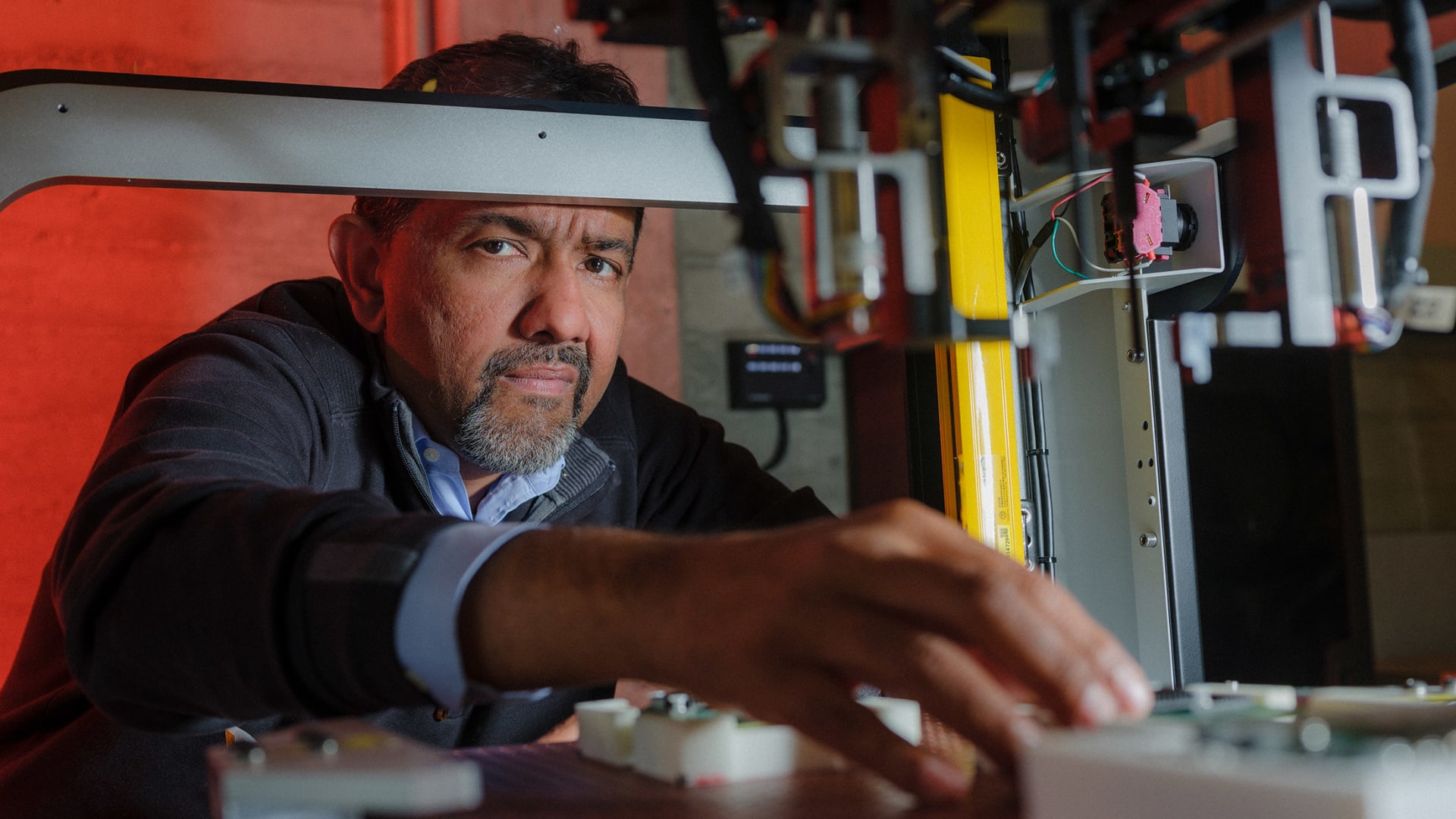 Bright Machines is a 2021 Inc. Best in Business honoree. With the second annual Best in Business awards, Inc. recognizes companies that have had a superlative impact on their industries, their communities, the environment, and society as a whole.
Welcome to the factory of the future: It's smaller, more nimble, and run by highly skilled Americans. Just as important, networks of these facilities could crop up across the United States, bringing manufacturing closer to your consumers and lessening your reliance on a crippled global supply chain.
The key to bringing this audacious vision to fruition? Compact robots. That's according to Bright Machines, a San Francisco-based startup that makes software and refrigerator-size robotic modules capable of assembling small goods--anything from household appliances to tools to electronics. Plugged together, the modules can create entire micro-assembly lines, and the robots can follow instructions in sequence, thanks to flexible, customizable software.
"We give eyes and brains to machines," says co-founder and CEO Amar Hanspal, who helped create the company in 2018 after a tenure as co-CEO at Autodesk. "I like hard challenges that could make a very big impact on the planet."
The sheer size of the opportunity to modernize factories drives Hanspal too. The global market for assembly-line automation will reach an estimated $5.6 billion by 2025, according to Research and Markets. Currently, Bright Machines has deployed 60 systems for 25 companies.
But for Hanspal and his 600 employees, the opportunity isn't strictly financial. It's also one with broad implications for education, the environment, and local economic development. That's because the micro-factory model could help companies of all sizes reshore their manufacturing facilities to create products in the United States, Mexico, and Europe, cut down on shipping costs, and make their operations greener. "When you make small factories that are closer to the customer, you cut down on waste, and you are using less energy," Hanspal says. "That's a big benefit."
Bringing your supply chain closer to home also offers the benefit of minimizing potential disruptions due to geopolitical tensions, cyberattacks, or, say, a ship stuck in a canal during a global pandemic.
Will these smart assembly boxes take American jobs? Sure. Assembly-line jobs. But Bright Machine-equipped factories will need a reskilled workforce to run them--a charge the company plans to lead as soon as it completes a planned $400 million IPO via a SPAC merger.
"We want to be part of the solution in terms of reskilling and retraining the workforce," Hanspal says. "How can we work with vocational institutions and local economic counsels to create education and opportunities to work with modern automation technology?"
EXPLORE MORE Best in Business COMPANIES
From the Winter 2021/2022 issue of Inc. Magazine