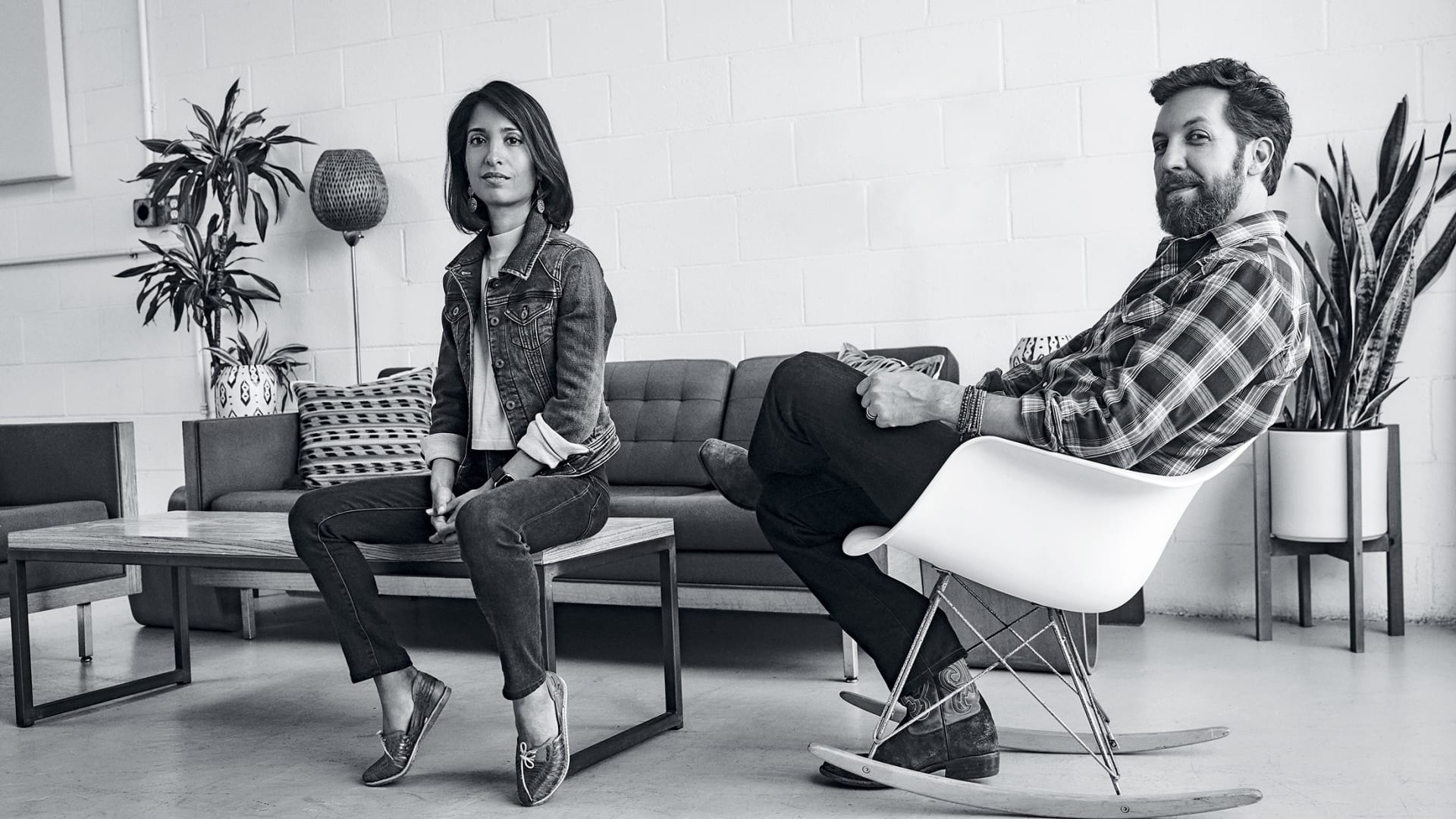 Chris Sacca is trying to save the world. The venture investor and ­founder of Lowercase Capital, known for his early bets on Uber, Twitter, and Instagram, launched Lowercarbon Capital in 2017 to back companies that cut carbon emissions and suck carbon out of the sky. No longer investing billions of dollars in technology and consumer product startups, Sacca, 46, stepped away from Lowercase four years ago to focus on healing the planet, reforming the criminal justice system, and making Silicon Valley more diverse.
"I wanted to apply everything I'd learned and the skill I have as a huge lever, but in a way that mattered," Sacca says, adding that it's never been cheaper to start companies that can help solve the global climate crisis. "They don't rely on government intervention or government subsidies anymore, and I have the brand where the best companies in the world find me."
Though he no longer sits on the boards of fast-growing tech startups, Sacca still makes time to advise the entrepreneurs Lowercase has backed over the years. One such founder, Shivani Siroya, shares Sacca's passion for solving big problems on a global scale. The 39-year-old former United Nations analyst founded the fintech company Tala in 2011 to lend money to consumers in developing countries who have little or no credit. Today, Tala has loaned billions of dollars to more than four million borrowers in India, Kenya, Mexico, and the Philippines. Starting a business on three very different continents was a strategic decision, ­according to Siroya.
"We picked basically the largest remittance corridors around the world," she says. "My goal was essentially not just to prove that we could be global, but to actually be in the flow of money."
In October, Tala raised a $145 million Series E funding round, bringing its total funding to $350 million. Led by fintech company Upstart, with participation from Sacca's Lowercase Capital, the funding will help Tala provide new financial products, ­including a crypto­currency offering that the company announced in May 2021. While Siroya is in the enviable position of having had more investor interest than she could accept in her latest round, she also has concerns about experimenting with new credit products while continuing to grow Tala's core business. We sat Sacca and Siroya down so they could discuss how Tala can keep expanding globally, authentically--and sustainably.
Siroya
You've seen lots of ­companies all the way through to scaling up. What did the founders do to put a ­culture of growth in place?
Sacca
Obviously, to be a founder, you have to be able to get off zero and put that first chunk of the company together. But becoming a global, multibillion-dollar company requires a whole other skill set that's not ­innate. What's fascinating is when I see founders who are inherently gritty learn to constantly reflect and evolve their own skillset to adapt to a totally different company. It happens by this continual process of self-inventory, experimentation, and being a listener. It's actually one of the places where--to speak in broad, sweeping gender terms--in my experience women are better listeners and better question-askers. I think that's served you really well. You'll say, "OK, I see where the company is going. Let me go talk to people who have been in that situation and understand what worked for them and what didn't." You have leveraged the growth and team-building of so many people who have come before you, and done so ahead of time.
"We talk a lot about adjacency, but I call it proximity. If you are an outsider from your customers, then you need to work even harder to actually be one with them."
--Shivani Siroya
Siroya
One of my goals is to continue to show that our portfolio is going to get more efficient and more profitable, but at the same time we're thinking about going to a multiproduct experience where we are experimenting very quickly. If you were in my shoes, what would you do?
Sacca
The biggest pitfall for so many startups is trying to do too many things at once. You know that what you have to do in the early days is focus. You have to pick one of those things. But you specifically have shown that you know how to ruthlessly execute and realize a vision. You've earned the right to do more than one thing. You can say, "I know where the next play is, and, by the way, we're going to J-curve on our way there. We can't immediately make it profitable." Investors knew that coming into this round. They lined up dying to give you money on that basis.
Siroya
One of the things I've always admired about you is your ability to connect the dots. You're constantly synthesizing different things, whether it's the news, culture, startups, or what's happening with your kids. How do you make the space to have those reflections?
Sacca
I think people over-compartmentalize, even the distinction between work and family. Who you are outside of work and inside of work are inextricable. The lessons you learn as a manager directly apply to raising kids, and vice versa. We all just want to be heard and have that emotional validation, and you can't build a product if you can't empathize and put yourself in somebody else's shoes. We're building the most optimized computer scientists of all time right now--the super-bro. God, they can crank out lines of code, but they've never traveled or studied abroad. They've never met poor people, they've never had a shitty job or worked in the service economy, and they really don't have a sense of empathy. So when they go to build a product, they build it for other super-bros and we end up with these monoculture products and these leaders who don't understand the true cultural impact of the stuff they let happen on their platform. You literally lived and worked among the people you serve, so you know that you can't help people until you've been adjacent to them. So much of what we have to do is an exercise in being able to say, "What's that person's experience? What are they motivated by? What are they afraid of?" And so I think through that, you start to see the interrelatedness of all this stuff.
Siroya
We talk a lot about adjacency, but I call it proximity. If you're an outsider from your customers, you need to work even harder to be one with them. For me, that was a lot about seeing, without technology, how people already solve problems. The biggest thing that I learned while we were starting Tala was that your customers will actually show you different ways that they use your product.
Siroya
It's the coolest part of our story. Part of our evolution is actually just seeing what they did with it and realizing, "Oh, OK, let's go create that so that they can go do that."
"The biggest ­pitfall for so many ­startups is trying to do too many things at once."
--Chris Sacca
Sacca
Great salespeople deeply understand the person they're talking to and how to empower them to make a good decision. Once they know you're not here to take advantage of them, you have the on-ramps to help them in so many other ways.
Siroya
Speaking of connection, when we went remote first, we lost no business continuity. There's more connection actually to me now than there ever was for our whole team, because nobody is sitting next to me.
Sacca
So no one has privileged access to you.
Siroya
That's why we decided to go remote first. Because now it's like, that person sitting in Kenya who's doing customer service, they're no different from our CFO in that sense. But, the difference is, our team members are not sitting with their peers, so that connection is harder to form. What advice do you have?
Sacca
I have at least three team members I've never been in the same room with. I've never met my CFO in 11 years. But I know what matters to him, what's special to him, what drives him and why he works with us. I try to ask people about what random stuff they buy on eBay. Investing that little bit of time results in a more genuine connection than one with the person who might just sit next to you. I love your point about the egalitarian nature of no one having privileged ­access to you. With total strangers, my calls these days often start with, "How are you guys holding up? Do you have kids? How are they doing? How have they been going to school?" Do you know how dramatically different the next 15 minutes of that call is going to be if you start with, "God, this year's been weird. Can we all admit that this is crazy?"
Siroya
A lot of people talk about psychological safety in organizations, but nobody really talks about the fact that connection is psychological safety. Being nice to one another and all that stuff is great and all, but what we're talking about is literally just talking to one another and being authentic. It's not that hard.
From the Winter 2021/2022 issue of Inc. Magazine