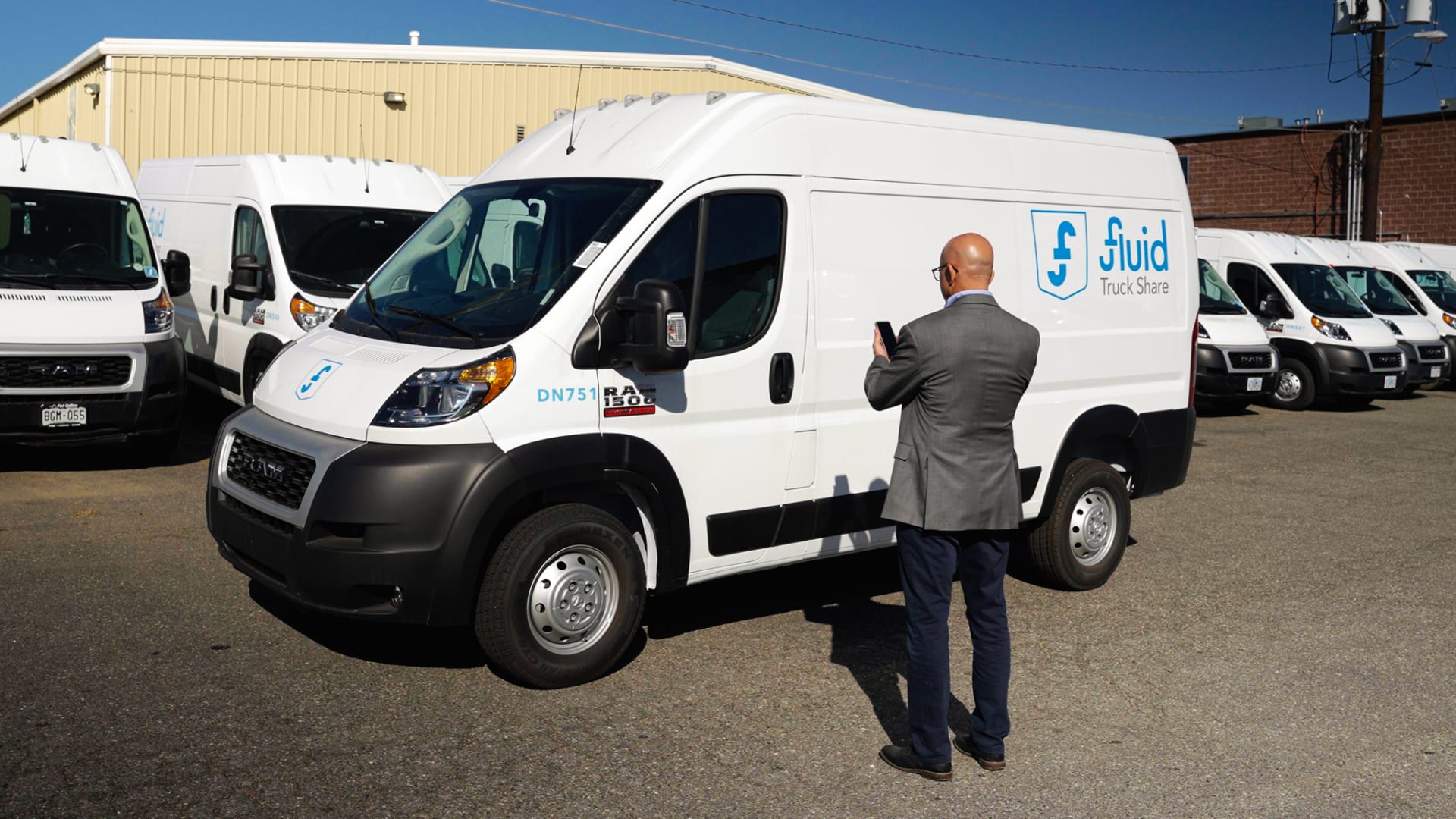 In 2015, James Eberhard found himself badly in need of a bow tie. He had a wedding to attend in Brooklyn, and nobody, not even the "super hipstery" hotel he was staying at, had one. "I thought there'd be some type of com­mu­nity sharing," he says--a Zipcar for bow ties, if you will. There was not.
"I got online and started researching to see who else had created a platform for peer-to-peer sharing of non-residential, non-real estate assets," says Eberhard; "I was shocked. I couldn't find anything."
So Eberhard did what any entrepreneur in his position would do when faced with a problem--he launched a company. Denver-based Fluid Share (which quickly changed its name to Fluid Market for obvious reasons) launched in February 2016 as an app where users could rent anything from bowties, to tools and recreational gear. On the first day the platform was live, someone rented a truck. That was a sign of things to come:
Over the next two years, trucks became one of Fluid Market's most-rented items. And most of that early demand for truck rentals came from businesses--like logistics companies and laundromats. "For most small and mid-size businesses, it's such a pain to rent trucks that they are forced to buy or lease," says Eberhard.
Eberhard listened to the data and began exclusively renting trucks and vans to businesses. By 2018, he had rebranded the company to Fluid Truck, positioning it as a rental platform for commercial vehicles from leasing companies and other businesses. A catering company that only needs a van on the weekends, say, may post its vehicle on Fluid Truck's platform during the weekday so another company can use it.
In 2019, Fluid Truck had closed a series A round of $63 million, and clinched a last-mile delivery partnership with IKEA in 2021. Today, Fluid Truck, with a workforce of 300, works with 10,000 businesses in 40 markets across the U.S., offering 24/7 access to hundreds of vehicles with an hourly, daily and weekly pricing model. The company has plans for international markets, too.
As the company grows, Eberhard says its mission has remained staunchly committed to flexibility: "We're helping business owners transform how they think about their fleets, so businesses small and big, can go out there and scale up and scale down and have a flexible fleet to help them accomplish the job." That's accomplished, says Eberhard, by a driver-approval system that's faster than most any other rental company on the market--and by a proprietary data collection system on board every vehicle in the Fluid Truck fleet.
The system collects information-about driver performance, geolocation, and vehicle health-that's relayed back to Fluid Truck. That's useful for a number of reasons: companies can keep track of their driver's performance, or limit losses if, say a vehicle is stolen (which Eberhard says happens not infrequently).
While 2021 was a big year for Fluid Truck, (the company declined to disclose revenue information) it has struggled amid the global supply chain crisis. Vehicles are not easy to come by these days, and Eberhard doesn't expect that to change until at least 2023. "It's been hard to forecast what's going to be actually made, when it's going to be produced and what's gonna get delivered to us."
The supply chain hiccups have also helped his business. One of Eberhard's newest revenue streams capitalizes on an uptick in online shopping and the expanded need for last-mile delivery vehicles. Fluid Fleet Solutions, a fleet management software due to launch in New York and Denver later this month, is expected to allow business owners that own vehicles to install Fluid Truck's proprietary data collection and management system in their fleets. Eberhard says Fluid Fleet Solutions will be a month-to-month subscription service.
Though Eberhard says the bow tie experience was instrumental in sparking the idea for Fluid Truck, he only has eyes for the road ahead: "Twenty years ago, you'd go out and buy servers for your company. Today, you'd never think twice about going to Google Cloud, or Amazon...for all your cloud computing needs. Five years ago, we used to have businesses that owned fleets of vehicles that today, don't own a single commercial vehicle--they use our platform exclusively to run the business."
From the Winter 2021/2022 issue of Inc. Magazine