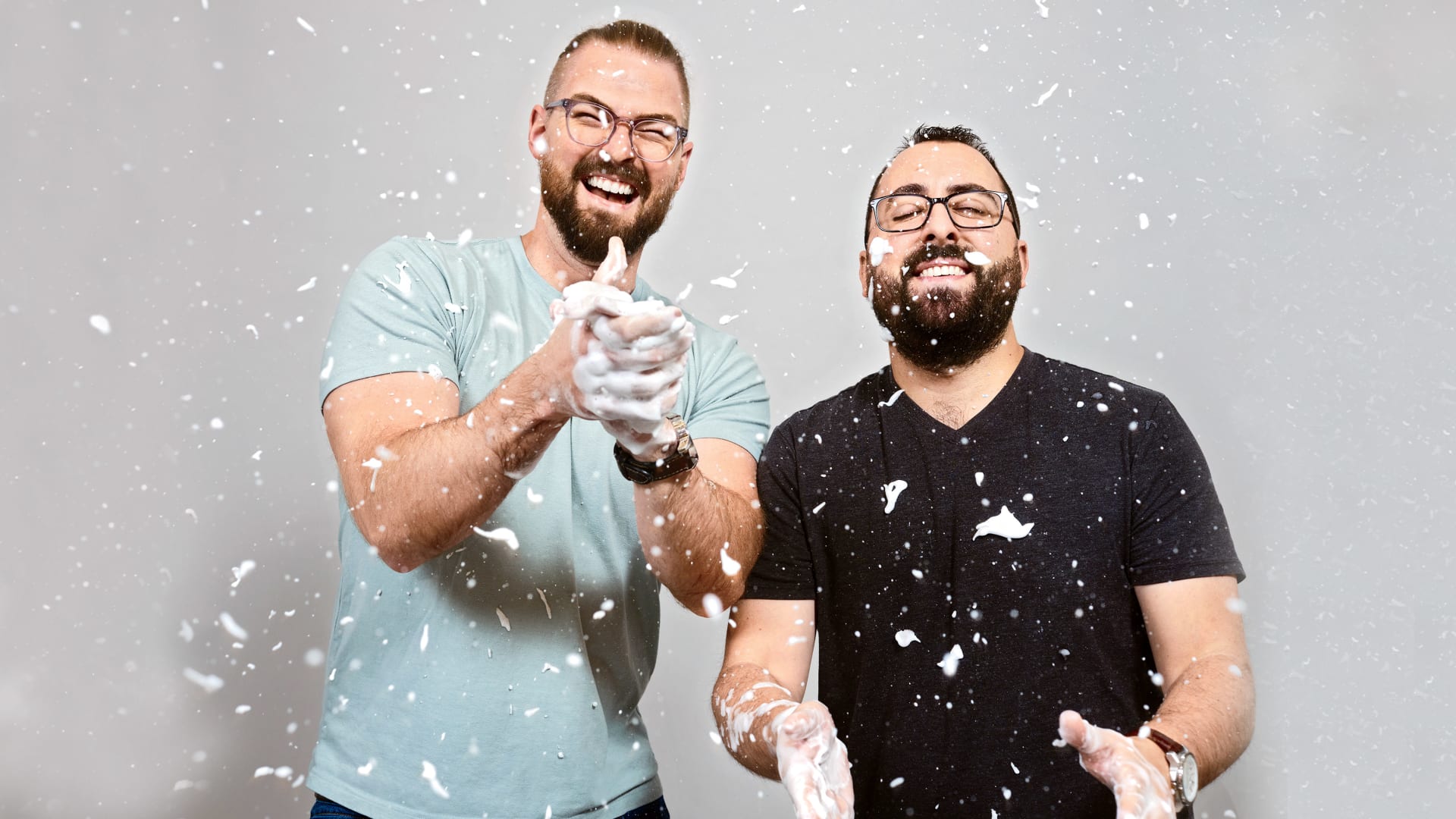 David Simnick knew since becoming an Eagle Scout that he wanted to be an entrepreneur who gives back. After college, he was interning at a government contractor in D.C. when he came across a disturbing statistic: More than one million children in the developing world die each year from diseases that are largely preventable with proper hand washing. So, in 2010, Simnick (and fellow Eagle Scout Eric Vong) co-founded a vegan personal care company with the mission of donating one bar of soap for every item they sold. He named it Soapbox, and the brand made it all the way to the aisles of Whole Foods. But when Soapbox made the leap to Target to amplify its impact, product sales tanked. Simnick and company president Dan Doll realized the time had come to do something drastic. --As told to Melissa Angell
Simnick: We knew the mission resonated and that people loved the product, but the packaging was getting in the way of our being able to communicate how good and natural our products are.
Doll: We took on a brand overhaul with Anthem, an agency out of New York City. It was the first time we invested a lot of money to try to understand what our consumer wanted.
Simnick: If it had failed, we would have run out of money. Around the same time, we got a buyout offer. It was not great at all--pure equity--and we didn't feel like that was fair to our shareholders. While we were having these not-great meetings with the potential buyers, we kept getting jaw-dropping predictions on sell-through if we rebranded, like a 450 percent increase in sales.
Doll: We learned that the product had to stand out on the shelf and communicate efficacy. We went from a brand focused on a mission to one out to solve buyers' personal care needs. The mission became the cherry on top. We've donated 23 million bars of soap to date.
Simnick: Soapbox is about stepping up on your soapbox to do something good for others. The rebrand gave us confidence to go back to the buyout group and say, "Thanks, but no thanks."
Doll: Having a mission is fantastic. But if you're standing in the hair care aisle at Target, you're not looking to do charity--you're looking for a product that will cure your bad hair day.
EXPLORE MORE Regionals 2022 COMPANIES
From the March/April 2022 issue of Inc. Magazine