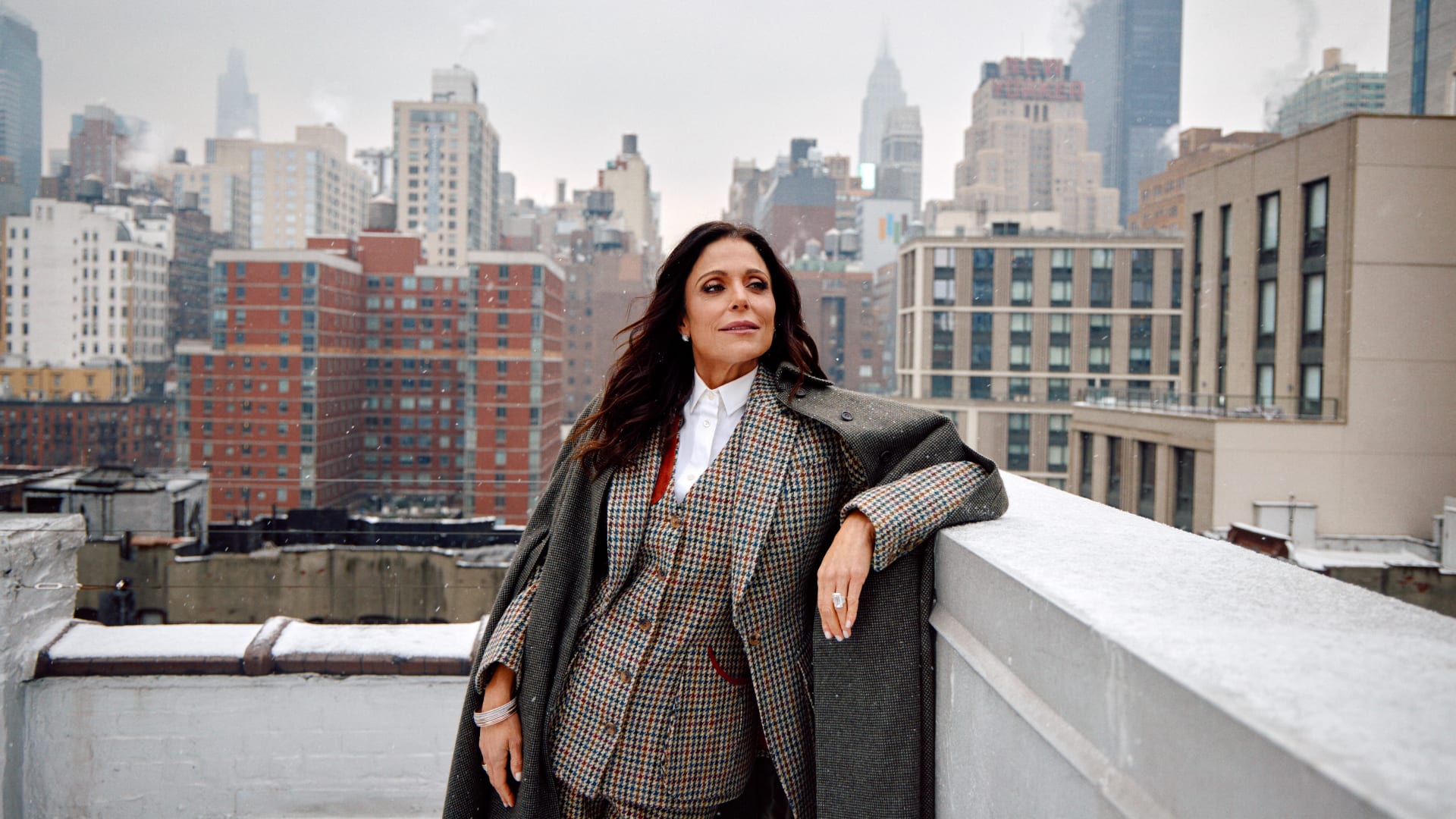 SHE HAS LISTENED intently, nodded appropriately, even occasionally furrowed her brow to telegraph that she's deeply invested in what is being said. But seven minutes into the Zoom cherry juice meeting, Bethenny Frankel knows it's time to get down to business. She's in the studio, cheekily nicknamed the B Work, at her home in a wealthy Connecticut enclave, sipping from a metal water bottle. As executives outline marketing ideas for Skinnygirl Cherry Juice, she begins to fidget, waiting for the right moment to jump in. It comes when one of the speakers, a man in his mid-50s, calmly declares that he doesn't understand TikTok--and then proceeds to attempt to mansplain social media to her.
"I don't care that you're a 50-year-old man," Frankel says flatly. She herself is 51. "You need to get with the program." She explains TikTok the way you might to your mom, why it matters in marketing cherry juice to consumers. "It's happening," she says, reinforcing the need to get videos rolling and posted. "So the train has left, and we need to get on it, like, yesterday."
The executive, who handles the marketing of the juice for the beverage maker she contracted, rambles a bit, talks about pro athletes who drink cherry juice, how they might be good partners.
She barrels through the word salad. "So come up with 20 ideas and bring them over to my house, and we'll dance and we'll drink cherry juice and make a smoothie and keep it moving," she says. She wants a budget, and in return she'll give him 10 influencers who will cook with the juice and another 50 they can send it to. "Let's figure it out."
"You'll have it by the end of next week," he says, finally offering precisely the words she was waiting to hear. "I come from a place of yes," Frankel says later. "It doesn't mean I'm positive all the time, or I'm in a good mood. It just means, figure it out. I don't need to know how the sausage is made, but it's going to happen. And it always works. That's how I live."
The idea to do cherry juice came after Frankel learned of its health virtues. She says she'd long wanted to do "a functional drink"--such beverages make up a more than $118 billion market--so it piqued her interest. And when her interest gets piqued, an idea usually happens. And when that idea happens, Frankel figures out a way to turn it into a line for her ever-­expanding consumer products business. Her frustration comes with having to wait to see these licensing deals spring to life as one of her hundreds of SKUs on shelves in stores like Target and Walmart. "Sometimes," she says, "you're dealing with ships that move slowly."
"I'm playing chess and checkers at the same time. I see the board. I like the art of the deal."
Building an empire largely on gut ­instinct might seem questionable, but Frankel trusts hers implicitly, and her success appears to bear it out. Since launching the ready-to-drink Skinnygirl Margarita in 2009, she has amassed a net worth rumored to be around $80 million, and developed one of the most successful consumer brands ever created by a reality-TV star. Her New York City-based LLC, BB Endeavors, has its tentacles in everything from jeans to shapewear, from microwave popcorn to salad dressing, from coffee, candles, and preserves to newly introduced eyewear and a forthcoming line of wines. The universe of Skinnygirl-branded products hit an estimated $50 million in annual revenue in 2020, according to The New York Times. She's authored nine books, five of them Times bestsellers, and has another rolling out in May. She's launched a podcast. (Its tag line: "If you can't handle the truth, you can't handle this podcast.") And that's just the tip of the Bethenny Frankel iceberg, where a million other projects bubble beneath.
Her leadership style could be described as direct, brash, even brazen. Imagine Rizzo from Grease running a company. In meetings, she can come off like a human tennis-ball machine, launching shot after shot over the net, and then metaphorically standing on the other side, arms folded, patiently waiting for a return volley. Ideas, strategies, questions, opinions--if you want to do business with Frankel, you'd better pivot quickly. With her staff, she embodies a version of the Silicon Valley trope: React fast and break things. "She moves at a very fast pace," admits Jill Kravetz, her former COO, "and you'd better keep up."
You also had better be prepared to ­negotiate--hard. Frankel knows what many people think about her. Namely, that she's a woman who earned cheap fame as a reality-television star and is now cashing in. But she is far more than that, and no one knows that better, or believes it more fervently, than she does. Her blunt, tell-it-like-it-is demeanor exudes authenticity that in her endless dealmaking has proved to be both disarming in its alacrity and brutal in its effectiveness. Being under­estimated has gifted her with an invaluable tool in business: the element of surprise.
"I am so laser-focused on playing chess and checkers at the same time," she says. "I see the board, and I move with the way things change. I'd get knocked down, I'd be upset and depressed, and then I would pull myself back up and figure it out." It's ­really that simple, she says. "I like the challenge. I like the art of the deal."
YOU MAY THINK you know Bethenny Frankel. But there's the Frankel you know--and the Frankel you do not know. The Frankel you know was 37 and broke when she landed a role on the 2008 Bravo reality-television series The Real Housewives of New York City, a chronicle of the travails, gossip, and feuds of a group of rich, thin, glamorous women in Manhattan. The cast included several wealthy socialites, but Frankel became its breakout star with her confrontational bluntness. (Among her more memorable comments: "I'm calling you out on your shit because nobody besides me has the balls to do it," and "Fucking my way to the top? I can't even fuck my way to the middle!") She realized, quickly, that in reality TV it's the villains--The Real World's Puck, The Apprentice's Omarosa, that naked guy on Survivor--whom people remember. Fleeting fame held no interest for Frankel; she was interested only in the kind that could serve as a diving board into the business world.
Her savvy was in knowing exactly what the audience at home wanted to see: conflict, and plenty of it. She left a trail of sound bites far too juicy to be left on the cutting-room floor, forcing her way into the focus of every episode. She came off as real, as "authentic," an adjective almost everyone who knows her uses to describe her. Brassy genuineness, she thought, could be its own unique brand. Her brand.
Her castmates, she says, were "worrying about looking rich, getting facials, buying diamonds, buying bikinis, gossiping." She admits she did a fair amount of all of that too. But inside her head, the chess match was on, and she was already three moves ahead. Starting with the initial Housewives contract she didn't sign. ­Because Frankel had an idea. And she was going to use her newfound fame on reality television to take it all the way to the bank.
"I PAVED THE way for monetizing reality TV," Frankel says. "It shook the whole entertainment industry. It's called the Bethenny Clause, because everybody was caught in shock."
But to understand Bethenny the Clause, you must first understand Bethenny the person. She was born in Queens, New York, where her mother married two different horse trainers, and spent many of her formative years at the track, getting to know the women who worked there. Those women are tough, she says: "They're broads. So I've always been a broad."
She's always hustled, in the G-rated sense. In high school, she rented out hotel rooms, hired a DJ, and charged her peers for entry to the makeshift nightclub. "I was always an entrepreneur," she says. "I just didn't know what it was called." She graduated from NYU with a degree in psychology and communications, and then headed to L.A. with dreams of being an actress. For the next few years, she flitted through odd jobs--hostess at La Scala, nanny to Paris Hilton, personal assistant to Hollywood power couple Jerry and Linda Bruckheimer. And here is where the story of the Bethenny Frankel you don't know picks up.
She was in her mid-20s when she "fell into" event production, working at a firm where her assignments included a party on Alcatraz and the movie premiere of Con Air. She later launched her own events outfit called In Any Event, but an unlikely suitor--pashmina--turned her head.
She was in Neiman Marcus in Beverly Hills when she spied the newly trendy cape scarves for $500 each. "I did not know what it was, but I liked it," she says. "So I Googled pashmina." Her scrappy, entrepreneurial instincts kicked in. She found a manufacturer in India that would sell the scarves in bulk for $68 apiece, so she drained her meager bank account and "crossed my fingers." She sold them to her new celebrity connections--Salma Hayek, Susan Sarandon, Julia Roberts--and, buoyed by her initial success, installed Ikea shelves at her events office and bought even more pashmina, which also sold out.
"I was a girl selling shawls and selling well," Frankel says. And then, like any ambitious business owner, she decided to expand. "I thought, 'I should do ponchos and pajamas.' " Cheap pashmina knockoffs proliferated on New York City streets, and she wanted to "diversify" to keep her fledgling business going.
"Now it sounds like a stroke of genius--because, I mean, it was. But it was just gut instinct."
Turned out, no one wanted pajamas and ponchos. "It was the bad apple that spoiled a whole bunch," she says. "I've always built the plane while flying it ... but it's different now. I'm just more lean and decisive."
Amid a move to Chicago in 1999 and then a return to New York, she picked up cooking, taking a class on raw foods and enrolling at a healthy-cooking school. Once again, she heard the ping of opportunity.
"This was way ahead of its time," she recalls. "There was no 'natural food' chef. No 'plant-based.' There was nothing." In 2003, armed with only a $500 Ford Bronco and a lot of moxie, she started BethennyBakes, a healthy dessert company, baking all night and then shrink-wrapping the goods in her studio apartment and hustling them to shops around town. She baked healthy cookies for everyone from Reese Witherspoon to Mariska Hargitay and began to think she might still break into entertainment, but through a different door: the Food Network.
Except for one small problem: Bob Tuschman, then vice president of programming and production there, didn't believe she'd be good on television.
She kept baking anyway, renting restaurant kitchens from midnight to 8 a.m. "It was crazy," she says. "I mean, it's actually why I'm successful. It's not something you really could teach. It's in your body. I had it in my body, for sure."
Her TV break finally came when baking legend Martha Stewart selected her as a contestant for her 2005 NBC reality series, The Apprentice: Martha Stewart. Frankel finished as the runner-up--it turned out Stewart wasn't looking for a broad either. ("It felt like you didn't like me," Frankel said to Stewart during an episode of her short-lived talk show, Bethenny, in 2013. Stewart replied drolly, "You weren't so likeable then.") But the stint did what it needed to do--it got Frankel on television.
Then Housewives came calling--and the Bethenny Clause was born.
She was in her late 30s, with no husband, no children, and $8,000 to her name. "I was thinking, this is not going to get cute at 39 or 40 years old," she says. "Like, what am I going to be doing--working at a restaurant, busing tables?" So out came the chessboard, and in went Frankel to shake up reality television.
Today, reality-TV producers regularly insert clauses in contracts making sure they get a cut of any future earnings of their "stars." Frankel was having none of that.
"Now it sounds like a sheer stroke of genius--because, I mean, it was. But it was just gut instinct," Frankel says. Leveraging her runner-up finish with Stewart, she had signed a $100,000 endorsement deal with Pepperidge Farm, and began to wonder what other opportunity might lie down the road. Whatever it was, she didn't want Bravo to get any of it. She also had leverage: The show had already started filming, meaning the producers would have had to start over if they balked at letting her retain rights to anything she developed after leaving the series. "So I took it out," she says. "I wasn't going to do it."
The network, blithely underestimating her cunning, eventually shrugged and let her have her way. For that privilege, Frankel made only $7,250 for the entire first season. As her co-stars concentrated on cashing in via appearance fees and red carpets, onscreen Frankel chewed scenery, issued withering and memorable bons mots--and drank tequila. More specifically, what she called "a skinny girl's margarita."
It was the idea that would launch Frankel as a formidable businesswoman. Fans kept asking what was in it, how to make it, where to get one. And again those consumer branding instincts she'd been honing for years kicked in. "I decided to do something with it," she says. She shakes her head. "Sarah Jessica Parker made the cosmopolitan relevant. She could have had the 'SJP Cosmo.' It would have blown it out. But people didn't even think like that."
But she did. Frankel found an investor in liquor veteran David Kanbar, and launched the Skinnygirl Margarita just as the ready-to-drink market was beginning to explode. "She's got a touch and a smell and a sixth sense for what people want in movies, in music, in their Skinnygirl drink," says veteran Hollywood film producer Brad Krevoy. A knack for product-market fit, you might say. "She's got that thing."
Beam Global--the liquor company best known for Jim Beam bourbon--took notice and, in 2010, came courting, wanting the rights to Skinnygirl.
And then a strange thing happened. She turned down the initial offer.
She remembers walking down the street, thinking, No. This is my ace in the hole. I want as much of this as I can have. "I knew, I do this deal, it's going to put me on the map," she says. "I'm not a dumb housewife. This is street cred."
Beam wanted the Skinnygirl brand, complete. But Frankel smartly saw its ­potential in other markets--fashion, food, lifestyle products--in which Beam had no market share. Plus, Kanbar, who had split ownership with Frankel, wanted to cash out. Determined to retain all of the intellectual property rights, she risked the entire deal by insisting on keeping them. "You have to go back and forth with lawyers," she says, "and then you've just got to get on the phone: 'Listen, I don't want you putting bimbos in bikinis to market this alcohol, and you don't want me getting into firearms and other categories, but we can help each other. It only helps you if I build a bigger brand.' " You're not Unilever, she told them. You do one thing: liquor. Give me the rest. "They were like, 'We can't spend all this money and give you that,' " she recalls. "And I said, 'You don't need it.' "
Negotiations dragged on for seven long months; at several points, the deal stalled. Even after spending $750,000 on legal fees, Frankel felt queasy. In the end, Beam's belief in the long-term viability of a Skinnygirl alcoholic line won out over its concerns about giving Frankel the rights outside of liquor. A one-woman conglomerate was born.
"I do this deal, it's going to put me on the map. I'm not a dumb house-wife. This is street cred."
Using the money from the estimated $100 million Beam deal in 2011, Frankel's hamster wheel of ideas picked up speed. Over the next decade, she launched a stream of licensed Skinnygirl products, including popcorn, shapewear, and intimates (2014), coffee (2015), salad dressing (2016), jeans (2018), nutritional supplements (2019), and preserves (2020). Last year, she mushroomed the brand, launching pizza, cookware, bakeware, and eyewear, and the new cherry juice. And her flagship product continues to perform: Skinnygirl Margarita sold over 161,000 cases in 2020, according to Impact Databank. Skinnygirl was Drizly's fifth-top-selling ready-to-drink brand in 2021.
"She's a really important brand for us," says Rachel Ungaro, the vice president for apparel for QVC and HSN, where since 2018 Bethenny has hawked her clothing line and other sundry products. Ungaro says at the core it's Frankel's personal ­interest that moves merchandise: "She doesn't want to just sell things. She wants to sell the things she wants to sell."
Frankel, like many entrepreneurs--even those on the Inc. 5000--does it all with partners, which handle the manufacturing, quality control, supply chain, and marketing; she has no interest in any of that. She is strictly the big-picture person, the brains behind the brand­--and she collects a percentage of sales as a royalty. "I don't want to have infrastructure like that. I don't want offices and rent and office supplies and break rooms and birthday cupcakes. I like my little family team, and farm the rest out," she says. That team is tight: a business manager, a publicist, and two assistants. "I'm not interested in being a factory in any capacity," she says. "I don't want that responsibility. I don't want that headache and aggravation."
FRANKEL SITS IN the back of a luxury SUV ambling through midtown Manhattan under an ashy white sky. She is anxious to get back to her 11-year-old daughter, Bryn, who will be waiting for her back in the Connecticut house she bought last year, just the latest in a string of high-end buys and sells that she's made since hitting it big a decade ago.
What's next for Frankel? Her latest book, Business Is Personal: The Truth About What It Takes to Be Successful While Staying True to Yourself, publishes in May. She says she wants to get deeper in the podcasting space, and expects to have a major announcement with iHeartRadio soon. She's also fascinated by the world of airline points and is exploring a venture with a major partner to teach consumers how to best leverage their points. Maybe it'll happen, maybe it won't. When you run on your gut, things change constantly. But here's the interesting thing: With each successful launch, Frankel has gotten a little more conservative, a little more circumspect, in what she does and with whom she does it. Because no matter how much money she makes, inside she's still that broad in the studio apartment, shrink-wrapping healthy brownies and trying to hustle a buck.
"I like the stability," she says. "I mean, I used to gamble when I was poor. Who gave a shit? You were already in debt. You could gamble a thousand dollars. I would not gamble a thousand dollars now. I don't play fast and loose."
She also won't do work that she doesn't enjoy. When it's no longer fun, Frankel says, she'll know it's time to get out. But can the Bethenny brand survive without Bethenny?
Of course, she replies. After all, does Auntie Anne's pretzels need Auntie Anne? Nobody even knows who that is. "There's so much data to support that people know who Skinnygirl is but don't know who I am." Even for the products branded with her actual likeness, she says, it just won't matter in the long term.
If you don't believe it, Frankel says, just try taking a walk down the supermarket salad dressing aisle. "Paul Newman," she chuckles, "is selling without Paul Newman."
From the March/April 2022 issue of Inc. Magazine