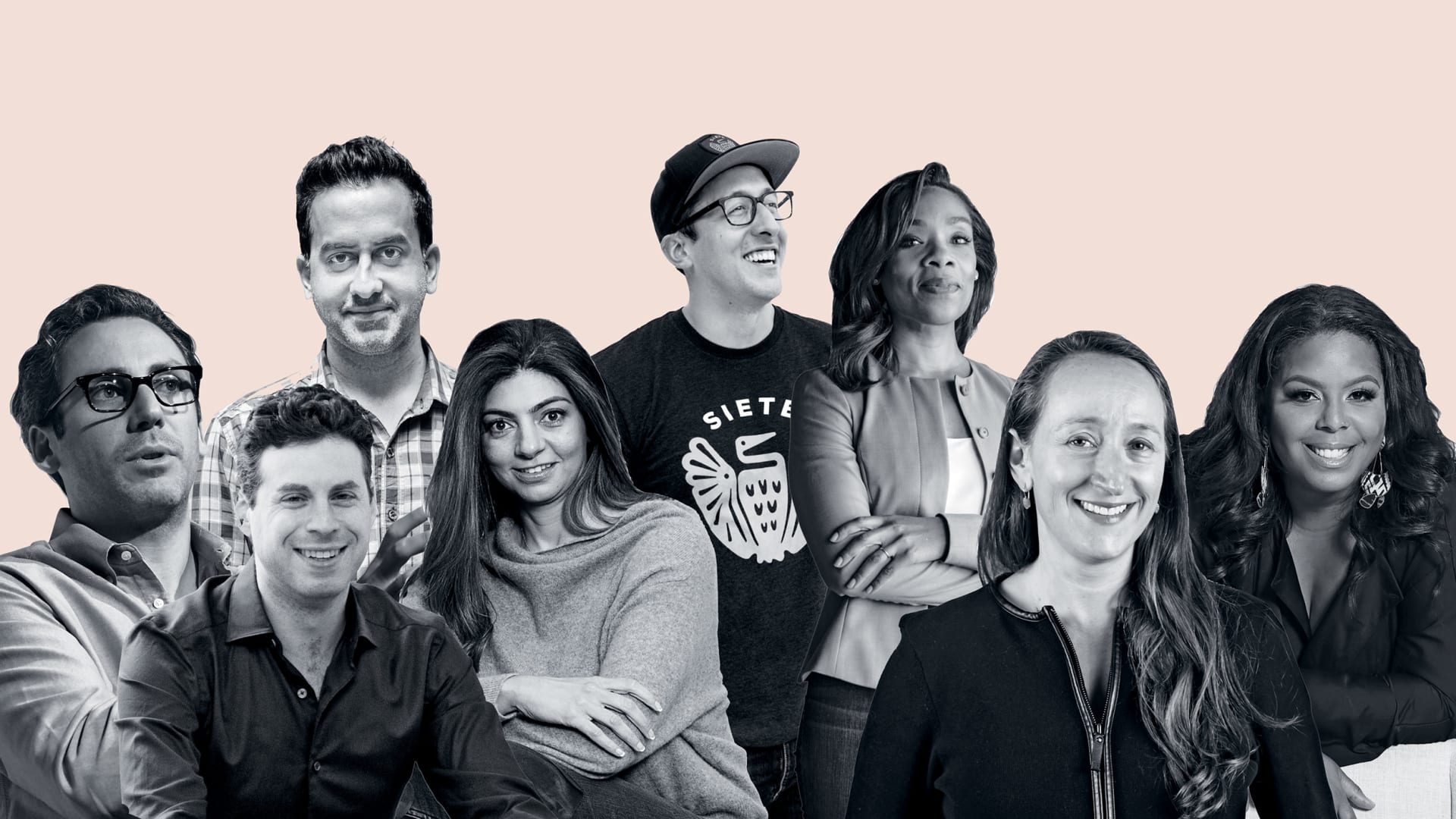 Your company's values are everything. They're the cornerstone of the most successful ventures. The very foundation of every business decision you make. Actually, not just the foundation. They are the mortar holding the bricks. The grout between the tiles. The caulk and paint, too. All that stuff.
So it's reasonable to start considering what your company stands for the moment you launch, right? Wrong. That's too late. Not only must you establish your values before day one, you must also refine them throughout the life of your venture. You actually needed to start yesterday. And, also, start now. And then restart tomorrow.
But building a values-based company is not as simple as declaring a few bromides and tacking them on the wall. To implement your values, you must assemble and guide a team that will follow them--better yet, embody them. That hotshot Brad from Wharton who isn't going to go the extra mile? Don't hire him. That strategic partnership with GloboDrone that will sideline the needs of your customer? Steer clear.
If it seems like all this values stuff takes a lot of effort--well, it does. So we asked scores of founders to share their hard-earned insights into how they built their values-based businesses, and how you can do the same. Because while your company values might be unique to you, no one says you have to manage them on your own.
Defining Your Values
Simon Sinek Business author
"Values should be written as verbs. They're things we do. Innovation is not a value. Honesty is not a value. You can't walk into someone's office and say, 'Be more innovative!' or 'Be more honest!' Instead, write, 'Always tell the truth,' or 'Look at the problem from a different angle.' Those are values, because values have to be actionable."
Sinek has written several best-selling business books, including Start With Why, Leaders Eat Last, and The Infinite Game.
Cami Téllez Founder and CEO
PARADE
"Our value 'We're box packers' literally came from several moments when I and the rest of the com­pany were in the office, on the floor, packing boxes to send out to our community. I realized everyone should be that close to our consumers, be that hands-on with our product, and be really willing to do the detailed work."
Since launching in 2020, Téllez's Brooklyn-based ­underwear brand has sold more than three million pairs.
Bruce Eckfeldt Founder and CEO
ECKFELDT & ASSOCIATES
"Companies often make the mistake of creating an idealized set of aspirational values that feel nice, rather than a list of descriptors that illustrate reality. I like to joke that your values should be 15 pounds overweight, have a receding hairline, and drink a little too much. If your values look perfect, then they are probably not right."
Prior to starting his business coaching firm, Eckfeldt founded a technology consulting business that made the Inc. 5000 five years in a row.
Amy Errett Founder and CEO
MADISON REED
"Before we even had our products finalized, we set our company values. This is about defining the soul of your company. It can't happen retrospectively--it is a core action that sets everything in motion."
Errett's San Francisco-based hair-coloring business is one of Inc.'s Best-Led ­Companies of 2021.
Danish Qureshi Co-founder and chief growth officer
LIFESTANCE HEALTH
"We undertook a month-long process where we engaged with team members across all sections of the company. It was important that our values resonated with all of our 6,000-plus team members, regardless of position or seniority, and that they each could find something in our values that they personally identified with. I would recommend going as broad and inclusive as you can when starting the process for identifying your company values, to ensure true representation and the largest impact. Agoniz­ing and focusing on every word and syllable, though difficult, pays off in ensuring your choices resonate as broadly as possible, and allows you to rally your team around company culture."
Lifestance, a Scottsdale, Arizona-based provider of virtual and in-person outpatient mental health care, went public in 2021.
Adam Grant Author and organizational psychologist
"Don't just list your values; rank them in order of impor­tance so they help you choose between competing priorities--honesty versus loyalty, freedom versus security."
In addition to his work as a professor at the Wharton School, Grant has written five best-selling books.
Ajay Pattani Founder and CEO
PERFECT SEARCH MEDIA
"We found that the best time to brainstorm core values was during our weekly company meetings. We'd split up into small groups, and each would list the qualities that they believed we embodied. Once we had each team's list, we noticed overlap and patterns--which was reassuring. Our team decided that five was a reasonable number that's easy to remember, while thorough enough to cover all the bases. Then we narrowed the full list, chose the most important values, and workshopped them into concise statements."
Pattani founded his Chicago- based digital marketing agency in 2010. It made the Inc. 5000 in 2017 and Inc.'s Best Workplaces list the following year.
Heidi Zak Co-founder and CEO
THIRDLOVE
"The best way to craft meaningful values is by using short, impactful sentences. When you just choose one or two words, the value seems vague--and it becomes difficult for someone to actually internalize it. 'Action' is a great value, sure, but it doesn't exactly inspire action or help guide anyone in the same way 'make it happen' does."
Founded in 2013, Zak's San Francisco women's lifestyle brand has donated more than $50 million worth of its products to women in need.
Communicating Your Values
Neil Blumenthal Co-founder and co-CEO
WARBY PARKER
"Core values are easy to write and hard to live up to. Many of us have had the experience of working at companies whose core values were purely theoretical--or, worse, existed in active opposition to the day-to-day workplace environment. It's a depressing situation. To breathe life into the collection of words we call values, we're constantly coming up with ways to enact them, and regularly surveying employees to find out where we're missing the mark."
New York City-based Warby Parker has distributed 10 million pairs of glasses to people in need through its Buy a Pair, Give a Pair program.
Robert Glazer Founder and board chairman
ACCELERATION PARTNERS
"Keeping someone whose views and actions clash with the culture sends a very bad message to the rest of the com­pany. Even if someone is a top performer, the best companies cut the cord when they realize there is a culture or values mismatch."
Acceleration Partners, a Boston-based affiliate and partnership marketing agency, made Inc.'s Best Workplaces in 2019 and is a four-time Inc. 5000 honoree.
Jenn Lim Co-founder and CEO
DELIVERING HAPPINESS
"Values act as a compass, helping each individual navigate both clear and murky work challenges. Knowing that your employees are making decisions based on the strategy and ethical standpoints of your business, you no longer have to feel like you're fighting every fire."
A 2020 Inc. 5000 honoree, Delivering Happiness provides businesses with culture coaching and consulting services.
Miguel Garza Co-founder and CEO
SIETE FAMILY FOODS
"Your company values should be a grounding force within your business. If the values are outlined correctly, and your organization is really committed to building something using those values--whether you are a team of 7, 70, or 700--then those values will remain true."
Garza's Austin-based company, which makes gluten-free Mexican foods, had $200 million in sales in 2021.
Cameron Johnson Founder and CEO
NICKSON
"Ask questions to determine if a candidate has an inherent alignment with your values. For example, if your work requires extreme attention to detail, you can ask a person, 'How often do you proofread emails or cards you send to family?' If you probe deeply enough into past behavior, you'll be able to test for value ­alignment."
Johnson's Dallas-based subscription furniture rental company closed a $12 million Series A round in 2021.
Living Your Values
Tiffany Guarnaccia Founder and CEO
KITE HILL PR
"Recently, external factors have impacted the evolution of our values. We introduced our value of 'balance' last year, ­after seeing the impact the Covid-19 pan­demic was having on our team, personally. We value our ­employees and their overall well-being and want to make sure our company values reflect that. By introducing balance, we were demonstrating to them that it's OK, and expected, to put yourself first when you need to."
Guarnaccia founded Kite Hill PR in 2013. The New York City-based agency has worked with clients including Snapchat, BuzzFeed, and Tripadvisor.
Rana el Kaliouby Deputy CEO
SMART EYE
"Years ago, Affectiva received a preliminary investment offer from a government agency that wanted to use our technology for surveillance. We desperately needed the money, but I couldn't ignore the fact that this application of our technology would be in direct violation of our core values. So we walked away from the investment. It was scary, but that decision left the door open for other relationships we forged in its wake with partners and investors who share our values."
In 2021, Affectiva, el Kaliouby's Boston-based business, was ­acquired by Sweden's Smart Eye, another A.I. company.
Josh Haas Co-founder and co-CEO
BUBBLE
"The clearest indicator that a change in values might be warranted is that they drop out of use: Employees are reluctant to reference them because they don't ring true to the team."
New York City-based no-code software development platform Bubble is a 2021 Inc. 5000 honoree and has raised more than $100 million in funding.
Dia Simms CEO
LOBOS 1707 TEQUILLA and MEZCAL
"We were intentional about looking for an office space in a neighborhood that reflected our company value of promoting ­diversity and representation. We chose New York City's Lower East Side, and opened up our ­office as a creative studio space for the local community and emerging artists to use as a way to drive that goal home."
Simms has raised funding for the New York City-based spirits maker from celebrity investors including ­LeBron James and Arnold Schwarzenegger.
Seth Godin Author and marketing guru
"If you aren't willing to live your values now, when will you start? A company that starts with its priorities straight--about how it will keep promises, treat its workers, support causes it believes in--will rarely have trouble becoming the kind of company that does this at scale. But if you put it in a folder marked 'later,' it may never happen."
Godin is a speaker, a serial entrepreneur, and the author of 20 best-selling books.
Leeatt Rothschild Founder and CEO
PACKED WITH PURPOSE
"Values should be reevaluated every time your company experi­ences growth or significant change. You may find that some of your core values are redundant, compete with one another, or have happily become a commonplace aspect of the company culture, so you don't need to reiterate their importance."
Rothschild's Chicago-based business, which sells corporate gifts sourced from purpose-driven organizations, is No. 149 on the 2021 Inc. 5000 list.
Eric Ryan Co-founder
WELLY
"Your values should act as the operating system to guide you through decision making. For example, we once had a minor product quality issue that was a borderline decision for a recall. Even though we didn't believe it would cause ­issues for our consumers, our values allowed the team to decide in minutes that we would recall the product and make sure it was 100 percent right. Values are what you do when nobody is watching."
Ryan has founded multiple successful companies other than Minneapolis-based Welly, including consumer products maker Method.
Fawn Weaver Founder and CEO
UNCLE NEAREST
"When you keep company values front and center in all planning and decision-making processes, the conflicts are very easy to identify when they arise. And the best way to address them is quite simple: These things or these partners do not align with our values, so they cannot be a part of what we are building. Period. There can be no ambiguity in this process. It is incredibly black-and-white."
Weaver's whiskey brand, based in Shelbyville, Tennessee, was a 2020 Inc. Best in Business honoree.
Company Values: By the Numbers
65%
of companies say one of their core values is "integrity," the most commonly cited value. (Source: MIT Sloan Management Review)
27%
of u.s. employees surveyed strongly agree that they believe in their company's values. (Source: Gallup)
52%
of global consumers prefer to buy from brands that stand for something that aligns with their personal values. (Source: Accenture)
94%
of CEOs feel a per­sonal responsibility to lay out their company's core purpose and role in society. (Source: Accenture)
23%
of U.S. employees ­surveyed ­strongly agree that their ­company's values guide the decisions they make at work. (Source: Gallup)
73%
of large companies list between three and seven corporate values. (Source: MIT Sloan Management Review)
18%
of large companies do not list any official corporate values. (Source: MIT Sloan Management Review)
From the May/June 2022 issue of Inc. Magazine