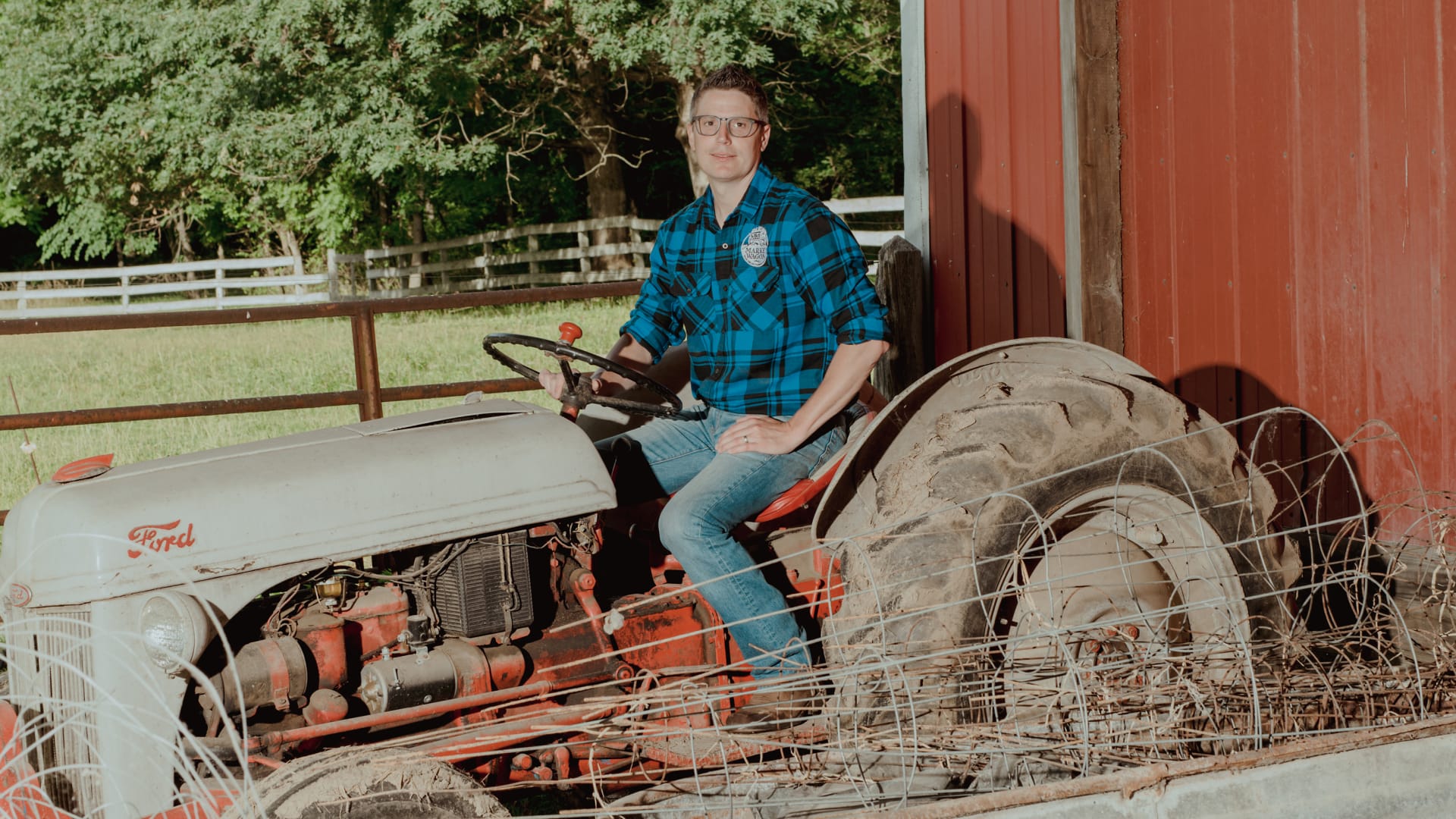 A fourth-generation Indiana farm kid, Nick Carter, 39, grew up expecting to join the family business. But by the time he was in high school in the late 1990s, he knew that was not a viable option. The farm crisis of the previous decade had ravaged the Midwest, and while the Carters dodged foreclosure, the collapse of hog prices drove the family out of farming as a commercial enterprise. Instead, Nick went to college. Twenty years later, in 2017, he co-founded Market Wagon in Indianapolis to help small farms survive by selling directly to local consumers online. Now the Carters' hogs have returned, and the family farm is back in business--without the reliance on a contract from Smithfield Foods. Somewhere along the way, Nick just may have fixed one critical breakdown in the food supply chain. --As told to Ali Donaldson
Small family farms are dying for a number of reasons. One of the biggest is that they're not at a scale that allows you to make money growing soybeans and corn. I remem­ber sitting in my high school guidance counselor's office, in a sleepy town in the middle of Indiana, and the message was: Get out of this hellhole. It's a terrible way of looking at the world.
We're an online farmers' market that delivers local food to our customers' front doors. Our selection is far and wide-- from dairy, eggs, meat, and seasonal produce to sauces, seasonings, and beeswax candles. More than 1,800 farmers and food producers have joined. In our smallest markets, we have 20 to 30 farmers; in our flagship markets, it's about 200.
The big problem we wanted to solve was market access. Who are the people who want to buy my farm's grass-fed beef and pasture-raised pork? How do we get it to those people? That is what makes a local food supply chain difficult to scale up. We created both the e-commerce technology and the logistics systems.
When I started this company, I remem­ber saying, "I can't tell you why or how, but our food supply chain will break down. When that happens, we'll be ready."
The pandemic created an immense need, not only on the demand side, but also on the supply side. Before the pandemic, Americans ate out 40 percent of the time. Then in March 2020, when restaurants shut down, retail grocery needed to almost double overnight to meet demand. It couldn't be done. It was empty grocery store shelves. Our supply chain had a huge supply sitting there and, because it's local, it was able to move right over to Market Wagon.
We grew like ripples on a pond. We went from six cities to 32 in 18 months. Within a year, we went from six people sitting around a little card table in my ­office to 57 and six layers of organizational hierarchy. Culturally, that's hard.
Our fulfillment centers use a pallet racking system. About two weeks into lockdown, we'd bought every available piece of racking east of the Mississippi. We had all the ice packs we needed, but we couldn't get them frozen, so we were calling restaurants asking, "Is your freezer still plugged in?" We had a lot of restaurants join Market Wagon because they couldn't do dine-in. One thing they could do was use their kitchens to make meals--lasagna, mac and cheese, soups--freeze them, list them on Market Wagon, and make them part of somebody's grocery budget.
We knew we had a major opportunity, but we needed capital to scale up. A firm in Chicago called Hyde Park Venture Partners bet on us and invested in November 2020. To date, we've raised $11 million.
Knowing where your food comes from and having a relationship with the person who produced it is good for you. We want to build loyalty and a relationship between our customers and the producers. If you've bought from one farm before, we're going to show you that farmer's products higher in your search results. If you have questions--how are the hens fed to lay these eggs?--­­there's instant chat. It's not rows of cubicles with people talking into headsets. It's the farmer.
We don't charge producers any listing fee, and we take around 25 percent of the revenue. They set their own prices and get 75 cents of every dollar. If you were selling wholesale to a grocery store or to a restaurant, you're at about 50¢ on the dollar. Our producers also play a part in fulfillment--that's how we're able to do this so efficiently. We take 15 to 20 minutes from each farmer. They are given specific instructions as to where the items they've sold need to be placed inside our fulfillment center, so the ­orders are assembled for us, saving us a lot of time. In a two-hour window, we have tens of thousands of items assem­bled into orders.
We're not going back to where we were before the pandemic. People like the convenience of e-commerce. That habit is sticking.
EXPLORE MORE Inc. 5000 COMPANIES
From the September 2022 issue of Inc. Magazine