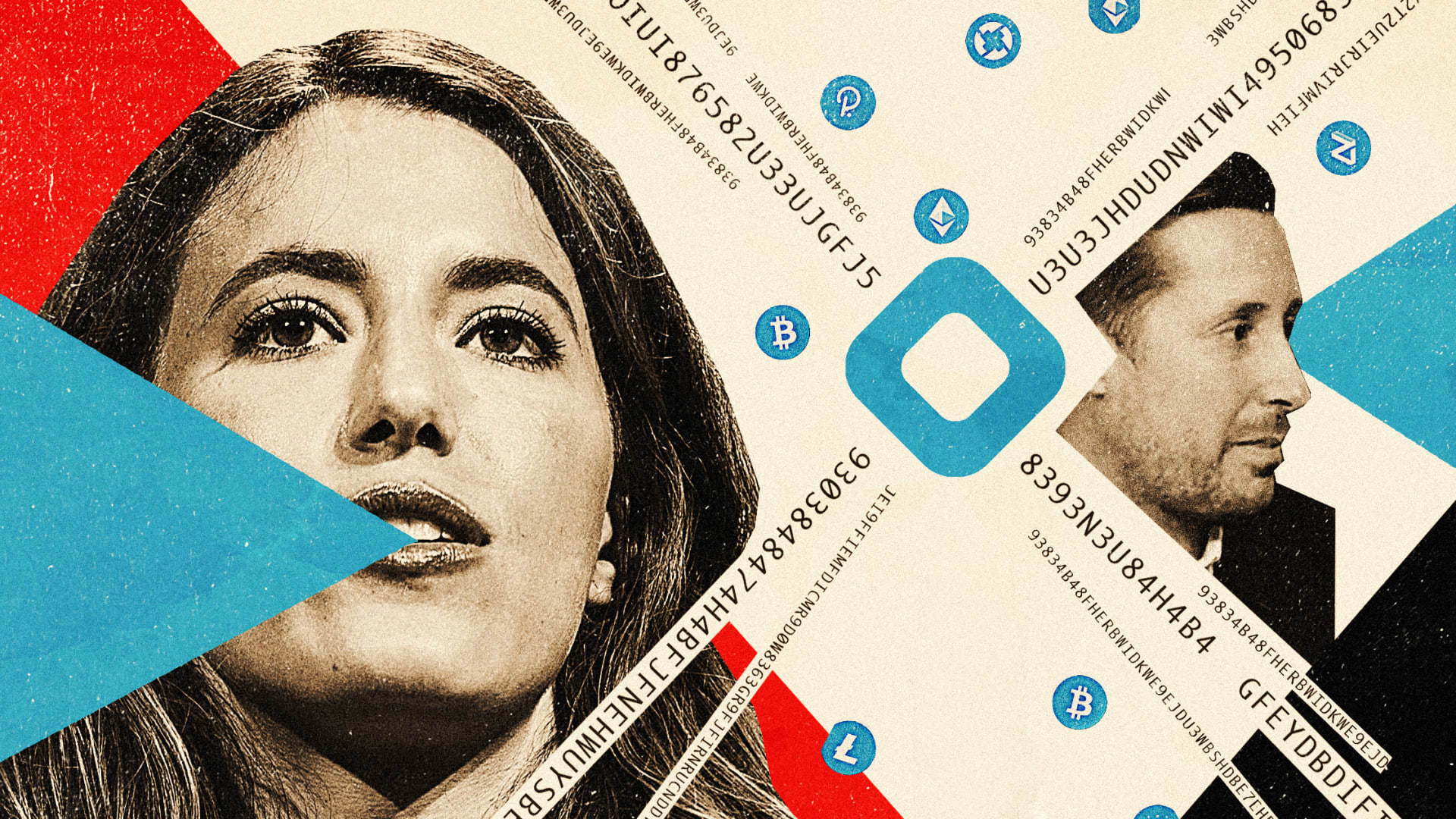 Anticipation was bubbling for Collision, Toronto's annual tech-veneration fest, and it seemed the perfect stage for young fintech star Flori Marquez, co-founder of BlockFi, who was expected to be one of this year's headliners. It was the first in-person Collision in three years, during which time great leaps had been made in areas such as Web3, artificial intelligence, machine learning, and cryptocurrency. Marquez filled the bill perfectly. The daughter of Argentinian immigrants, she had eschewed a traditional path to banking to dive into crypto finance, and the company she helped create in 2017 had become one of the cryptoverse's comets. But days before the conference kickoff on June 20, her name suddenly disappeared from the program. That included her spot in a session called "What to Feed a Growing Unicorn."
Perhaps because in the weeks preceding Collision, BlockFi ceased to be a unicorn -- it had been valued as high as $3.8 billion in 2021 -- sending Marquez off the stage and into the biggest drama of her business life. In January of this year, she and her co-founder, Zac Prince, were running the fastest-growing company on the Inc. 5000. In February, they signed a consent decree with the Securities and Exchange Commission that, while it hobbled one of their most popular products, paved the way, they thought, for the regulatory oversight they'd long sought. They were going legit.
But by June, they would find themselves swimming against a tide that was dragging the entire crypto industry under. "What I love most about my job is that I get a new job [all the time]," she mused in an interview with Inc. in late July. "It used to be every six months. Now it's every month." That was just after crypto platform FTX, and its founder, Sam Bankman-Fried, threw BlockFi the life preserver that will let it return to a growth path: a $400 million line of credit, in return for an option to buy the firm.
BlockFi is a crypto trading and financial services platform designed to be the bridge from traditional finance to the crypto economy. From the start, the company's strategy has been to demystify crypto and transform the digital currency -- made possible by the explanation-resistant technology of blockchain -- into something more mainstream. BlockFi wasn't trying to capture crypto moonbeams in a jar and sell them as energy. Instead, the company wanted to offer products that were familiar to most consumers, such as credit cards and interest-bearing accounts, using crypto as the asset base.
That strategy was clearly working. BlockFi's revenue neared $500 million in 2021, primarily from lending and trading, a 25X increase from the prior year, which was itself a 20X rocket. Like others in this arena, including Binance, Coinbase, and Celsius Network, BlockFi's growth was hitched to the price of Bitcoin and other crypto coins. Those prices shot ahead last year as crypto gained more acceptance among consumers, Wall Street institutions, hedge funds, and even stodgy pension funds. Meanwhile, the day traders continued to party, embracing crypto's HODL (hold on for dear life) ethos.
Crypto winters have occurred regularly and been followed by ever bigger booms. The industry expected the same thing to happen this year. But the crypto winter of 2022 has proved far, far worse than anyone's worst dreams. Crypto's market cap dropped from a peak of $2.9 trillion in 2021 to just below $1 trillion in June 2022. Several crypto firms, including Three Arrows Capital, Voyager Digital, and Celsius Network, would go bankrupt as their unsustainable business models -- and that's using the term generously -- imploded.
Most Inc. 5000 startups hit speed bumps -- cash gets short, a product flops, debt rises along with sleeplessness. Few ever confront the sudden reversal that BlockFi did. In crypto, the innovators aren't necessarily people with backgrounds in traditional finance. Indeed, it's not unusual for disrupters to come from outside the sector they disrupt. But when new entrants behave irrationally, the economics can follow, which is part of what happened in the crypto winter. "Obviously, everyone's plans changed very drastically, given the economic conditions," Marquez notes. With some understatement.
For a time, even as Bitcoin turned south in early 2022, BlockFi seemed to motor along. The company had planned on a slowdown, aware that the SEC might target its interest-bearing BlockFi Interest Account (BIA) in the U.S. BlockFi also planned another capital raise to expand its balance sheet and lending. "We actually, at the back half of last year, were focused on profitability and our financial metrics, even ahead of the economic downturn," says Marquez, who is BlockFi's senior vice president of operations. For the month of May, in fact, the company turned a profit.
On May 5, though, crypto tokens called Luna and TerraUST, available on the Anchor lending platform, began to tumble. UST was billed as a stablecoin, whose value could be pegged to the dollar. But it was also an algorithmic coin -- backed by code instead of hard assets. When UST broke the buck, edging below $1, collateral damage ensued. Luna would, within days, fall to less than 10¢ from about $116 on April 5. Bitcoin continued to swoon, from its peak near $70,000 in late 2021 to about $40,000 in early May to less than $20,000 on June 18.
Despite the turmoil, Marquez and Prince thought they'd built a cyber-winter-proof organization. BlockFi is a centralized finance (CeFi) company, structured more like a bank, with an audit and risk committee that reports to the board. The committee was peopled with Wall Street types who had experienced the financial crisis of 2008. "We didn't offer Luna to our U.S. clients," says Marquez. "We didn't have direct exposure to that market event." That old-school structure is a point of derision and differentiation for proponents of decentralized finance (DeFi). They see no need for intermediaries in crypto, since every transaction is recorded via blockchain, whose air-tight encryption renders trust irrelevant.
So is there even a need for companies such as BlockFi? "This is the interesting question," says Karen McGrath, assistant professor of finance at the Freeman College of Management, Bucknell University. "You are creating a traditional finance wrapper for crypto when the whole appeal of crypto is essentially decentralized finance. I do find that super ironic." But investors who want to ease their way into crypto are willing to trust CeFi firms with their digital wallets. "So I absolutely don't see them going away," she says.
The hope within the cryptoverse was that the Anchor/ Terra/Luna implosion was a one-off. The reality, though, is that many companies are cross-collateralized, cross-invested, and basically crisscrossed at every level: investors, debtors, and creditors. They would all share the pain.
This became evident on June 12, when one of BlockFi's competitors, Celsius Network, froze withdrawals, citing "difficult" market conditions. The Singapore-based hedge fund Three Arrows Capital (3AC), which had borrowed billions from other crypto firms, including Celsius and BlockFi, held a huge position in Luna/UST and was soon insolvent. 3AC filed for liquidation a month later, its founders disappearing.
Although BlockFi and Celsius had fundamentally different risk profiles, BlockFi customers started to head for the exits. "It's more difficult for a retail investor to know the difference between the two firms," notes Marquez. "When they shut down their platform, it created an increase in withdrawals from our platform, which I think is natural. You see these types of events happen in banking as well." This was becoming an old-fashioned bank panic in a new setting.
The Celsius suspension also happened to come just before BlockFi announced a layoff of 20 percent of its 850 employees -- which Marquez says was long planned to help the company reach sustained profitability. "It was very unfortunate timing to have that happen on the same day as Celsius," says Marquez. "But you don't just wake up and do layoffs." Likewise, BlockFi had a $1 billion exposure to 3AC, as did Celsius. BlockFi did hold collateral worth $1.3 billion (at least initially), and when 3AC missed a margin call, BlockFi began to unwind the collateral; Prince tweeted to tout the quick response.
The squeeze was on, though, and BlockFi's funding efforts would be met with more resistance, primarily because new lenders demanded to be put at the head of the line should the market continue to decline. BlockFi wanted to protect customers -- and to send a market signal. After beginning the year in discussions with JPMorgan about going public, Prince and Marquez would instead grab an offer that met these criteria: a $250 million credit facility supplied by FTX and Bankman-Fried, a Bahamas-based crypto billionaire who feared further industry damage if a player such as BlockFi folded. BlockFi's customers would be protected under the agreement -- any FTX claims were subordinate.
Yet a financial company that publicly announces its desire for more capital during an industry crisis can also set off alarm bells. Customers get nervous and flee, trying to be the first ones out of the door. In his Twitter feed, Prince tried to forestall a run by talking up the balance sheet strength that the FTX deal offered. And on a crypto fanboy podcast called (irony alert) On the Brink, he made the case that BlockFi was solid, even if other companies failed. But, alluding to the financial meltdown that wiped out firms such as Bear Stearns and Lehman Brothers, he allowed: "There are some parallels to 2008-9. This is a crypto version of that, and I don't think it's over."
That certainly proved to be the case. Shortly after his podcast, CNBC ran a story that cited a leaked investor call in which one participant claimed BlockFi would be sold for $25 million and its investors wiped out. Although the claim wasn't true, the pressure on BlockFi got worse. "As founders, our job is to continuously optimize for every single path, right?" Marquez says. "You're always looking for other options." The outcome was an expanded deal with FTX: BlockFi's credit line would rise to $400 million, and FTX would get an option to buy the company for up to $260 million, depending on various performance measures. But BlockFi's customers were, again, made whole, shielded by BlockFi's conservative approach to a speculative asset. "As a matter of principle, we believe in protecting client funds," Prince tweeted; doing so was both good business and promoted crypto financial services generally.
There's a Wall Street maxim that the market can be irrational longer than you have money. BlockFi was well capitalized, having raised $1 billion from crypto's elite investors, including Coinbase Ventures, SoFi, Bain Capital Ventures, and Winklevoss Capital. It was operationally sound, not overleveraged, and kept 10 percent of deposits available at all times -- as conservative as any commercial bank. "We continued to process all withdrawals," Marquez notes, "and to this day still do."
And all of that, apparently, didn't matter, once Celsius and 3AC sent the market into a spiral.
Marquez and Prince arrived at blockchain banking from different directions. After coming to the U.S., Marquez's parents settled in Pittsburgh, where her father got an MBA from Pitt and her mother became a teaching assistant. The couple's plans to return to Argentina and start careers there were undermined by the country's then (and now) unstable economy. So they moved to Miami, where Flori was born.
Marquez, 31, says she absorbed the typical pressure put on a child of immigrants to outperform the other kids at school. At Cornell, she studied pre-law, but, after talking to lawyers about their careers, she switched to finance, which offered a quicker path to paying off her student loans. Failing to get an offer from the bank where she interned her senior year, she took a job as an investor relations manager at a hedge fund.
She then jumped to Bond Street, a fintech startup that made loans to small businesses, and found herself on the phone with hair salon and coffee shop owners, figuring out how to underwrite their loans or, if they were in trouble, work out repayment schedules. When Goldman Sachs acqui-hired the Bond Street team in 2017, Marquez could have easily joined the blue chip firm. Or vanished within it. But someone had to manage Bond Street's $125 million portfolio. She put up her hand. She was now her own boss, and a business owner.
A sunsetting business, though, since the portfolio would soon wind down. She decided to spend her nights managing the portfolio and days combing her network, looking for ideas and people to start a new business. One of those contacts was Prince, who had advertised for a launch partner on AngelList, a website for startups. They'd known each other through their fintech connections. He had an idea. And a problem.
The problem occurred when he applied for a loan to buy an investment property in 2017. Prince seemed like a good risk. He was already well established in a fintech career as a senior vice president of Zibby (now Katapult), a lease-to-own lender. He had a thing for numbers, having financed his education, first at the University of Oklahoma and then at Texas State University, with winnings as an online poker player. Prince grew up in San Antonio, where he was a nationally ranked tennis player on the junior circuit before his interests turned to finance. But after graduating in 2008, finance jobs were in short supply, so he joined a tech startup that was developing programmatic advertising and then made his way to online lending at Orchard Platform, a broker dealer.
Prince, who is 36, began investing in crypto in 2014 and thought that the instrument -- like personal computers in the early '80s -- was about to make the leap from hobbyists/nerds to the general public. But when he included Bitcoin and Ethereum among his assets, his lender balked, seeing them as latter-day Confederate scrip without actual value. That was his light bulb moment for starting BlockFi, Prince explained in a corporate video. Every asset class needs debt and credit products for investors; crypto would too. Marquez had an offer from Goldman in her pocket the morning she decided to talk to Prince. "I was pretty sure I was going to go there," she said on the video, until deciding, "Screw it, let's go sit down."
His pitch was that a market existed for a company that could span the gap between traditional finance and crypto. She knew, on the basis of her own family's experience, that billions of people around the world were locked out of banking. Blockchain-based finance, which sidesteps governments and bank intermediaries, could be an entry point for them. They could, for example, buy asset-backed stablecoins with their local currency, which would offer a hedge against hyperinflation and at the same time become collateral for a loan.
The two weren't alone in their thinking. A number of crypto lending shops began cropping up, including Lendingblock and CoinLoan. But they soon assembled a 12-person team and $1.5 million in seed funding. When they made their first crypto-backed loan in January 2018, Bitcoin was on one of its periodic run-ups, having reached $17,000. That summer, the company attracted $52.5 million in fresh capital, the bulk of it for lending. By the end of the year, Bitcoin had dropped to $3,000. Prince, BlockFi's CEO, described the slump as "brutal," but there were no defaults. BlockFi had ridden out its first crypto winter. The forecast looked positively sunny.
Getting into the lending business isn't like opening a bakery. It's subject to both federal and state banking regulations. And that's just in the U.S. Yet at both the federal and state levels, there were few regulations and regulators for crypto. That posed players with a choice that many new-technology firms face: Launch and ask for regulatory permission later or try to bring the regulators along with you.
BlockFi, unlike most other crypto firms, generally hews to the latter path, which made sense. After all, the company wanted consumers to think of it as they would any other bank or finance firm. Marquez, the regulations wonk, worked at getting lending licenses state by state, beginning with California, while cajoling legislators to start thinking about how to bring crypto into the regulatory fold.
But, having devised a loan product using outside capital, she and Prince also wanted to create a savings product that would build an ongoing pool of capital for lending, as any bank would. That product, the BIA, launched in 2019. There was nothing complex about the accounts: Retail customers -- generally ones who are tech-savvier than typical investors -- would park their crypto at BlockFi and earn interest rates that were vastly superior to the rates banks were offering, albeit without FDIC insurance.
BlockFi wasn't trying to capture crypto moonbeams in a jar and sell them as energy. It wanted to offer products familiar to consumers.
And -- in this case -- without regulatory approval, the bet being that U.S. regulators would soon come around. The issue was moot for half of BlockFi's BIA customers, who were foreigners. Indeed, BIAs were especially attractive in countries where liquidity is an issue and borrowing and lending in U.S. dollars is enormously expensive. BlockFi could pay its lofty rates because it loaned the crypto to institutions at even higher rates. The risk was higher too, because of the volatility of crypto versus other asset classes. Prince talks pointedly about avoiding "asset-liability mismatch" (taking in crypto and lending dollars) as well as duration risk (borrowing short and lending long), both issues with institutional clients: investment banks, hedge funds, and pension funds needing crypto for proprietary trading or their own customers. BlockFi says most of its institutional lending is for less than a year and open term, meaning it can call in loans as needed to pay withdrawals.
Since its clients already had digital wallets to hold their crypto, a trading platform was the logical next step; BlockFi's $18.3 million Series A round in July 2019 funded its launch. Now customers could trade Bitcoin and Ether in addition to borrowing and lending. By the time BlockFi announced its B round in February 2020, the company had $650 million in assets under management, a 160 percent increase since closing the A round. And that was just the beginning. By year's end, revenue had jumped some 20,000 percent, and the company had $5 billion in assets under management. It introduced a crypto rewards credit card with Visa. And all this was happening on the bubble that was Bitcoin, which inflated from $7,000 in 2020 to some $68,000 in November 2021.
Even bad news seemed like good news for BlockFi, at least initially. In February, it agreed to pay a $50 million fine to the SEC and another $50 million to a number of states for selling what the agency called an "unregistered security." That happened to be BlockFi's most popular product, the BIA. The SEC's ruling was highly technical, but nevertheless deemed the BIA (for U.S. customers) to be an investment contract and BlockFi itself to be an unregistered investment company. The decision was not unanimous, with commissioner Hester M. Peirce writing in dissent, "Is the approach we are taking with crypto lending the best way to protect crypto lending customers? I do not think it is." SEC boss Gary Gensler, though, has made it clear that he wants his agency to be crypto's regulator.
Still, Prince and Marquez, and others in the industry, considered the consent decree a big step forward -- a de facto seal of federal approval. Paying $100 million was the price to join the club that JPMorgan Chase, Merrill Lynch, and BofA belonged to. "Today's milestone is another example of our effort to secure regulatory clarity," Prince tweeted. He also announced a new product, BlockFi Personalized Yield, for high-net-worth individuals. Once the company filed the requisite S-1 statement, it could ­resume offering interest-bearing accounts to all comers.
That 100 mil sure would have come in handy in June, as BlockFi's balance sheet got squeezed. The company wasn't yet big enough to absorb a significant hit. Despite its risk management, BlockFi lost $80 million on its 3AC collateral. With withdrawals rising and trading volumes declining as the price of crypto crashed, the company was increasingly in a bind. Marquez and Prince were now in crisis mode -- which led them into the arms of Bankman-Fried and FTX. "I think I've learned more than what many people learn in decades just being at the helm of a company through a financial crisis," Marquez says from the tranquil remove of a deliverance from near insolvency.
For his part, in explaining his investments in struggling crypto firms, Bankman-Fried said at a Bloomberg crypto conference that as the industry underwent a much-needed sorting out, he was willing to incinerate money on some firms to keep them afloat on the premise that they might be worth saving. He took a deeper dive into their books, and then invested more in the ones where assets and liabilities were roughly equal, with the margin of error no more than $20 million, give or take.
He puts BlockFi in that category. His investment is no guarantee BlockFi will endure as an independent entity: FTX can exercise the option in October 2023. But Bankman-Fried didn't take a seat on BlockFi's board. And the agreement has an escape hatch: At any time before that date, Marquez and Prince can make the option go away by paying FTX two or three times the agreed-upon sales price, depending on how well the company performs. "It's not outside the realm of possibility that we could be in a position to buy back this option," Prince said on an Animal Spirits podcast, "and keep going as an independent company and be publicly traded."
And so, essentially, they are restarting their startup, with 85 to 90 percent of their equity washed away, but with more than 650,000 accounts and $3.9 billion of assets under management, as of August 1. Marquez says the company will focus on getting its BlockFi Yield account through the regulatory process. They are also planning to create more on-ramps for non-U.S. customers. And with a number of competitors extinct, it's a lender's market.
Yet for BlockFi to be a mainstream player -- the next JPMorgan Chase or Bank of America -- it has to serve everyone, not just the tech-savvy 1 percent. It's fair to ask whether a product like BlockFi's BIA could ever be as widely accepted as CDs were in the 1980s. And though BlockFi might embrace regulation, many players in this industry will be pushing the envelope, which could hurt prospects for mainstream credibility.
Which leaves Marquez and Prince to prove that this chaotic, not-quite-currency called crypto is really the future of money -- and that companies like BlockFi can be the banks of the future. They probably have about a year to make their case.
EXPLORE MORE Inc. 5000 COMPANIES
From the September 2022 issue of Inc. Magazine