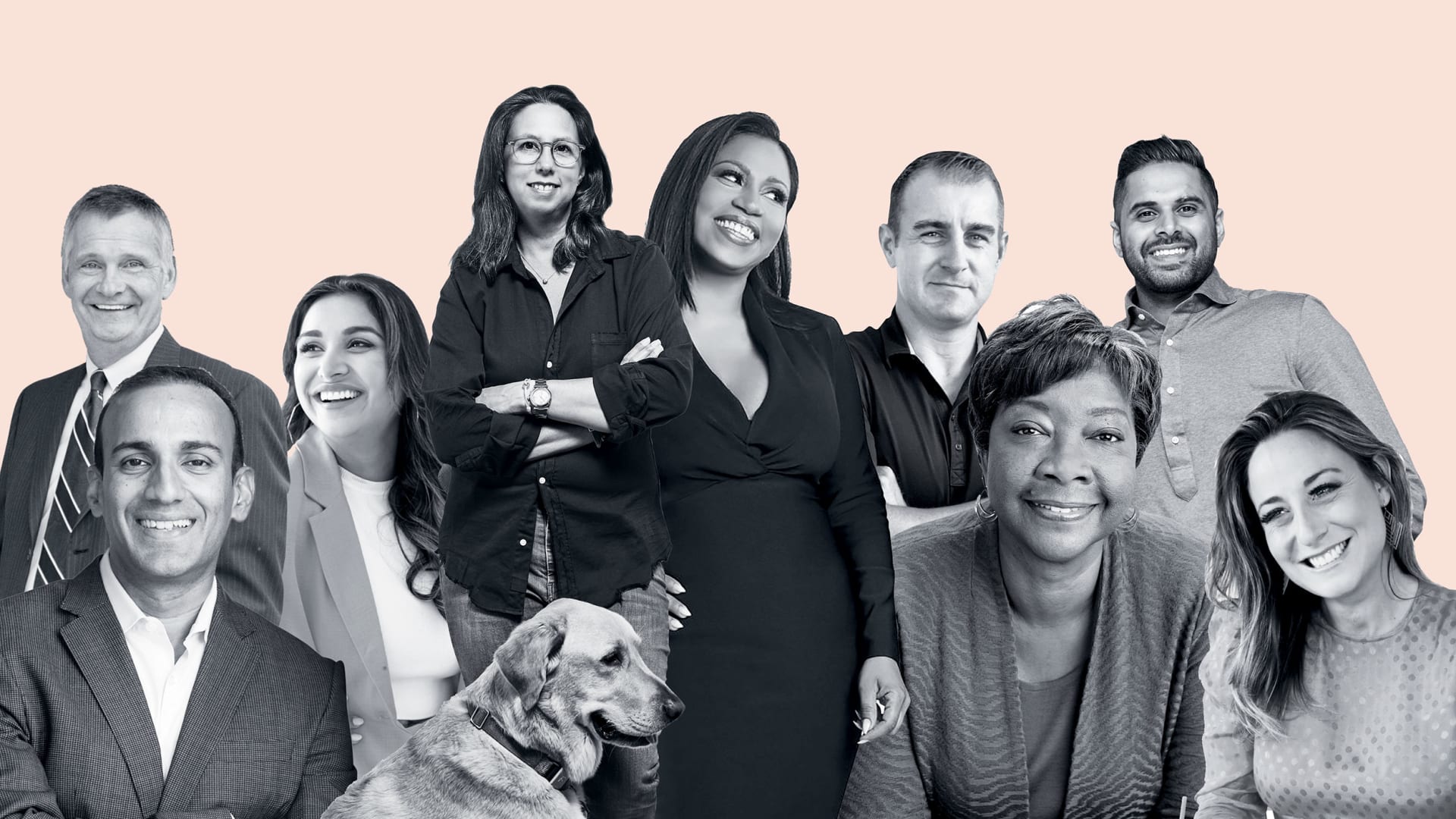 You beat the odds. Obliterated expectations. Even made this year's Inc. 5000. Now your business is officially a success. Congratulations! But while you've certainly earned a glass of champagne and a victory lap (though probably not in that order), we know how entrepreneurs operate. The same drive that spurred you to your latest milestone won't let you rest until you've reached the next one. And the one after that. There are always more worlds (and markets) to conquer.
That's why we asked dozens of past and present Inc. 5000 honorees for advice on where you go from here. We sought their guidance on how, once you've achieved a goal -- recording eye-popping revenue growth, landing a coveted customer, locking down a deep-pocketed investor -- to parlay it into even bigger and better things. Everything from some clever self-promotion to a gimlet-eyed reassessment to a whole new strategic plan.
Rest assured that your success will bring a whole new set of challenges, many of which you'll never see coming. There's advice on that here, as well. First, though, try to take a moment to be proud of all you've accomplished. And pass the champagne.
Raising Your Bar
Carrie Charles Owner and CEO
BROADSTAFF
"Instead of setting our revenue goal for 2022 as a leadership team, as we traditionally have, we set it together with all of our team members. Our team chose $33.3 million. This was a massive stretch, but each person was engaged with this long-shot goal and ready to make it a reality. Soon, our team started a game of texting one ­another when we saw the number 33. Seeing 33 in the wild kept the goal alive. We even created fun, incentivizing games each month to keep pushing us closer to 33.3. As of today, we are on track to hit it!"
Tampa-based telecom and tech staffing firm Broadstaff made the Inc. 5000 list in 2020 and 2021.
Vishal Sunak Co-founder and CEO
LINKSQUARES
"With a big company milestone like beating our annual revenue goal or raising a new round of capital, we typically throw a party to gather the team and celebrate. Everyone feels the energy that comes from a huge win together, and I find that to be the most powerful motivation. A big milestone like a capital raise also can trigger us to reexamine our operating plan as an executive team and look for opportunities to accelerate hiring, innovation, and revenue."
In 2022, Sunak's Boston-based software company raised a $100 million funding round and earned a spot on the Inc. 5000 for the second straight year.
Donie Yamamoto Founder and CEO
VITAL PET LIFE
"To set new business goals, we had to redefine our brand strengths so as not to be everything to everyone. We took steps to go deep rather than wide, such as focusing on our strongest products and adding an industry expert to directly engage with our customers."
In 2021, just four years after its founding, Yamamoto's Los Angeles-based pet care startup made the Inc. 5000.
Scott Cook Co-founder
INTUIT
"When an upside surprise happens, that's the market trying to speak to you, telling you something you don't yet know, so you need to listen. You need to savor that surprise and really try to understand it, because that could be the seeds of a great new business."
Cook has served as both CEO and chairman of the now-public financial software firm, which made the Inc. 5000 in 1990.
Leah Caplanis Founder and CEO
SOCIAL SPARKLING WINE
"What's most important is to take the time to celebrate your successes, and that means slowing down and spending some time with the team doing something fun, whether that's a barbecue or pizza party or going bowling or horseback riding. This gives everyone a break to relax and socialize with one another in a personal way and refreshes people to go back to the job renewed."
Caplanis founded her Chicago-based organic wine company in 2013. It was an Inc. 5000 honoree in 2019.
Buddy Hobart Founder and president
SOLUTIONS 21
"There is a strategy we have employed many times after a significant success that has allowed for both learning and celebration. We take the time to 'autopsy the victory.' Looking at why we won teaches us what to do and how to replicate that best practice. This process not only cements a results-oriented culture that recognizes the team's achievements, it also develops a culture of continuous improvement, innovation, collaboration, and accountability."
Solutions 21, a leadership development firm headquartered in Pittsburgh, was a 2020 Inc. 5000 honoree.
Shanda Sumpter Founder and queen visionary
HEARTCORE BUSINESS
"I started to hire people much smarter than I am. I hired an expensive headhunter and asked for the caliber of person I wanted. My focus became about building leader­ship internally. This motivated the team and forced me to step up to my own next level."
Sumpter's Solana Beach, California-based leadership coaching business made the Inc. 5000 list in 2018 and 2019.
Brandon Downey Co-founder, president, and CEO
TRILOGY INNOVATIONS
"Complacency will kill the organization quickly. So growth sustainment is one of our strategic priorities -- not just in terms of finding more opportunities, but also maintaining the opportunities that we have, as well as the workforce that we have. So we always go out of our way to make sure everyone is taken care of and feels comfortable. We want to give them a reason to stay. We don't want hostages here."
Based in Bridgeport, West Virginia, Downey's systems and software engineering company makes its debut on the Inc. 5000 list this year.
Spencer Rascoff Co-founder
ZILLOW
"Growth can be the one thing that challenges and drives entrepreneurs the most. So whether you're considering tapping into a new vertical or expanding an existing one, it's important to assess the environment and reflect on your current strategy. The most important aspect of vertical expansion is understanding the reasons behind it."
Zillow, the Seattle-based online real estate marketplace, made the Inc. 5000 list in 2011 and went public the same year.
Sharing Your Story
Carmen Tapio Founder and CEO
NORTH END TELESERVICES (NEt)
"When opportunity presents itself, you don't get what you don't ask for. While accepting the Business Excellence award from our chamber of commerce, I had access to at least a hundred CEOs of the top businesses in our community. So I used that opportunity to tell them that we had prepared proposals for every single one of them. From the podium, I called them out and handed them a proposal, and we were able to close several."
This year marks the third straight appearance on the Inc. 5000 list by Tapio's Omaha-based business-­process outsourcing provider.
Karthik Reddy Founder and CEO
ARCHER REVIEW
"Especially in bootstrapped companies with limited access to funds, I believe that any significant funds spent on marketing are taken away from further innovating the product or from the customer fulfillment budget. In certain B2C businesses, having great products and customer fulfillment certainly trumps marketing. Focusing on those led to our exceptionally high net promoter score, so our marketing costs are less than 2 percent of revenue. Our mantra has always been 'Take care of the customer well and with honesty, make a great product, and the growth will follow.' "
Archer Review is a medical edtech company based in Dallas. It makes its first appearance on the Inc. 5000 list this year.
David Glickman Founder and CEO
MINT MOBILE
"Hypergrowth is possible only by having the flexibility to swiftly respond to opportunities. Instead of seeking reasons to reject an opportunity outright, assume it will work and focus on how to effectively implement it. In one instance, we were able to secure a coveted contract with a carrier partner by saying yes. The contract's rates were not particu­larly attractive, but, by being flexible, we negotiated volume-based discounts that made every­one happy. Most important, having a reputation for saying yes meant other potential partners knew that any proposal they might present would be given serious thought."
Glickman has founded two telecom businesses that reached the top spot on the Inc. 5000, Justice Technology (1998) and Ultra Mobile (2015).
Ron Jumper CEO
RON SHERMAN ADVERTISING
"We wanted to parlay making the Inc. 5000 into changing the narrative about Ron Sherman Advertising. We have now built a state-of-the-art, 20x20-foot booth to use at industry expos. It has prospective clients saying, 'We aren't sure if we can afford you, but here is what we need,' instead of their having no idea about our size or capabilities. It has been powerful."
Jumper's Little Rock-based company, a marketing firm for the home improvement industry, was an Inc. 5000 honoree in 2021.
Brandon Pena Co-founder and CEO
787 COFFEE
"When Hurricane Maria put the livelihood of the team at the farm in jeopardy, we opened our first brick-and-mortar shop in the hopes of selling what little coffee we could. As our shops grew, I took notice of who went above and ­beyond to tell our story. As companies, we need to be storytellers. Consumers have more choices than ever before, which puts them in a posi­tion to want to connect with the businesses they support. By communicating why we did what we did to our customers, they in turn wanted to help."
Pena's sustainable coffee company, a 2021 Inc. 5000 honoree, now has more than two dozen stores in New York City and Puerto Rico.
Valerie Freeman Founder and CEO
BRAVOTECH
"Since we have been on the Inc. 5000 list four times, we have added that recognition to our emails, website, and introductions when we speak or sponsor events. The recognition has motivated us to greater accomplishments that we can share with our clients and prospects as well as applicants for our positions."
Dallas-based workforce solutions company BravoTech, one of two Inc. 5000 companies Freeman has founded, most recently made the list in 2020.
Boris Kontsevoi Founder, CEO, and president
INTETICS
"We want every team member of Intetics to feel like they are part of something big, that they are making an impact on people, that they help. Such a feeling helps them come up with even more innovative ideas. To help them get the right mindset, we've created a campaign called "We make an impact," a series of wall and online posters where we promote our achievements. They are in every office and on every social media platform."
Kontsevoi has led the Naples, Florida-based software firm to the Inc. 5000 list nine times, most recently in 2021.
Lorelie Yockman CEO
EDGEWATER FEDERAL SOLUTIONS
"We made a strategic plan to ensure that we could demonstrate performance to certain customers. So if we needed to show past performance in cybersecurity to qualify for a certain contract, we honed that skill. It was really about understanding what the needs were for those contracts, so that when we applied for them, we could put our best foot forward."
This year marks the fourth straight that the government contracting IT solutions firm, headquartered in Frederick, Maryland, has made the Inc. 5000.
Sal Rehmetullah Co-founder and president
STAX
"For our last wave of accomplishments (including a $245 million funding round, a $1 billion valuation, and two Inc. awards), we had a major celebration in the office in Orlando that was attended by our investors, Mayor Buddy Dyer, local press and friends, and as many Stax team members as possible. It was a day to celebrate and reflect on everything we've accomplished and what we're working to do next -- while still hitting our business numbers for the day."
In addition to making the 2022 Inc. 5000, its fourth consecutive year, Rehmetullah's Orlando-based payments company is on the 2022 Inc. Best Workplaces list, its second appearance in three years.
Arlene Wube Co-founder, president, and COO
ARLO SOLUTIONS
"When it was two of us, we were still able to have a handle on major deliverables going out to the client. Now that we're at 58 employees, that's impossible. So how do we build teams of the right people at different levels, from our program managers to our project managers, to support our clients? That's what we're working on now--figuring out how to grow smart, and not mess up the reputation we have on delivering excellent service."
This year marks the second straight appearance on the Inc. 5000 list for Arlo Solutions, a Washington, D.C.-based IT services and consulting firm founded in 2014.
Suman Akula Founder and CEO
STACKNEXUS
"Scaling problems always will be there. When you scale, you need to make sure there is cash flowing and things like that. But if you look at the problems and say, 'What the hell is happening?' I don't think you'll really ever be happy. Because every day there's going to be chaos, and chaos should be your oxygen. It's just what you have to expect. If you don't take it that way, you'll just get burned out."
Schenectady, New York-based no-code technology services company StackNexus, which is on the Inc. 5000 for the first time this year, is one of several tech businesses Akula has founded.
Managing Your Success
Rudy Larsen Founder and CEO
SMART RAIN
"One thing I learned that I could not believe is how much people will hate you for your success. We saw this in our company and I personally saw this in my life. It was really pretty amazing and real­ly sad. I think you have to take a step back and create a close group of people who can keep you balanced and somewhat protected from other bad influencers. This helped me reposition myself and know that my success was not truly damaging other people."
Larsen's water conservation technology company, Smart Rain, made the Inc. 5000 in 2021. A commercial landscaping business he founded, Lawn Butler, has appeared on the list four times, most ­recently in 2016. Both are based in Centerville, Utah.
Jack Smith Founder, CEO, and president
FORTUNA BMC
"I had to learn how to let go and lead through a series of generals rather than direct command and control. I went from entrepreneur to CEO virtually overnight. Having direct oversight in all operations and then transitioning to having multiple C-suite executives meant that I had to learn to lead through inspiration rather than influence."
Smith, an Air Force veteran, has led his McClellan Park, California-based IT services firm to Inc. 5000 honors each of the past two years.
Nick Woodman Founder and CEO
GOPRO
"One of the big lessons is that when things are going really well, you can be lured into thinking that everything's easier than it is. Because you're doing a really good job, you think you must be smart and good at this stuff. So, why can't we go do this other thing? The reality is that you can't expect your ­experience in your core business to translate. Just because you're a World Series-winning pitcher, it doesn't mean you can go play quarterback."
GoPro, the San Mateo, California-based maker of action cameras and software, was on the Inc. 5000 in 2014 and went public the same year.
Suneera Madhani Co-founder and CEO
STAX
"Stax recently received a valuation of $1 billion, making us a unicorn in fintech. This was an incredible achievement that resulted in a lot of press and a lot of attention. Suddenly, we were very important because of our new title, and with that importance came a lot of noise. Every­one's trying to get your attention and wants to do business with you, and you have to cut through that added noise to see what's actually needle-moving for your business and not get distracted."
Orlando-based payment technology company Stax has made the Inc. 5000 each year since 2019.
Antonella Pisani Founder and CEO
EYEFUL MEDIA
"You can't drop balls when you're growing this quickly. I'll tell our CPA sometimes, 'I feel super behind!' His response is: 'Yeah, well, you're growing like 10 years' worth in one year.' How do we grow fast and put in the right structures for project management and employee management without adding the corporate feeling so many on our team have worked to get away from? We focus on being a staff of high-integrity people who don't take ourselves too seriously. Plus, we give back up to 5 percent of our pretax profits to causes that matter to our team. It's important to have a purpose."
This year, Eyeful Media, a Dallas-based digital marketing and strategy agency, is making its second consecutive Inc. 5000 appearance.
Venus Quates Founder, CEO, and president
LAUNCHTECH
"A new challenge for us was the visibility that came with making the Inc. 5000. For years, my goal was to fly under the radar and remain in stealth mode for as long as possible as we grew. Seeing so many diverse companies on the list, owned by fellow veterans, women, and minorities, who like us amassed impressive growth during one of the most difficult and challenging times in our nation's history, made me appreciate the opportunity to be seen and validated."
Founded in 2016, Huntsville, Alabama-based mission support and technology solutions provider LaunchTech has made the Inc. 5000 each of the past two years.
Paul L. Gunn Jr. CEO and president
KUOG CORPORATION
"One of the biggest surprises was the attacks on our business and character. It drove us to reach out to our vendors that had stood with us over the years, and stronger bonds were formed in the process. Sometimes the public persona of success drives tangible threats, and having a strong back-end support team of great vendors made a large difference in weathering the storm."
Gunn's Huntsville, ­Alabama-based company specializes in logistics and procurement for the U.S. Department of Defense. It was a 2021 Inc. 5000 honoree.
Company Success: By the Numbers
38%
of fast-growing companies ­surveyed focus their inno­vation on ­activities that increase revenue, with the goal of developing new products that change how the ­business operates. (Source: Deloitte)
67%
of fast-growing companies undertook a major performance improvement initia­tive in the prior three years. 84% of them considered the effort successful or very successful.(Source: McKinsey)
87%
of high-growth ­companies analyzed over 50 years in a 2008 study ­experienced at least one sudden and ­lasting drop in ­revenue growth. (Source: Harvard Business Review)
63%
of high-growth firms have optimized ­resources for remote work; 69% of negative- or no-growth firms are still focused on workers' physical ­locations, preferring an all-remote or all-onsite workforce to a hybrid one. (Source: Accenture)
45%
of fast-growing companies spend more than 6% of their sales budgets on future growth. (Source: McKinsey)
51%
of fast-growing ­companies conduct their sales planning at least one year ahead. (Source: McKinsey)
EXPLORE MORE Inc. 5000 COMPANIES
From the September 2022 issue of Inc. Magazine