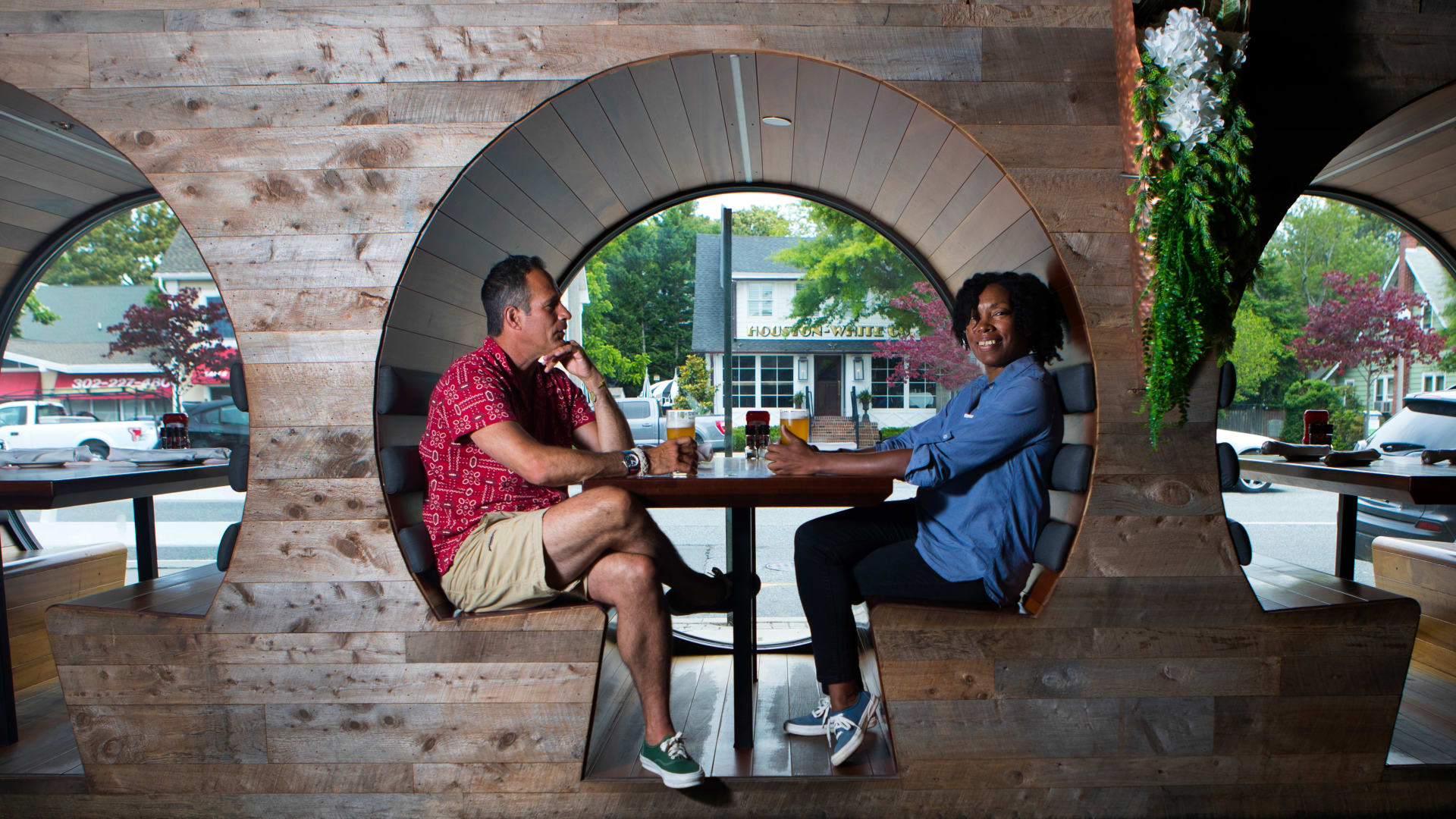 Celeste Beatty didn't set out to be the first Black woman in the United States to own a brewery. It just happened that way. After years of homebrewing in her New York City apartment, Beatty founded Harlem Brewing Company in 2000. But while that represented progress, growing the brand hasn't been easy. Since Harlem Brewing launched its first beer, Sugar Hill Golden Ale, competition in the U.S. craft beer industry has exploded, with the number of domestic breweries growing from around 1,500 to more than 9,000.
Beatty's company remains a small operation, with distribution only in New York, Virginia, and North Carolina. Still, Anheuser-Busch saw enough value in the brand to make an acquisition offer in 2006, which Beatty declined. She currently has no plans to sell the business.
Indeed, when Beatty talks about scaling these days, she says she's as likely to be talking about community engagement as revenue. "The question is, how do we get more Black and Brown brewers?"
The answer, she believes, lies in leveraging Harlem Brewing's brand to create opportunities for other entrepreneurs of color in the industry. To that end, Beatty, 58, is turning a historic tobacco warehouse in Rocky Mount, North Carolina, into a "brewers' village" called Harlem Brew South. There, new and aspiring brewers will be able to test their own recipes on a small-batch brewing system.
Dogfish Head Brewery founder Sam Calagione knows a few things about building community around a small beer brand. After founding Dogfish Head in Rehoboth Beach, Delaware, in 1995, Calagione grew the tiny company into one of the largest craft brewers in the country. Dogfish Head made the Inc. 5000 four years in a row in the mid-2000s; in 2019, it merged with the Boston Beer Company, maker of Samuel Adams Boston Lager, in a $300 million deal.
Calagione has a long history of partnering with other companies on experimental beers, including a recent collaboration with Patagonia Provisions, the outdoor apparel company's sustainable food arm, on a pilsner made with Kernza, a perennial grain that sequesters carbon in the ground. Perhaps unsurprisingly, Calagione, 53, supports Beatty's strategy of teaming up with other brewers in Rocky Mount.
"The craft brewing community has always been fueled by a spirit of collaboration and camaraderie," Calagione says. "It truly embodies the spirit of the American craft beer community to help one another and amplify one another's brand voice."
In that spirit, we brought Beatty and Calagione together at Dogfish Head Brewings & Eats, the brewpub in Rehoboth Beach where Calagione launched his brand, to try each other's beers and share strategies for growing their industry, in Harlem and beyond.
Beatty Going into this brewers' village project in Rocky Mount, we'll be hiring about 35 people to operate the warehouse. What are your thoughts on my plan to create a space for brewers who are not part of the craft brewing equation?
Calagione I love the concept of a brewers' village, because it speaks to community. You're saying, "I'm trying to create this space not just for my brand, but for Black and Brown brewers to learn from one another and to help one another." I love how it's not corporate-sounding. It's communal-sounding and welcoming.
Beatty I'm sure a lot of people approach you about doing partnerships. How do you decide which ones make sense?
Calagione There are opportunities to learn whether we partner with someone who is smaller in scale than the Dogfish brand or bigger. I think making sure the partner is a fit for your brand is the best filter to approach any partnership opportunity, instead of asking, "Will doing this help me grow my brand?"
Beatty You famously celebrated the 40th anniversary of Miles Davis's Bitches Brew album by collaborating with Sony Music on a Dogfish Head Bitches Brew commemorative ale. What's your approach in terms of brewing innovation and experimentation?
Calagione I was hanging out with Miles Davis's nephew, who played with the Bitches Brew 40th Anniversary Band, and asked him for stories. He told me that what made Miles such an iconic musician could be found in one of his best-known comments: "Don't play what's there. Play what's not there." That's a perfect description of how you succeed as an entrepreneur. You find white space someplace someone isn't playing, and you make your own voice in it. And we started as one of the smallest commercial breweries in America.
Beatty I know about that!
Calagione So I take inspiration for what to do next from every art form and industry other than the commercial brewing industry, because that would be playing what's already there. I try to find the creative spaces that exist -- music and food and art -- and take inspiration from those. So, in your case, how would you frame the craft brewing renaissance up against the Harlem Renaissance? Where do you see them dovetailing?
Beatty We've definitely had some pollination between the Harlem Renaissance and our beers, in terms of our branding. You'll be tasting our 125th Street IPA, which celebrates the 200th anniversary of 125th Street. There's a map of Harlem on the label that shows some of the iconic streets, like Malcolm X Boulevard and Frederick Douglass Boulevard. These are named for people who were connected to Harlem culturally and the Renaissance in many ways.
I love the concept of a brewers' village, because it speaks to community.
--Sam Calagione
Beatty We have our Sugar Hill Golden Ale, inspired by Duke Ellington's "Take the 'A' Train," which encourages people to go to Sugar Hill and discover Harlem. It's important to me to make sure people don't forget those histories. We do that in our small way on our label and by supporting local jazz musicians and events at the Dance Theatre of Harlem.
Calagione When I hear "Sugar Hill," I also think of hip-hop and the Sugarhill Gang. I look at hip-hop, punk, and craft brewing as three unique but related American art forms that started at the same moment around the late 1970s. And when you think about craft beer as a community-building universe and you look at how hip-hop grew out of parties outside, and then punk, with bands going around the country building the community, all three moved from niches into the mainstream because they were about community and passion first, not getting rich.
Beatty What are some ways you think we can increase diversity, equity, and inclusion in the craft beer space? And what are some of the things you've undertaken to elevate the conversation?
Calagione I'm proud that Dogfish has always been a meritocracy. If you prove yourself at your job, you'll thrive. So coming from that place of being open to what anybody can contribute, regardless of their background, their skin color, or their education, I think is one of the great advantages that the craft brewing community has.
Calagione The example you're setting by creating a business that's collaborative with other brands and being intentional in saying, "This is a safe space for other Black and Brown entrepreneurs," you're choosing a space even within that greater DEI universe. So I think being as specific as you are is a smart way to approach it.
Beatty Do you think passion can make up for a lack of experience? What do you look for when you hire?
Calagione We work hard to make sure every new co-worker is an awesome cultural fit before we make sure their résumé fits. On interview day, they get time talking to people in our company who won't be in their reporting stream. Also, we have a few drinks with these people. We'll say, "All right, they've had liquid truth serum -- is this still someone we want to hang out with?"
Beatty How do you decide what responsibilities you're going to take on and what you're going to delegate?
Calagione I think entrepreneurs who grow their companies to be sustainable are those who say, "All right, I'm wearing a lot of hats. The marketing hat, branding hat, and community-building hat fit me well. The Excel spreadsheet hat or the HR managing and policy hat is giving me a headache." Tapping people with superpowers complementary to your own is a trait that's shared by the most successful entrepreneurs I've ever met.
EXPLORE MORE Inc. 5000 COMPANIES
From the September 2022 issue of Inc. Magazine