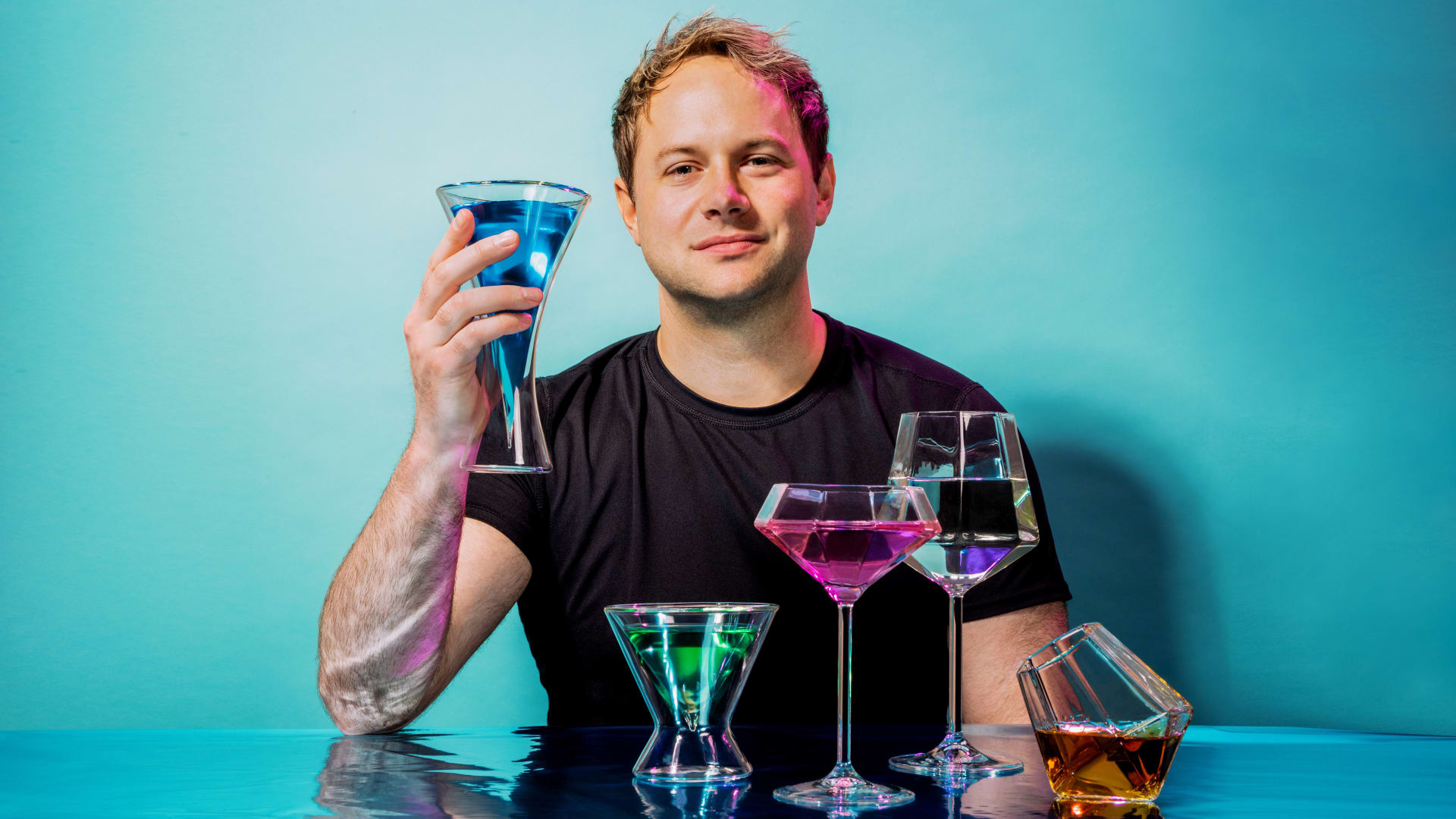 When Matt Rollens received the glass tea bottle he ordered from Amazon in 2016, he was so disappointed with its quality that he decided to make a better one himself. A former exec at a small ad agency, Rollens had never designed a physical product. But he'd always wanted to start his own business. Soon he'd be doing both.
In 2017, working with manufacturers in China, Rollens, 36, founded Sacramento-based Dragon Glassware. Though he started by devel­op­ing his own tea bottle (double-walled, for either hot or cold brews), he wondered what else could be done with glass. Then he spotted a gap in the specialty drinkware market: No one was making bold, modern barware that stood out on store shelves.
Rollens, who had dabbled in graphic design, sketched out several shapes that he hadn't seen anywhere else. "I wanted to make something that looked artsy, geometric, and unique," he says. "I didn't realize we could do all this cool stuff with glass--different curvatures and shapes." Strong customer reviews of Dragon's early products inspired Rollens to ask those reviewers what they wanted. "I started designing products from what I was learning in the community to bring out the flavors and the look of different beverages."
From the beginning, he's run a remarkably lean operation, outsourcing graphic design, advertising, and social media to a handful of contract workers. Fulfillment by Amazon, the e-commerce giant's outsourcing unit, takes care of the picking, packing, and shipping. And Rollens still owns 100 percent of the company. Annual revenue topped $3.8 million in 2021.
His fans have helped with marketing as well. In March 2020, Rollens spotted one of Dragon's futuristic-looking martini glasses in a scene of the HBO sci-fi series Westworld. The next day, he posted about the product on the Westworld Reddit page, which led to a spike in sales--and more star turns. Dragon's barware has since appeared on Late Night With Seth Meyers and Star Trek: Picard. Dragon even released a line of pink, Barbie-themed glassware in 2021 after Rollens pitched Mattel on a licensing deal.
"There are all kinds of licensed products in apparel and footwear, beauty, and makeup," Rollens says, "but no one's really doing barware." Perhaps another gap in the market? We'll drink to that. --Graham Winfrey
EXPLORE MORE Inc. 5000 COMPANIES
From the September 2022 issue of Inc. Magazine