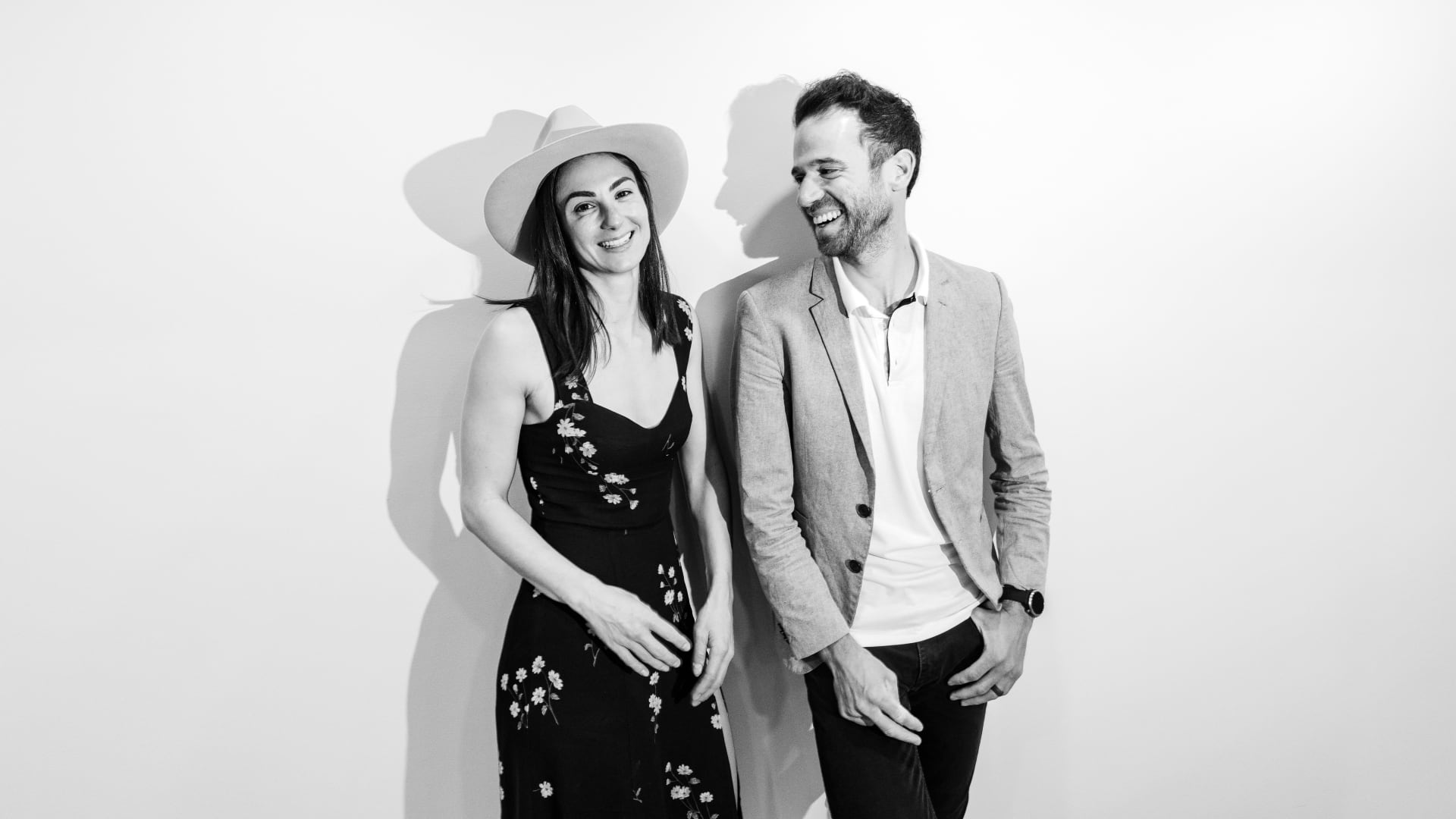 Phil Dumontet
Dashed: 2013, 2014, 2015, 2016, 2017
Whole Sol Blend Bar: 2022
Phil Dumontet started Dashed right after he graduated from Boston College in 2009. It was a few years before on-demand delivery would become ubiquitous, and the idea of food from all kinds of restaurants showing up at your front door -- fast -- was a novelty in most cities. "From day one," he recalls, "we said we needed to deliver faster than anyone else." The Boston-based company expanded to nine cities and had amassed an army of 2,000 drivers before Dumontet sold it to Grubhub in 2017 for an undisclosed sum.
But he wasn't done. The following year, Dumontet and his nutritionist wife, Alexa Squillaro, founded Whole Sol Blend Bar, a Denver-based chain of smoothie-bowl restaurants. Today, Dumontet thinks often about the most important lesson from his experience with Dashed: "Do less to achieve more." While the focus at Dashed was delivery in 45 minutes or less, Whole Sol is optimizing the nutrition and flavor profile of its principal menu items. "Just having one core competency to excel in was a difference maker for Dashed," Dumontet says. "Whole Sol is obviously a very different company, but from day one we've said we will offer the world's best smoothie bowl."
--Tom Foster
Scott Jones
Boston Technology: 2010, 2011, 2012
ChaCha: 2011
"I was in my mid-20s when I set out to revolutionize voice mail. It was 1986, and I'd just come out of the MIT Computer Science and Artificial Intelligence Laboratory as a research scientist. There were probably three dozen voice mail companies when we started ours. But what I invented became how most of the world would go on to use voice mail. I retired in 1992 at age 32 -- then vowed to never retire again. While I had companies in between, my next game-changing idea took more than a decade to conceive. I got the idea for ChaCha, a human-guided search engine, when I picked up a book about search. It triggered me.
"At the time, with smartphones, you could have a wreck on the highway trying to Google something; it was so hard to sift through results. I wondered, 'What if I could put a bunch of A.I. into search?' I thought it was groundbreaking; the world seemed to agree. We raised $82 million. Still, in 2015, the company ran out of money. I came to realize that the timing for great ideas matters. ChaCha is still a broadly popular idea, but it was a decade ahead of its time."
--As told to Nina Lawrence by Scott Jones, who co-founded Marlborough, Massachusetts-based Boston Technology in 1986; in 2005, in Carmel, Indiana, he founded ChaCha, which became the early framework for Siri and Alexa.
Iris Derke
DCINY: 2012, 2015, 2016, 2017, 2019
Artist Travel Consultants: 2016, 2017, 2018
"I hear 'serial founder,' and in my head it goes to 'serial crazy person' who just keeps doing this over and over. It's especially crazy now. Pre-pandemic, the culture and values that helped us build and grow quickly were embodied by words like 'passion' and 'hard work.' But that list has changed drastically. Now the words that keep us going forward are 'honesty,' 'transparency,' 'humor,' 'understanding,' and 'joy.' "
--As told to T.F. by Iris Derke, who in 2007 co-founded the New York City-based DCINY, a classical-music concert production company. In 2010, she spun out Artist Travel Consultants, also based in NYC, to book musicians' trips. Though both the concert and travel industries were decimated by the pandemic, Derke says recovery is under way.
Law Payne
Hardbody Coaching: 2021, 2022
Hardbody Supplements: 2021, 2022
"We started with our coaching business and built a huge, cult-like group that would literally do or buy anything we recommended. We started the supplement business mainly so we could stop referring our coaching clients to other supplement brands; we didn't trust what was in their products. Now we know what is really in the products we're recommending to them. Our obsession is not with growing our businesses -- it's with helping our clients."
--As told to Rebecca Deczynski by Law Payne, who with his wife, Patricia, co-founded Hardbody Coaching in 2014 and Hardbody Supplements in 2016. Both are based in Overland Park, Kansas.
Trevor Burgess
C1 Bank: 2012, 2014
Neptune Flood: 2022
Trevor Burgess's journey as a serial entrepreneur began with a gamble. In 2009, the then-managing director at Morgan Stanley decided to move his family to Florida and buy a failed bank. But it wasn't luck that catapulted Lakewood Ranch-based C1 Bank to the Inc. 5000 for the first time in 2012; it was opportunity -- and Burgess knows a good one when he sees it. That skill helped the entrepreneur take the bank public two years later, making him the first openly gay CEO on the NYSE. He'd reluctantly sell the company to a competitor in 2016 for $402 million. Then he walked away. "At that time, I didn't think I'd get another bite at the apple," he says.
But opportunity struck again, this time in the form of a message over LinkedIn. A connection had an idea to compete with the federal government to offer flood insurance; Burgess was intrigued, and, in 2016, Neptune was born, in St. Petersburg. Unlike its splashy DTC competitors, Neptune is profitable, with more than 120,000 customers, and is on track to do $1.5 million in revenue per employee in 2022. Says Burgess: "I'm just so happy to actually get another chance."
--Christine Lagorio-Chafkin
Jason Guerrettaz
United Commerce Group: 2016
Website Closers: 2018, 2019, 2020, 2022
"I grew up poor in Salem, Illinois. I joined the Army at age 17 and then went to law school -- but only because I knew that practicing law would get me to where I needed to be. From the very beginning, I was always going to be an entrepreneur -- and not just any entrepreneur, but a serial entrepreneur. I'm too restless. I hate being bored.
When I left corporate law in 2011, however, I had two girls in diapers. So the decision wasn't easy, but my wife said, 'I'll back you.' So I took the risk.
"It's wild to even say this, but I now have 18 companies including the two that have landed on the Inc. 5000. Each successful venture has given me ever more confidence -- along with the funding we need to grow. But there's a cost to being a serial starter. I can't even go sit on a beach. I just sit there and wonder how many emails are coming in. It's a problem!
But I'm at peace with this life -- and my wife has come to terms with it, too. I see it as an evolution of knowledge. You know nothing. And then you learn. And then you fail. And then you get back up and you do it again. But each time it gets easier; each time you build faster, better, stronger. That's why it works and why we do it."
--As told to N.L. by Jason Guerrettaz, who in 2011 launched United Commerce Group, an Orlando-based investor in e-commerce companies. He hit serial entrepreneur status in 2013 with business brokerage, Website Closers, which, also based in Orlando, he ​co-founded alongside Ron Matheson.
Leonora Valvo
Global Executive: 2007
Etouches: 2012, 2013, 2014, 2015, 2016, 2017
Swoogo: 2020, 2021, 2022
The collapse of the World Trade Center towers on 9/11 changed it all for Leonora Valvo. All at once, commissions for the then New York City-based travel and events business she'd built were as grounded as the airlines. What's more, she says: "all of our utilities were based in the World Trade Center." The double-whammy prompted the first of three key pivots she would ultimately make -- each time to a new company that would grow fast enough to make the Inc. 5000. "We got out because the whole business was changing," she says. "My contemporaries were standing around trying to figure out if they could sue someone."
To found Global Executive in 2002, Valvo harnessed her travel-industry experience into a full-service events company for businesses. While Global Executive regularly booked speakers the likes of Marissa Meyer, it scaled fast due to being industry- and geography-agnostic, and thanks to software it had built to speed its own processes. The validation that came from hitting the Inc. 5000 in 2007, paired with praise from a client, gave Valvo the urge to rethink it all, again. "Volkswagen told us we had the best software in the industry," she says. Within a year, she spun out the proprietary software into Etouches, an event-management software solution that hit $10 million in revenue within five years. The act of building anew was becoming a bit addictive, Valvo says. Within a decade, she and her business partner began to view the future of event-registration and planning as entirely digital. So in 2015, they sought to build Swoogo, an entirely virtual company -- a status that prepared it well for the coming decade.
That last time, without a dollar of funding to start, was the easiest, she says: "The greatest value to me as I've reinvented myself and my companies, is my reputation. That's the most significant asset I've had to carry me through ups and downs and pivots." Her customers trusted her, again and again. That's something first-time founders rarely experience, she admits. "When you're first in anything, you are swimming upstream," she says, "convincing someone about something they don't know." Even so, she adds: "That's the part I love. Getting people to see the future."
--C.L.C.
Pirouz Nilforoush and Peyman Nilforoush
NetShelter Technology Media: 2011, 2012
InPowered: 2020
In 1999, Peyman Nilforoush and his brother Pirouz, five years his junior, were just teenagers when they started their first company, NetShelter, out of Toronto. The platform for helping creators monetize their websites eventually relocated to San Francisco and grew into the largest community of technology publishers on the Web before it was acquired by Ziff Davis in 2013. The next year, again in San Francisco, they launched inPowered, a platform that uses A.I. to help brands like Citi­bank and Comcast optimize content to boost engagement and ROI. The brothers credit their success to their complementary skill sets, which has led to a natural division of labor: Peyman, as CEO, focuses on sales, finance, and investor relations, while Pirouz, as president, oversees product, engineering, and operations. "That's allowed us to have our own sense of ownership," Pirouz says. "Each of us can go deep in our own area." But, as Peyman says, they still work best together: "We always have ideas. We're always collaborating."
--R.D.
Omar Soliman
College H.U.N.K.S. Hauling Junk & Moving: 2019, 2020, 2021, 2022
Trash Butler: 2018, 2019
In 2005, when Omar Soliman co-founded College H.U.N.K.S. Hauling Junk & Moving, alongside Nick Friedman, a high school buddy he'd met in 10th grade, Soliman knew the business would turn heads. And it did. The Tampa-based franchise is projected to amass more than $300 million in systemwide revenue this year.
Despite its cheeky branding, Soliman says the moving business is serious. It is asset-heavy with trucks, insurance, and buildings. And given that the service it provides is often one-time-only -- hauling away junk or moving isn't an everyday thing for most people, after all -- each month their operation essentially starts at zero.
Taking what they learned from College H.U.N.K.S, which Soliman and Friedman bootstrapped from the start, they founded their second company, Trash Butler, in 2013. It would be everything College H.U.N.K.S. isn't: asset-light, B2B, and consistent. Trash Butler, which again deals in detritus, targets property managers and apartment building owners.
Soliman says, "The real bonus is the recurring revenue. It's a more predictable revenue stream, which makes us very valuable to investors -- and also recession resilient." Trash Butler is on track to hit $25 million in 2022 revenue.
--N.L.
EXPLORE MORE Inc. 5000 COMPANIES
From the September 2022 issue of Inc. Magazine