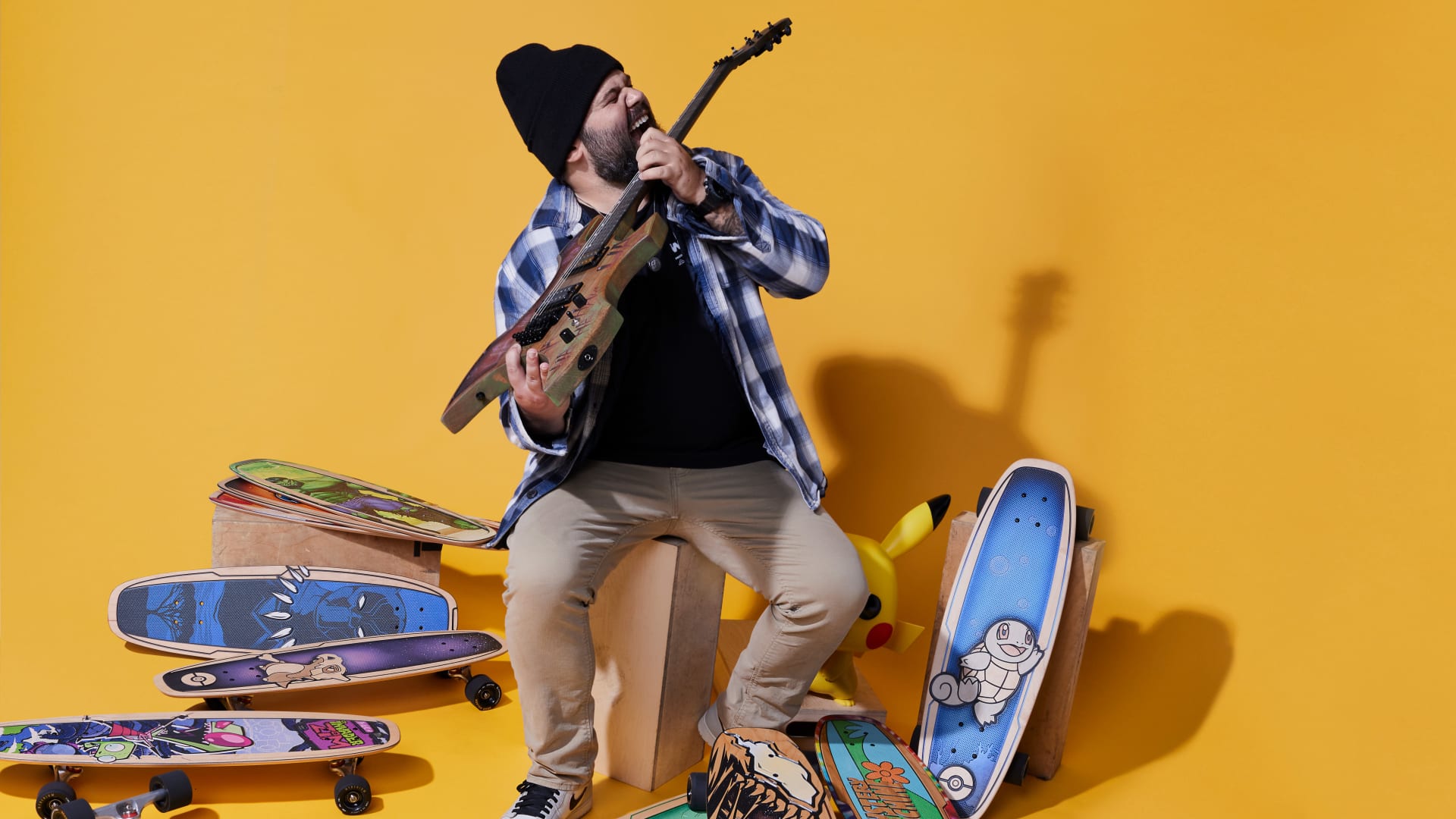 Growing up on his builder father's construction sites in Hilton Head, South Carolina, Bear Walker knew he wanted to work with his hands. His parents urged him to avoid manual labor, so he studied graphic design and print, but found the recession-era job market less than welcoming when he graduated in 2011. He worked a stint designing book covers for Amazon and another at an outfit where he carved signs out of unfinished wood. "Every day, my hands were getting so torn up," he says. And that gave him an idea.
Walker had gotten into skateboarding at college, and he realized that a carved design in rough wood could make for great traction, not unlike skateboard grip tape. "I wanted to make art, but have it translate to something real," says Walker.
After building his first skateboard by hand in 2012, he learned to use a laser cutting ­machine, carving line art into the surface of the wood to create grip. His early attempts resem­bled tire tread more than fine art. But the more Walker learned from his mistakes--and refined his technique during many an all-nighter after working his various day jobs--the more elaborate the grip became.
His colorful, fanciful boards began attracting attention--and business. Walker moved to Fairhope, Alabama, to work out of a small, open-air barn, and later secured a $25,000 loan from an investor he'd been pestering for a year. In 2016, he launched Kodiak Boards, which got buzz for its pop-culture-themed products. But it was the board based on the hit TV show The Flash, which Walker shared on Instagram, that put his business, newly rebranded in his name, on the map. Actor Grant Gustin, star of the show, commented, and Walker made him two boards. A sold-out collaboration with Gustin followed. "It was something unique to the market," Walker says of the handcrafted, hand-painted boards made from nine-ply Canadian sugar maple.
The boards, which sell for $200 to $275 and have featured collections from Marvel, Pokémon, and the Grateful Dead, arrived just as comic book culture and collectible boards were gaining momentum. The company has tripled in size each year since 2018. "I think it's the most functional art that has ever been on a skateboard," Walker says. "What creates the grip is what creates the art." --Jill Krasny
EXPLORE MORE Inc. 5000 COMPANIES
From the September 2022 issue of Inc. Magazine